When you go to New York City, you can stay in many different places. In fact, there are so many options that it can be hard to choose. And while there's nothing wrong with staying in one of the city's famous high-rise buildings or a cozy Airbnb for a night or two, we'd argue that the best places to stay in NYC are its boutique hotels.
Boutique hotels are usually smaller (all of the ones on this list have fewer than 200 rooms, and some have far less than 50), with decor that includes vintage furniture, modern art, and handcrafted touches. And then there are the amenities. Free bike rentals and rooftop bars with custom cocktails are common at boutique hotels, which offer a level of personalized service that big hotels don't always have.
Here are some of the best boutique hotels in New York City, from Brooklyn and Queens to Soho and Midtown. Some of them have hard-to-find features like private hot tubs, views of the Empire State Building, and open-air courtyards in the middle of the city.
46 Best Boutique Hotels in New York City
1. Ace Hotel New York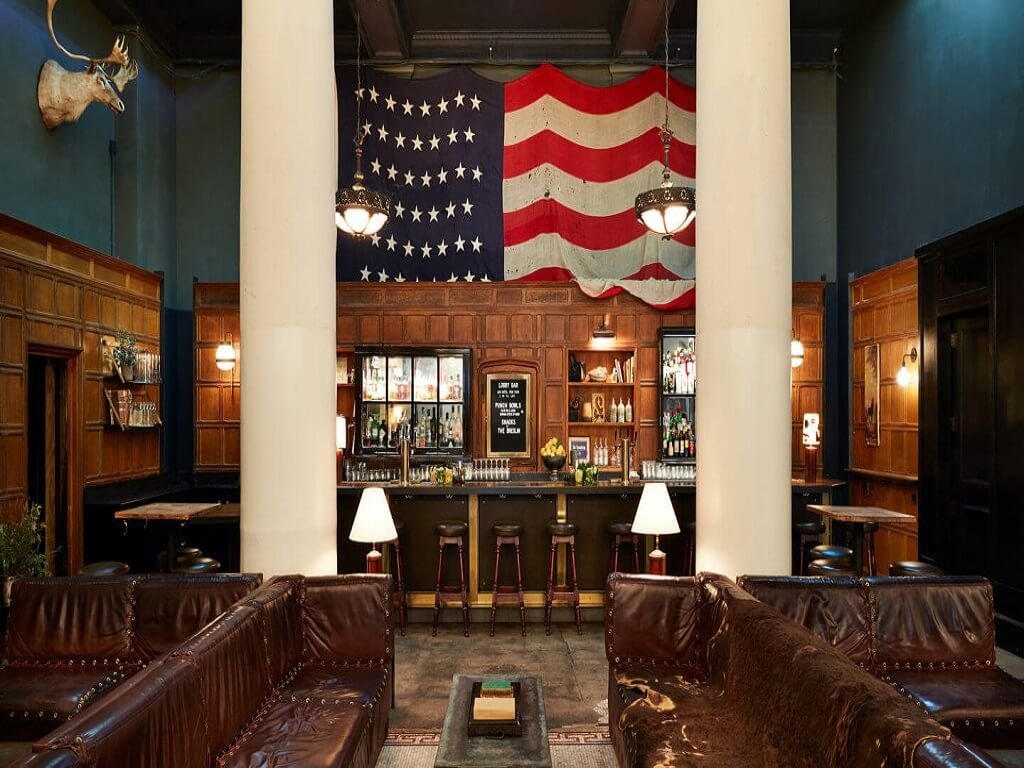 The Ace Hotel New York is right in the middle of everything and caters to people who are creative, hungry, young, adventurous, and interested in art. During the day, the lobby is a great place to work together. There are long tables with plenty of plugs and desk lamps. At night, there are a lot of things to do here, from shopping to an irresistible bar to an old-fashioned photo booth and a growing art space. Let's just say that you'll never be bored or thirsty at the hotel. You might be able to live here, let alone take a vacation here. When you're not working, you can get to Times Square in a few minutes by subway, and there are a desk open 24 hours a day, so don't worry about the time.
2. Boutique Hotels: The Mark
The Mark's Jacques Grange-designed interiors and Upper East Side luxury make it the perfect place for celebrities to get ready for the Met Gala. You can ride one of the hotel's custom bikes or a black-and-white-striped pedicab to the nearby 5th Avenue boutiques, but you don't have to leave the hotel to enjoy the best in high-end shopping, pampering, and dining. The Mark has room service from the famous chef Jean-Georges Vongerichten, sweets from Ladurée, a salon by Frédéric Fekkai, and penthouse guests can shop at Bergdorf Goodman any time of day or night.
3.Boutique Hotels:  11 Howard
SoHo used to be home to the artists' lofts that made Downtown New York famous in the 20th century. Since the turn of the century, SoHo has steadily become more upscale and more international. Both of these trends can be seen in 11 Howard, which combines modern Scandinavian design with a version of luxury hospitality that is more open and less showy. It's the first time architect Anda Andrei has worked on a hotel project on his own. For decades, he designed boutique hotels for Ian Schrager that broke new ground. 11 Howard, which was made with the help of Danish designers Space Copenhagen, doesn't have the kind of bling that some New York hotels are known for. This one also backs up its egalitarian beliefs with money. They call it "conscious hospitality," which means they give a portion of their earnings to charities like the Global Poverty Project.
4.The Whitby Hotel, Midtown Manhattan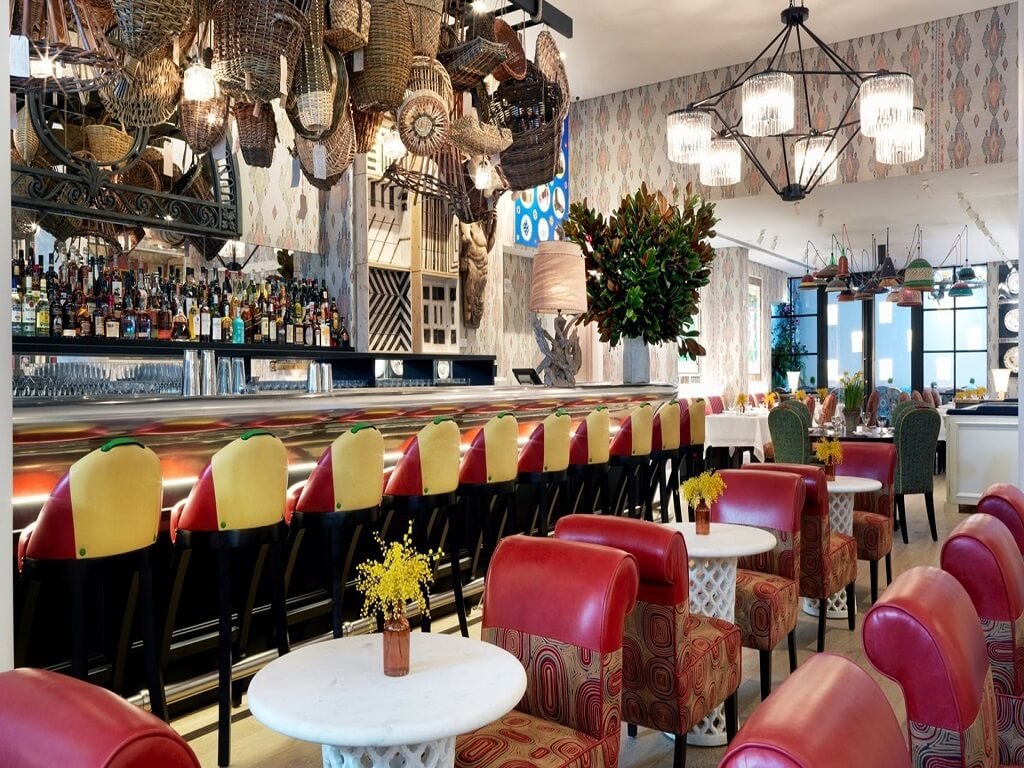 The Whitby Hotel brings some traditional British charm to the streets of Midtown Manhattan. This New York boutique hotel was designed by Kit Kemp. His rooms are full of his signature touches, like wild floral wallpaper, furniture with a mix of patterns that are meant to clash, and sustainable RikRak toiletries that make it easy to relax in the walk-in showers. Downstairs, in the charming guest rooms, you'll find a mix of gold sunburst mirrors and decorative china that reminds you of your aunts who were always different. You can have afternoon tea in the orange-walled Orangery or watch a movie on the big screen in the hotel's own theater.
5.The Sherry Netherland
In a famous Central Park hotel, you can stay in rooms of the highest quality and get service like in Europe. The Sherry-Netherlands elaborate Gothic minaret gives the Midtown Manhattan skyline a touch of drama and history. The entrance to this Central Park hotel is marked by a clock on the sidewalk on Fifth Avenue.
This hotel is right across from the Grand Army Plaza and the main entrance to Central Park. It is in the middle of Midtown Manhattan on Fifth Avenue. It has places to eat on-site and free Wi-Fi.
In each room at The Sherry Netherland, there is a flat-screen TV and an iPod docking station. Each room has a high ceiling and a bathroom made of marble. When you get there, you'll get a bouquet of flowers and a box of Belgian chocolates. Every room comes with a Keurig coffee machine and free soft drinks and water.
This New York hotel has a gym with mirrors from floor to ceiling. There are services like concierge and ticket sales.
The Sherry-Netherland is a 10-minute walk from Rockefeller Center. Also, you can walk to the Museum of Modern Art from the hotel in just 10 minutes.
6.The High Line
When it comes to New York City boutique hotels, this one is great for people who like to read. The upscale High Line Hotel was built in 1895 on a property in Chelsea that was once owned by Clement Clarke Moore, who wrote "The Night Before Christmas." The building was originally meant to house students at the General Theological Seminary.
Expect old-fashioned elegance in each room. Hardwood floors, well-made furniture, and old things give a room a classic elegance. Large windows let in lots of light and offer beautiful views of the High Line Park or the hotel's Parisian-style courtyard.
7. Walker Hotel Greenwich Village
The Walker Hotel is a 113-room building with a red-brick facade, stained-glass windows, and Art Deco-style details. It has a lot of personalities. The property's decor is a nod to the early days of Greenwich Village, when artists, writers, and other creative people lived there. Plus, you can walk to Washington Square Park in 10 easy minutes, and dogs are welcome there.
8. The Beekman
During your stay at the Beekman Hotel, you'll keep going back to one thing: its beautiful Victorian atrium, which is nine stories tall and topped with a beautiful Places pyramidal skylight. Most of the 287 rooms in the hotel have balconies that look out on them, and you'll always be able to see that beautifully remodeled centerpiece in your mind. It has to be one of the most beautiful pieces of architecture in the Financial District.
The Beekman Hotel is in a building that was built in 1881. It was one of the first skyscrapers in Manhattan. It had been neglected for years, but Gerner Kronick + Valcarcel Architects did a beautiful job bringing it back to its former glory. In September 2016, it opened as The Beekman, a Thompson Hotel.
Don't think the wrong thing, though. Staying here is nothing like spending the weekend in a boring museum. Even though many of the rooms have original antiques and are decorated with a lot of attention to history, the hotel is full of modern art and surreal themes that show that this very impressive building doesn't take itself too seriously.
The two busy restaurants in the hotel bring in a stylish crowd that keeps the public areas of the hotel busy. Every night of the week, both Fowler & Wells and Augustine will have full rooms (try the whisky burger). The good news is that the concierge can help you make reservations at both. After a lively dinner, unwind with a drink at The Bar Room next door. It's in the perfect spot at the bottom of that beautiful atrium.
9. Merrion Row Hotel and Public House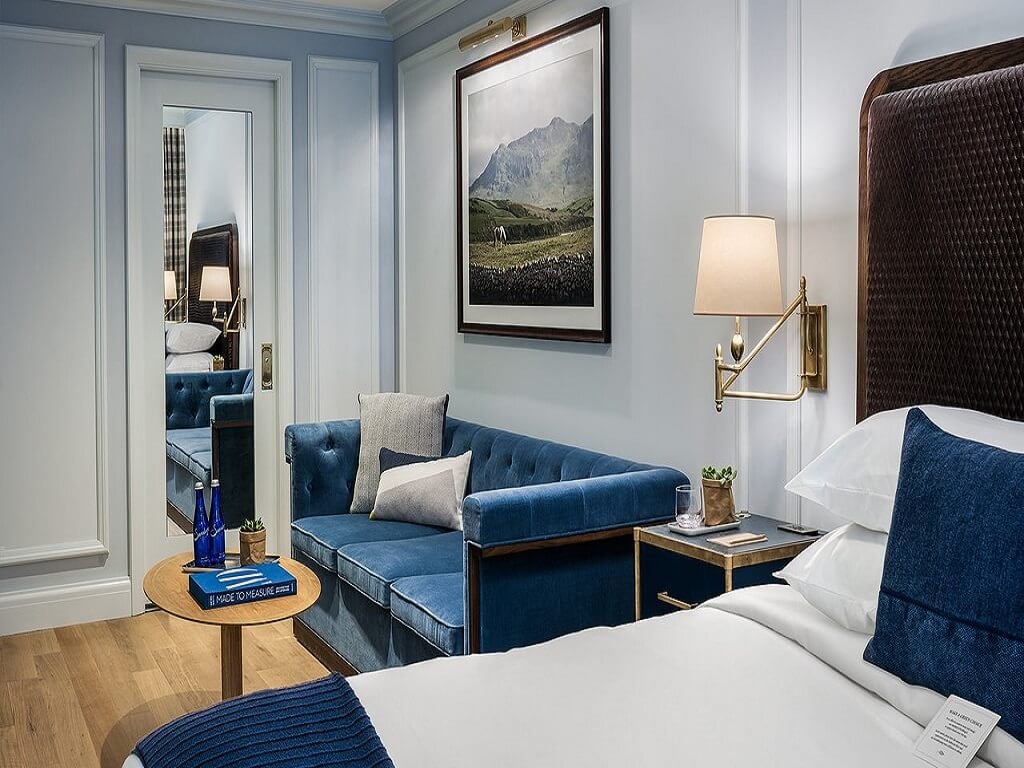 This New York boutique hotel is in Times Square, and it has a lot of Irish hospitality built into it.
At this property, there is a 24-hour front desk, a restaurant, and a bar. Merrion Row Hotel and Public House is a 5-minute walk from Bryant Park.
There are meeting rooms and a business center at the Merrion Row Hotel and Public House. There is also a concierge service, free WiFi, and dry cleaning for guests.
All of the rooms have a flat-screen cable TV and a bathroom with all-natural bath products and a bathrobe that is made with social responsibility in mind.
Public House, the hotel's restaurant, is a real Irish pub that serves traditional Celtic food with a New York twist. Every morning, the hotel serves American breakfast, and there is a coffee shop on site that serves gourmet coffee from the area.
Top of the Rock, Radio City Music Hall, and Grand Central Terminal are all places that people like to visit near the property. The Empire State Building, Rockefeller Center, the Chrysler Building, and Central Park are all close to the hotel. 12.7 km away is LaGuardia famous Airport, which is the closest airport. The airport is 26.5 km from John F. Kennedy International Airport.
10. The Standard East Village
Since a long time ago, the East Village has had a problem: there are many places to eat and drink, but nowhere to stay. In recent years, a building boom in the southeast corner of Manhattan has made room for a new wave of modern boutique hotels, some of which, like the Standard, East Village, are located in gleaming modern high-rises.
Even though it's in the middle of a low-rise district, it's hard to miss the Standard's tall curves and angles. From inside the rooms, you can see the East Village rooftops, downtown bridges, and classic uptown skyscrapers in new ways. The windows go from floor to ceiling, and the rooms have high-end amenities like huge HD screens, sound systems that work with Bluetooth, mosaic-tiled bathrooms, and three different kinds of bathrobes. All of this, and the rooms are warm, too. They are bright and have softly retro furniture and beds with fluffy down pillows.
11. The Greenwich Hotel, TriBeCa
Robert De Niro owns part of The Greenwich. He is a big deal in the neighborhood's art scene because he helped start the Tribeca Film Festival. The 88 rooms are all different and have a well-traveled, tropics-meets-bohemian style. Moroccan tiles, Tibetan rugs, and plush English leather sofas give the rooms a unique look. High-definition TVs, Bose Bluetooth speakers, and high-end services like the use of the hotel's house car and personalized grocery shopping add a touch of modernity to the hotel. The star treatment doesn't stop there. Downstairs is a Zen-style underground pool where you can relax with plant-based treatments at the Shibui Spa and end the day with creative Italian dishes at Locanda Verde.
12. The Mercer Hotel
The Mercer has 74 guest rooms in the heart of Soho. Artists, actors, and musicians love it because it feels like a real NYC loft. You'll quickly fall in love with this small hotel, which is in a Romanesque Revival building and has a design that is all about subtle elegance and high-end neutrals.
Expect great service from a team of experts who know how to take care of wealthy people from all over the world.
13. The Bowery Hotel
The Bowery Hotel has always been a famous place in the East Village. It's the kind of place where it's not unusual to see a famous person having a drink in the lobby. When it's time to turn in for the night, you won't be disappointed. The 135 rooms on the property have antique furniture and a unique feel.
14. Crosby Street Hotel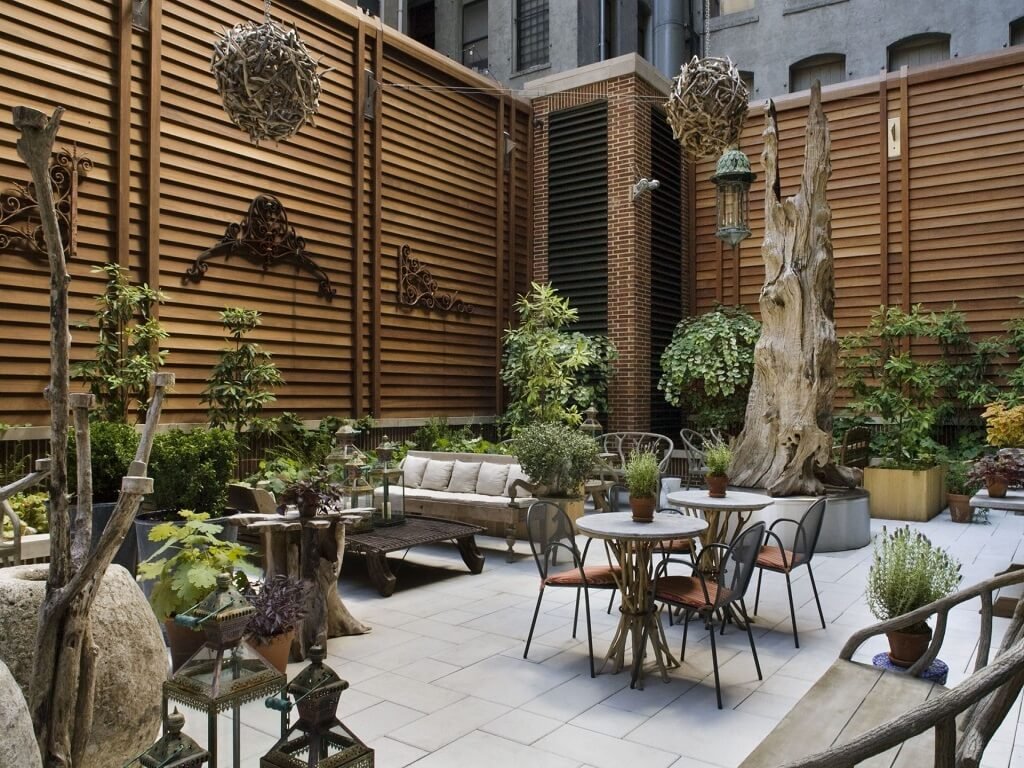 Getting to the Crosby Street Hotel can be hard: you have to stumble into the modern glass-and-brick building off the pretty cobblestone streets of Soho and into a warm lobby with white walls, woods, and modern art, sculptures, and photographs. The Drawing Room is a lounge for guests only where you can get drinks and small bites. It has fireplaces, comfortable couches and chairs, and a door that leads to a private garden. Add to that a friendly and helpful staff, and you have everything you need for a great stay. We think you'll make it.
Crosby gives a lot of information. The lobby level is full of bright colors, such as red, orange, blue, green, and pink. The design is neat and orderly, but it also has a lot of style. When you walk into the hotel, there's an air of sophistication that stays with you throughout. The Crosby Bar, the hotel's restaurant, is right off the lobby. It's as cozy as you can imagine: dimly lit with striped bench seating; colorful round chandeliers hang all over and balance out a lot of oranges and browns, which are used in patterns and always go well together. The restaurant had a seasonal menu, and we were lucky enough to try the milk chocolate brûlée with toasted house-made marshmallows and gingerbread men. It was amazing. The restaurant also has a door that leads to a garden outside. What's great about the Crosby is that there are many places to sit outside on warm days. You'll have a lot of room to move around between the sculpture garden and the terrace.
15. Lowell Hotel
The Lowell is a boutique hotel with a quiet European style and an intimate feel. It is uniquely decorated with beautiful antique furniture and original art. Many of the suites have private terraces and fireplaces that use wood.
The Lowell building has 17 floors and was built in 1927. It is 321.8 meters from Central Park. 50 meters separates the property from Madison Avenue. The house is 161 meters away from Fifth Avenue.
The rooms and suites at the Hotel Lowell have marble bathrooms. There is also a turndown service every night and a free copy of the New York Times.
At the Lowell, there are fireplaces that run on wood and terraces with views of the city. Charles Masson is in charge of the property's two restaurants, Majorelle and Jacques Bar. Seasonal dishes are served at Majorelle. The Club Room at The Lowell is a place to relax, and the Pembroke Room is where breakfast and tea are served in the morning and afternoon.
Within 35 meters of the property, there are high-end clothing stores like Hermès, Barneys New York, and Roberto Cavalli Store. The hotel is 1.8 km from Lincoln Center and 1.3 km from Carnegie Hall.
16. The Marlton Hotel
In the world of boutique hotels, what was once old is now cool again. In New York, Sean MacPherson's hotels were among the first to move away from sleek, futuristic minimalism and toward something with a bit more romance from the past. So the Greenwich Village hotel Marlton, which is 100 years old and has had guests like Jack Kerouac and Julie Andrews, is perfectly in character.
It also has a lot of personalities. There are always bigger, nicer, and more expensive hotels in this town. The only way out of this arms race is to be yourself. The Marlton is fancy enough in a Parisian-style way, and it's also priced reasonably so that a wider range of people can go there. It's been called a "baby Bowery," which isn't too far off. Think of the Bowery Hotel on a smaller scale and with a more residential feel, and you're almost there.
17. Mr. C Seaport, Downtown Manhattan
The furniture in Mr. C Seaport is made of baby pink and sapphire-blue velvet and has a mix of rich teak veneers and golden accents. The whole place has a luxuriously sophisticated feel. It is a great boutique hotel for families in Manhattan. Little C amenities like a cute teddy bear named Mr. C, a coloring book, and free home-made cookies with Nutella make traveling with kids less stressful. The rooms are sleek and comfortable, with dark colors, 50-inch TVs, and rain showers. You can eat authentic Italian food like tagliolini with shrimp and zucchini at the cherry blossom-filled Bellini Restaurant, or you can go to Wall Street Plaza to enjoy happy hour at one of the themed bars.
18. The Hoxton, Williamsburg
This beautiful Williamsburg boutique hotel is a branch of the British brand The Hoxton. There are hints of the factory's past all over the property, like the subway-style bathrooms and the raw concrete finishes in the bedrooms. Guests can get a great night's sleep in the cozy rooms, which have big beds and high-quality Dusen Dusen sheets.
Klein's, a local hangout inside the hotel, serves American brunch classics. With Brooklyn right outside and views of the famous Manhattan skyline, this is as New York as it gets.
19. Archer Hotel New York
If you're looking for glitz and glam in New York, it's hard to beat a stay at the Archer Hotel in Midtown. Its Spyglass Rooftop Bar has great views of the Empire State Building and makes a great Negroni.
20. The William Vale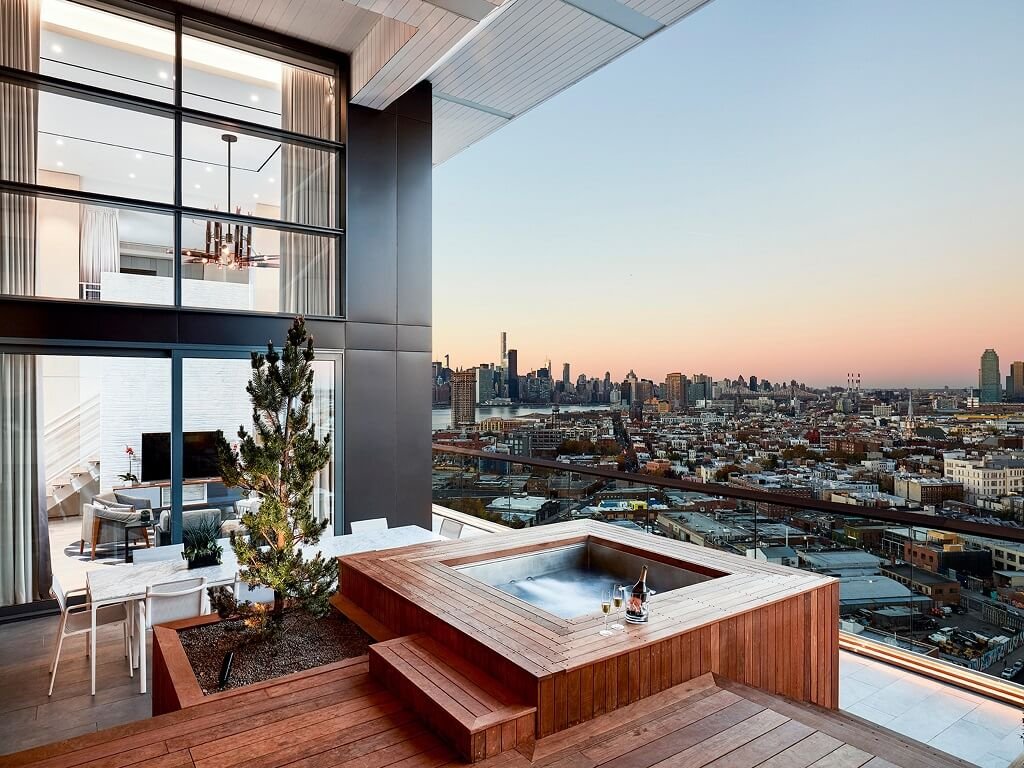 Want a room with a good view? The views from the 183 modern, luxurious rooms at the William Vale are hard to beat. The rooms have floor-to-ceiling windows and open-air balconies with views of Manhattan's famous skyline. At the hotel's restaurant Leuca, award-winning chef Andrew Carmellini serves South Italian food like wood-fired pizza. There is also a 60-foot outdoor pool with pergolas, daybeds, and a cabana, which makes it the perfect place to relax in the city during the summer. There are also many ways to get into the heart of the big apple, from ferries to subways, right outside your door.
21. The Broome
Our room descriptions now include High Speed, Hard Wire, Fiber Optic, and City Quiet Windows.This 14-room boutique hotel is in the SoHo neighborhood of Manhattan. It has an open-air courtyard with Moroccan tiles. WiFi is available for free.
The Broome was built in 1825 in the Federal Revivalist style. In the 1980s, it was home to a group of graffiti artists.Every room at The Broome has a flat-screen cable TV, high-end Bellino bed linens, and a desk. The bathrooms have a bathrobe, a hair dryer, and free toiletries that were made just for the hotel.
The front desk at The Broome is open 24 hours a day. When guests arrive, they are given a bottle of water and a piece of chocolate for free. There are also meeting rooms and daily housekeeping services available at the property. Every day, a free continental breakfast is served.
The underground station on Prince Street is a short walk away. Times Square is two subway stops from Union Square, and Union Square is seven subway stops from Times Square.
The Broome is a 10-minute walk from SoHo, Little Italy, and Chinatown, where you can shop and eat. 16 km separates you from Newark Liberty International Airport.
22. Chambers Hotel, Midtown Manhattan
The famous designer David Rockwell came up with the idea for the Chambers Hotel, which is a haven for art in Midtown Manhattan. The hotel's braided wood doors lead to a room with high ceilings, a rich chocolate color scheme, and basket-woven balustrades on the mezzanine level. Traditional Zen touches can be found everywhere: Japanese soaking tubs invite you to relax in the bathrooms, Tibetan wool rugs add a cozy touch, and potted plants bring in the outdoors. At the restaurant Felice 56, you can eat among greenery that reminds you of the countryside in Tuscany and choose from a long list of fine Italian wines.
23. 1 Hotel Brooklyn Bridge
The 1 Hotel Brooklyn Bridge is a beautiful oasis with 10 floors and a great waterfront location. It is a chic, light-filled space that brings nature back into city life. Local artists make it look like industrial steel, exposed pipes, reclaimed materials, and lots of lush indoor plants are all part of a single design. The carbon-neutral hotel also makes sure that it is as good for the environment as it looks. Low-energy LED lighting and wind power are used, and a system to collect rainwater is set up on the roof.
1 Hotel Brooklyn Bridge has a farm-to-table restaurant, a spa, and a cozy movie room to give guests the full resort experience. But if we had to pick a favorite place in the hotel, it would be the rooftop pool, which has a great view of the East River and the skyline of Manhattan.
24. Refinery Hotel
The Refinery Hotel in Midtown has a lot of history. It used to be a hat factory and a Prohibition-era tea room, and the building is still a neo-Gothic tower from 1912. The hotel now has a jazz lounge, a rooftop bar with a view of the Empire State Building, and rooms with big windows and 12-foot ceilings.
25. Conrad New York Downtown
This all-suite hotel is 500 meters from the World Trade Center and has 2000 pieces of art on display and an atrium.
Each room has its own living area, two flat-screen TVs, and an espresso maker. From some of the suites, guests can see the Hudson River.
The Atrio Restaurant serves Mediterranean food, and the seasonal rooftop bar, which has a view of the Hudson River, serves cocktails. Guests can also use the fitness center, which is open all the time.
For people who like to shop, Brookfield Place is across the street from Conrad New York, and Westfield World Trade Center is 650 meters away.
26. Boro Hotel
It's nice to stay in Manhattan, but if you choose to sleep on the other side of the East River, you'll be able to see the skyline of The City in a whole new way. Boro is the first design-focused hotel in Long Island City. It has a minimalist, industrial-chic style, and its rooms are filled with light and have floor-to-ceiling windows with jaw-dropping views. When the sun goes down, head to the lobby bar, where you can get beer, wine, and craft cocktails until 11pm. But we don't blame you if you'd rather go to bed early. The pillow-top mattresses and soft Italian bedding are hard to resist. You are also in the middle of Long Island City if you want to go somewhere else. There is a desk open 24 hours a day, so you can go back to your nice beds whenever you want.
27. MADE Hotel
The MADE Hotel is in New York and has a terrace. It is 600 meters from the Empire State Building. There is a bar in this 4-star hotel. There is free WiFi and a front desk that is open all the time.
Some rooms in the hotel have windows that go from the floor to the ceiling. Every room has air conditioning, bathrobes, a Samsung® flat-screen TV, a Revo SuperConnect® multi-format radio, and a Revo SuperConnect® multi-format radio. Some rooms at the MADE Hotel have views of the city.
On-site, guests can enjoy an American breakfast. The restaurant, called Ferris, serves lunch and dinner and is known for its American food. During the day, Paper, the coffee shop, serves coffee, tea, and baked goods. In the evening, it serves craft cocktails and some wines.
On the second floor, there is a patio that guests can use. On the 18th floor, there is a lounge called "Good Behavior." From there, you can see all of New York City. It has craft beers and cocktails with a Tiki theme.
The MADE Hotel is about 600 meters from Macy's, and Madison Square Garden is about 550 meters away. The airport is about 14.6 km away.
28. Library Hotel, Midtown Manhattan
The Library Hotel is right across the street from the main branch of the New York Public Library. Each of its 10 floors has a theme based on one of the classifications in the Dewey Decimal System. The 60-room property is one of the best boutique hotels in New York. It is small and cozy, and it has views of the skyline. It is also a book lover's paradise, with over 6,000 books in the lobby, rooms, and lounges. Make sure to stop by the Bookmarks Lounge in the evening to see the view from the rooftop and try drinks like the Tequila Mockingbird and the F Scott Fitzgerald.
29. St. Regis New York
Built by John Jacob Astor IV more than a hundred years ago, the St. Regis New York is an iconic building on Fifth Avenue and a glimpse into its rich past. The 5-star hotel has crystal chandeliers, velvet sofas, antique furniture, and even a personal butler for each guest, all of which give it an air of timeless luxury.
The bedrooms at the St. Regis New York are, as you might expect, very nice. The hotel lives up to its grand name with high ceilings, chandeliers, leather headboards, and soft bedding. Don't leave the hotel without stopping at the famous King Cole Bar. It's a New York institution and is known for a Bloody Mary drink called the Red Snapper.
30. Cachet Boutique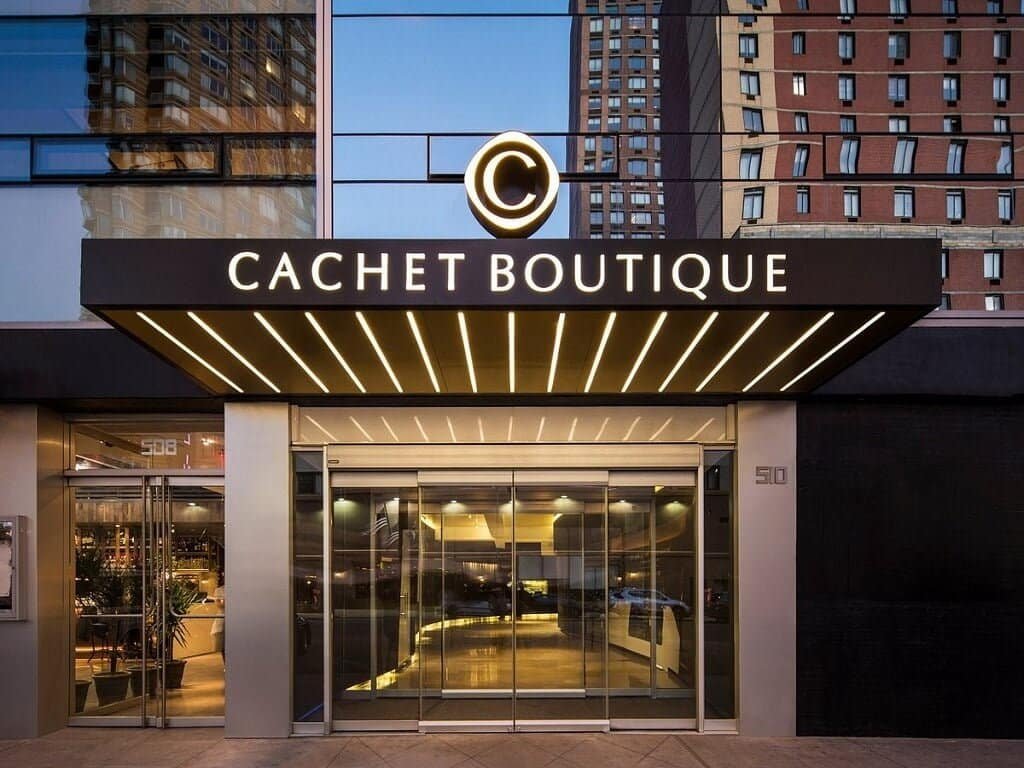 If you want to be close to Times Square, Rockefeller Center, and Bryant Park but don't want to deal with a crowd of people as soon as you leave your hotel, head to Cachet, which is a nice 10-minute walk from the popular Times Square area. Inside the building, there are 105 large rooms spread out among three quiet gardens.
31. The Frederick Hotel
The Frederick Hotel first opened in 1845 as the Gerard House. It has had many names and famous guests over the years. It is said that Abraham Lincoln slept there in the 1850s and that Vincent Gallo only paid $22 per week to stay there in the early 1980s. You can expect to pay a little more now, but the extra cost is worth it. It has been completely remodeled and rethought from top to bottom. It has 130 well-thought-out vintage-meets-minimalist rooms and the three-story Italian restaurant Serafina, which serves breakfast, lunch, dinner, and in-room dining. You can also walk to the World Financial Center, Chinatown, and Wall Street. This is both a luxurious and convenient place to stay because it is right in the middle of the Big Apple.
32. The Ludlow Hotel
Modern rooms are bright and have windows that go from floor to ceiling. Bathrooms have soaking tubs and/or rainfall shower heads. Some rooms have a place to sit, a view of the city, and/or a terrace or balcony.
This hotel is in the Lower East Side neighborhood of Manhattan. It has great views of New York City's skyscrapers and bridges. Each room has free WiFi.
Every room at The Ludlow Hotel has hardwood floors, handmade silk rugs, and Moroccan lamps made by hand. There is also a minibar with items from the area. The bathroom has a deep soaking tub and a brass rain shower. It is covered in marble mosaics.
The Ludlow Hotel has a front desk that is open 24 hours a day and a garden with trellises where people can relax. Guests can also get a drink in the lobby bar and lounge or work out in the fitness center, which is open 24 hours a day. There is parking close by.
The New Museum is 600 meters from the hotel, and the Lower East Side Tenement Museum is 450 meters away. The 2nd Avenue Station is only 161 meters away, making it easy to get to anywhere in Manhattan or Brooklyn.
33. Lord and Morris, Times Square
Lord and Moris is in the heart of Times Square, right in the middle of all the neon lights, so it's a great place for people who want to get a real taste of New York. Its entrance is guarded by two milk-white horse statues that stand under a canopy of fairy lights. The lobby has a living wall that looks like a jungle and gray Chesterfield sofas that have been polished. The rooms range from small rooms with bunk beds to family-friendly group suites, and they are all affordable. All of them only have the bare necessities, but that doesn't mean they don't have pillow-top mattresses or flat-screen TVs. Sleek wooden furniture and emerald walls help create a relaxing fake forest feel.
34. The Nolitan Hotel
The Nolitan Hotel is a small, pet-friendly hotel with a lot of charm. It is in the pretty neighborhood of Nolita. It's a good place to stay if you want to explore Downtown New York because it's cool and feels like home, and you can walk to places like SoHo and Chinatown.
Each room is bright, modern, and well-designed, with large beds, oak floors, cement ceilings, and great views of the Williamsburg Bridge or the Empire State Building. Travelers have a large desk to work on, and some rooms have their own balconies. Guests can rent bikes and skateboards, which is a plus.
35. Arlo
Even though you may be in New York to see the sights and enjoy everything the city has to offer, you may not want to leave the hotel if the programming is this good. At Arlo Soho, you can take "Cozy AF Knitting" classes where you drink hot cocoa and learn how to knit a pair of fingerless gloves. You can also take "Mixology" classes with some of New York's best bartenders to learn how to shake, strain, and stir drinks. When you're hungry, go to the Arlo's restaurant, Harold's Meat + Three, for a big plate of hot chicken, Japanese sweet potatoes, mac and cheese, and blistered shishito peppers. Blissful. You don't have to check out the facilities every day. You're not in New York to stay inside, are you? You're lucky that you're in Soho. So you're close to One World Trade Center, Ellis Island, and more
36. Baccarat Hotel and Residences New York
The Baccarat Hotel and Residences is in New York, and every room has crystals made by Baccarat. Guests can enjoy the hotel's indoor pool, fitness center, and French restaurant, as well as its intricate architecture and design. WiFi is available for free.
Every room in the hotel is decorated in a modern Parisian style and has a flat-screen TV, a sofa, and a desk. There is a hairdryer, free toiletries, slippers, and a bathrobe in each bathroom. There is also an iron, a coffee machine, and a safe deposit box.
The Baccarat Hotel and Residences in New York has a front desk that is open 24 hours a day and gives each guest a personal host. The hotel also has a spa and wellness center, as well as services like laundry and concierge.
The hotel is only 100 meters from the Museum of Modern Art, 200 meters from St. Patrick's Cathedral, and 200 meters from Radio City Music Hall. 19 km separates you from Newark Liberty International Airport.
37. Luxe Life Hotel, Nomad
This boutique hotel, which used to be the headquarters of Life magazine, has the same adventurous spirit. The rooms are pet-friendly and have uplifting quotes on the white walls and Edison light bulbs. You can relax in front of a 60-inch TV and stream your latest obsession with Google Chromecast. After a workout at the gym, which is open 24/7, or a meal of homemade pasta at restaurant Marilyn, you can go to the reborn speakeasy-style bar, which is set to open in late 2020. During the Prohibition era, the Life staff used to get delicious drinks there. With the city right outside your door, you can easily walk to places like the Empire State Building or Macy's for some retail therapy.
38. Sixty Les
At the Sixty Les, you can find a high-end place to stay. It's a stylish and modern place with some odd touches, like Andy Warhol's face looking up from the bottom of the rooftop pool when it's open. With sleek Jim Walrod decor, the large bedrooms are a great place to rest.
In the Lower East Side, Sixty Les is close to some of the coolest places to shop, eat, and go out at night in the city. But if you'd rather hang out at the hotel, Blue Ribbon's Sushi Izakaya and Beer Garden has a great selection of Japanese food and tasty drinks.
39. Hotel Hugo
When you're in Soho, it can be hard to live up to the hype, but Hotel Hugo makes it look easy. The hotel has rooms and suites that look and feel old, a rooftop bar with views of the Hudson River, and a modern art-industrial style.
40. Gowanus Inn & Yard
In one of this Gowanus neighborhood spot's 76 rooms, designed by SAVVY Studio, you can add comfort to your quirky Brooklyn stay. Each room is a mix of function and comfort, with smart amenities like down comforters and leather-trimmed pillows that you can hang on the wall to rest your tired head. You're only a thousand miles from the Barclays Center, and the hotel is open 24 hours, so the party can end whenever you want. You'll rest well.
41. Hotel Scherman
This small hotel on the edge of the Theater District has apartment-style suites and a brick facade, wrought-iron grills, and gas lamps that make you think of old New Orleans. The elegant rooms have kitchenettes, working desks, free WiFi, flat-screen TVs, DVD players, and coffeemakers. The 2-bedroom suites have private balconies. Hotel Scherman is a boutique hotel in midtown Manhattan. All rooms have pillow-top mattresses, and guests can get daily newspapers and housekeeping service. This Manhattan hotel serves a continental breakfast every morning. On-site concierge services are available, and there are a number of theaters and restaurants within 600 meters. It is 500 meters to Times Square.
42. The Nolitan, Nolita
The Tetris-style windows that run across the front of The Nolitan are the first sign that it is focused on design in a unique way. Its rooms are stylish, with hardwood oak floors, raw concrete walls, and bright open-plan bathrooms. If you book a corner room, you can see the Williamsburg Bridge. Some rooms allow pets, and gamers can make themselves at home with the option to request a console. You can also borrow a free bike or skateboard if you'd rather get around the city on wheels.
43. The Standard
Standard hotels do chill like no one else, and the one in East Village is no different. It's the perfect example of low-key luxury, reflecting the grit and coolness of its neighborhood with just the right amount of understated style. Designer toiletries, bathrobes, and a Bluetooth speaker are all included as standard, making it the perfect place for people who want to get a real taste of modern New York. Since the hotel is in the East Village, you might have too many things to do outside of it. But if you need a place to rest, this is a good option that won't break the bank. Far from just standard.
44. The Maritime Hotel
This hotel is in the Chelsea neighborhood of New York City, right across the street from Chelsea Market and less than a kilometer from Chelsea Piers. Rooms with a nautical theme have free WiFi.
Every modern room at Hotel Maritime comes with a minibar and an iPod docking station. Each room has a porthole window and furniture made of dark wood. The bathroom is made of marble and has a rain shower head and a bathrobe.
The on-site restaurant, CATCH STEAK, combines the authority of a classic steakhouse with the lighter, brighter style and lively atmosphere of a Catch Hospitality Group property. The menu has a carefully chosen selection of the world's best cuts of meat and dishes with influences from around the world. This makes the steakhouse feel more accessible, with fun, shareable, streaming-style service and options for everyone.
At the hotel, you can use the concierge service or rent a bike. Everyone who stays at the hotel can use the gym for free.
The Maritime Hotel is close to many subway stations on 9th Avenue, making it easy to get around the city. The hotel is about 650 meters from both the Rubin Museum of Art and High Line Park.
45. The Time New York
If you take advantage of one of Time New York's seasonal deals, you can enjoy unique New York luxury without feeling bad about spending a lot of money. Get away from the noise of nearby Broadway and Times Square by entering the sanctuaried reception area. Then, relax in one of the 167 rooms decorated with watercolors and brushed metal. Each has Italian Frette linens, a rain showerhead, a soft robe, and other high-end amenities from Maison Margiela Paris. When you're rested, you could go to the famous Restaurant Row or even Times Square.
46. Artezen Hotel
In New York, the Artezen Hotel is 1.2 km from the National September 11 Memorial & Museum and has a fitness center and rooms with free WiFi. One World Trade Center is about 1.4 km from the hotel, and Brooklyn Bridge is about 1.6 km away. The property is in the Wall Street – Financial District, and Bloomingdales is 2.3 km away.
All the rooms in the hotel have flat-screen TVs. There are toiletries in the private bathroom that are free to use. At the Artezen Hotel, every room has air conditioning and a desk.
The place to stay has a terrace. The Artezen Hotel also has a business center and a place to rent bicycles. Staff at the front desk speak both English and Spanish and are ready to help around the clock.
The hotel is 2.8 km from NYU, or New York University. The Highline Park is 4.4 km from the hotel. The distance to LaGuardia Airport is 19 km.
Frequently Asked Question (FAQs) About Best Boutique Hotels in New York City
Which New York City boutique hotels have the biggest rooms?
Many first-time visitors to New York are surprised by how big the rooms are (smallish). If you need more space but don't want to book a suite, these boutique hotels have standard rooms that are bigger.
Which of the best New York City boutique hotels allow pets?
The best NYC boutique hotels have many options for people who want to bring their pets with them. Here are some examples of places that charge for pets and may have other rules.
Which New York City boutique hotels have MICHELIN rated restaurants?
In the best boutique hotels in New York, there are lots of great places to eat. Here are a few that The MICHELIN Guide says are worth going to.
What are the best boutique hotels in Soho?
Here are the Soho boutique hotels with the best reviews.
What are the best boutique hotels in Midtown?
Here are the best boutique hotels in Midtown, based on reviews.
Which New York City boutique hotels are closest to the Empire State Building?
There are many places to stay if you want to be near one of New York City's most famous landmarks. Here are the best small hotels in New York City that are near the Empire State Building.
Which New York City boutique hotels are the closest to Central Park?
You can't go to New York City without taking a walk through the famous park. Here are the best small hotels in New York City that are near Central Park.
Which are the closest New York City boutique hotels to Times Square?
Even though Times Square has a mixed reputation, no one can say that it isn't worth seeing at least once. Here are the best small hotels in New York City that are near Times Square.
Are MICHELIN and Tablet Hotels the same?
Tablet Hotels joined MICHELIN in 2018, and now the MICHELIN Guide has a section on hotels.