Beach lovers go to Malibu. It is a city on the coast of LA County, between the Santa Monica Mountains and the ocean. Officially, the city includes 21 miles of oceanfront, but the coast goes farther in both directions. Along with historic villas, celebrity mansions, and a number of well-known seafood restaurants, Malibu's postcard status comes from its beaches.
Beach lovers go to Malibu. It is a city on the coast of LA County, between the Santa Monica Mountains and the ocean. Officially, the city includes 21 miles of oceanfront, but the coast goes farther in both directions. Along with historic villas, celebrity mansions, and a number of well-known seafood restaurants, Malibu's postcard status comes from its beaches.
Malibu is west of the always-popular city of Los Angeles. It is known for being home to many famous people and for having nice beaches Malibu beaches are a must-see if you're in California. They have white sand beaches and waves that will blow you away. The best beaches near Malibu are great, but the best beaches in this coastal city are even better.
Malibu: Where Is It?
Malibu is a city in Los Angeles County. It is between the well-known tourist destinations of Santa Monica and Santa Barbara. The best way to get there is by car, because that gives you the most freedom to plan your day and choose the sights and beaches that most interest you (For more information, we will publish soon an article about renting a car in Los Angeles)
When you leave Santa Monica, you will take the Pacific Coast Highway north. Traffic is likely to be bad. We were told this before we took the Pacific Coast Highway, so we knew what to expect. However, the sun, palm trees, and view of the ocean make the drive much more enjoyable.
The Beaches in Malibu
If your idea of a beach is a natural, almost primitive place, then many of Malibu's beaches are like this, while others are only slightly changed by the houses nearby. In some parts of the coast, houses built farther away on the cliffs don't take away from the beauty of the beaches. The list of beaches is long, and everyone has different tastes. If you are planning a trip along the Pacific Coast Highway, we suggest stopping at places where you like the view and where you can get to the beach.
You don't always have to pay for parking if you park along the highway, but you must be very careful when crossing it!!! We started our trip from Santa Monica and "spent" three days exploring this beautiful coastline.
No matter what you do or where you go along the coast, make sure you are on the beach before sunset, which is the most beautiful time of the day to be there.
Where to Eat in Malibu?
Malibu is a quiet residential area that seems to calm down after sundown, even though there are parties and other events in the villas. Moonshadows is a place in Malibu where you can spend a nice evening (20356 Pacific Coast Hwy). During the day, you can see the ocean from there. At night, it is lit up with blue lights. Plus, what could be better than having dinner or an aperitif while listening to music and watching the waves?
Remember Geoffrey's Malibu in Escondido Beach (27400 Pacific Coast Hwy), and we also recommend Café Habana in Malibu Lumber Yard (3939 Crosscreek Rd). Did you know that Cindy Crawford's husband is one of the people who own Café Habana?
Duke's Malibu (21150 Pacific Coast Highway) is named after Duke Kahanamoku, who was a famous surfer, a swimming champion, an actor, and a lifeguard in Malibu when he was young. On Carbon Beach, the Carbon Beach Restaurant at the Carbon Beach Inn (22878 Pacific Coast Highway) has a romantic atmosphere and a terrace. From the terrace, the view of the ocean is beautiful.
Where to Stay in Malibu?
It's not impossible to find a cheap place to stay the night in Malibu. We want to talk about two ways to save money. The Malibu Country Inn (6506 Westward Beach Rd) is on a point where you can see the garden, the ocean, or the mountains. The M Malibu (22541 Pacific Coast Highway) is close to beaches, shops, and restaurants. Some rooms have balconies with views of the ocean.
We also want to mention that the Malibu Beach Inn (22878 Pacific Coast Highway), which is on the so-called "Billionaire Beach," has undergone a major renovation that could affect our portfolio. The views from the high-end rooms and suites of the beach are amazing. Let's not forget the Malibu Beach RV Park (25801 Pacific Coast Hwy), where you can have a great camping experience in an RV, trailer, or tent in a beautiful place with palm trees and views of the ocean and mountains.
Shopping in Malibu
If you want to go shopping, go to the Malibu Lumber Yard (3939 Cross Creek Rd) and the Malibu Country Mart (3835 Cross Creek Rd), where the first GROM on the West Coast just opened. This is a well-known Italian chain of ice cream and frozen yogurt shops. It's fitting that it's in Malibu, where "grom" also means "young surfer," since that's what the word means.
The look of the two malls doesn't seem to go with the rest of Malibu, but the shops and restaurants inside are elegant and inviting, and there are great Italian and Chinese restaurants. We also suggest the Point Dume Plaza Shopping Center (29169 Heathercliff Rd), where you can shop and eat in a nice outdoor setting.
Malibu Surf Shack is the right place to rent the gear you need for water sports if you don't already have it. The people who work at this local business teach surfing and kayaking and set up tours of the area on paddleboards and kayaks.
33 Best Beaches in Malibu, CA
1. Malibu Lagoon State Beach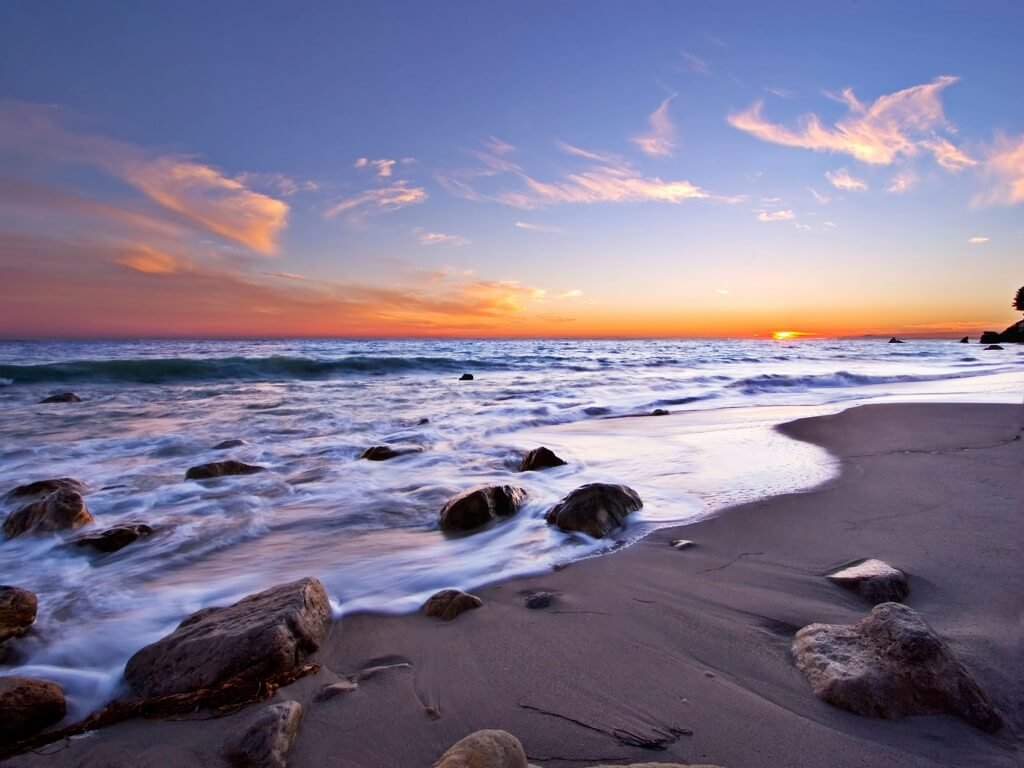 Malibu Lagoon State Beach has a lot of Malibu's most famous sights. Malibu Lagoon State Beach is where Malibu Creek meets the ocean, where a dynamic wetland and the beach meet. It is also where the famous Surfrider Beach and the Malibu Pier are.
At the intersection of Cross Creek Place and PCH, there is a separate parking area for the lagoon area of the state beach. Here, a trail goes around the wetlands and gives information about them as it goes. The trail ends at the lagoon beach. Bird watchers and people who like to see wildlife like to come to this wetland and wide beach.
The state beach also includes the long crescent-shaped beach around the Malibu Pier, which is further to the east. This beach is Surfrider Beach, which has been known for bringing surfing to Southern California for a long time. Even now, Surfrider is a popular break. The Malibu Farm Restaurant, which is on the pier, serves seafood and has a great view of the coast.
The historic Adamson House is also in Malibu Lagoon State Park. It is on the beach between the lagoon and the pier. This house is in the Spanish Colonial Revival style. It was built in the 1920s, when the city was still young. Tours of this historic home are led by people who can tell you about its past and show you the inside and the beautifully landscaped grounds.
Why Do We Recommend This Beach?
One of the best things to do in Malibu is hang out on the beach, not necessarily to swim Malibu Lagoon is a great place to go if you like to watch animals Set up your chair and grab your binoculars. Now you're ready to watch birds You might also see a whale or two playing in the water if you're lucky.
Expert Tip:
There are creek pools and tide pools all over this beach.
When you're here, you should go tide pooling.
The historic Adamson House is also in Malibu Lagoon State Park. It is on the beach between the lagoon and the pier. This house is in the Spanish Colonial Revival style. It was built in the 1920s, when the city was still young. Tours of this historic home are led by people who can tell you about its past and show you the inside and the beautifully landscaped grounds.
2. El Matador State Beach
El Matador is the most popular of the three beaches at Robert H. Meyer Memorial State Beach in the western part of Malibu. There are some beautiful rock formations that stick out from its shore. The beach's popularity has grown a lot because of how good it looks in pictures.
And the beauty of the beach isn't exaggerated. The unique path down the side of the eroding bluff, which ends with a staircase, gives a great view of the whole beach. Sea stacks and sea caves invite all kinds of exploration near the shore.
Beach walks can be made longer by going south or north along the shoreline. At low tide, when most of the formations aren't under water, is the best time to go. Before going on a long walk on the beach, you should look at a tide chart.
Less than five miles south of Leo Carrillo State Beach is El Matador Beach. From the PCH, there are signs that show the way to the dirt parking lot, but if you are new to the area, it is easy to miss them. Even though the beach is very popular, the parking lot is not very big. Most of the time, the best time to find a parking spot is early in the morning.
3. Carbon Beach
The real name of this stretch of beach is Carbon Beach, but the name "Billionaire's Beach" gives you a good idea of what you can find there. You don't have to pay to go to the beach, but the mansions that line the beachfront will make you drop your jaw and wonder what it's like to have the Pacific Ocean as your backyard.
As you drive along Highway 1, the dream homes make it look like you can't see the beach at all. However, there are access points right off the highway. There are two ways to get to Carbon Beach: the West Access and the East Access. You can park for free right off the highway.
At high tide, most or all of the beach is under water. Use a tide table to figure out when to go so you don't get pushed off the beach by rising water.
If you want to live on Billionaire's Beach but don't have enough money for a down payment, you can stay at the Malibu Beach Inn, which is right on the water and lets you live like a rich neighbor for a night.
4. Zuma Beach
If you drive past Will Rogers Beach and Surfrider Beach, you'll find Zuma, which has clean, wide sand and waves. This Malibu beach is a popular place for locals and tourists to go on weekends and holidays. There is plenty of parking (you can pay at the lot or park for free along the PCH) and there are lifeguards on duty. As the waves break on this sandy beach, surfers can catch a few, but the waves tend to close up, making this a great place for boogie boarders and body surfers.
5. Getty Villa
We mostly looked at the beaches in Malibu, but you shouldn't stop there if you have time. From the Getty Villa in the Pacific Palisades District, which looks like an ancient Roman villa and has about 45,000 pieces of Greek, Roman, and Etruscan art dating back to 6500 B.C., there is much more to discover. to 440 A.D. In 1954, oil magnate Paul Getty opened an art gallery in his house in Malibu. However, after a few years, the collection grew too big for the house and had to be moved. This led him to decide to build a villa nearby where he could show his work.
Getty Villa is one of the locations of the Getty Museum. It opened in 1974 at 17985 Pacific Coast Highway – Pacific Palisades, which is between Malibu and Los Angeles. A lot of people come here to see The Fano Athlete (The Victorious Youth), a bronze statue that is the size of a real person and is one of the most important pieces. You can go to the museum for free every day but Tuesday, Christmas Day, and Thanksgiving. The Getty Museum is open from 10 am to 5 pm, but you should make a reservation ahead of time. Please be aware that private parking costs $15 before 3:00 pm and "only" $10 after that time. If you don't want to drive, you can use public transportation to get there.
6. Malibu Wine Hikes
Malibu Wine Hikes (32111 Mulholland Hwy) gives you the chance to take a beautiful tour of the vineyards, where you might see animals and taste wine at the end of the day. On the way back, the driver needs to be sober because the road is windy and dark in the evening.
7. Point Dume State Beach
At Point Dume State Beach, it's easy to forget that you're only a few miles from the busy city of L.A. metro area. That's because you'll be looking at the beautiful headlands, rocky coves, and offshore rock formations while enjoying the more than a mile of sandy beach at the base of the high cliffs. On a clear day, just across Santa Monica Bay, you might be able to see Catalina Island or the Channel Islands.
Point Dume Beach has everything. Active beachgoers can explore the different hiking trails that look out over the ocean before taking a dip and going for a swim, but there's nothing wrong with just spending the day lounging on the sand. One of the best places to dive in the state for scuba divers is the underwater area called the Pinnacles. During their annual migration, from December to March, grey whales can often be seen from the shore.
It's not only one of Malibu's biggest beaches, but it's also split into Big Dume Beach and Little Dume Beach, so you can usually find a spot even on busy weekends or holidays. But on weekdays, the park is blissfully empty and is the perfect place to get away from the city.
The small parking lot closest to the entrance has only 10 spots and fills up quickly. However, at the end of Westward Beach Road, there is a much bigger paid parking lot with a lot more spots. From there, it only takes five minutes to walk across Point Dume to the stairs that lead down to the water.
8. Malibu Creek State Park
Malibu Creek is one of the most beautiful places in Southern California. It has deep gorges, open pastures, lush forests, hidden pools, and jagged peaks. There are beautiful trails in the Santa Monica Mountains, and since this is still L.A., there is also a bit of movie history. You can find pieces of the M*A*S*He set and swim in the rock pool from Planet of the Apes.
9. Adamson House
The Adamson House (23200 Pacific Coast Highway). The Adamson family owns this beach house, which was built in the style of Spanish Colonial Revival and still has the original furniture from the early 1900s. It is not the home of a rich family. Instead, it is a historic house that people can visit. It is a rare example of how people lived at the time it was built.
It is on one of the most beautiful pieces of oceanfront property in all of Southern California. The house is near the Malibu Pier, between the famous Surfrider Beach and the lagoon. It has an exotic mix of Spanish and Moorish influences, with beautiful hand-carved doors, frescoes, and decorative tiles.
10. Westward Beach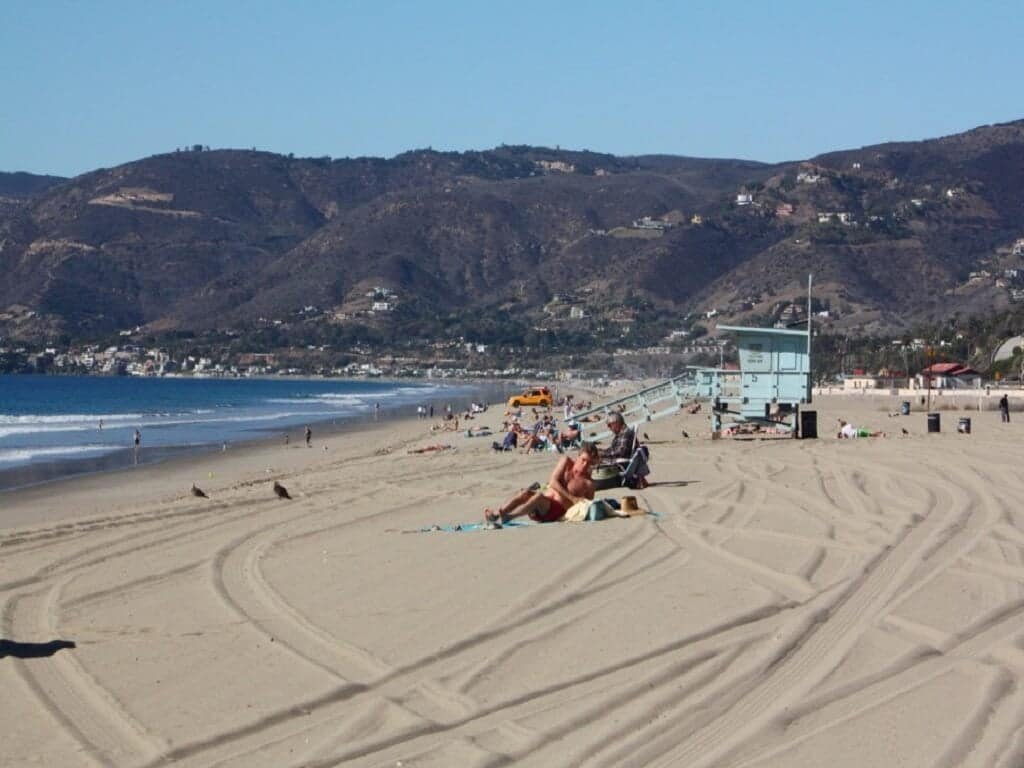 The three-mile-long Westward Beach has wide stretches of sand.
It's a great place to surf in Los Angeles. This beach is by far the biggest and most popular one in Los Angeles. The water at Westward Beach is still one of the cleanest and healthiest because it is so clear.
People from all over the world come to this beach to surf, kiteboard, snorkel, paddleboard, and bodyboard. Keep an eye out for rip currents at all times. With more than 10 lifeguards on duty, shops, restaurants, beach volleyball games, and many other fun things to do, Westward is a great place for families.
11. Escondido Beach
Escondido Beach (27200 Pacific Coast Highway) is a sandy beach south of Point Dume with trees and houses on the water. You can get to Escondido Beach by taking a long staircase west of Geoffrey's Malibu Restaurant (27400 Pacific Coast Highway), where there are a few parking spots, or by crossing the bridge over Escondido Creek, which is close to 27148 Pacific Coast Highway. This is a popular place for divers to go.
12. Paradise Cove
The cliffs around Paradise Cove (28128 Pacific Coast Highway) make it a beautiful bay. We think it's important to say that there are tanning beds and a restaurant, which can be good or bad, depending on what you're looking for. If you're looking for a long, quiet beach, this isn't it, but we still think you should come here.
13. California Surf Museum
If you are more interested in beach-related activities, the California Surf Museum (inside Pepperdine University's Payson Library) has 30 historical surfboards on display, some of which date back to the early 1900s. These boards are modern works of art.
People say that California's universities are the most beautiful in the world. If you want to see a campus, we recommend Pepperdine University in the hills of Malibu. There is a beautiful terrace up there, and the view is amazing.
14. El Sol Beach
El Sol Beach is a public beach in Malibu. It is located at 33550 Pacific Coast Highway. But you can only get there when the tide is low or by boat, because some homeowners didn't want a public staircase built, even though money had already been raised for the project. But if you like quiet and pretty places, you should come here.
Expert Tip:
Paradise Cove has a lot of useful features and a cafe that serves breakfast, lunch, and dinner.
15. Solstice Canyon
Solstice Canyon is a trail in the beautiful Santa Monica Mountains at 3455 Solstice Canyon Rd, near Dan Blocker County Beach. It has great views of the ocean and a wide range of plants and animals. The canyon is also known for the waterfalls that are always there. The Chumash tribe used to live in Solstice Canyon. The trail there is about 6 miles long, but you can also do shorter hikes on this trail.
16. Topanga Beach
Topanga Beach is the beach in Malibu that is the most east and therefore the closest to Los Angeles. It's a well-known stretch of beach for more than just the fact that it's about 25 miles from Los Angeles. Topanga is also popular because of its shape and location, which makes it a great place to surf.
Other popular things to do at Topanga Beach are scuba diving, snorkeling, and looking for wildlife in the Topanga Lagoon, which is right next to the beach. The beach at Topanga is pretty rocky, so it's not a good place to go swimming.
The parking area is right off the PCH and has a little less than 100 spots. Parking along the PCH is also a possibility. No matter what, this place is busy on the weekends. There are bathrooms and outdoor showers at the beach, which is a short walk down some stairs.
17. Surfrider Beach
If your idea of a Malibu beach is Sandra Dee as Gidget playing around in a polka-dot bikini, you're probably picturing Surfrider Beach at the east end of Malibu Lagoon State Beach. Surfers love the super long right-hand break at Surfriders, but there are often so many surfers in the water that it's hard to swim.
At the northeast end of the beach is the Malibu Pier. Fishermen like to hang out there for the day and fish while taking in the view. If you don't want to catch your own food, you can eat at the Malibu Farm Cafe, which serves dishes that come straight from the farm.
Malibu Lagoon State Beach includes Surfrider Beach, but the parking lot is closer to the lagoon than to the ocean. You can get to Surfrider Beach best from a separate parking lot near the Adamson House, or you can always park on the side of Highway 1 if you find a spot.
18. Malibu Hindu Temple
This Hindu temple is called Malibu, but it is actually in Calabasas, in the Santa Monica Mountains. The temple is for the god Venkateswara, and it has regular services and special events all through the year. Hungry? The kitchen serves tasty vegetarian eats on weekends. The beautiful space can also be rented out.
19. Escondido Falls
This is one of the biggest waterfalls in Southern California. It is a two-tiered, 150-foot cascade that falls over moss-covered limestone rocks. You'll start the about 3.8-mile trip from Winding Way East, a private road in the Malibu hills that goes uphill past ocean-view estates. Get ready to cross streams and jump from rock to rock.
20. Broad Beach
Broad Beach is another long, narrow beach in Malibu. It has rock piles and bulkheads to keep the homes from getting washed away. When the tide is high, you can't walk on the sand. At the north end of the point, between Lechuza Beach and Broad Beach, there are tide pools.
Surfers and bodyboarders tend to gather at Broad Beach, which is the most popular beach. Between the houses or at the north end of Zuma Beach, you can get to the beach.
21. Lechuza Beach
www.jmfmalibu.com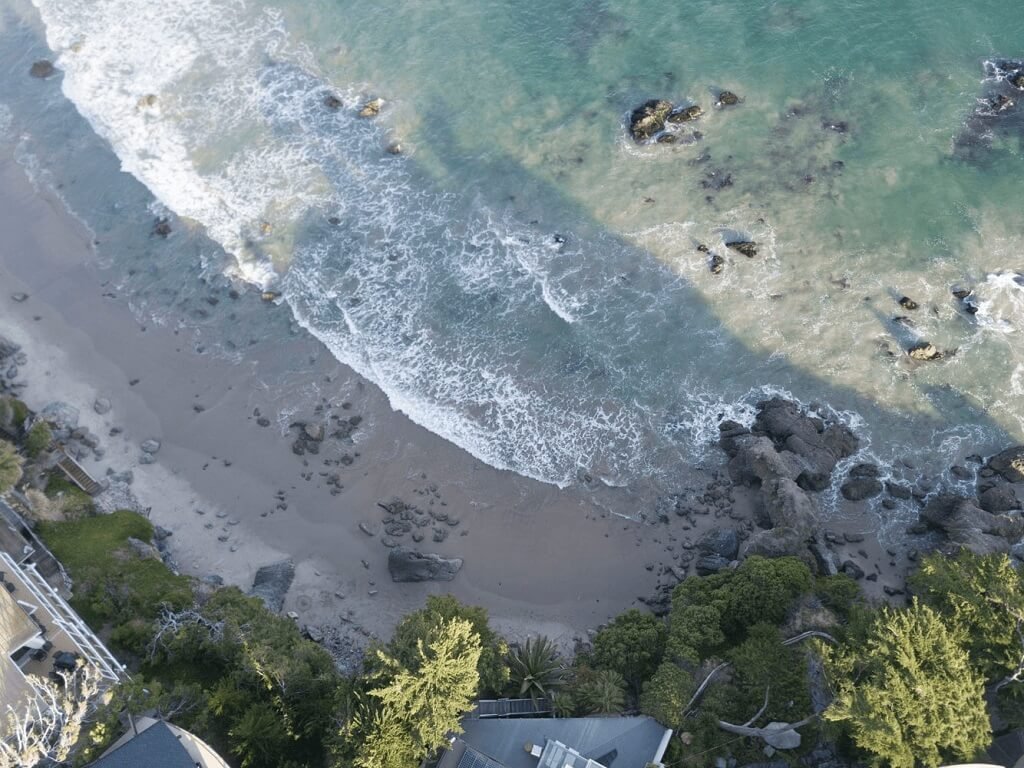 Below the mansions at the north end of Broad Beach is a public beach called Lechuza Beach. The rocks at Lechuza Beach are a big reason why this is a popular place for photographers. The way the rocks are shaped stands out against the white sand and crashing waves. There is free parking, but there are no facilities.
You'll need to bring a lunch and a cooler full of drinks, and you can spend the day sunbathing and taking in the beautiful views of Malibu.
22. Leo Carrillo State Park
On the western edge of Malibu, Leo Carrillo is a great state park. It has two beautiful stretches of shoreline and trails through a canyon. It is also the site of a popular campground with more than 100 sites. The park's north and south beaches are separated by a rocky point called Sequit Point. There are several tide pools and sea caves to explore there.
Near the entrance to the state park, you can walk through a tunnel under the PCH to get to South Beach at Leo Carrillo. The entrance to this tunnel is about 100 feet from the entrance to the Canyon Campground in the park, which has a large parking area for day use.
The huge sea stacks of Sequit Point, which are to the north of South Beach, are one of the most interesting rough parts of the area. The best time to explore these rocks is when the tide is low and sea caves and tide pools are exposed. And Nicholas Canyon Beach is to the south of the crescent-shaped beach. People like to sunbathe and surf along this whole long stretch.
On the other side of Sequit Point, North Beach is bigger and has even more sand to explore. This long stretch of beach has a long parking lot next to it. The entrance to the state park is just a short drive away. Some parts of this beach are good for dogs, but they have to stay on a leash.
23. Nicholas Canyon Beach
The beach of Nicholas Canyon is in the western part of Malibu. Where San Nicholas Canyon meets the ocean shore is the beach.
Why Do We Recommend This Beach?
Surfers who love the way the waves break on the rocks at Nicholas Canyon Beach call it "Point Zero." In addition to surfing, you can swim, fish, and scuba dive while you're there. During the summer, there are lifeguards on duty to keep people safe.
Expert Tip:
If you get hungry, don't forget to bring your own food.
You can use the picnic tables all over the park.
But if you're lucky, you might find a food truck near the beach, especially when it's       busy.
24. Big Dume Beach, Point Dume
Point Dume, which is west of Malibu, has some of the city's most rugged and beautiful coastline. This south-facing point is part of the Point Dume Natural Preserve, which has hiking trails and places to watch whales. On either side of Point Dume, there are two beaches that you can check out.
East of Point Dume is Big Dume Beach, which is also called Dume Cove Beach. The best way to get there is to hike over Point Dume and down a long set of stairs. These stairs lead to a wide beach with lots of room to explore. As you walk east along the beach, it becomes Little Dume Beach and then ends at Paradise Cove.
Westward Beach is to the west of Point Dume. This beach is also part of Zuma County Beach's southern half. It has similar amenities, like volleyball nets and lifeguards on duty. Westward Beach is also the best place to park if you want to go anywhere else in Point Dume.
25. El Pescador State Beach
El Pescador State Beach is one of the three beaches that make up Robert Meyer Memorial State Beach. The other two are El Matador State Beach and La Piedra State Beach. This beach has private parking, and the walk to the sand is short but beautiful, going through a cove and past cliffs, rocks, and tidal pools.
This beach isn't as busy as the other two, so it's quieter. Bring a picnic to El Pescador State Beach because there aren't any food stands or restaurants nearby. But who doesn't like sandwiches on the beach?
26. Thornhill Broome Beach
Point Mugu State Park covers five miles of coastline, which includes Thornhill Broome Beach. It's one of the longest beaches in the park, but it's not very wide, and low tide is the best time to visit. The beach is very beautiful, and the Santa Monica Mountains make a stunning background.
Thornhill Broome Beach doesn't have its own parking lot, so most people park on the side of the PCH. The beach is a great place to take pictures or sit in a chair and watch the world go by. On the other side of the PCH from the beach is a huge dune that you can climb up to explore and then ride down steeply.
The Sycamore Canyon Campground in the state park is south of Thornhill Broome Beach. It has more than 40 tent and RV sites. This popular campground is close to a large network of hiking trails and the Sycamore Cove Day-Use Area on the coast, both of which can be reached on foot.
27. Dan Blocker Beach
Dan Blocker Beach is a long stretch of sand about halfway between Point Dume and Malibu Lagoon State Beach. It's also called Corral State Beach, and the county runs it now. There are a few amenities at the beach, such as bathrooms, picnic tables, and lifeguards during the summer.
The beach isn't as busy as some of Malibu's other stretches of sand, so it's a good choice for people who want to be alone. But the PCH is close to the beach, so there is usually noise from cars.
Most people drive to Dan Blocker Beach and park on the side of the PCH. People can also park on the other side of the highway, next to Malibu Seafood Fresh Fish Market & Patio Cafe, at the Sara Wan Trailhead. The 2.5-mile round-trip into Corral Canyon can also be reached from this trailhead.
28. Beaches South and North of Malibu
Malibu is not the end of the coast of California. North and south of the Santa Monica Mountains, there are a number of beaches to visit. Some people may say that Malibu has the prettiest beaches, but others try to get your attention.
South of Malibu, in the rest of Santa Monica Bay, there are a lot of beaches to check out. The most interesting, or at least the best lit at night, is Santa Monica State Beach, which is split in half by the rides at the Santa Monica Pier amusement park. Even though this popular spot is in the middle of a lot of things to do, it's not the only great beach near Santa Monica.
The short drive north of Malibu will also get you to the many beaches near Ventura. From the famous waves at Surfers Point in Seaside Park to the paths lined with palm trees in Oxnard Beach Park, this side of the coast has everything a vacationer could want.
29. Malibu Country Mart
This casual outdoor shopping and dining center is popular with locals getting lunch in wetsuits, celebrities pretending they don't want to be seen, and tourists walking through after a day at the beach. There are places to eat ranging from sandwich shops to high-end restaurants. Most of the shops sell L.A. quintessentials: designer jeans and $100 T-shirts. Make sure to check out the Malibu Lumber Yard next door, which is like an extension of the Country Mart, as well as Malibu Village across the street, where Broad Street Oyster Co. serves the best lobster roll in the area by far.
30. Mugu State Park
West of the Santa Monica Mountains, at Point Mugu State Park (9000 W Pacific Coast Highway), there are 5 miles of cliffs, beaches, sand dunes, hills, two river canyons, and wide grassy valleys. There are also a number of trails for hiking.
31. Las Tunas Beach
The rocky Las Tunas Beach is in the eastern part of Malibu. It's a great place to fish and scuba dive, but pets are not allowed. Since the shoreline is getting worse, they are taking steps to protect it from getting worse.
More people fish from this beach than swim. There isn't enough sand to really lie out in the sun, but it's a nice place to look around and take some photos.
32. Famous Residents of Malibu
Mel Gibson, Richard Gere, Whoopi Goldberg, Barbara Streisand, Pierce Brosnan, and Julia Roberts are all well-known people who live in Malibu. Do you want to look for stars on the beach in Malibu? One thing we want to make clear is that it's not easy to meet famous people. Most people prefer to sunbathe and relax in their villas, some of which can be seen on the hills or cliffs behind the beach. Starline Tours has a Malibu Stars' Homes Tour for people who want to see the homes of famous people.
33. Malibu Pier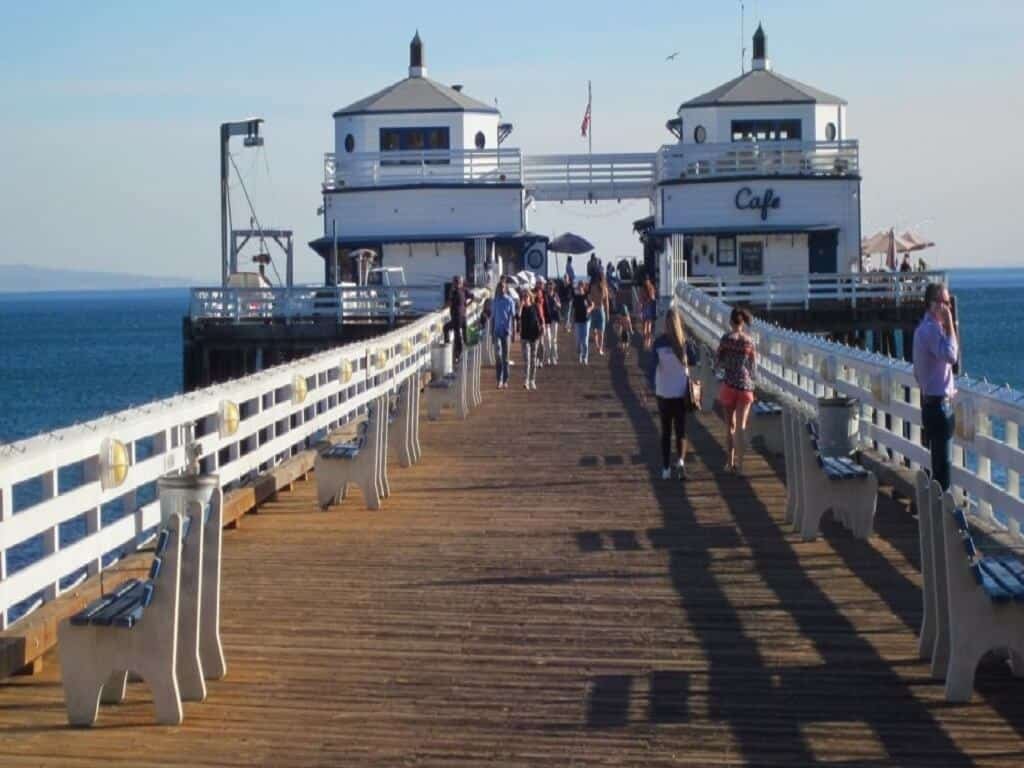 Malibu is a great place to film movies, TV shows, and music videos because it is close to the studios in Los Angeles and has beautiful beaches. Ironman, Hannah Montana, The O.C., and Two and a Half Men have all been filmed there.
Malibu's beautiful pier (23000 Pacific Coast Highway) is close to State Lagoon Beach and is much less crowded than other California piers. It's a great place to take a stroll and look at the cliffs and homes worth millions of dollars. You can also stop and watch patient fishermen use different methods to catch fish. When you get to the end of the pier, you should stop for a while to look at the ocean without any buildings in the way.
Malibu Farm is a restaurant and bar that serves organic food. It is one of the most popular places to eat. It is at the end of the pier, and its motto is "from the pier to the table." And it's completely true! You can also eat at other interesting restaurants near the pier, or you can sit at picnic tables or benches and watch surf "shows" and beautiful sunsets.
Tips for Visiting
Malibu is known around the world as one of the best places to go to the beach by surfers, families, locals, and even celebrities. Consider these simple tips to get the most out of your trip.
As you drive along Highway 1, it seems like you can't get to many beaches because mansions are in the way, making it look like they're on private property. But California law says that any land between the water and where the average high tide line is is public land.
You can't drink alcohol, smoke, bring your pets, sunbathe naked, or set off fireworks at almost any beach in the L.A. area. But there are a few cases where this is not true. You can only have fires in fire pits or grills that are provided, and you can only camp or sleep in official campgrounds.
Highway 1 goes north to south, but the land between Malibu and Santa Monica sticks out and goes east to west. Take a look at a map to figure out where you are, and remember that "north" and "south" on Highway 1 don't mean what a compass would tell you.
When people in the area say "the PCH" or "the PCH," they are talking about Highway 1.
Conclusion
On the Beaches and Harbors website, you can find more information about the beaches that are run by the County. There is also a complete Beach Guide that lists all Los Angeles County beaches, along with descriptions, amenities, and directions. The California Department of Parks and Recreation has a website with more information about the beaches run by the state.
Frequently asked questions(FAQ's) About Malibu Beach
Why is Malibu beach famous?
Malibu, California, is known for its great surfing waves, famous fishing pier, and great shopping at the Malibu Country Mart. Homes high up on the bluff look out over miles of fine sand beaches and beautiful views of the Pacific.
What are the best places for beaches in Malibu?
These beaches in Malibu are the best:
El Matador State Beach
Zuma Beach
Leo Carrillo Beach and State Park
Paradise Cove
State Beach Malibu Lagoon
Is Malibu beach worth visiting?
Malibu has 27 miles of beach to explore, so whether you like to sunbathe on the sand or swim, you'll have a great time here. If you want to see some of those beautiful beach homes, go to Carbon Beach, which is also called Billionaire's Beach.
Can anyone go to Malibu beach?
This is public land—you can walk here! WELCOME TO THE BEACH! The world-famous Malibu coast is only a short distance from Los Angeles. It has 27 miles of beautiful public beaches. Spend a sunny day on one of the beautiful beaches that are open to everyone.
Am I required to get a permit for a party at my home?
Since April 24, 2008, a Special Event Permit is needed for any "large" event or event with a "commercial component" in a residential zone. A "large" event is one where 100 or more people are expected. "Commercial component" refers to events where the house is rented for the event, where advertising or fundraising takes place, or where the house is used to host the event. Special Event Permit Requirements
Do I need a business license to do business in Malibu?
The City of Malibu took on the business license rules from the Los Angeles County Code. This law says which businesses need licenses and how to get them. For more information or to get an application for a business license, call the County Business License Office at 213-974-2011 or go to the website for the County Treasurer.
Is the Malibu Pier open?
California State Parks owns and runs the Malibu Pier. On June 29, 2008, it had its grand reopening. The pier is open to the public and has services like restaurants, sport fishing boat trips, private charter boats, and fishing from the pier.
Can I apply for a U.S. passport at City Hall?
Yes. The U.S. government has named Malibu City Hall a U.S. Department of State as an official place to accept passports. Some of the services they offer are processing new applications or replacing passports that have been lost or stolen, making changes or additions to an existing passport, taking passport photos, and more. Go to the City Clerk's Passport Acceptance Office for more information, such as links to forms, current fees, and how to fill them out.
My neighbor is remodeling, how early may he begin work?
Construction can happen from 7 a.m. and 7 p.m. weekdays. On Saturdays, building is allowed from 8 a.m. to 4 p.m. and 5 p.m. Building can't happen on Sundays or holidays.
If you see someone breaking these rules, you can call the Code Enforcement Officer at 310-456-2489, ext. 359, to let them know. You can also call the Malibu / Lost Hills Sheriff's Station at 310-456-6652 on the weekends or after hours.
I am moving to Malibu – who do I call to hook up utilities?
On the Malibu Utilities information page, you can find contact information for the different utilities that Malibu uses.