Natural terrain is one of the most compelling reasons people visit Canada! With enough wilderness to last you a lifetime, plenty of travelers make it their sole purpose. However, hiking, mountaineering, and the vast horizons of nature are not for everyone. If you are looking for a bit less-complicated way to enjoy Mother Earth, you could visit Canada's botanical gardens! 
There are not that many in the whole country, but if you are looking to include something in your itinerary, we still suggest checking our list for the top 6 most amazing ones. The beauty of botanical gardens can be appreciated by those looking for a relaxed experience while at the same time being able to appreciate the beauty of nature.  The parks are filled with plants, trees, and flowers of all kinds, as well as interactive displays aimed at teaching you more about the local fauna and flora. In addition, they are often conveniently located, so you can easily stop there on your way somewhere. So, let's see what we've got!
Toronto Botanical Garden
Probably the most famous one on our list, the Toronto Botanical Garden is four acres of the most surprising and exciting botanic arrangements, stunning flora and fauna, and gorgeous corners. 
Formerly known as the Toronto Civic Garden Center, TBG was founded in the middle of the 20th century and offers visitors the greatest experience that is both highly educational and exciting! The surroundings are exciting and appealing for both adults and children, so you will have the best time, whether on a solo trip, couple's retreat, or family vacation. 
Speaking of time, make sure to plan your day around it. There are seventeen huge gardens of native trees, wildflower meadows, water channels, and other features that make the whole Toronto Botanical Garden a small little world on its own. 
It's best to plan your day accordingly so you can spend hours exploring the gardens. You can admire the native trees and wildflower meadows and use the water channels and other features of the park. Whether you are alone, with a spouse, or with the entire family, this is an excellent way to spend time together.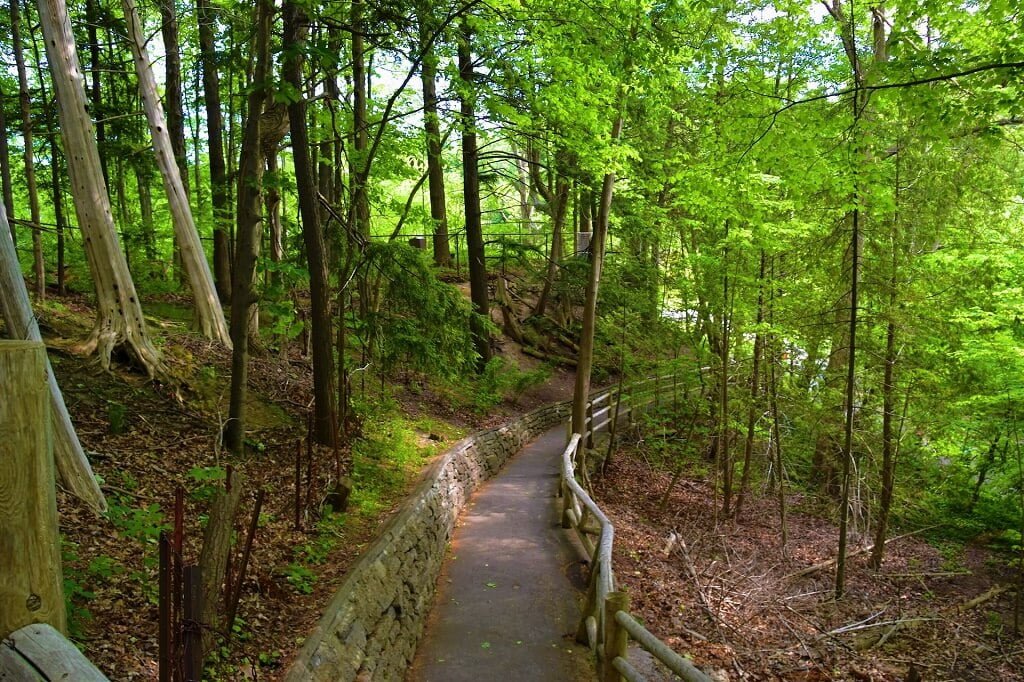 Montreal Botanical Garden
Carry on with your Canadian adventure and take the Toronto to Montreal train for the next botanical garden! This journey, part of the extensive network of Canada trains, offers scenic vistas and a comfortable way to traverse the vast landscapes of the country. The route not only connects you to diverse urban centers but also allows for glimpses of Canada's stunning natural beauty along the way. As the train speeds through the provinces, passengers are treated to an ever-changing backdrop of cities, countryside, and lakes, making the journey as memorable as the destination itself.
The 75 acres of greenery is full of the most diverse oasis and perfectly designed natural features. There are almost twenty parts to Montreal Botanical Garden, all different and unique in their ways but still coming together in perfect harmony. Each has its own theme that will keep you interested and excited for the next one, but make sure to be well-rested, as the tour will take time. 
You should also see the greenhouses. There are ten of them, each heavily planted and looked after. Here you can meet new species and rare botany that is changed up a few times a year, according to the season. Mainly, their top attraction is flower decor that turns Montreal Botanical Garden into a fairytale-like sanctuary. 
Butchart Gardens 
Located in Brentwood Bay, British Columbia, the famous Butchart Gardens lead the area with the most gorgeous flower arrangements and greenery display. 
It has a very interesting historical background, as well! First established at the beginning of the 20th century, it was supposed to be a tea garden at a special request by a certain Japanese designer. Safe to say, there are still plenty of Japanese garden features on display, giving Butchart specific charm and fresh perspective. 
Apart from thousands of flower species and rare plantations, there are a few other surprises for you, making Butchart Gardens a unique experience. Enjoy the famous ornamental bird collection with parrots, ducks, and peacocks!
Afterward, stroll through the statue garden, collected with careful selection and attentiveness, adorning the whole area with a historical side. 
Royal Botanic Gardens
The Royal Botanic Gardens in Ontario is one of the major tourist attractions right there at the top, with Niagara Falls and Toronto. And it really is no surprise, considering these are the most extensive gardens in Canada. 
Deemed a National Historic Site, the Royal Botanic Gardens in Hamilton were established to be more than a touristy destination. It also serves as the environmental agency and one of the most significant planned natural sites in the country. As an area of local and international horticulture, education, observation, conservation, and scientific research, this oasis must end up on your itinerary! 
The area is divided into two wetlands and even a glacial terrain on the horizon, accessible by nine public entrances. So, you can imagine its size. Royal Botanic Gardens is like a small city inside of a city, so make sure to explore thoroughly – the variety of plants, flowers, and agriculture will blow your mind. The gardens offer a unique experience that you won't find anywhere else. It is also home to a variety of wildlife, making it a great spot for bird-watching and nature observation.

University of British Columbia Botanic Garden 
Canada's oldest university botanical garden deserves a shout out not only for its impressive age but also for the purpose and idea behind it.
While it is not that of a stretch that a university's garden stands as an educational point, this one, in particular, is famous for assembling, curating, and maintaining a documented collection of the most various plants, floral decor, intricate designs, and rare species. 
Covering over 44 hectares of well-thought-out arrangements, the University of British Columbia Botanic Gardens introduces you to over 8,000 different plants, all divided into three gardens with a specific idea. See the native plants one, for old Canadian greenery, a food garden, where the visitors are encouraged to explore the plant-food relation, and a physic garden, filled with flora for medical purposes. 

Nikka Yuko
Last but not least, let's travel to Alberta for the most lovely and charming botanical gardens of all! 
You might not expect it, but actually, most Canadians of Japanese ancestry live in Alberta, so finding an authentic Japanese garden right at the center of it makes a lot of sense. Filled with the most traditional plants, and cultural features, Nikka Yuko is the perfect display of Asian culture in Canada.
However, more than that, the garden represents the relationship between the two. Which is very beautiful and unique – rarely can we see two cultures overlapping and expressing their respect towards one another through flowers, plants, and certain decor. The whole thing is very symbolic and genuine; in translation, Nikka Yuko literally means Japan-Canada friendship. 
So, see this gorgeous terrain of colors, a teahouse, and hosts, dressed in traditional Japanese clothing. You will basically have two experiences in one! 
Include any of these six, and a great time is guaranteed! Botanical gardens are the perfect way to enjoy certain cultures and the scientific part of botany and see some fantastic designs, not to mention well-preserved Canadian panoramas. Canadian botanic gardens offer a unique opportunity to explore and appreciate the flora and fauna of this country. You can explore a variety of ecosystems and learn about the cultural and scientific aspects of botany through flowers, trees, shrubs, and grass. Aside from that, you can enjoy the beautiful scenery and landscape that these gardens have to offer! So, have a good time and good luck!