Miami will always be a popular tourist destination. Miami gained its name as a vacationland for wealthy northerners, but it has developed to become a vibrant, diversified playground for people from all over the world. With all of that fame comes a plethora of wonderful hotels, ranging from large luxury palaces to funky boutiques in lesser-known neighborhoods, assuring that whatever your taste, Miami has a hotel you'll adore.
So, whether you're a visitor to our city or a native looking to get out of the home for a while, here are the top hotels in Miami for exploring, luxuriating, or immersing yourself in the local environment.
1. Hotel South Beach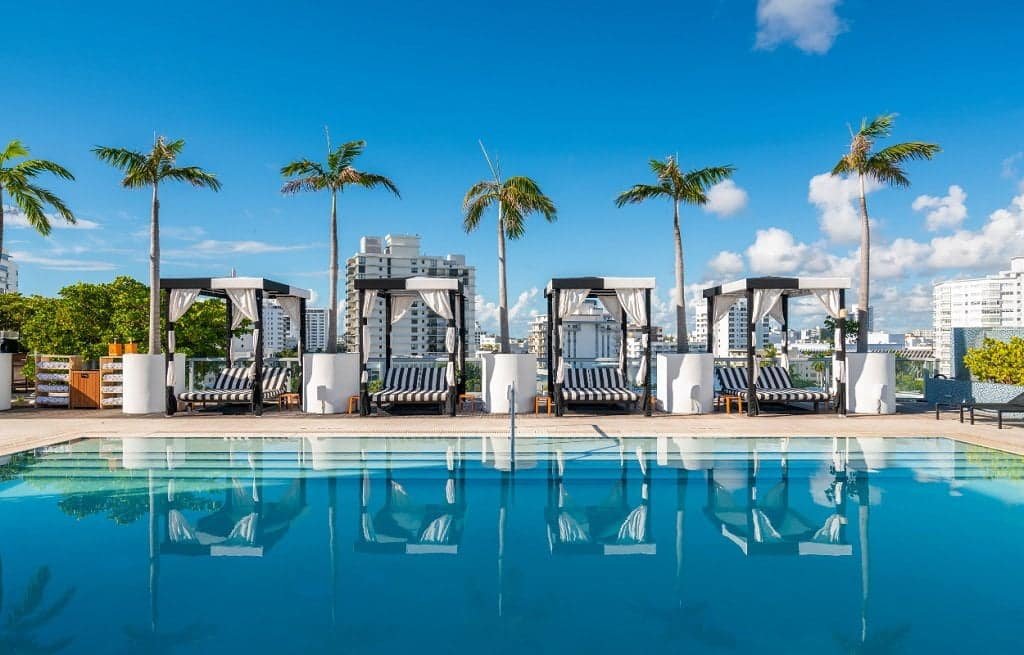 1 Hotel South Beach, located on the northern edge of South Beach, is great for runners and walkers because it is near to the length of the Miami Beach Boardwalk seaside trail.
The hotel opened in 2015, but the structure dated from the late 1960s. The old structure was converted into a highly sought-after refuge after a $200 million refurbishment.
What's the appeal? The hotel boasts 600 feet of coastline, four pools (one on the roof), and rooms ranging from 500 to 750 square feet in size. (Suites are also available.) Pets are allowed if you travel with them. Each room also has its own rainfall shower and tub, free Wi-Fi, filtered water taps, HEPA air filters, a Nespresso machine, and a yoga mat.
The Bamford Wellness Spa and the Oren Salon, as well as complimentary wellness workshops, are located in the hotel.
The main disadvantage is a $49 per night resort fee, which includes two beach chairs, one umbrella, bike use, house car drop-off within three miles of the hotel, and a few other benefits. While many Miami hotels charge a resort or destination fee, any beachfront hotel should include complimentary lounge chairs and umbrellas. Here's how you can avoid resort fees.
Rates at 1 Hotel South Beach begin at $535 per night, with a $49 per room per night resort charge.
Read More: 63 Best Things to do in Long Beach California
2. The Setai Miami Beach
It is difficult not to feel like a VIP the moment you enter the exceedingly chic Setai. You can spend the entire day lounging like a celebrity in one of three temperature-controlled infinity pools, all of which are concealed within verdant tropical gardens. Throughout the property, Asian-inspired design elements such as sculptures, palms, and water pods create a zen atmosphere and an immensely relaxing stay. However, the underground nightlife culture reminds you that you are in Miami Beach.
Begin the evening by ordering a stiff cocktail at the limestone atrium bar and ogling the wealthy guests. In the meantime, do not be astonished if the lights dim and the music changes unexpectedly. Fire dancers and live music are an unexpected addition to weekend dinner celebrations at Jaya, the hotel's renowned courtyard restaurant with a retractable roof for starry Miami evenings. When it's time for bed, walk upstairs to one of the 87 thoughtfully curated Art Deco rooms, or splurge on one of the 49 private luxury Ocean Suites with sweeping views of the ocean below.
3. The Plymouth Hotel in South Beach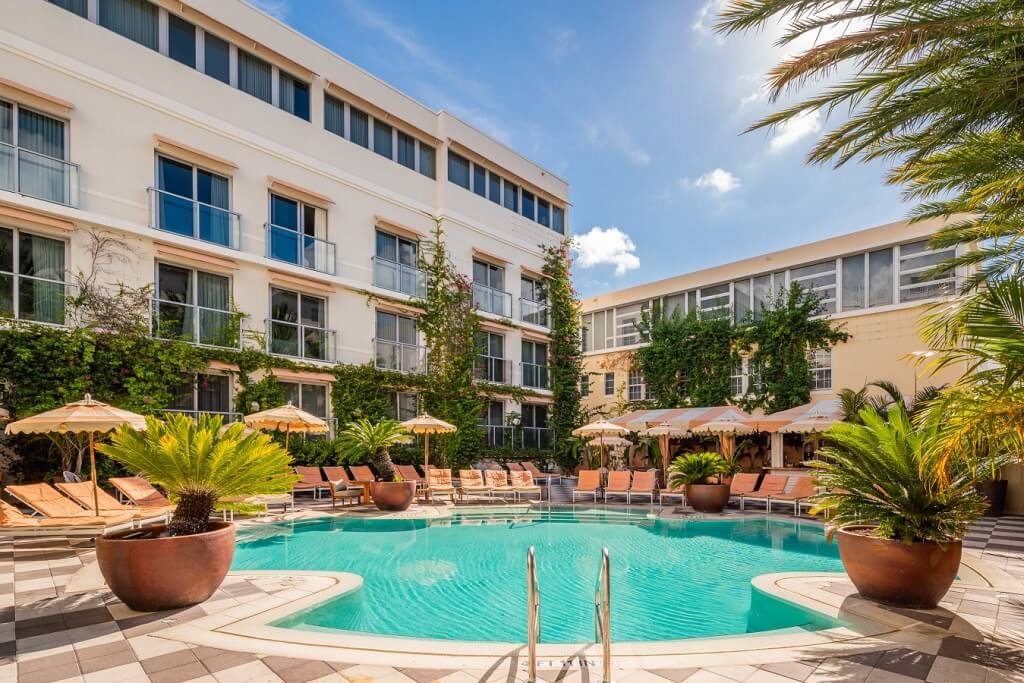 The Plymouth, a new addition to South Beach's boutique hotel scene, exudes Art Deco appeal with its glossy lobby, cheeky indoor tiki bar, and courtyard swimming pool decked out in checkered tiling and coral beach chairs. Pass through the charming welcome area to reach Miami's outpost of the famed Blue Ribbon Sushi Bar & Grill, where omakase dinners contrast with ludicrous fried chicken and have a cult following.
Each guestroom features a distinct floor plan and traditional decor, with some featuring a clawfoot bathtub at the foot of the bed. At Plymouth, no two experiences are ever the same.
Read Also: Illinois All-Inclusive Resorts
4. Sls South Beach
Designed by creative icon Philippe Starck, SLS South Beach exudes a "dream world" motif by skillfully combining Latin, Asian, contemporary, and art deco influences. The 140 exquisitely designed guestrooms and villas are the epitome of romance, with faux French paneling and whimsical chandeliers.
Highlights include the Tower Penthouse and Villa Penthouse, both designed by Kravitz Design, as well as dining at the extraordinary Bazaar restaurant, under the direction of James Beard Award-winning chef José Andrés, or at Katsuya, where traditional Japanese cuisine is given a provocative variation. It's a day-to-night celebration at Hyde Beach, a sophisticated combination of bathing pools, cabanas, beach, and indoor/outdoor spaces.
5. The Miami Beach Edition
The Miami Beach EDITION is a 3.5-acre private enclave with a beachfront urban retreat. This contemporary resort features 294 extensive and opulent accommodations, including suites with a private plunge pool or sauna, two expansive pools, and intimate cabanas.
Other amenities include a bowling alley, ice-skating arena, chic nightclub, signature restaurants by Michelin-starred chef Jean-Georges Vongerichten, and a luxurious spa. The devoted VIP team ensures an entrancing experience by satisfying the needs and desires of the discerning traveler, with every consideration given to enhancing a personalized stay, whether for leisure, business, or both.
6. Faena Hotel Miami Beach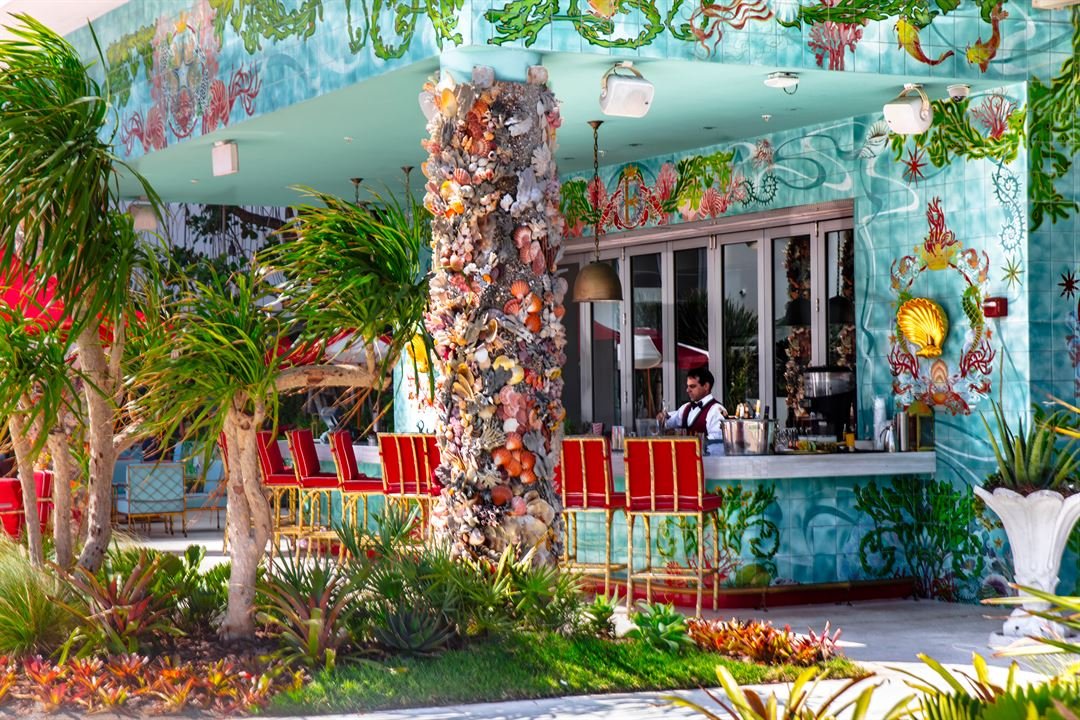 Alan Faena, an Argentine hotelier, and Len Blavatnik, a business partner, placed this trendy locale on the map. For a special occasion, splurge on the 1,571-square-foot, two-and-a-half-bathroom Premier Oceanfront Corner Suite with floor-to-ceiling windows, a wraparound veranda with ocean views, and a separate dining room and living room. With a comfortable red sofa, two club chairs, an ottoman inspired by a tiger, and green velvet drapes that match the colorful rug and invoke both the sea and flowers, this space is dominated by a plush aesthetic.
Entry-level bay-view rooms range in size from 489 to 615 square feet and feature a window bench or furnished veranda. Carrara marble is used to tile the bathrooms of both rooms and suites.
You need never depart Faena during your entire stay. It has an exquisite spa, excellent butler-serviced pool and beach facilities, fine dining (many locals rave about Los Fuegos by Francis Mallmann, where succulent cuts of meat are wood-grilled), and the Faena Theater is renowned as the setting for the hotel's Allura Cabaret (shows on Thursdays and Saturdays).
The minimum nightly rate at Faena Hotel Miami Beach is approximately $720, plus a resort fee of $51.30 per room, per night.
Keep Reading: 33 Best Beaches in Malibu, California
7. Nobu Hotel Miami Beach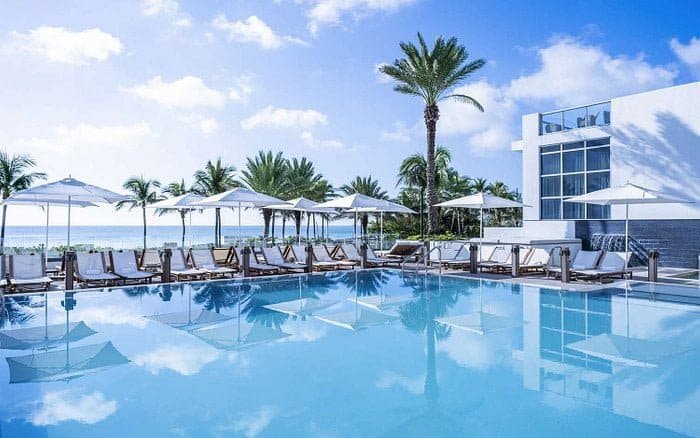 Nobu Hotel offers one-of-a-kind chemistry and the ideal combination of luxury, enjoyment, craft, and theater. The location combines contemporary Miami architecture with an imaginative representation of Chef Nobu's unique style. The renowned David Rockwell used Japanese architecture and the hotel's seaside position to create a contemporary Japanese beach home with a Nobu private pool.
The 206 beach-house-inspired rooms have cerused, live-edge wood furnishings and black-and-white photos of Japanese landscapes, creating a calm environment for regeneration. A restaurant by world-renowned hotelier Nobu Matsuhisa, a spa, and a gym are among the amenities.
8. Loews Miami Beach Hotel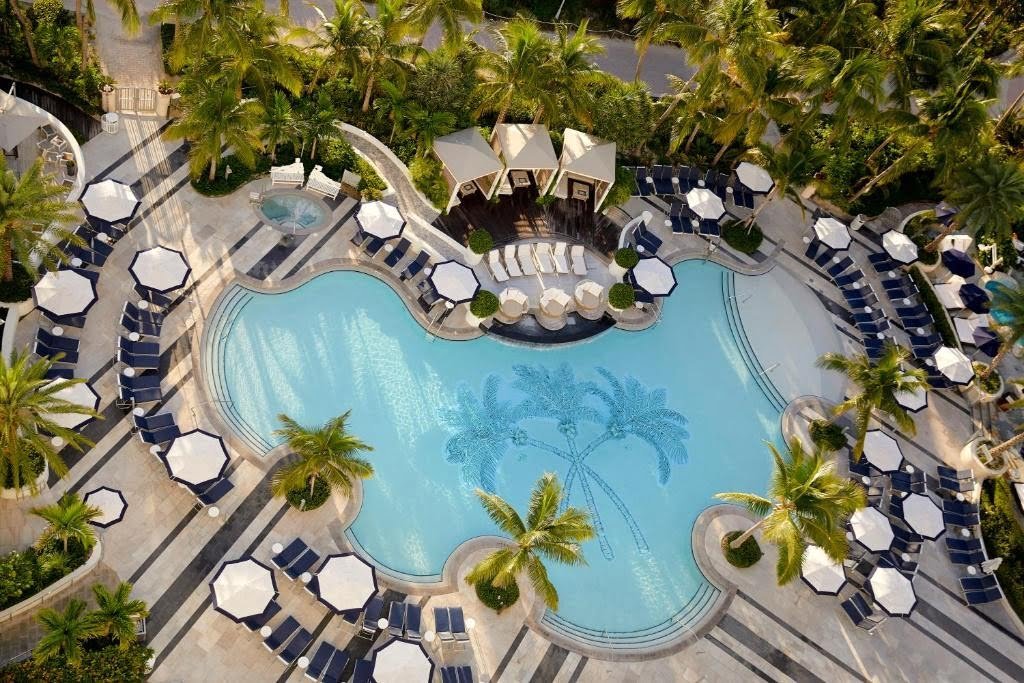 Loews' beachfront location in the heart of all the activity on South Beach is the icing on the proverbial Miami cake. The rooms are contemporary and opulent (Frette duvet covers, flat-screen smart TVs, and a well-stocked minibar), the oversized pool is ideal for a day of lounging, and Exhale Spa's barre classes make it simple to maintain your fitness routine.
Grab a poolside pavilion on day one. On day two, switch things up by venturing outside the property's gates to the private shore, where you can observe people and ocean waves. Evenings at Bar Collins are lively but don't miss the hotel's low-key Lure Fishbar for oysters and yellowtail sashimi. It is the ideal choice for a romantic evening out.
9. The Mondrian in South Beach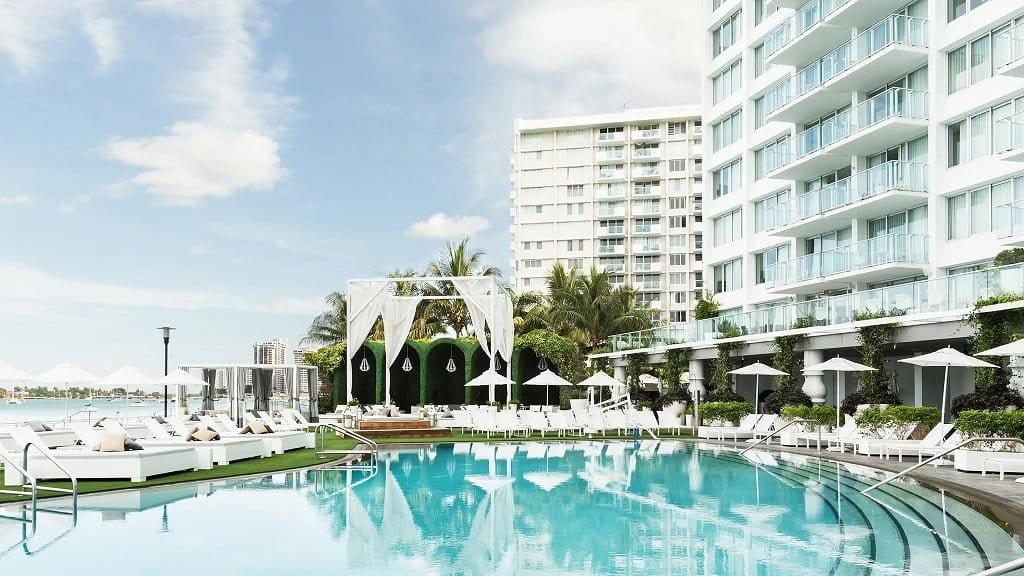 The Mondrian, a sister hotel to the Delano and the Shore Club, is distinguished from its brethren primarily by its bayfront location, as opposed to its beachfront location, and by its breathtaking views of Biscayne Bay and the Miami skyline.
This supremely stylish hotel is a fantastic option for travelers who want first-class amenities without the first-class chaos of South Beach's main tourist drag. It is situated in a predominantly residential area, with numerous restaurants and Lincoln Road Mall within walking distance.
The hotel was designed by Marcel Wanders to resemble the castle from "Sleeping Beauty," which in this context means that it is extravagant and fanciful. Some of the foliage resembles topiary straight out of Edward Scissorhands, contributing to the indoor/outdoor living atmosphere.
The most impressive feature of the Mondrian, however, may be its recently renovated pool deck and Sunset Lounge, which is the place to be Monday through Friday during happy hour, when the sun sets over Miami and beverages are half-price. Prepare your camera; you'll want to photograph this.
Also Read: The Best Beaches In Vasto, Italy
10. The Ritz-Carlton, South Beach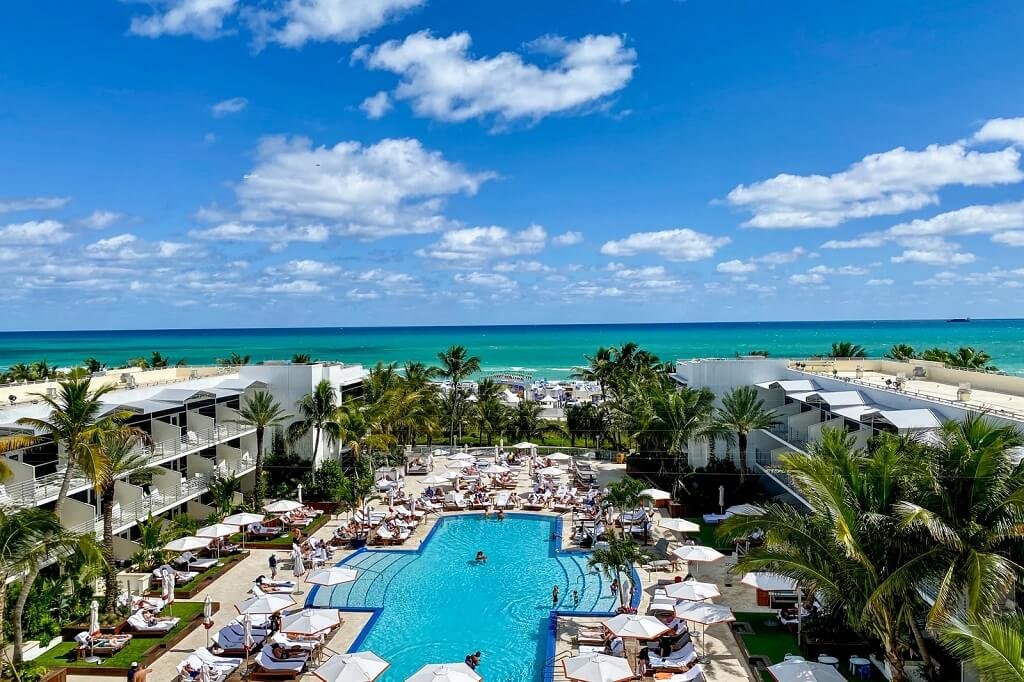 The Ritz-Carlton, South Beach is the epitome of Miami grandeur, welcoming guests to one of the country's most alluring cities. The hotel's storied past and iconic architecture serve as inspiration for the hotel's opulence.
After a complete renovation in 2020, the hotel will once again rank among the finest in the Sunshine State. The luxurious hotel experience includes a classic cocktail lounge that celebrates the intriguing stories of the city's past, an elevated pool overlooking the Atlantic Ocean, and a full-service spa that provides a respite from the excitement of Miami.
At the intersection of Collins Avenue and Lincoln Road, the hotel is within walking distance of Lincoln Road's shops and restaurants, the Art Deco Historic District, and the opulent South of the 5th neighbourhood.