Bethlehem, Pennsylvania, is a well-known city for its history and industries, but it is often forgotten when people are looking for a place to go on vacation. But did you know how important it was to the Industrial Revolution in the United States? Bethlehem is a hidden gem in the state of Pennsylvania. It is in the Lehigh Valley. The city is also a great place to go on vacation because it has so many interesting museums. Best Things to do in Bethlehem PA.
31 Best & Fun Things to Do in Bethlehem (PA)
1.SteelStacks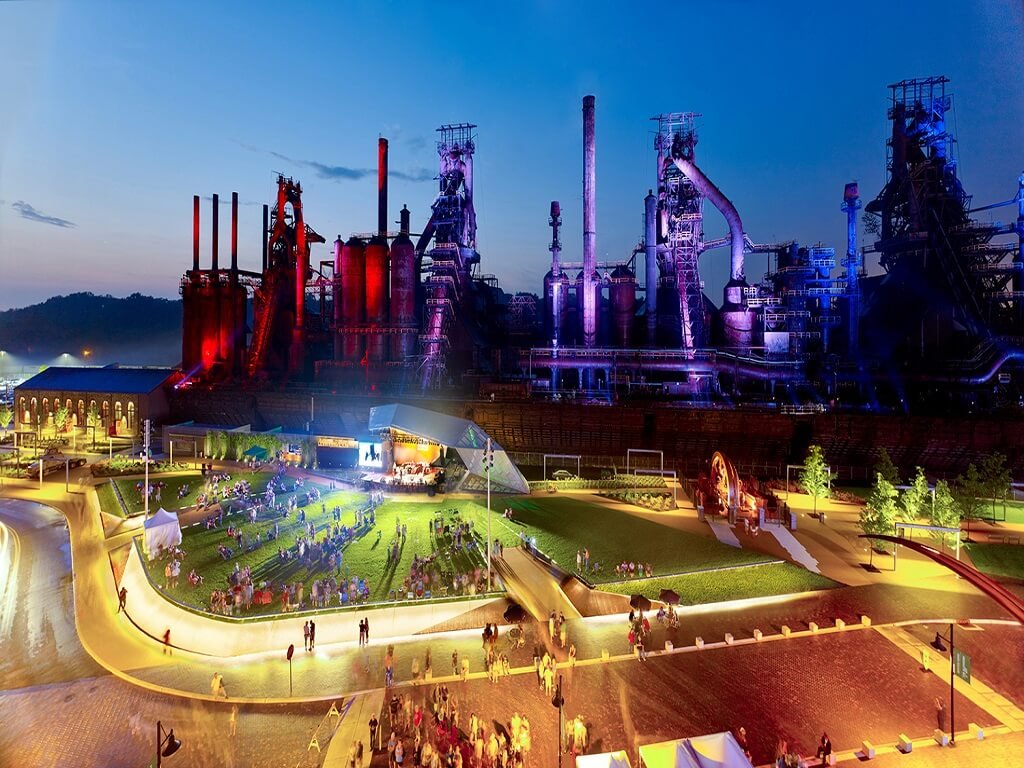 SteelStacks used to be the home of a steel company, but now it is a 10-acre campus for art, culture, family events, community celebrations, education, and fun.
2. Christkindlmarkt
Since the 1990s, the fun Christkindlmarkt, one of the best holiday markets in the world, has been held at SteelStacks.
3. Burnside Plantation
Burnside Plantation is an old farm that has been fixed up since it was built in 1748. It was the first home that James and Mary Burnside, who were Moravians and lived in Bethlehem, owned on their own. The plantation still has the farm's original house, as well as a number of barns and other buildings. On the property is also one of the only horse-powered wheels in the country that is still in use.
Throughout the year, there are many events at the plantation, such as workshops led by Penn State master gardeners. There are also cooking demos and tours of the farm that you can watch live. Some of the most popular things to do are the Open Gate Farm Tours, which include farming demonstrations, guided farm tours, and much more.
4. Moravian Historical Society Museum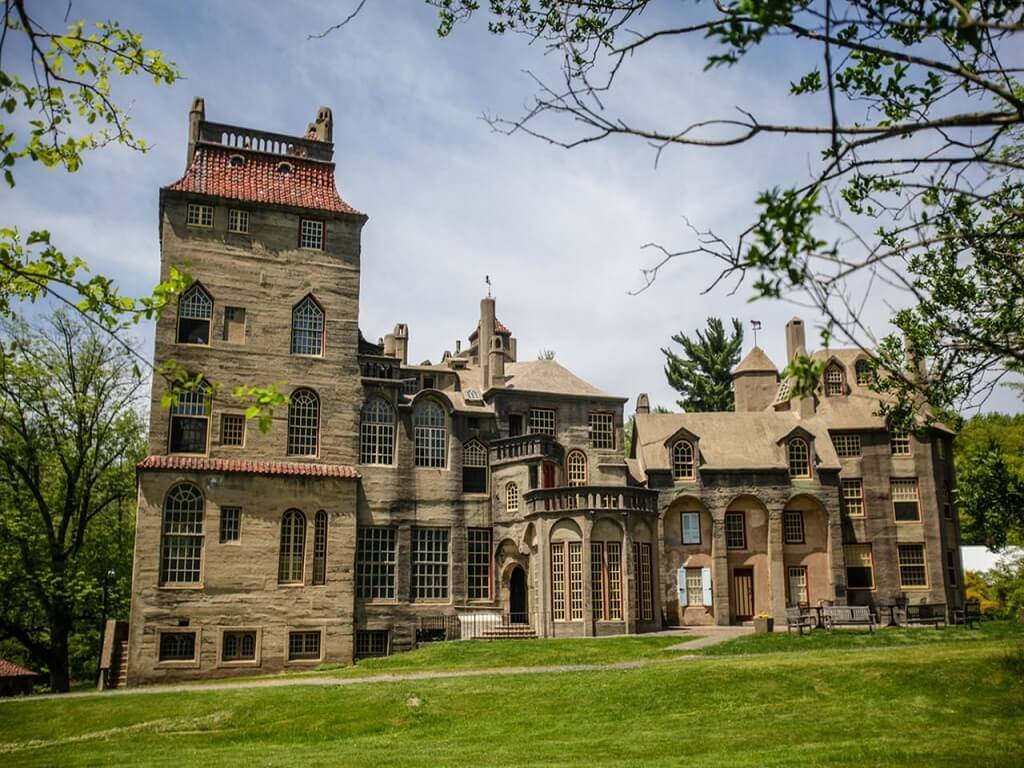 In the 18th century, the Moravians started Bethlehem and many of the other towns in the area. Visit the Moravian Historical Society Museum in Nazareth, PA, to learn more about them and the history of the area. The museum is in a building from 1740, and it has many interesting displays about the Moravians and their effects, as well as information that isn't preachy about what they believe and how they worship. This is a great place to go if you want to learn more about Bethlehem's culture.
5. Walk the Hoover-Mason Trestle
The huge Hoover-Mason Trestle is an engineering marvel. It is right below the blast furnaces. This part of the track was built around the turn of the 20th century. It is more than 40 feet off the ground and goes for about a third of a mile. Along this track, a narrow-gauge railroad carried raw materials for making steel.
6. Celebrate Christmas in Bethlehem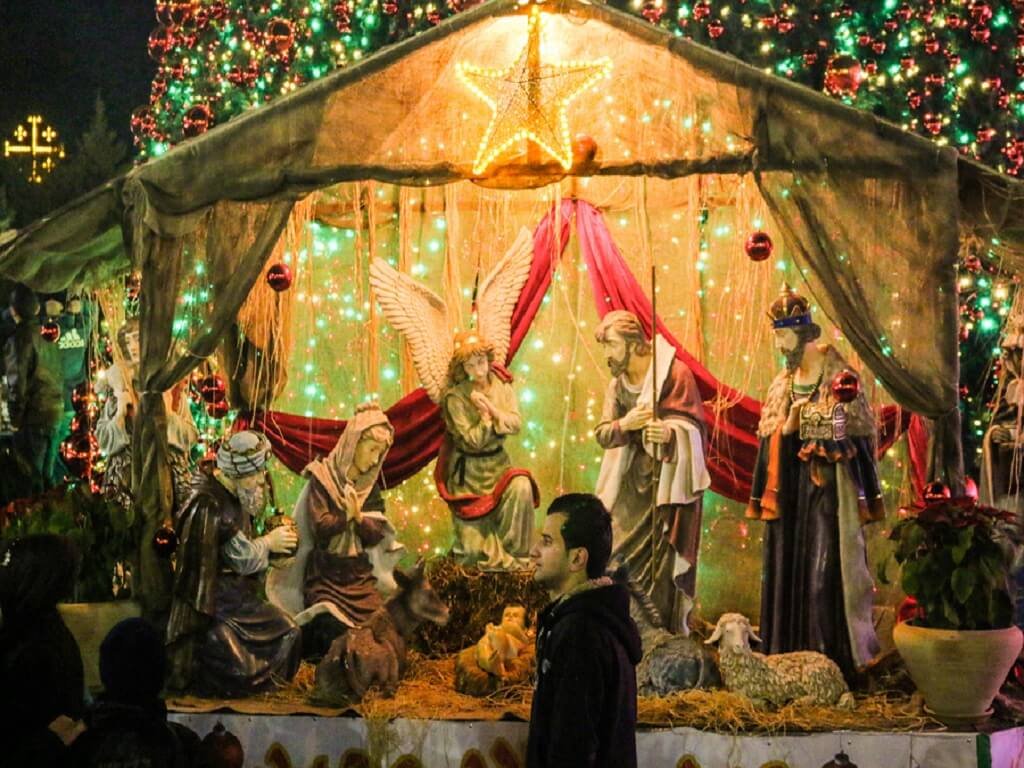 Without a doubt, Christmas is the best time to go to Bethlehem. Bethlehem gets into the holiday spirit a lot earlier than other places. It's called Christmas City because it's so well decorated for the Crete holidays. Tourists can't wait until Christmas to start planning their best trips here. A month before Christmas, all of the shops in Bethlehem get ready with some of the best gifts.
7. America on Wheels
America on Wheels is a museum that you might find interesting. Only one problem: it's not in Bethlehem. In Allenton, which is another city west of Bethlehem, you can find the Museum of America on Wheels. If you want to learn about how people got around back in the day, this museum can help. You'll even find out how the whole Bethlehem system worked. You might be interested to know that Lehigh Valley was way ahead of the rest of the country when it came to cars. Henry Nadig made a car that ran on gas in 1889. It is also thought that this car was one of the best ones. One of the best things to do in Bethlehem is to go to the museum.
8. Lost River Caverns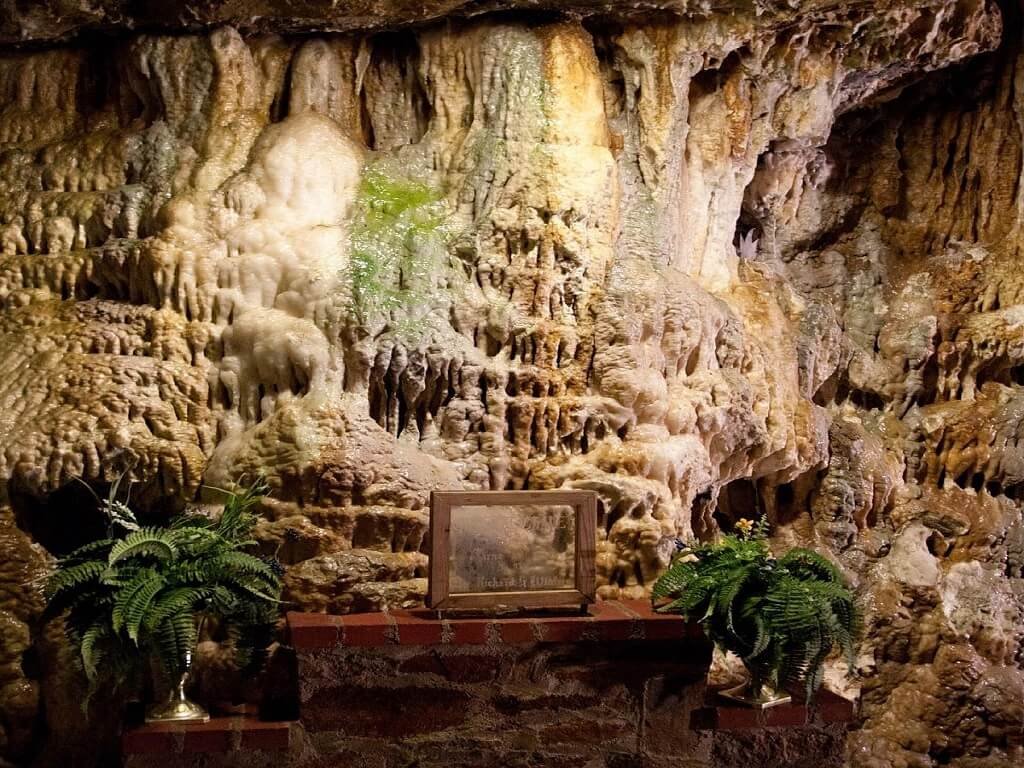 Hellertown, PA is home to the beautiful Lost River Caverns. To see them, you have to go underground. The small stream that flows through Lost River Caverns, which has no known source or exit above ground, gives the cave its name. But there's more to see here than just pretty rock shapes. There's flowstone, florescent rocks, and more.
9. Colonial Industrial Quarter
The Colonial Industrial Quarter in Best Bethlehem is a historical site that protects the first industrial park in the country. It is part of the larger Historic Moravian Bethlehem National Historic Landmark District. The Moravians built the site near a spring and along Monocacy Creek, which provided power for a number of industries that came to be based here.
At first, the buildings were small wooden structures, but within a few years, they had built a saw and soap mills, wash houses, a grist mill, a blacksmith shop, a tannery, and a brass foundry. Over time, the buildings fell into disrepair. In the second half of the 20th century, they were fixed up and made better. Visitors can learn about the area's history by touring many of the buildings and ruins.
10. Dutch Springs Aqua Park
The Dutch Springs Aqua Park is a fun place to go in Bethlehem, Pennsylvania if you want to cool off in the summer or go on an exciting adventure. The park has a lake that is about fifty acres in size and is surrounded by nature. The lake is fed by springs from an underground aquifer, which gives visitors a great view. At Dutch Springs Aqua Park, there are many inflatables in the water. This family-friendly place also has the Discover Scuba program for people who want to learn how to scuba dive and the Sky Challenge, which is a high ropes course and a climbing wall.
11. Ringing Rocks County Park 
Ringing Rocks County Park is one of the most beautiful places to be outside in all of Pennsylvania. It is in Bucks County, not far from Bethlehem. Ringing Rocks County National Park is about 30 minutes from Bethlehem, but the trip is well worth it because it is such a fun place. When you hit the rocks in this park's boulder field with a hammer, they sound like bells. When you hit different rocks, you can hear different sounds, and some people try to play songs just with rocks.
High Falls, which is the tallest waterfall in Bucks County and probably the closest waterfall to Bethlehem, is also in the park. And if you go when the water level is high, you'll have more to do and see. Are you planning a trip to Connecticut? Check out our list of fun things to do in Milford, Danbury, and Hartford for a vacation you'll never forget.
12. Moravian Book Shop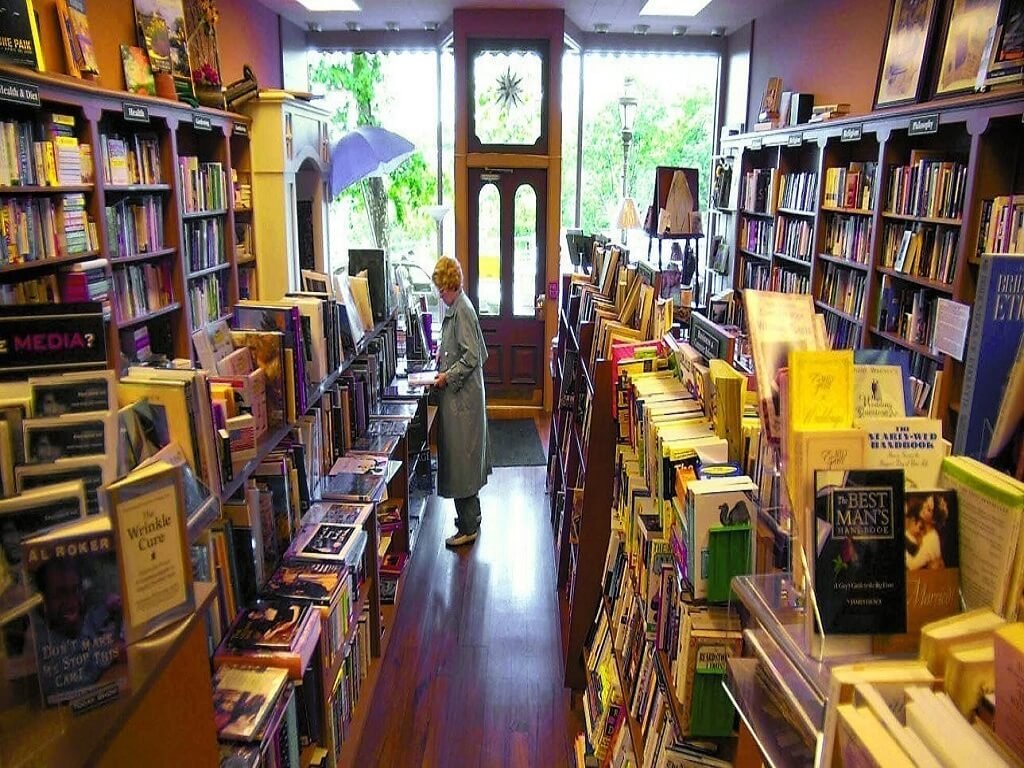 The Moravian Book Shop is the oldest bookstore in the United States. It is in downtown Bethlehem (and possibly the world). This store sells all kinds of books, from new ones that are popular to old ones that are hard to find. Inside the store is a gift shop with a wide range of items, such as the popular Moravian stars. There is a brewery and deli inside the store if you want to grab a quick snack or meal while you shop.
13. Historic Bethlehem Tours
Bethlehem is home to a number of historical sites that are worth seeing. You can pick and choose what you want to see as you explore the area, but if you'd rather take the easy way out, a tour might be just what you need. Historic Bethlehem Tours gives walking tours, custom tours, and tours that are only available during certain times of the year.
They offer tours with different themes that go to different places around town. Some examples are the 1752 Apothecary Tour, the Christmas City Stroll, the Death and Dying Cemetery Tour, and the Colonial Industrial Quarter Walking Tour.
14. Decorative Arts
When you're in Bethlehem, you'll find some strange places that a lot of people like to visit. One of them is the Kemerer Museum of Decorative Arts. It is made up of three houses from the 1800s. This is one reason why it gets so crowded so often. Furniture, dinnerware, clothes, and works of art from the past are on display to show how different things were back then. There are changing galleries and a garden designed by Scott Rothenberger, who has won awards for his work. If you're here, you should check them out.
15. Lit Roastery and Bakeshop
The Made By Lino bakery and the Monocacy Coffee Company worked together to open Lit Roastery and Bakeshop, a coffee shop and bakery. The shop is known for its freshly roasted coffees, pour-overs, French macaroons, and other freshly baked goods. Almost everything is baked, cooked, or roasted in-house, and they are proud of making coffee beans and coffee drinks that are especially good. The coffee shop usually has about eight different kinds of coffee, and to make sure they meet quality standards, they use a refractometer. It's a nice place to sit and spend a few hours while eating freshly made food.
16. Illick's Mill Park
The Appalachian Mountain Club's Mid-Atlantic conservation office is now in Illick's Mill, a historic grist mill from 1856.
17. Vacation Like a Celebrity at the Historic Hotel Bethlehem
Over the years, many famous people have stayed at the Historic Hotel Bethlehem, including American Presidents, the great Winston Churchill, and even the Dalai Lama.
So, how would you feel if you could stay in the same hotel as these famous people? Yes, anyone can book a room at the Historic Hotel Bethlehem. The hotel is also in one of the best downtown spots.
18. Moravian Museum of Bethlehem
There are several buildings that make up the Moravian Museum of Bethlehem. It has a lot of buildings from the 1800s under its care. You should plan a trip to this site because there are a lot of historic homes there.
To get the most out of this museum, you need to look at all the details and hear all the stories, so it would be helpful to go on a guided tour. Gemienhaus has to be the most well-known building in this area. It is also the oldest of the group because it was built in 1741. This house has five floors, and the museum is on the third floor. Moravians were the ones who built the town.
19. Colonial Industrial Quarter
The site is also a part of the larger Historic Moravian Bethlehem National Historic Landmark District. The Moravians built the site near a spring on Monocacy Creek. This creek gave power to many businesses that were set up in this area. Small wooden structures were used to make the first buildings.
But after a few years, they added a gristmill, a blacksmith shop, and a tannery to the area. Over time, these buildings fell apart, but in the second half of the 20th century, they were brought back to life and fixed up. Many of these old buildings and ruins can now be seen by tourists who want to learn more about the history of the area.
20. Lehigh Valley IronPigs
During the summer, if you like baseball, you won't want to miss a Lehigh Valley IronPigs game. The Triple-A team for the Philadelphia Phillies and the IronPigs play their games at Coca-Cola Park. Since the players here are one step below the Major Leagues, the baseball is very good, but the atmosphere is still cozy and the prices are fair. The IronPigs season lasts from April to early September every year. It's one of my favorite things to do in the Lehigh Valley.
21. Fegley's Brew Works, Bethlehem, PA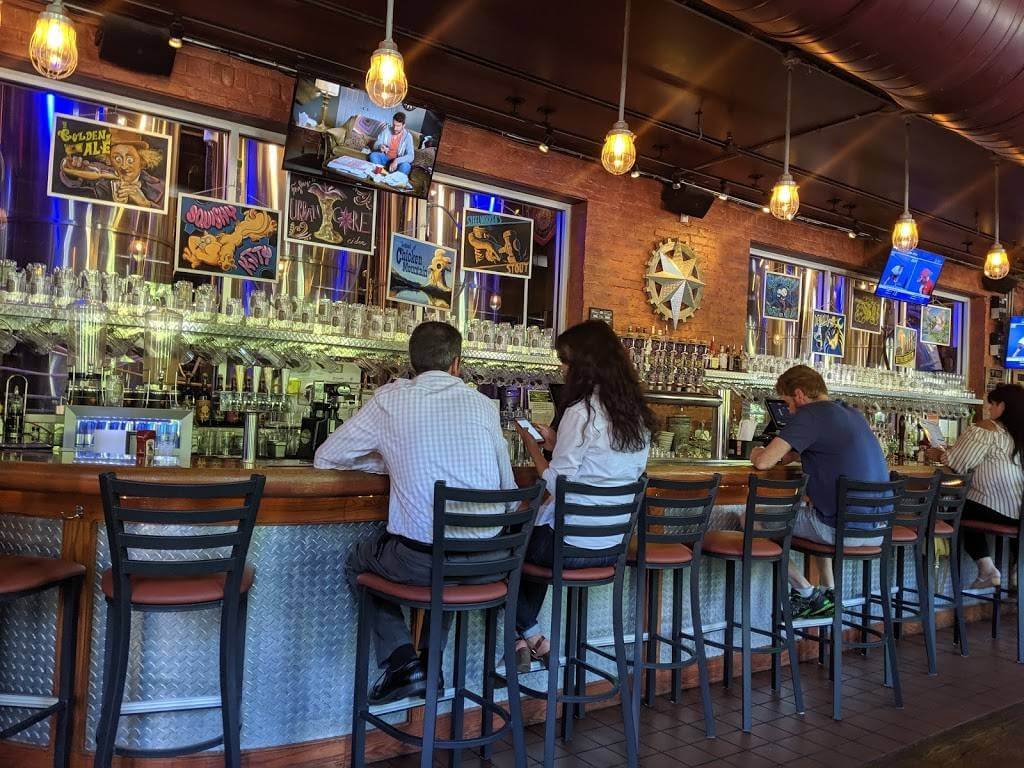 Fegley's Brew Works is a brewery and pub where you can enjoy microbrews, burgers, and happy hour in a cozy brick setting. The Brew Works has been a popular bar and restaurant for both locals and tourists since it opened in 1998. The restaurant is good for families and can help with events and catering. The restaurant is very popular, so there is often a long line.
Some of the most popular items on the menu are the beer-battered fish and chips at Fegley's, the grain-fed burger at Brewers, and the loaded nachos at Fegley's. For drinks, they have a variety of their own brews, as well as local mead, local spirits, and other cocktails and wine.
22. Treat Yourself to Delicious Ice Cream
Do you want some of the best ice creams in Bethlehem to satisfy your sweet tooth? The city's well-known ice cream shop is called "Nuts About Ice Cream." Their ice cream is all made at home. The shop has been around for a long time, so the people who work there really know what they are doing. They also sell yogurt with added flavors.
23. National Canal Museum
As you may have noticed, Bethlehem is full of museums and historical sites that explain different parts of the city's past.
The National Canal Museum is in Easton, which is a bit of a drive from Bethlehem's east side. This museum is full of displays that teach a lot. In the past, canals were very important to the growth and development of industries. Even though there aren't many that work anymore, they used to be the most common way to connect. At the National Canal Museum, you can learn all about the canals that used to be in the area, like the Lehigh Canal, which is close by.
24. Fegley Brew Works
The Lehigh Valley brewery Fegley Brew Works has two locations, one in downtown Allentown and the other in downtown Bethlehem. Their Bethlehem location is right on Main Street and is inside a beautifully decorated old building. You can eat and drink while their brewing equipment is set up next to your table. I've eaten and drank at Fegley's a few times, and the quality of their food and beers has always impressed me.
25. Wind Creek Bethlehem, Pennsylvania
The Wind Creek Bethlehem casino is inside the four-star casino hotel Wind Creek Bethlehem. The casino is pretty big. It's 150,000 square feet, which is about the size of three football fields, and it has a lot of different things under one roof. There are more than 3,000 slot machines in the casino, and the popular Sands Poker Room has almost 40 live poker tables.
You can play a lot of blackjack, craps, and roulette at the 180 live table games. The rooms in these Boutique hotels aren't cheap, but being close to the games and entertainment makes up for it. You are reading "The 20 Best Things to Do in Bethlehem, Pennsylvania." Back to Top or Amazing things to do near me and more pictures of fun, inexpensive places to visit.
Day trips from, good restaurants near me, motel, spa hotels, southeast, northeast, southwest, and northwest getaway ideas, couples only suites, public beach near me for sunsets, breakfast near me, local retreat, on a budget, takeout, most popular small town, things to do near me, drive-in movie, tropical island, how to spend a day locally, state park, romantic getaways with pool: Vancouver WA, Cape Coral, Tempe, Roanoke. All-inclusive resorts in the Caribbean, Beverly Hills, Aspen, birthday trips, Caribbean honeymoons, and Bainbridge Island.
26. Historic Covered Bridges
There are a lot of historic places in the Lehigh Valley, but a covered bridge tour is a great way to see the surrounding countryside.
Lehigh County has a total of six historic covered bridges, but Northampton County only has one. By taking a tour of these seven bridges, you can see some of the most beautiful places in the area and get to the heart of the Lehigh Valley.
27. Lehigh & Keystone Valley Model Railroad Museum, Inc.
The Reading, CJ, and Lehigh Valley railroads used to run through the Lehigh Valley area. The Lehigh & Keystone Valley Model Railroad Museum in Bethlehem, Pennsylvania is about 5,000 square feet and has a model railroad that shows scenes from those routes.
The Allentown Freight Yard, Phillipsburg, Easton, and Bethlehem Steel areas, as well as the Huber Coal Breaker, are shown in scenes on the model railroad. Several of the buildings at the Lehigh & Keystone Valley Model Railroad Museum are made from pictures from the 1960s and 1970s that have been modeled.
28. Martin Guitar Factory
In the early 1830s, a German immigrant named Christian Friedrich Martin moved to Nazareth, Ohio, and made the first guitar ever made in the United States.
29. Banana Factory Arts and Education Center
In 1998, an art and education center was built. It gave different arts groups in the area studio, classroom, and gallery space. When it was built, it was put in a building that was used to store bananas.
Six different buildings are used by many arts groups at the same time. It has three galleries, 30 artist studios, and several classrooms. It also has the Arts quests visual arts curriculum. This area is home to a performing arts school for kids ages 6 to 18 years old. Every year, the artists put on a gallery show and free activities on the First Friday so that people can see their work and meet them for the first time.
30. Billy's Downtown Diner
The small Billy's Downtown Diner has locations in both Bethlehem and Allentown. The diner serves simple food with a little extra flair. On the menu, you'll find all of your favorite traditional dishes as well as some unusual ones, like pink lemonade pancakes or omelets with mango.
Both locals and visitors love the laid-back vibe and tasty food. There are breakfast, lunch, dinner, and dessert to choose from. Billy's Downtown Diner also drinks coffee, tea, lemonade, and milkshakes that are made by hand. There are many vegetarian and healthier options for people who care about what they eat.
31. Scuba Diving
Would you like to play in the water? We get that Bethlehem feels old and that there aren't that many places with great views. During the summer, we do have a great place to go. Dutch Springs is a unique place just outside of Bethlehem with amazing natural beauty. Here, you can swim and have a great time.
Are you interested in trying scuba diving in Bethlehem? Dutch Springs also has these services to offer. This place is special because there aren't many places to go scuba diving in the United States. If you want to have an exciting time in Bethlehem, PA, add this great place to your list of things to do.
Conclusion
There is something for everyone in Christmas City, whether you want to learn about history, have fun, or eat. There are modern restaurants, a 275-year-old bookstore, a glitzy casino, and the first school for women in America. You'll want to keep coming back for more.
Frequently Asked Question(FAQs) About Best Things to do in Bethlehem PA
Is Bethlehem PA worth visiting?
I've been all over Pennsylvania, and one of my favorite places to go is the city of Bethlehem in the Lehigh Valley. This lively city has a fascinating history, and even though it lost its main industry, it has grown into a charming and lively place.
What is special about Bethlehem PA?
The fact that Bethlehem has two National Historic Landmarks is a good thing. Lewis David von Schweinitz, who is known as the "Father of American Mycology," was born in the Gemeinhaus in 1741. It is the largest log building from the 18th century that is still in use in the United States. The 1762 Waterworks is the first pumping system for public water in the United States.
Does Bethlehem PA have a downtown?
The charming downtown area of historic Bethlehem is full of things to see, do, and eat all year long. There's something for everyone to enjoy on Main Street, which now has more socially-spaced outdoor dining areas as well as a patio or limited-seating indoor dining.
Can you go inside Bethlehem Steel?
The steel parts of the Golden Gate Bridge were also made by this company. Later, production went down in the 1980s and 1990s, and the steel plant closed. It was officially shut down in 2003. Today, the SteelStacks and the Sands Bethlehem Casino are on the plant's campus.
Is Bethlehem a nice place?
Bethlehem has been named one of the Top 100 Best Places to Live in America by the website Livability.com. Bethlehem has been named one of the top 100 best places to live in the United States.
What is the racial makeup of Bethlehem PA?
According to the 2020 census, 75,781 people live in the city. The city is made up of 72.7% White people, 9.2% African Americans, 0.3% Native Americans, 0% Pacific Islanders, 3.1% Asian Americans, 9.8% people of other races, and 7.5% people who are made up of two or more races. 29.9% of the people living in the country are Hispanic or Latino of any race.
Is Bethlehem PA in the Poconos?
From Bethlehem to Mount Pocono, which is to the north, it is 34.28 miles, or 67.59 kilometers, by car on the PA 33 N route. If you drive straight through, it takes 51 minutes to get from Bethlehem to Mount Pocono. This is the best way to get from Bethlehem, PA to Mount Pocono, PA as fast as possible. Wind Gap, PA, is in the middle.
What is the population of Bethlehem in 2021?
The latest US Census estimates show that there are 76,034 people living in Bethlehem, Pennsylvania right now.
Is Bethlehem PA A Christmas Town?
The city of Bethlehem, PA, in eastern Pennsylvania, was named Bethlehem on Christmas Eve in 1741. The city has a lot of holiday charm, which goes back to its name. Since 1937, the city has been known as Christmas City USA, which is a good name for it.
Does Bethlehem PA have Christmas lights?
Walk through downtown Bethlehem at night. This area looks like a magical Christmas wonderland because the lamp posts, trees, and storefronts are all lit up.
When Bethlehem PA is decorated for Christmas?
From November 22 to January 12, you can see the style of Christmas Couture at Trees of Historic Bethlehem. The Bethlehem Garden Club has done a beautiful job of decorating the trees. Visit four historic sites where more than 20 trees are decorated with things that remind people of famous people.
Why did Bethlehem Steel close?
In the 1970s, when the American steel industry started to fall, Bethlehem Steel was still around. In 1982, the company stopped making most of its steel because it had lost $1.5 billion due to increased competition from other countries, rising labor and pension costs, and other things.
How many miles long was Bethlehem Steel?
LVIP VII used to be part of Bethlehem Steel's huge, 4.5-mile-long campus. Today, 32 businesses that rent space there employ about 4,200 people. The other part is owned by Majestic Realty, and it is where big warehouse businesses like Walmart.com and QVC are located.
What is living in Bethlehem Pa like?
Most people who live in Bethlehem own their own homes, giving it a suburban feel. There are many parks and places to eat in Bethlehem. Bethlehem is home to a lot of young professionals, and most of the people who live there have moderate political views. Bethlehem's public schools are better than most.
What kind of town is Bethlehem PA?
Bethlehem is a city in eastern Pennsylvania with a population of 75,000 people. It is known for its long colonial and industrial history. Bethlehem is going through an economic and cultural renaissance right now, which shows that the city's future will be as bright as its past.
Why is Bethlehem important?
Bethlehem is a place with a lot of history that is important to both Jews and Christians. The Hebrew Bible says that King David lived in this town when he was young. About 3,000 years ago, he was the king of a Jewish kingdom. The Christian Bible says that about 2,000 years ago, Jesus was born in Bethlehem.