December is a special time of year, a cozy mix of cold nights and warm drinks, twinkling lights, and a sense of fresh starts. It's when we all get ready to say goodbye to the old year and welcome the new one with open arms. This month is full of holidays, no matter where you look in the world.
Winter brings a long list of celebrations. Whether they're about fun traditions or sacred moments, December has something amazing for everyone. It's a time for getting together with family, spreading kindness, and feeling happy. Get ready to dive into the many wonderful ways people celebrate during December, from one corner of the world to the other.
Here are the 25 Best December Global Holidays: 
Hannukah
Hannukah called Chanukah or the Festival of Lights, is an eight-day Jewish celebration that usually starts on the 25th day of Kislev in the Hebrew calendar. Because the dates don't always match up exactly with our calendar, it changes a bit every year. This time around, it's happening from November 28 to December 6.
This holiday is all about remembering the moment the Second Temple in Jerusalem was honoured again after a big victory. Each night for eight nights, families light candles. There's also the singing of special tunes like 'Ma'oz Tzur' and saying the Hallel prayer. Hannukah wouldn't be the same without its yummy treats, like crispy potato latkes and sweet sufganiyot, which are doughnuts filled with jam. And it's not just about the food — there's fun to be had spinning dreidels and giving presents to each other, too.
World AIDS Day
The concept of World AIDS Day originated with James W. Bunn and Thomas Netter in August 1987 while they were working for the World Health Organization's Global Programme on AIDS. A year later, the first-ever World AIDS Day took place on December 1st, a date which has become its annual fixture.
The purpose of World AIDS Day is to increase awareness about HIV/AIDS and to remember those affected by the illness. People observe this day in various heartfelt ways, from supporting children left without parents due to the disease to promoting practices for safe intimacy, and even urging government action to prevent the spread of HIV.
Advent
Christmas offers a moment to ponder the significance of Jesus Christ's birth, a sacred milestone for Christians. It's a period for contemplation, not only of this pivotal moment but also of the anticipation of Jesus's promised return. It's a season filled with varied and vibrant celebrations by Christians worldwide.
Among these traditions, the Advent Wreath stands out prominently. This wreath, with its candles, captures the essence of the Christmas spirit and heralds the start of the festive season, recognized globally as one of the major December holidays.
Krampusnacht
Mark your calendars for December 5th, because that's when Krampusnacht, a holiday with roots deep in German and other European traditions, unfolds. Unlike the cozy, jolly vibes of Christmas, Krampusnacht has more of a spooky Halloween feel. This event takes place on the eve of St. Nicholas Day.
The star of this chilling holiday is Krampus, a creature that's half-man, half-goat, known for his towering horns, fiery red eyes, and sharp fangs. On this night, men garbed in furry suits and terrifying masks roam from town to town, playfully chasing children who've been less than good and swatting them with sticks. The eerie but playful message of Krampusnacht? Kids better be on their best behavior all year round, or Krampus might just pay them a visit again!
Saint Nicholas Day 
Saint Nicholas, hailing from Greece, lived a mere two centuries after the time of Jesus Christ. This revered day is set aside to honor the memory and virtuous life of Saint Nicholas.
He was first ordained as a priest and then became a bishop in the early Catholic Church. True to the Christian ethos of renouncing worldly goods and following Christ, Saint Nicholas relinquished all his possessions, earning a reputation for his profound generosity towards the needy, especially children.
The tradition of hanging stockings is traced back to Saint Nicholas himself. As the tale goes, he was known for tossing small bags of gold coins through the open windows of impoverished homes. Legend has it that one such pouch landed in a child's stocking that was drying by the fire. As word of this act spread, children started hanging their stockings by the chimney, eagerly awaiting Saint Nicholas's visit.
Bodhi Day
Bodhi Day falls on December 8th and is a special day for many Buddhists. It marks the day when Shakyamuni, known as Buddha, found enlightenment. In Japan, they celebrate it according to the Western calendar, but in China, it's based on the lunar calendar, so it's in early January.
On Bodhi Day, Buddhists remember how Buddha overcame tough challenges and doubts to reach enlightenment. To show this, people light candles or hang lights at temples and holy places for a whole month after Bodhi Day. These lights stand for the light of enlightenment.
Feast of the Immaculate Conception- D8
One special holiday in December celebrates the birthday of Mary, Jesus' mother.
This day is called the Solemnity of the Immaculate Conception and is a very important time for Catholics. They believe that Mary was born different from everyone else – without any sin. This feast happens during Advent, the time when people get ready for Jesus' birth. But this day is actually about when Mary herself was created pure in her own mother, St. Anne's, womb. This is what the Immaculate Conception means. That's why Catholics often say Mary was "full of grace," because she was sinless right from the start.
Santa Lucia
Santa Lucia was a saint from Italy who gave her life for her beliefs. She's thought of as a beacon of brightness when the year is at its darkest. Every year on December 13th, people in Sweden honor her memory as a sign of light and hope. This day is special, filled with mood-setting music and parades. You'll see performers dressed in white with wreaths on their heads, and these aren't just any wreaths – they have real candles that glow softly.
Las Posadas
In Mexico and some places in the United States, from December 16th to 24th, there's a special nine-night celebration. It's a holiday in December that remembers the hard time Joseph and Mary had trying to find a place to stay.
This journey they took from Nazareth to Bethlehem, looking for a safe spot for Mary to have Jesus, is called Las Posadas. Each night, people go to a different party around town. They join a parade, pretending to look for a place to stay just like Mary and Joseph did, asking for shelter to honor that night's search for an inn.
Yule
Yule or Yuletide is a festive time celebrated by Germanic folks everywhere. This old festival comes from ancient pagan traditions and has ties to the Norse god Odin and the Anglo-Saxon celebration called Modraniht. Yule happens around the shortest day and longest night of the year, the Winter Solstice, which is why it's one of the oldest known winter celebrations.
Long ago, people would celebrate Yule by lighting a big log on fire and staying out all night. Today, people still burn Yule logs, but they also do other things like making special Yule altars, crafting wreaths from evergreens, or doing something kind for nature. It's common to have dinners by candlelight, decorate Yule trees, and give gifts that come from nature.
Festivus
Festivus is a quirky holiday that became widely known in 1997 after being featured in a "Seinfeld" episode called "The Strike." This holiday is a tongue-in-cheek protest against the commercialism of Christmas. Instead of buying an expensive Christmas tree, people who celebrate Festivus gather around a simple aluminium pole. The traditions of Festivus also include activities like "feats of strength" and the "airing of grievances."
Some critics have called Festivus fans unconventional and critical, questioning their perspectives on Christmas and its real significance. Despite this, Festivus has gained traction, particularly with those who are keen on saving money and living simply.
Winter Soliscate
The December solstice is a time when those living north of the equator experience the shortest day of the year, while people in the south enjoy their longest day. This solstice can happen on the 20th, 21st, 22nd, or 23rd of December, although the 20th and 23rd are pretty uncommon.
On this day, folks light bonfires and candles to encourage the return of sunlight. Many look forward to the chill of winter, with its snowfall, opportunities to go skiing or ice skating, cozying up near a warm fire, and the festive holiday mood. If you take a stroll through the forest, you'll be wrapped in a quiet so profound it feels like the world itself is hushed.
Soyal
Soyal, a special winter solstice ceremony, is observed by the Hopi and Zuni Native American tribes on the longest night of the year. For them, this time is about cleansing and starting anew. Across the globe, many different cultures honor the solstice with their unique traditions. This day and night are filled with deep meaning and are celebrated in various ways around the world.
Christmas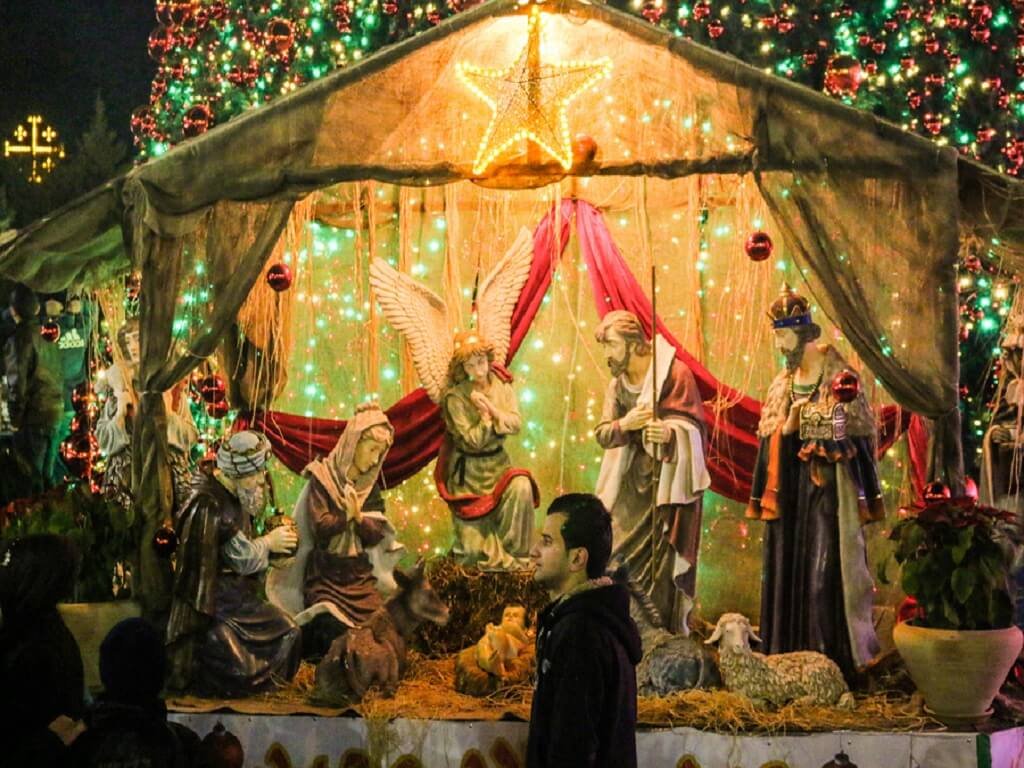 Christmas is the most famous holiday in December. It's the day when people celebrate the birth of Jesus Christ, who Christians believe was sent by God to save people from their wrongdoings. What makes Christmas special is that even people who aren't Christians join in the celebrations.
It's important to remember that no one really knows the exact day when Jesus was born. Christmas was chosen because it's close to the shortest day of the year on the old Roman calendar. Also, in many places, Christmas is more about culture than religion. People celebrate by giving gifts, thinking that Santa Claus or Father Christmas will bring them. Lots of people go to church on Christmas Day, and some take a big holiday trip.
Zarathosht Diso
Zoroastrianism, started by Prophet Zoroaster over 3,000 years ago, is one of the oldest religions that believe in one God. Zoroastrians remember their prophet's passing on this day. They usually go to a fire temple and say prayers.
Saint Stephen's Day
The Feast of St. Stephen is celebrated on December 26th, which is the day after Christmas Day. This day is set aside to remember St. Stephen, the very first saint in the Christian faith. He was accused of blasphemy and faced trial because he openly shared his Christian beliefs. St. Stephen was the first person to die for following Christianity. On December 26th, people honor him for giving up his life for his faith.
Boxing Day
Boxing Day is celebrated on December 26th, has different stories about its origin. Some say it was the day when churches gave out charity boxes to the poor after Christmas. Others think it was a time to thank helpers like errand boys and postmen with gifts for their work all year.
Whatever the true story, Boxing Day is a famous holiday in December. It's a public holiday in many places, like Canada, the UK, Australia, and New Zealand. Often, people enjoy sports and other big events on this day.
Pancha Ganpati
Pancha Ganapati is a festive time for Hindus who honor Lord Ganesha, the god of arts and culture. Created by Sivaya Subramuniyaswami in 1985, Pancha Ganapati is a Hindu response to December holidays like Christmas.
For five days, families focus on personal spiritual activities leading up to the main day. It's a holiday that many in India eagerly await. People celebrate in new clothes, enjoy sweet treats, have fun, and exchange plenty of gifts!
Kwanzaa
Kwanzaa is a cultural holiday that starts in December and honors African heritage, primarily observed in the United States. Dr. Maulana Karenga established the festival in 1966 after the Watts riots in Los Angeles. The name Kwanzaa derives from the Swahili phrase "matunda ya kwanza," meaning "first fruits."
The celebration includes singing and dancing to African music, sharing stories, reading poetry, and reflecting on core values of African culture. Each evening often ends with a significant meal, and the festivities reach their peak with a big feast called "Karamu" on the last night of the year, December 31.
New Year's Eve
New Year's Eve is celebrated on the final day of December, bids farewell to the ending year and welcomes the upcoming one.
People celebrate in various ways. Many attend religious services to express gratitude for the year's blessings. Others choose to celebrate at bars, restaurants, or social gatherings. The festivities typically climax at midnight with cheers, singing, and fireworks illuminating the sky.
Human Rights Day
This celebration is dedicated to highlighting the significance of human dignity, equality, peace, justice, and freedom for all, regardless of race, color, religion, gender, or social status. Following the horrors of World War II, the protection and promotion of human rights gained paramount importance on the global stage.
Rizal Day
Rizal Day is a Philippine national holiday commemorating the life and works of José Rizal, a national hero who played a key role in the country's fight for independence from Spanish rule. It is observed every December 30th, the anniversary of Rizal's execution in Manila in 1896. The day is marked by ceremonies and events honoring his contributions and martyrdom, with the most prominent activities typically taking place at Rizal Park, also known as Luneta, in Manila.
Osaka 
Osaka Festival, often associated with Japanese New Year, which is called Shōgatsu, is a significant celebration in Japan, marked on December 31st as Ōmisoka. This day is traditionally spent preparing for the New Year through thorough house-cleaning, known as ōsōji, symbolically sweeping out the old year to welcome the new one with purity and renewal.
Friends and family gather to enjoy a special meal, often featuring traditional Japanese foods like toshikoshi soba or udon, long noodles that represent crossing over from one year to the next. As midnight approaches, many people listen to the ringing of temple bells, which is believed to purify the sins of the departing year.
Frequently Asked Questions (FAQs) 
What month has the most holidays worldwide?
Despite December bringing the year's shortest daylight hours and often bitterly cold temperatures, it is a month filled with warmth and cheer from numerous celebrations. Across the globe, people of different cultures come together to honor, remember, and revel in the many special occasions that this winter month brings.
Is there another holiday in December?
December is packed with major celebrations like Christmas, Hanukkah, and Kwanzaa, uniting families in faith and cultural festivities. Amidst these, an array of other significant and enjoyable events sprinkle extra magic over this distinctive month.
Is December 25 a worldwide holiday?
Christmas Day, along with the eve before and sometimes the day after, is acknowledged by various governments and cultures globally, even in places where Christianity is not the majority religion.
What is the most popular holiday in December?
Christmas is typically considered the most popular holiday in December around the world. It is recognized for its religious significance to Christians as the celebration of the birth of Jesus Christ, as well as for its widespread secular and cultural observances, which include exchanging gifts, festive decorations, and family gatherings. The holiday has a profound impact on economic activity, particularly in retail, and has a broad cultural presence even in countries where Christianity is not the majority religion.
What is the month of December known for?
December is a month filled with celebrations, including the well-known Christmas and New Year's Eve. But there's more to this festive time than these big occasions. It's a month that might find you whipping up treats for a charitable cause, embracing loved ones a little tighter, or showing some extra appreciation for your beloved pets.
Why is December 31 a holiday?
New Year's Eve falls on December 31 and marks the final day of the year in the United States. It's a significant social event, celebrated with numerous parties that often extend into the late hours of the evening.
The Bottom Line
 Throughout December, diverse cultures around the world celebrate a multitude of holidays, each with unique traditions and meanings. From Christmas and Hanukkah to Kwanzaa and New Year's Eve, these celebrations reflect a common spirit of joy, reflection, and community.
Despite the cold weather, December shines with the warmth of human connection, as people gather to share in the festivities, honor their beliefs, and look forward to the new year. The month is a vibrant tapestry of giving, receiving, and commemorating the human spirit, encouraging unity and appreciation across the globe as the year draws to a close.