Frontier Airlines has been in business since 1994. It is known for its low-cost flights. Canada, the United States, and Mexico are some of the places that the companies fly to. Even though Frontiers offers low-cost flights, some passengers have said bad things about the facilities and services they were given during the flight.
According to data, Airlines received 2.5 stars in 2023. Customers have given the airlines a 2/10 rating. Negative reviews on many websites criticize luggage fees, insufficient in-flight amenities, and disorganized seating arrangements.
Even though customers might not be happy with the services provided on the trip. Still, it's safe to fly with Frontier Airlines. This airline is a great choice for most people because it keeps good records of safety and hasn't had any terrible accidents. Frontier Airlines is one of the safest and most stable airlines in the world, so it has been put in the 10th spot.
Overview of The Airline
Frontier Companies is one of the few very cheap companies in the United States. Most of the time, these airlines have very cheap fares, but they charge extra for even the most basic services. This includes fees for checked bags, carry-on bags, choosing your spot, and even snacks and drinks while you're in the air. When you add these things, the flights aren't such a good deal after all.
Frontier also has two sets of items you can buy. The first, called "The Works," includes one carry-on bag, one checked bag, a seat option (including the slightly bigger "Stretch" seats), priority boarding, and a full refund. This can only be bought at the time it is bought. The Perks deal can also be bought for a little less. It includes one carry-on bag, one checked bag, seat pick (except for 'Stretch' seats), and priority boarding. It can be used at any time after it has been bought.
History of Frontier Airlines
In the 1990s, when Continental was cutting back on flights out of Denver, a pilot and his wife saw a chance to start a charter airline out of Denver. This was the beginning of what we now know as Frontier Airlines.
Over the years, it grew and spread to a lot of places in the West (hence the name "Frontier"), and now it goes to more than 100 places in the US and some places outside the country.
Frontier often flies to smaller airports instead of the big hubs, but they do fly to many big hubs, like San Francisco and Dallas/Fort Worth, where my Frontier trip went between. Frontier Airlines hasn't always had a smooth ride. There have been failures and mergers, but the company is still flying today!
How Do Frontier Airlines Work?
As a low-cost carrier, these low prices come with a trade-off. So that Frontier can keep its prices low, it doesn't have the high-end services that more expensive airlines do. There won't be a TV or fancy food, but the money you save on the ticket will be enough to buy yourself something nice before or after the flight.
Even on trips longer than 200 miles, snacks and drinks are still served, but they don't count as a full meal. Just get some food at the airport before or after your trip, or bring snacks with you. Keep in mind that Frontier's terminals are often in more rural parts of an airport, where there may not be as much food.
There is not much to do on Frontier Airlines. We are lucky to live in a time when technology can be taken anywhere. Frontier trips are usually no longer than 4 hours, so you can easily pass the time with a mobile game or e-book.
Where Does Frontier Airlines Fly?
Frontier has flights from many of the most important U.S. cities:
Calgary Canada
Montego Bay Jamaica
Punta Cana Dominican Republic
Mexican cities
Washington Dulles
Minneapolis-St. Paul
Denver International Airport
Atlanta
Boston Logan International Airport
Orlando International Airport
Chicago O'Hare Buffalo
Los Angeles, among others. Check out their website to find out which towns and routes they serve.
Is Frontier Airlines Safe for Travelers?
Yes! It is very safe to fly on Frontier Airlines. It has been in service for 22 years and has never had a major crash. Frontier only flies airplanes now and has a strong fleet. Also, Frontier Airlines has gotten safety approval from the IATA, among other things.
From a safety standpoint, Frontier Companies is one of the safest companies to fly on because it follows all safety laws and rules. The company has been approved by the Federal Aviation Administration (FAA) and meets the safety standards that have been set.
As of right now, Frontier Airlines has an air operator license, which means it follows all the rules and procedures needed to keep and fly an airplane safely.
Airlineratings gives Frontier Airlines a strong 7/7 for safety, which means:
Frontier Airlines didn't have a crash that killed anyone.
Since the company started flying in 1994, no one has died in a crash involving a Frontier Airlines plane.
Note: Some individuals conflate the previous Frontier Airlines, which operated from 1950 to 1986 under the same name and suffered a fatal accident in 1978, with the current Frontier Airlines. Overall, Frontier Airlines has an outstanding safety reputation.
Frontier Airlines Review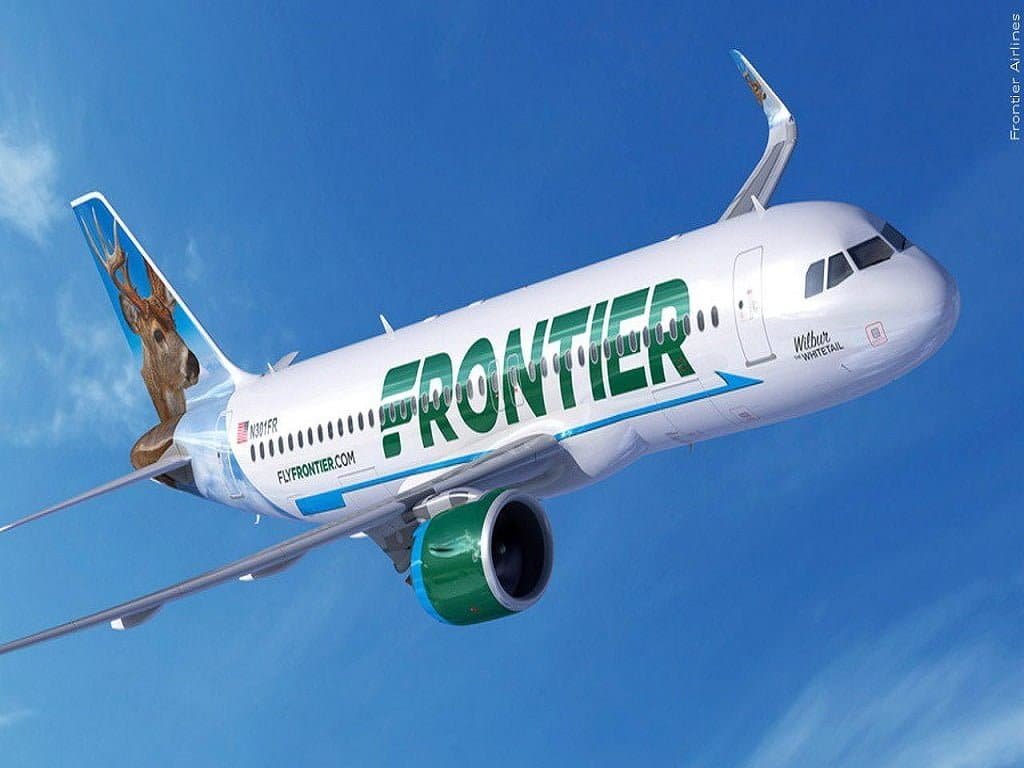 I would say to fly with Frontier and see for yourself. As the saying goes, you get what you pay for, and this is exactly what happened. For the low price I pay, I expect a clean, cozy seat on a plane that will get me to my destination on time and safely. If you like to travel on a budget, the Den Deal program can save you money. After one or two trips, the annual fee pays for itself.
I think Frontier should definitely do something about all the bad reviews that are out there and work on making their customer service better. But don't be afraid to try them out, guys. Just bring some snacks with you. I hope my review of Frontier Airlines was helpful and that you'll think about going with them.
What are People Saying About Frontier Airlines?
Frontier Airlines has been in business for over 20 years. Because of this, there are a lot of online customer reviews. Most Frontier Airlines reviews online show that a lot of people aren't happy with the company. For example, the airline only has a score of 2.5 stars on TripAdvisor and a score of 2/10 on AirlineQuality.
A lot of this dissatisfaction seems to be about how to cancel a trip, what to do with your bags, how comfortable your seat is, and what it's like to be on the plane. But Frontier Airlines also has a lot of good things said about it. Like, the flight staff at Frontier Airlines do a great job. But this airline's cheap ticket deals may be the thing that people like most about it.
Low-cost tickets let you fly with your family, kids, and friends. Also, Frontier Airlines' DISCOUNT DEN travel club members get free flights for kids under 15 if they use Frontier.
How to Book a Flight on Frontier Airlines?
Follow these steps to book a flight on the website for Frontier Airline:
Choose "Lowest Price" from the choice that drops down. This will make sure that the best flights are shown to you.
If you know the exact dates or times, you can put them into the search engine. If you don't, you'll see a list of trips for the whole month, which can be a lot to take in.
Click the "Book Now" button once you've found a flight that meets your needs. You'll be taken to a page where you can type in your name, address, and payment information.
Make sure to check all of your information twice before you send it in. Since you'll be going on standby, you need to make sure everything is right to avoid delays or other problems at the airport.
What to Pack for a Flight on Frontier?
Aside from the regular luggage, you'll be bringing to your destination, think about bringing some of these flying essentials. For Frontier, the most important is the carry-on that counts as a personal item and the tablet with downloaded movies.
Tablet with downloaded movies and TV shows and headphones. I love to travel by plane with this tablet and these noise-canceling headphones. This is especially important on Frontier, where there is no in-flight entertainment because I can watch movies and TV shows on my own time.
Let's be honest, you won't sleep with a sleep mask like this one, but blocking out the light on an early flight is still a better way to fly.
Using regular foam ear plugs, you've already lost the fight of the crying baby if you don't have ear plugs like these.
No one will even notice you're wearing these compression socks, and they'll do a great deal to keep your circulation healthy in the air.
This type of reusable water container is permitted through airport security and can be refilled at the gate. Boom, the thirst is slaked.
Some people use bags or duffels like these as carry-ons that count as personal items.
How to Get the Best Seat on Frontier?
In contrast to airlines like Southwest which operate on a "first come, first served" basis, Frontier allows you to reserve your seat in advance. You will be directed to a page that details the available seats and their prices. You are not required to pay to reserve a seat, but you will be assigned a seat at random if you do not.
If sitting together or selecting a specific seat is essential, the cheapest way to get the best seat is to book in advance (often bundled with luggage if you also need to book that).
How to Save Money on Frontier Airlines?
Most of the time, Frontier Airlines is about saving money. Why wouldn't it be the cheapest? You're taking an ultra-low-cost airline. But what many people don't know is that a ticket on a low-cost carrier that doesn't include luggage can sometimes be more expensive than a ticket on a low-cost carrier that does, depending on how much it will cost to add luggage.
Before choosing Frontier as the right airline for you, make sure you go through the whole booking process until you get to the final price with all the upgrades you need.
If you fly them a lot, you can join their "Den," or "Flying Club," which can get you cheaper flight prices. It's often cheaper to add extras as a package than to add them one at a time. Frontier sometimes gives out discount codes, and if you sign up for their email list, you have the best chance of getting one when they offer a deal.
Who Should Fly Frontier Airlines?
Frontier Airlines is great for some types of travelers, but not so much for others. If you want to fly Frontier:
You want to save money on your trip and are ready to sacrifice comfort. You don't have a lot of extra stuff to bring with you. You're going somewhere where you can bring your own snacks and drinks. You've flown before and don't need a lot of help.
If you want an all-inclusive trip or just want your flights to be as comfortable as possible, Frontier isn't for you (which is fine, because there's something for everyone in the world of flying!).
Pros and Cons of Flying Frontier Airlines
There are pros and cons to Flying Frontier. I think it will be easy for some people and save them money, while others will want more from their flight. There is no bad answer, and you should do what works for you.
Pros
Flight Cost: Frontier has deals every week that can save you up to 80% on your flight. I've seen one-way trips for as low as $38.00.
Kids Fly Free: On certain days, members of the Discount Den Club can fly their kids for free.
Certain places can be reached without stopping.
Cons
The price does not include bags, seats, or extras.
On board, there were no snacks or drinks. It is something you can buy.
Cancellations or delays because there aren't many flights each day.
Customer Service
In November 2022, Frontier Airlines will no longer have a phone number for customers to call for help. On Frontier's website, it says that you can reach them by:
Live chat (24/7)

Feedback Form: for questions or concerns (scroll down)

Mobile app: Android | iOS

Social media: @flyfrontier on Facebook, @flyfrontier on Instagram, @flyfrontier on Twitter
Tips for Flying Frontier Airlines
There are some easy things you can do to make your trip better, especially if you plan ahead. Here are the best tips we can give for going on Frontier Airlines.
Buy any extras and perks ahead of time. It can be hard to figure out what kinds of bags you'll need, but if you buy them ahead of time, you'll save money. If you're going to use everything in the bundle, it can be a good deal.
To save money, bring as few bags as possible with you. Bring the biggest personal item you can. A bag that fits within the size limit is a good choice.
You can put entertainment on your own gadget or bring a book with you. There is nothing to do on board, so you'll need to bring something with you.
You can save money by buying food and/or drinks at the airport instead of on the plane.
Buying seat assignments when you buy your flight is a good idea if you are going with other people and want to make sure you are all seated together.
Before you book your flight, add up all the costs, including any extras, to make sure you are still getting a good deal. Think hard about any add-on to make sure you really need it.
Conclusion
Frontier Airlines has been in the airspace for more than 22 years, and all of its pilots and team members are well-trained to handle and solve any problems in a professional way. Customers don't have to worry about safety when they fly long distances on Frontier Airlines.
In the last 10 years, there have been no deadly crashes on Frontier planes. Frontier Airlines didn't suffer any fatal air crashes.
Frequently Asked Questions (FAQs)
Does Frontier have good reviews?
In our rankings, Frontier is tied for eighth place. It comes in fourth place for both the fastest high-speed ISPs and the cheapest ISPs of 2023. But if you choose one of the cheapest deals, you'll probably get a slower speed.
What is the disadvantage of Frontier?
Frontier is a "no frills" airline, so they don't give any extras that you might get when flying with Delta. Wi-Fi and entertainment can't be used for free or bought in the air. To keep flight prices low for customers, Frontier doesn't give these things.
How is Frontier Airlines rated?
Frontier Airlines is rated as a 3-Star Low-Cost Airline for the quality of its products and customer service at the airport and on board. Product rating includes cabin luxury, fees for bags and seats, food and drinks you can buy onboard, cleanliness of the cabin, and service rating includes both cabin and ground staff.
Is Frontier Airlines expensive?
Frontier Airlines is a low-cost airline, which means that it sets its prices in the usual way for low-cost airlines. Frontier offers a simple ticket that covers your trip and one personal item. Anything else costs extra.
Why is Frontier different from other Airlines?
Frontier is the greenest airline in the U.S. When compared to other U.S. airlines, we save an average of 43% on fuel thanks to our strategies for cutting weight and our modern, fuel-efficient fleet.
Does Frontier airline have WIFI?
Do you have Wi-Fi, TV, movies, or other ways to pass the time on the plane? At the moment, these services are not offered on Frontier planes. Because our planes don't have these services or electrical outlets, we can save money and offer our customers the lowest fares possible.
How many countries does Frontier fly to?
Frontier has 594 different trips to 11 countries. Only 134 of the 594 lines are to or from other countries. The most popular domestic flight on Frontier is to Denver. The most popular foreign flight on Frontier is to San Juan.