Do you want to about Things To Do in Colorado? Colorado is a great place to visit any time of year because of its dramatic landscape and natural beauty, which sparks the imagination and fills the soul. The state has everything from the majestic Rocky Mountains to rolling hills, beautiful alpine lakes, rivers, waterfalls, and the high desert of the Colorado Plateau. All of these things make the state beautiful. The best things to do in Colorado are listed below. Before you go, make sure to call the attractions and restaurants to find out what time they open.
Most of the southern Rocky Mountains are in Colorado, which gets its name from the strong river that flows through it. There are many different kinds of landscapes in the state, including alpine meadows, deep canyons, plateaus, mesas, deserts, and dunes. In the summer, people can hike through canyons and up lush mountainsides, and the capital city, Denver, has lots of things to do and festivals.
In this article, we are going to talk about the top 50 Things To Do in Colorado and everything that you need to know.
Top 50 Things to Do in Colorado
1. Hike in Rocky Mountain National Park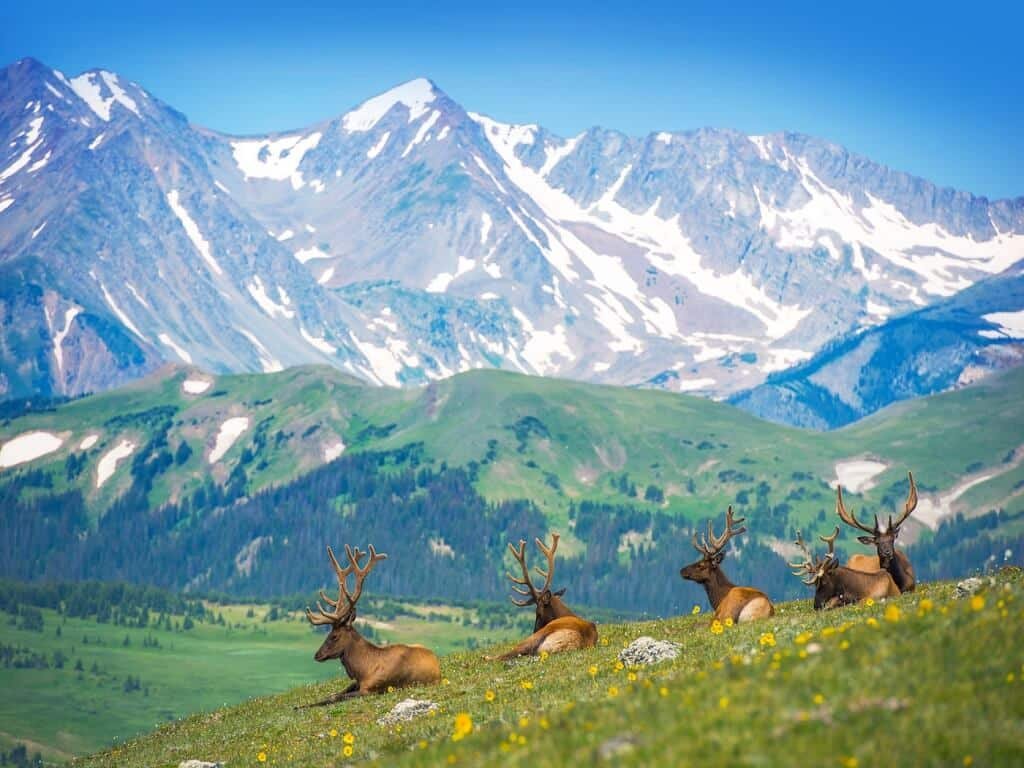 Every year, millions of people visit Rocky Mountain National Park to check out its many trails and beautiful views. There are dramatic peaks, 147 clear lakes, and a lot of wildlife in the park. It has 355 miles of trails that hikers of all skill levels can enjoy.
Flat lake trails in the park, like Lily Lake Loop, Sprague Lake trail, and Lake Irene trail, are good for beginners. Intermediate climbers can enjoy the 4.1-mile Emerald Lake trail, which requires about 745 feet of elevation gain, or the 9.8-mile Sky Pond out-and-back route via the Glacier Gorge trail, which offers views of snow-capped peaks.
Many experienced hikers set out to finish Longs Peak. This trail is a 14-er, which means it is a peak that is higher than 14,000 feet. It has a nearly 5,000-foot elevation gain and is only for ambitious hikers who are willing to get up early and bring a lot of supplies. C
has Lake is a short but hard trail in the Longs Peak area. This trail is about 8.5 miles round-trip and goes through meadows, streams, and beautiful mountains. Rocky Mountain National Park is near the cute town of Estes Park, which has many places to eat and stay. $25 gets one car into the park. Note: Rocky Mountain National Park will operate on a timed permit entry system during the summer.
2. Museum of the Mountain West
If you're a history buff looking for cool places to check out in Colorado, you should go to the Museum of the Mountain West. It's an amazing collection of Old West buildings and items. When you're here, you can really appreciate how much evolution Colorado has undergone. Full of incredible artifacts from the Old West, this museum feels like you're brought out of the present.
If you've ever wanted to be in a real Old West saloon, this is your chance. If you're a real history buff in Colorado, you should come here. You'll get the best information possible. The Museum of the Mountain West is in Montrose, Colorado, and it's a great place to have fun and learn a lot at the same time.
3. Denver
Denver is one of the most popular cities in the U.S. and one of the ones that is growing the fastest. It is one of the best outdoor cities in the country. It has a nice climate and more than 300 sunny days a year.
This lets the city's young and active people enjoy the Rocky Mountains, which are a huge playground right outside the city. People here like to hit the ski slopes in the winter, go hiking in the spring and ride their mountain bikes in the summer.
When Denver residents aren't busy outside, they enjoy the arts and culture scene at Red Rocks Park & Amphitheater or eat at one of the city's most popular restaurants in the Latimer Square neighborhood. The city also has a lot of great parks, and the downtown area is a very interesting place to check out.
4. Vail
People often think of skiing when they think of things to do in Colorado, and Vail has a lot of slopes that are among the best in the world. Vail Resort has everything a skier or snowboarder could want, including awesome runs, lifts, gondolas, and great spots to eat and shop nearby.
But this mountain town isn't just a place to go in the winter! Vail is a great place to be in the summer in Colorado if you're looking for fun things to do. On the same slopes, you can mountain bike or hike, or you can go to the Betty Ford Alpine Garden to relax and look at the mountain flowers.
5. Horse Riding at a Dude Ranch
Yee-hah! Colorado used to be part of the Wild West, so it makes sense that these guys really know how to ride a horse. Want a taste of what it's like to be a cowboy? Book yourself for a stay in a Colorado dude ranch. A dude ranch is a working cattle ranch that lets guests ride horses and do other cowboy things like roping and branding cattle.
The Ranch at Emerald Valley is probably the most well-known of all the dude ranches in Colorado. It is in the middle of the Rocky Mountains and has horseback riding trips that last from one to seven days.
I stayed at Sundance Trail Ranch, which is just outside of Aspen and is an amazing ranch. At Sundance, you can choose from many different horseback riding trips, such as half-day rides, full-day rides, and pack trips that last several days. Guests who want to explore the area on their own can also fish, hike, or ride bikes on the ranch's trails.
When you add the owners, Dan and Ellen, who know how to host with style and hearty home-cooked meals served family-style, you have a winning combination.
6. Cliff Palace and Balcony House
Cliff Palace and Balcony House are old cliff dwellings that were inhabited by the ancestors of the Pueblo Indians in the 12th and 13th centuries. Both are World Heritage Sites and National Monuments, and they are both in Mesa Verde National Park. The Balcony House had 45 rooms and two kivas, which are like ovens. Only ranger-led tours can go there. To get to Balcony House, people on tours have to climb a 32-foot ladder and then crawl through a 12-foot tunnel.
The first people to live there would have used narrow toeholds to climb up the rock face. Because it was hard to get to, it was easy to keep out strangers. Sandstone blocks, mortar, and wooden beams were used to build Cliff Palace on the side of the cliff. It used to have more than 150 rooms and 25 kivas, and most likely was used for ceremonies. Like Balcony House, the only way to get to Cliff Palace is on a ranger-led tour.
7. Surf at Great Sand Dunes National Park and Preserve
While you won't find any traditional surfing experiences in landlocked Colorado, that doesn't mean you can't try your hand at the sport. Surfing in the sand. Armed with a sandboard, comfortable clothes, and a bit of courage, visitors can surf down the massive dunes at Great Sand Dunes National Park and Preserve. Keep in mind that there are no places to rent boards inside the park. Instead, you'll need to go to a store in the nearby San Luis Valley.
The closest rental store is the Oasis Store, which is 4 miles from the entrance. The best boards to get are ones that are made of sand. Snow sleds and snowboards won't work as well. Sand surfers can walk a little more than a half mile from the main parking area to some good-sized dunes.
If you want bigger slopes, you can walk a little farther, but you can surf anywhere on the dunes except where there are plants. Sand sledding is a better choice for people who would rather sit than stand. Great Sand Dunes National Park and Preserve is open all day, every day. It costs $25 per vehicle to get in, and you don't need a reservation to go. You can also do a lot of other things in the park, such as go hiking or swim in Medano Creek.
8. Buffalo Bill Museum and Grave
The Buffalo Bill Museum and Grave is another Old West museum in Colorado. It tells the story of one of the most famous people in the American West, William "Buffalo Bill" Cody. He was good with a gun, but there was much more to his life than that. This is one of the best places in Colorado to learn about a historical figure in depth.
He died in this state, and the Buffalo Bill Museum and Grave show how important his legacy is. Visiting here is one of the best things to do in Colorado. It might make you want to read more about Buffalo Bill or look for movies about his life. He had an amazing story that will hopefully be told for years to come.
9. Mesa Verde National Park
No matter if you have seen cliff dwellings before or not, you will be blown away by Mesa Verde and how much access the park gives visitors to the actual ruins.
Cliff Palace is the main attraction of the park. It is one of the most impressive homes in the whole Southwest, with a dramatic setting and amazingly well-kept ruins. During the busy summer season, ranger-led tours let you climb ladders all the way up to the heart of the house. It is highly recommended that you buy your tickets to the Cliff Palace before you go. There aren't many spots, and people want them, especially in the summer. You can buy tickets up to 14 days before you plan to arrive.
If you don't want to do that much, you can get a good look at the site from a nearby lookout.
The Ancestral Pueblo lived in Mesa Verde from about 600 to 1300 AD. They lived in the houses for about 200 years. The park has thousands of archeological sites, but the cliff dwellings are the most interesting. Several places, many of which are on top of the mesa, can be reached by road. A number of hiking trails, which don't require a ranger tour, lead to lookouts and interesting sites, such as petroglyphs.
10. Raft the Arkansas River
People often think of rafting when they think of going to Colorado. This half-day tour takes you down the rapids of the Arkansas River, starting at its source and ending at the bottom of the Royal Gorge, where you can see amazing views of the canyon from the bottom instead of the top.
This rafting trip on the Arkansas River is great for first-timers, and you'll see parts of Colorado that most people don't.
11. The Garden of the Gods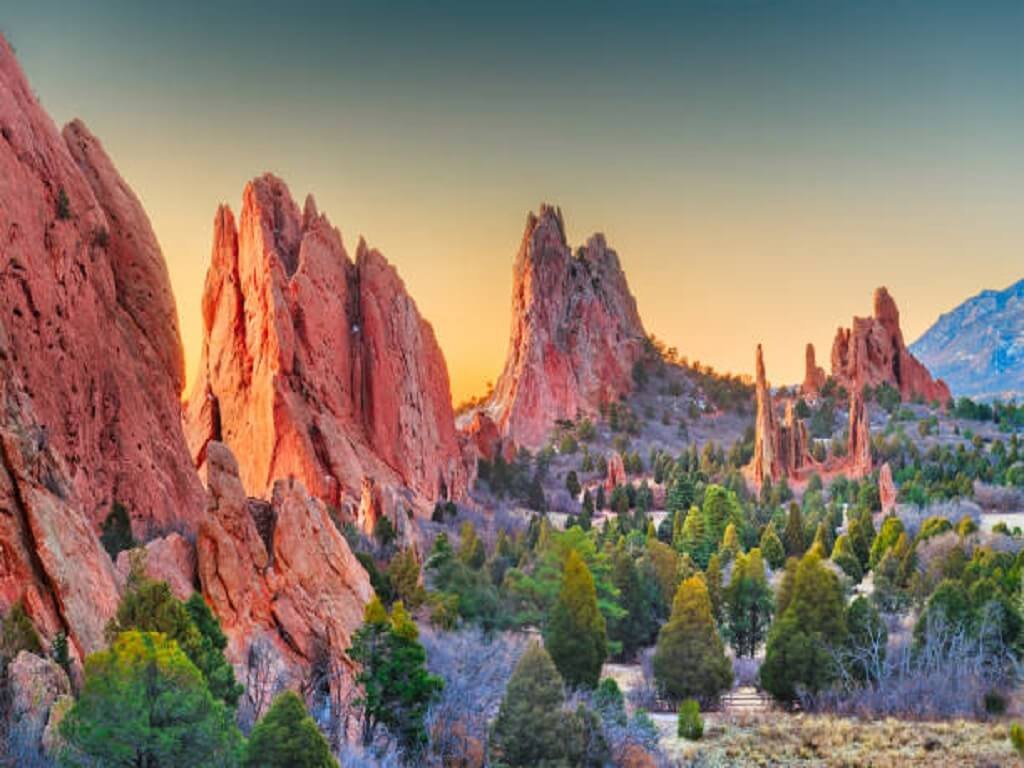 We've already said that Colorado has a lot of beautiful natural scenery, but The Garden of the Gods will still make you take a second look.
The Garden of the Gods is in Colorado Springs. It has some of the most amazing rock formations in the world, which were made by wind and water over millions of years.
What's left is a park with tall red rocks and amazing views. It's one of the best places to visit in Colorado.
12. Durango & Silverton Narrow Gauge Railroad and Museum
In 1882, a rail line was built between Silverton, Colorado, which was a mining town, and Durango, which was a railroad town, so that gold and silver could be moved. The narrow coal-fired steam engines were only three feet wide. They used to carry ore, miners, cowboys, and settlers, and now they take tourists on an original train on the same track.
The 45-mile trip takes four and a half hours because the train is still powered by coal and winds through canyons and along narrow mountain paths. Tourists who want to hear about history can do so on the trains. There are railroad museums at both the Silverton and Durango ends of the line. The Durango Museum has things from the history of railroads, and the Silverton Museum has a 1902 Baldwin Locomotive on display in the original 1882 Depot.
13. Boulder
Boulder is only about 27 miles northwest of Denver, and many people like its small-town feel. The main thing to see here is the Pearl Street Mall, which is an outdoor shopping area with a lot of shops and cafes. You'll probably see your fair share of street performers as well. Also, the University of Colorado Boulder is close by, so there are a lot of cool places to eat and things to do at night.
People who have been there before recommend Lucile's Creole Cafe for breakfast, Leaf Vegetarian Restaurant for a memorable lunch, and Frasca Food and Wine for an upscale Italian dinner. Many people think the Boulder Farmers Market is one of the best in the country, so if you're there on a Wednesday or Saturday, you should check it out. The Boulder Museum of Contemporary Art and Central Park is right next to the farmer's market.
Central Park is a large green space with a picnic area, a playground, and bike routes. People who have been there before say to save some time to walk around the UC Boulder campus, where the Fiske Planetarium and the Museum of Natural History are located. You can stay at the St. Julien Hotel & Spa or the Hotel Boulderado if you want to be close to downtown.
14. Manitou Springs
Manitou Springs is a mountain town near Colorado Springs. It's one of the most interesting places in the state. Even though it's not very big in terms of size or population, there's a lot to do there.
There are many interesting things to see in Manitou Springs. You can go ziplining, fishing, or to an art gallery.
When you're tired of busy city environments that don't do much for your mind but crowd it, a place like Manitou Springs can feel like a true refuge. When you come to Manitou Springs, you can have fun experiences you might not have had before. It's one of the most exciting places in Colorado, but it's also one of the most relaxing. This is a place made for making and keeping memories.
15. Pikes Peak in Pike National Forest
Pikes Peak, which is in Pike National Forest, is one of the famous "fourteeners" in the Southwest. A "fourteener" is a mountain that is over 14,000 feet tall. The snow-covered peak is easy to spot from the town of Colorado Springs, which is close by.
This is the second most popular mountain in the world, after Mt. Fuji. The Pikes Peak Highway, which is off highway 24 west of Colorado Springs, lets you drive to the top of Pikes Peak, which is different from many other mountain peaks. It takes about 1.5 hours to get there. You can also take the Pikes Peak Cog Railway, which is a scenic 8.9-mile ride that takes just over three hours round-trip.
The brand-new Pike's Peak Summit Visitor's Center is at the top. This beautiful glass and wood building started construction in 2018 and is almost done. It has great views, interactive displays, and a variety of places to eat. People who go all the way to the top of Pike's Peak just for the famous donuts will not be let down. You can still get these tasty, fluffy treats.
Not only can you enjoy the view from the top, but there are also many other things to do in the area. There are many hiking trails nearby, as well as places to mountain bike and reservoirs where you can fish.
16. Adventure in Aspen
Of all the things to do in Colorado, year-round sightseeing around Aspen will leave you with scenery and memories you'll keep for the rest of your life!
Take a short drive to the Maroon Bells Scenic Area while you're in Aspen to see great views of these peaks. There are different hiking trails for people of all skill levels, so you can make the trip fit your group.
In the winter, Aspen is an excellent place to ski and snowboard. In the summer, you can hike, mountain bike, fish, and do all kinds of other outdoor activities. No matter where you go, you'll find restaurants that have won awards and small shops of all kinds.
17. Hanging Lake
Hanging Lake is one of the most popular places to visit in Colorado. It is a beautiful place wonder in Glenwood Canyon.
The lake is known for its bright turquoise color, which comes from the travertine deposits that line the shoreline.
Hanging Lake is easy to get to on foot, and hikers and nature lovers go there often. Even though the hike to the lake is pretty steep, it's important to note that the trail can get very busy during peak times.
18. Cheyenne Mountain Zoo
The Cheyenne Mountain Zoo is all about conservation, breeding endangered species in captivity, and giving the best care to all of its animals. Its goal is to give every person who comes there a memory that will last a lifetime. The Cheyenne Mountain Zoo opened in 1926, and as the name suggests, it is on the side of a mountain. This gives both visitors and animals great views, but it does require good walking shoes and a certain level of fitness.
The zoo is world-class, with more than 750 animals from 170 different species. It also has the largest herd of reticulated giraffes of any zoo in the world. The giraffes are very tame, so visitors can feed them by hand. This is a unique thing about the zoo. In order to get people to care about conservation, the zoo has put all of its animals in homes that are as close to their natural habitats as possible. This way, visitors can understand what each species of animal needs.
19. Conquer the Flatirons
If you do end up in the Boulder area, you must hike the Flatirons. There are miles of hiking trails that go around and through these huge sandstone peaks, and there are routes for hikers of all skill levels. One through five are the names of the Flatirons. The First and Second Flatiron Trail is a difficult 2.7-mile loop that has great views of the city and the area around it.
Hikers say that the 2.2-mile Second and Third Flatiron Trail is also intermediate to difficult, but the beauty of the trail makes it worth the trip. You can choose the McClintock Trail or the Enchanted Mesa Trail if you want a hike that is easier but still has beautiful views. Climbers will love being able to climb up the rocks. The First and Third Flatirons are popular places to climb.
If you need help getting around these well-known rock climbing areas, there are also guided climbs in this area. Most hikes start at the Chautauqua Trailhead, which also has a large park where you can relax and look at the Flatirons if you don't feel like climbing or hiking. The trailhead for the Chautauqua Trail is just south of downtown Boulder, so you can get food and water in the city after your hike.
20. Opera Colorado
Cultural activities are abundant in Colorado. One of the best ways to see art is at an Opera Colorado performance. The performances at Denver's Ellie Caulkins Opera House are full of passion and beauty. Even if you've never been to the opera before, you should still go to one of these shows. Even though two operas are performed each year, Opera Colorado also has other types of shows and programs.
These can include readings and talks with well-known people. This is one of the best things to do if you want to learn something new. Opera Colorado is a great example of how rich this state's culture is. Both people who know a lot about opera and people who have never seen an opera can learn from these shows.
During your trip, you might be able to see a show at the Ellie Caulkins Opera House. It's a great reason to dress up and feel like a member of the elite, even if you don't realize it at first. This is a form of art that anyone who is even a little bit interested in should try.
21. The Million Dollar Highway
Along the Million Dollar Highway, which goes from the old mining town of Silverton to the town of Ouray, there is a beautiful scenic drive. This is a 46-kilometer two-lane highway that goes along the side of a mountain and gives you views of jaw-dropping cliffs and beautiful mountain peaks across valleys. It is one of Colorado's most beautiful mountain drives.
If you have time, you can add the San Juan Skyway Scenic Byway to this route to make it longer. The Skyway is a full-day trip that you should do when the weather is nice, but you can do it in either winter or summer.
The San Juan Skyway Scenic Byway starts in Durango and goes all the way around to Silverton, Ouray, Placerville, Telluride, Dolores, Mancos, and back to Durango.
If you don't have much time or only want to go in one direction, you can do the Silverton to Ouray section, which goes from Durango to Silverton, over the Million Dollar Highway to Ouray, and then on to Montrose or further north to Grand Junction. The towns of Silverton, Ouray, and Telluride are some of the best stops along the way.
22. Travel by Train to Durango
The Durango & Silverton Narrow Gauge train is something that you can only do in Colorado. Since 1882, the popular Colorado train has always been running. It will take you three and a half hours to get to the mining town of Silverton, where you can eat, shop, and do fun things for a few hours before heading back.
The ride itself follows the Animas River, and you'll go over Horseshoe Curve and the High Bridge… which might make you bite your nails, but will give you some great pictures.
23. Dinosaur National Monument
Dinosaur National Monument is a must-see for anyone who comes to Colorado. It is in the northeast corner of the state. There are a lot of amazing dinosaur fossils at the monument, and it also has some beautiful scenery.
The Quarry Exhibit Hall and the Yampa River Canyon are two popular places to visit at the monument. There are many dinosaur fossils in the Quarry Exhibit Hall, including a 150-foot-long Apatosaurus. People know the Yampa River Canyon for its tall cliffs and fast-moving river.
24. Annual Flower Trial Garden
The Annual Flower Trial Garden is a dedicated garden for horticultural research on the campus of Colorado State University in Fort Collins. It is open to the public all year long near the campus's Center for the Arts. The garden tries to be a place where annual plant cultivars can be tested to see how well they do in the high-altitude Rocky Mountain climate.
The main annual plantings are on display from late May to mid-October. More than 1,000 different cultivars are usually on display each year. They are grouped by genus and put in order by color. In addition to the main annual show, the garden had an annual pansy display that was set up in the fall and stayed up until the beginning of spring. The garden also grows perennials that are always on display across the street from the garden.
25. The Hot Springs of Glenwood Springs
The Rocky Mountains are all around the small town of Glenwood Springs. It is on the Colorado River. The town is known for its mineral waters, which come from the Yampah spring, which is close by and naturally warms to about 122 degrees. There are three main places in town where people can go to enjoy the hot springs. The Glenwood Hot Springs Resort has the largest hot springs pool in the world. The 92-degree water in the pool is big enough that people can swim laps in it.
The place is good for kids and you don't have to make a reservation. Iron Mountain Hot Springs is another option. It's quieter, has 16 soaking pools connected by heated walkways, and has rain showers so people can cool off when they need to. Keep in mind that you need to make a reservation and that access on the weekends often sells out, so make sure to book a time slot ahead of time. Another thermal attraction in Glenwood Springs is the Yampah Spa and Vapor Caves.
26. Pepsi Center
The Pepsi Center in Denver is another great place to go in Colorado. This is where the NBA team Denver Nuggets and the hockey and lacrosse team Colorado Avalanche and Mammoth play. You can also look forward to seeing some great concerts here. Post Malone, Taylor Swift, Bon Jovi, and Bruce Springsteen are just some of the big names who have played at the Pepsi Center. It's a huge arena that's great for huge shows.
One of the most exciting things you can do in Colorado is to come here. The Pepsi Center is a fun place to be, whether you're there to watch a professional sports team play or to see a chart-topping artist wow a crowd. Even if there are a lot of people around, you can still feel pretty special. In many ways, it's a great time. Get tickets as soon as you can for any events you want to go to.
27. Black Canyon of the Gunnison National Park
The Black Canyon of the Gunnison is a beautiful, rugged canyon that feels like it hasn't been found yet because it is so far away. The Gunnison River flows through a narrow canyon with steep walls that rise up from the river. The canyon is about 2,000 feet deep, and Gunnison Point, Chasm View, and Warner Point are all just over 1,800 feet high.
The main things to do here are to look out over the canyon and enjoy the scenery, or to walk along the rim's walking paths and short hiking trails. Most of these trails are flat and easy. If you're feeling brave, you can hike into the canyon, but the trails aren't maintained or marked, the terrain is hard, and you're pretty much on your own. If you need help, you'll have to pay for it yourself.
There are three campgrounds in the park. You can bring both tents and RVs to the North and South Rim campgrounds, but only tents to the East Portal campground.
About 75 miles south of Grand Junction is the Black Canyon of the Gunnison National Park. From Grand Junction or Fruita, it's easy to see both the canyon and Colorado National Monument in one day.
28. Telluride
In the winter, Telluride is a great place to ski and snowboard, but there are also less common activities like fat tire snow biking, nordic skiing, sledding, and ice climbing. During the summer, you can go hiking, mountain biking, fly fishing, horseback riding, kayaking, and more.
Check out the village mountain gondola while you're there. During the season, it gives free rides over Coonskin Ridge with views of the San Juan Mountains. It's one of the most interesting things you can do in Colorado.
29. The Loveland Sculpture Gardens
Go to the Loveland Sculpture Gardens in Colorado if you want to do something a little different. This garden has more than 200 sculptures made by artists from all over the world.
The sculptures are in different places, such as gardens, ponds, and even a small chapel. The Telluride Mountain Village Gondola is on the 30th. The free Telluride/Mountain Village Gondola ride is the only one of its kind in the U.S. It opened in 1996 and connects the two towns. It also serves as a ski, snowboard, and mountain bike lift for people from both towns who want to use the ski runs.
Telluride to Mountain Village, or Mountain Village to Telluride, is a thirteen-minute drive that offers beautiful views of the San Juan Mountains in every direction. The gondolas can be used by people in wheelchairs and have places to put skis, snowboards, and bikes. Each station has blankets for your comfort during the winter months.
You are reading "Colorado's Most Romantic Tourist Spots." Back to the Top or More things couples must do, things to do near me, and cheap places to go this weekend.
30. Telluride Mountain Village Gondola
In the United States, the Telluride/Mountain Village Gondola is the only free ride of its kind. It was inaugurated in 1996 and serves as public transportation between the two towns as well as a ski, snowboard, and mountain bike lift for visitors and residents who wish to use the ski runs.
The thirteen-minute trip from Telluride to Mountain Village or vice versa lasts thirteen minutes and gives dramatic all-around views of the San Juan Mountains. The gondolas are wheelchair accessible and include ski, snowboard, and bike racks. During the winter, blankets are given at each station for your comfort.
You are reading "Top Romantic Tourist Attractions in Colorado" Back to Top or More must-dos for couples, things to do near me, and budget-friendly weekend getaways.
31. Whitewater Rafting
The Arkansas River starts in central Colorado and goes all the way to Arkansas. It has 100 miles of fast-moving water that are great for rafters who want to try something new. Even though it might seem scary, there are many easy routes for people who have never been rafting before or who want a relaxing trip.
There are a few small rapids in Lower Browns Canyon, but there is enough time between them to enjoy the mountain scenery. In the same way, a trip to Little Gore Canyon will be slow-paced and may be fun for families with younger kids. The Royal Gorge trip, on the other hand, is for thrill-seekers who want steep drops, big splashes, and constant rapids.
The Pine Creek route starts near the Granite Gorge and is also a difficult option for experienced rafters. All along the river, there are stops for raft tours that are run by different tour companies. So, if you stay anywhere in Colorado, you won't be too far from a place to go rafting. Depending on the company you choose, you can go rafting for one day or for several days. Plan your trip by looking at U.S. News' list of the best whitewater rafting tours in Colorado.
32. Bent's Old Fort National Historic Site
On the Santa Fe Trail, where Bent's Old Fort National Historic Site is, there used to be a trading post. It made it possible to trade furs and other important things. If you want to learn while you're in Colorado, this is one of the best places to visit. Aside from being a place to trade, this fort was the only permanent settlement along this trail.
One of the most interesting things you can do is visit Bent's Old Fort National Historic Site. This rebuilt adobe post shows how much this place meant to travelers in a good way. Many people probably felt so happy when they realized they could keep going on their journeys because of what was being offered here. Since this fort was built, the world of business and trade has changed, but that doesn't mean it's not interesting to learn about.
33. Maroon Bells-Snowmass Wilderness
Maroon Bells-Snowmass Wilderness is close to the town of Aspen. It has some of Colorado's most beautiful Rocky Mountain scenery and lets you get out of your car and into nature. This area has six mountains higher than 14,000 feet, as well as forests, alpine lakes, meadows, and 175 miles of trails that let you explore the land.
Most people go to Maroon Bells for fun things to do there. There are many different kinds of day hikes and places to camp overnight. There are miles and miles of trails for mountain biking. During the summer, people like to fish in lakes, ponds, rivers, and streams. Camping in the Maroon Bells-Snowmass Wilderness is a must-do if you have a tent and the right gear. People come here to ski, snowshoe, and drive snowmobiles in the winter, making it a place to play outside all year.
If you don't feel like doing that much, you can also take one of the scenic drives and enjoy the views.
34. Ski in Steamboat Springs
There are lots of fun things to do in Steamboat Springs all year long. You can ski, snowboard, fish through the ice, or try dog sledding in the winter. During the summer, Steamboat Lake is a great place to hike, mountain bike, paddleboard, and fish.
Try Steamboat Springs' Brew Trail for an adventure that you can only have in Colorado. It takes you through downtown Steamboat Springs while you try samples of local beer and spirits.
35. Tread of Pioneers Museum
The historic Zimmerman House in Steamboat Springs, which was built in 1901, is where the Tread of Pioneers Museum is located. Inside the renovated Queen Anne-style home are permanent displays and artifacts, such as a replica of a chuckwagon from the area's pioneer days and pieces from the museum's large collection of guns. Visitors can also see displays about the region's native people, the skiing industry, agriculture, and famous Wild West outlaws like Harry Tracy of Butch Cassidy's Hole in the Wall Gang.
36. Drive the Trail Ridge Road
Don't miss the chance to drive the Trail Ridge Road if you go to Rocky Mountain National Park. Trail Ridge's height of more than 12,000 feet gives a whole new meaning to the phrase "taking the high road." It goes from Estes Park in the east to Grand Lake in the west, a distance of almost 50 miles.
It is known for being the highest paved road in the country that goes straight up. Visitors say that the road is in good shape, but that doesn't mean it's not scary: The sharp turns and steep drops might make your stomach feel funny. Most people, though, say that the wide views, beautiful mountains, and chances of seeing wildlife are worth the anxiety that might come from being so high up.
At the many pull-over spots along the road, drivers will be able to get out of their cars and look at the scenery. You should give yourself about five hours to drive, but you can take more time to enjoy the sights. Due to dangerous winter weather, the road is only open from May to October. Even in the summer, the weather is unpredictable, so pay close attention to weather warnings before you drive. Since the road is in Rocky Mountain National Park, you will have to pay $25 per car to get in.
37. Frozen Dead Guy Days
There are a lot of unique things to do in Colorado, but we're not sure if there's anything else in the US like Frozen Dead Guy Days. It starts out like a story that would never be made into a movie, but it's all true. Find out how a crazy idea about what to do with the body of a dead family member turned into one of the most fun things to do in Colorado. Bredo Morstoel was born in Norway, where he also grew up and died.
When he died in 1989 at the age of 89, he wasn't just buried. Instead, his family was firm in their belief that he could be brought back to life through cryonics. He was kept in a bad cryogenics facility, and the fact that his grandson was taken away from him made things harder. All of this led to a festival with a frozen dead man as the theme.
It really is one of the coolest and most interesting things to see. Throughout the day, there are things to do like live music and showings of the short documentary "Grandpa's in the Tuff Shed."One of the coolest things you can do in Colorado is go to Frozen Dead Guy Days. Try to make it to the next one so you can see how strange the people in this state are. You'll have a great time that you'll think about for a long time.
38. Mount Evans Scenic Byway
Mount Evans is another one of Colorado's fourteeners. It is 14,271 feet high, and the Mount Evans Scenic Byway goes almost all the way to the top. At over 14,130 feet, this is the highest paved road in the United States.
The views from the top and on the way up, above the tree line, are amazing. In the distance, you can see meadows, lakes, and rolling mountains. Because the area is so open and exposed, there is a good chance that you will see wildlife, especially bighorn sheep.
From Denver, it takes less than two hours to get to the top of Mount Evans, which is about 60 miles away. Keep in mind that this highway is only open during certain times of the year.
39. Staunton State Park
It takes about 45 minutes to drive to Staunton State Park from downtown Denver, but it feels like a different world. In the foothills, there are trails that take you by streams and across meadows. You can also fish in a number of the park's ponds. Staunton also has a really cool track chair program so that people who use wheelchairs can also get out on the trails.
40. Mollie Kathleen Gold Mine
More gold has been mined in 25 acres of Colorado than in all of Alaska and California put together. The Mollie Kathleen Gold Mine was the center of Colorado's gold mining industry. This tour takes people into mine shafts and tunnels that have been used since 1889. An elevator takes people 1,000 feet below the ground, and it's not for people who don't like being in small spaces.
Once inside the mine, former miners and their descendants give excellent guided tours that last about 45 minutes. They teach visitors about what it was like to work in a gold mine, show them mining equipment from the last century, and show them a vein of gold ore that is still running through the tunnels. There is a gift shop and a seasonal diner above ground.
41. Grand Lake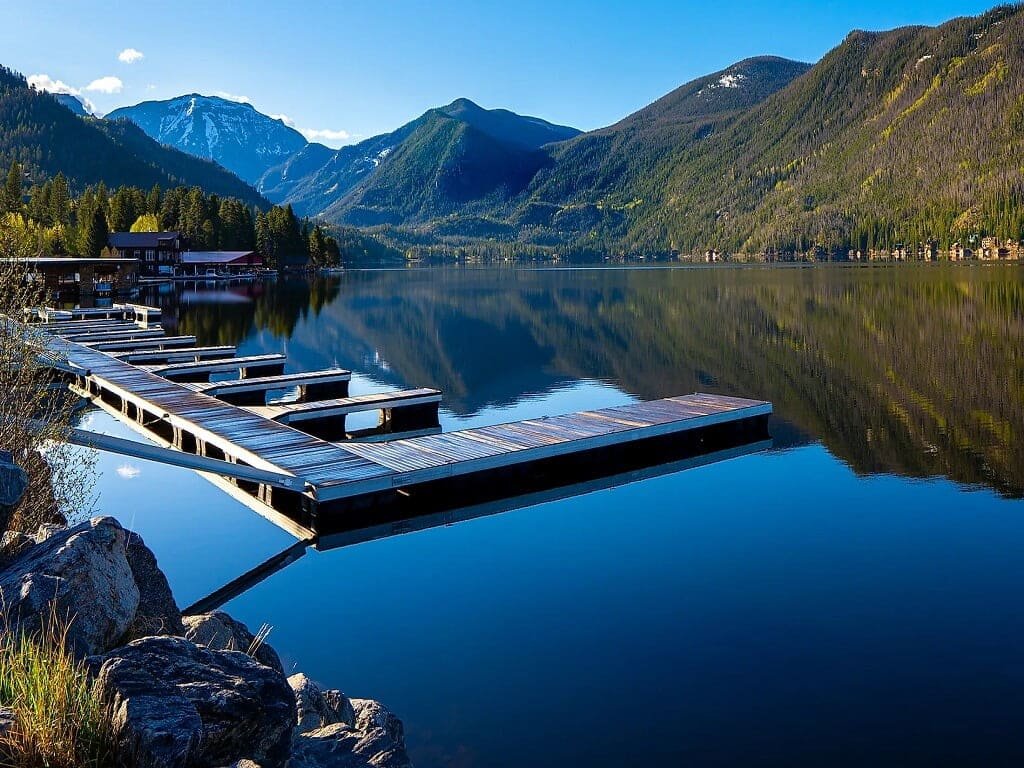 Grand Lake is a great place to swim, fish, go boating, and get some sun in Colorado. This huge lake is the largest natural body of water in the state. It is about 100 miles northwest of Denver and about 3 miles south of the Grand Lake entrance to Rocky Mountain National Park. On the sandy shores of the lake, there are lots of kids playing, adults sunbathing, and maybe even a moose or two testing the water. Visitors say that the area is well taken care of, and they like the picnic areas. Not to mention that the view of the surrounding mountains reflected in the lake will take your day at the beach to the next level.
The lake has a marina where people can rent motorboats or kayaks to go out on the water and explore. Even the Grand Lake Yacht Club is there. The small town around the water, which is also called Grand Lake, has a number of cafes, restaurants, shops, and museums you can visit. Even if you go to Grand Lake in the winter, there are still lots of things to do there. When the lake freezes over, people like to fish on the ice and play ice hockey.
42. Bishop Castle
Even though the United States was founded long after the time of castles, there are still some beautiful castles from the Middle Ages all over the country. The one in Colorado called Bishop Castle might be the most impressive. This is a big building project and one of the most fun places for tourists to visit in the whole state. Bishop Castle is beautiful and has a lot of interesting history.
What started out as a simple building in the late 1960s grew into the amazing structure it is today. This castle has a lot of cool things to see, like a stainless steel dragon that puffs out steam. Put your phone on silent and put it in your pocket so you can really feel like you've gone back in time. Bishop Castle is both interesting and pretty. Weddings and other great events can also be held here.
43. Cherry Creek State Park
Cherry Creek State Park is only a short drive from downtown Denver, but it has a lot of outdoor things to do for visitors. During the warm months, you can swim, boat, ride horses, and go hiking.
You can snowshoe and ride sleds in the winter. The shooting range is open every day of the year, as long as the weather is good. You can also watch birds and look for wildlife in Colorado at any time of year, even in the city.
44. The National Museum of World War II Aviation
The main goal of the National Museum of World War II Aviation in Colorado Springs is to teach people about the role of aviation in the Second World War and how it changed the world. The museum has 22 planes that can fly in a hangar near the Colorado Springs airport and Peterson Air Force Base. In a second hangar, people can watch as volunteers fix up planes from World War II.
Docents lead tours that last two hours. Each guide gives his or her own view on how important aviation was during World War II. A P38 Lightning, a B25 Mitchell, a Fairchild PT-19, a Beechcraft Model 18, and a Grumman F7F Tigercat are among the planes in the museum.
45. The Durango & Silverton Narrow Gauge Railroad
On the Durango & Silverton Narrow Gauge Railroad, you can ride a train back in time. In the 1880s, they started building this historic railroad. When it was done in 1882, it brought tons of gold and silver from the mountains to the towns. People also used this train to get from one town to another, and they quickly realized that the scenery along the way was stunning.
The train goes through the San Juan Mountains and up Cascade Canyon, which is a popular spot for tourists to see. The train ride from Durango to Silverton takes less than four hours. People can spend two hours in Silverton before getting back on the train to go back to Durango. The train, which is now a National Historic Landmark, leaves Durango twice a day for Silverton, a cute mining town. You'll have to call or book tickets online ahead of time. You can choose from coach, deluxe, first-class, and open-air seats. You can take the steam train, the diesel train, or the Cascade Canyon Express, which goes faster.
46. Garden Park Fossil Area
Before there were any people in the area we now call Colorado, it was full of dinosaurs. Paleontologists have worked hard at places like the Garden Park Fossil Area in Candon City, Colorado, to find out about these animals that are no longer alive.
But this area has a very interesting past that shows just how bad wanting to be known can be. The "Dinosaur Wars" started when paleontologists Othniel Charles Marsh and Edward Drinker Cope were competing at the end of the 19th century.
With so many interesting things being found here, these men did everything they could to hurt each other. In spite of all the mudslinging, bones of dinosaurs like the tyrannosaurus and stegosaurus were found, among others. Who would have thought that millions of years after these animals lived on Earth, there would be such fierce fights over their bones?
Even though paleontologists aren't competing for fossils in the Garden Park Fossil Area, it's still an amazing part of this state and the world. To learn more about this area, you can go on tours of it. It's crazy to think about all the amazing animals that used to live here.
47. Molly Brown House Museum
Margaret "Molly" Brown is famous for being the only person to survive the Titanic's sinking, but she was so much more than that. Margaret Tobin Brown was born in 1867 in Hannibal, Missouri.
Molly Brown's home in Denver is now the Molly Brown House Museum. It has a huge collection of things that belonged to her and her family, as well as things from her time and place. Expert docents lead 45-minute tours that start in the home's carriage house. Both on-site and off-site educational programs are available.
48. Estes Park Aerial Tramway
The Estes Park Aerial Tramway is a great way to see beautiful mountain views without having to go on a hard hike. Since 1955, this family-owned tram has taken people to the top of Prospect Mountain. People get on at the bottom of the mountain in Estes Park, and it takes them five minutes to fly 8,700 feet to the top of the mountain, where they can see all of the Rocky Mountains.
Once you get to the top, there are many trails to explore, as well as a coffee shop and a gift shop. But many people take the tram just to have a picnic with a view before they start to go down (which many say is even better than the ascent). The tram can hold up to ten people at once. There is a fee to ride, and there are also group rates. You can't make a reservation to ride, and tickets are sold to the first people who show up. Take the tram early in the morning or late in the afternoon to avoid crowds. These are also the best times to visit for clear skies and good photo opportunities.
49. Cart-Driver
Even though the name sounds like a go-kart track, Cart-Driver is one of the best places to eat in Colorado. This restaurant in Denver has a great story behind it, and the food is just as good. Come here for a meal that is both fun and tasty.
It does a great job of honoring tradition because its name comes from people in Italy who moved ingredients to different places. When you try their pizza, you'll see that for yourself. It tastes like pizza should, with a lot of different flavors that don't overpower each other. The Cart-Driver pizza, which has sausage and kale, is one of the best. our meal at Cart-Driver is likely to be one of the best parts of your trip. You might have to come more than once to try all the pizzas.
50. Hovenweep National Monument
The National Park Service takes care of Hovenweep National Monument, which has six prehistoric villages that were built in the Pueblo area between 1200 and 1300 A.D. The dwellings, which are balanced on the edges of canyons or perched precariously on boulders, can be seen from a two-mile hiking trail that goes through a small canyon.
After 800 years, the multi-tower buildings are still in good shape, and it's worth driving to the remote spot on the border of Colorado and Utah to see them. On the hiking trails, dogs are welcome. There is a small interpretive center for the Square Tower Group, and park rangers can be found all over the park to answer questions and give directions. Hovenweep has a primitive campground with 31 sites that fills up based on who gets there first.
Conclusion
When spring comes, things to do in warm weather come out. Even at the Mile High elevation, summer in Colorado usually starts before Memorial Day. By April, people no longer think about snow, and their attitudes change. When the spring snow starts to melt, rafting season starts, and by May, Coloradans are camping in the Rockies.
There are also things to do all year long, no matter what the weather or season is. Because Colorado's landscape is so varied, you can go biking, hiking, fishing, or golfing in places with lower elevations, like Denver or Grand Junction. It's really amazing to see a blizzard in the High Country one day and then cycle around Garden of the Gods on a sunny, 60-degree day the next.
Frequently Asked Questions (FAQ) about Things to Do in Colorado
What is the best time to visit Colorado?
Most of the time, April and May and then October through mid-December are the least crowded months in Colorado. This is because most people want to go to Colorado in the summer when it's warm and easy to get around or in the winter when it's cold and snowy.
Is Colorado safe to visit?
The cities and towns in Colorado are very safe, and armed robberies happen very rarely. So, just like anywhere else, don't walk late at night and try to stay near other people as much as you can. To keep your risk as low as possible, don't leave your hotel with important papers or a lot of cash.
Is Colorado worth visiting?
Colorado is a great place to visit any time of year because it has everything from beautiful mountains and wildlife to thriving cities and a lot of western history.
How many days do you need to visit Colorado?
We'd suggest that you spend at least two weeks looking around the state. But if you don't have that much time, you can still see the area on a 7-day road trip in Colorado. If you only have 7 days to spend in Colorado, we suggest that you choose 3–4 places to visit on your road trip.
Is Denver or Colorado Springs better to visit?
U.S. News and World Report named Colorado Springs the most desirable city in the country and the second-best place to live in 2018. The third-best place to live was Denver, which just barely made it into the top ten for desirability.
Is it cheaper to fly or drive to Colorado?
When does driving cost less? Driving is almost always the cheapest way to get somewhere unless you're going across the country and renting a big car. Since you're driving your own car, you don't have to rent a seat on a plane or a car.
How many days do you need in Colorado Springs?
With three days in Colorado Springs, the gateway to the Front Range mountains, you'll have enough time to see its most famous natural attractions, get a feel for local culture, and get out of town to see the Royal Gorge.
What is peak season in Colorado?
From about the middle of June to the end of August, Colorado is at its busiest. Most people are on vacation during the summer, and popular places to visit in Colorado like Rocky Mountain National Park and Glenwood Springs are crowded with tourists. This is also a popular time to take a road trip through Colorado.
What is the coldest month in Colorado?
During the cold season, which lasts from November 19 to March 2, the average high temperature each day is below 53°F. In Denver, December is the coldest month of the year, with average lows of 23°F and highs of 46°F.
Do you need a car to visit Colorado?
Some of the best things to do are outside of the city, so you will need a car to get the most out of your trip. You can rent one when you get to Colorado Springs Airport, or you can wait until you get into town.
What is the prettiest part of Colorado?
Even though Colorado has many beautiful mountain ranges, the San Juans may be the most beautiful. The San Juan Mountains rise above southwest Colorado and are often called the "American Alps" because of their beautiful views all year round.
What time of year is best to visit Colorado?
Most of the time, April and May and then October through mid-December are the least crowded months in Colorado. This is because most people want to go to Colorado in the summer when it's warm and easy to get around or in the winter when it's cold and snowy.