Norway is a beautiful country with plenty of opportunities for both tourists and locals. If you're looking for the best places to live in Norway, look no further.
Norway is a country in Scandinavia whose boundaries encompass swathes of frozen tundra, trendy cities, and an extensive coastline. From its majestic mountains and famous fjords to its spectacular islands, Norway is simply one of the most beautiful places in the world.
Norway is a great place to explore in any season, with breathtaking wonders like the northern lights or the summer sun shining on glaciers. You could go whale watching in Tromsø, see polar bears and walruses in Svalbard, or try out some of Norway's top hiking, cycling and skiing destinations.
Norway's cities are alive with sophisticated style and an energetic vibrancy during the winter months. The Viking capital of Trondheim encompasses the country's historical side, Bergen is where to go to glimpse colorful wooden houses, and the chic capital Oslo is home to laid-back living, city parks, and a lively dining scene.
Norway consistently ranks as one of the best countries to live in, and it's time to discover for yourself its warm and friendly heart and its breathtakingly wonderful natural delights.
Best time to visit Norway
Norway is a beautiful country to visit all year round. The best time to visit is during the summer when the temperatures are mild, but winter can be quite cold.  In summertime, there are lots of festivals and events happening, such as the Vossajazz festival in Voss and the Telenor Frost Festival in Lillehammer. Autumn, Norway is famous for its stunningly colorful foliage. In winter, there are plenty of activities to keep you occupied such as skiing and snowboarding.
January
Despite bitterly cold temperatures, the Northern Lights Festival is a popular time for snowmobiling, dog-sledding, and seeing the Northern Lights. By the end of January, much of mainland Norway has seen sunlight again.
February
February is the coldest month in Norway and is ideal for viewing the Northern Lights. In addition to experiencing winter activities, February is also commemorated with two celebrations that capture the spirit of winter in Norway. It is recommended to book ahead when visiting northern Norway in February.
March
Norway is waking up from its reluctant slumber and has a full program of festivals to celebrate either winter's end or traditional Norwegian activities. It is one of the most popular months for visiting Svalbard.
Easter is a major celebration among the Sami people in Kautokeino, marking the end of the polar night and with weddings, reindeer racing, the Sami Grand Prix (actually a yoik – a rhythmic-poem contest), and other traditional events.
Events: Sami Easter, Sunfest, Finnmarksløpet
April 
April is a relatively quiet time in Norway, marked by a few major festivals. This is a good opportunity to take a break between the end-of-winter celebrations and the more action-packed Norwegian summers. The weather is starting to improve, so fewer tourists are around, which makes it easier for birders to spot some of Norway's rarest species. In April an estimated 100,000 breeding pairs of puffins arrive at nest and leave until late July.
Events: Stavanger Vinfest,  Nidaros Blues Festival
May
Norway is in a good mood because the weather is warming up, Norway's renowned music festivals are starting up, and tourists haven't yet arrived in great numbers.
Events: Constitution Day, Bergen International Festival, Alta Blues & Soul Festival, Codstock
June
The main tourist season in Norway typically begins in earnest during June and can be mild, clear, and pleasant. Poor weather is possible at any time of year. The best months for festivals are May, June, July, August, September, October; the best time to see whales in Vesterålen is from June to August; best time to see birds in Varanger is from May through September.
Events: Viking Festival, Middle Ages Festival, Midnight Sun Marathon, Norwegian Wood
July
July is the peak tourist season in Norway, with excellent weather and best prices for hotels. Make reservations in advance for accommodation to avoid crowds at tourist sights.
Events: Mountain Festival, St Olav Festival, Trænafestivalen, Moldejazz
August
Music festivals are popular in August, and the weather should be fine. The high-season prices continue throughout the month, although sometimes they only last until the middle of August. It's best to book ahead if possible.
Events: Rauma Rock, Notodden Blues Festival, Norwegian International Film Festival, Øya Festival
September
The summertime is generally a quieter time to visit, with many hotels and restaurants closing down. However, this year the prices have increased somewhat, so it's not as inexpensive as it used to be.
Events: Dyrsku'n Festival, Nordic Light Photo Festival
October
Summer is a distant memory, and by the end of October, the months-long polar night begins in Svalbard. Temperatures have begun to drop, and business travelers outnumber those traveling for pleasure.
Events: Bergen International Film Festival, UKA, Dark Season Blues
November
Tourism in Norway has been relatively quiet this month, with the winter chill starting to set in and daylight hours getting shorter. However, many winter activities are still yet to begin. Whales usually start arriving in the waters around Tromsø in November.
December
Winter is well underway, with a Christmas–New Year peak season for travelers looking to spend their Christmas holidays in the north. Advance bookings are required for most winter activities, so be sure to plan ahead.
Here's a look at the best places to visit in Norway:
Alta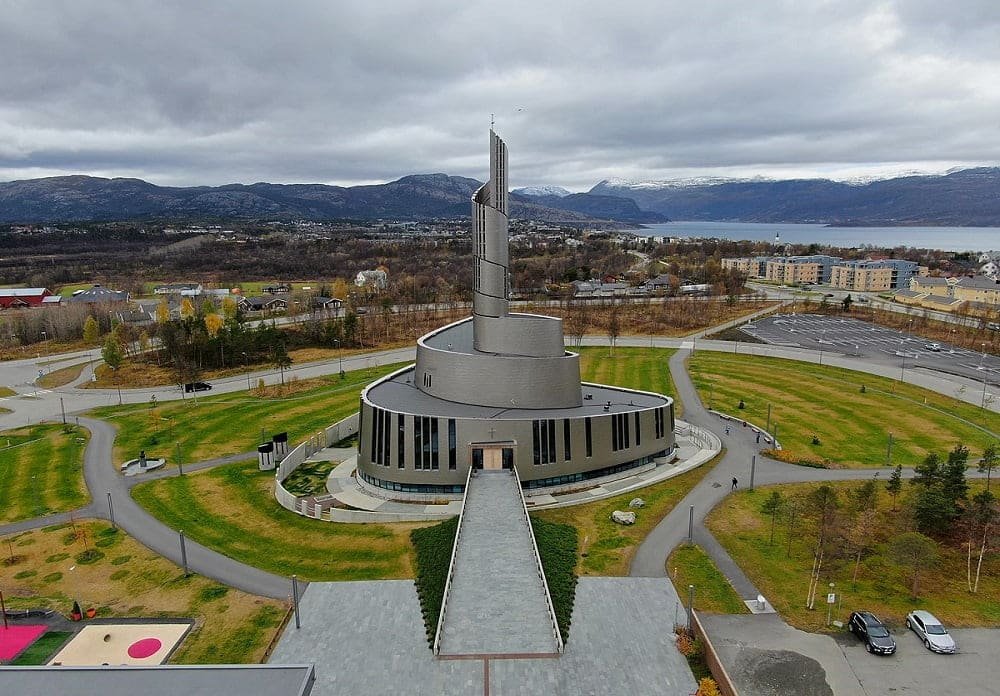 Alta, a city in the north of Norway, is one of the northernmost cities in the world. It is located on the scenic shores of a fjord, and it is known for its beautiful Aurora Borealis displays.
One of the main attractions of Alta, a small town in the Rocky Mountains, is its natural light display. This impressive sight can be seen from many parts of the city, and is one of the reasons people visit. There are also several other interesting sights to check out in Alta, including its museum which contains prehistoric rock carvings and the Northern Lights Cathedral which features a unique design.
Alta is a beautiful, scenic place that is popular for skiing, biking, and other outdoor activities when the weather is nice. The landscape looks especially stunning when covered in snow.
Arendal
Arendal is a picturesque city located on Norway's scenic southeast coastline. It is a popular tourist destination in summer when many people come to see the sights and enjoy the packed calendar of festivals and concerts.
The city center is located around its waterfront and wharf. These areas are home to beautiful old buildings and centuries-old churches. There is a charming look and feel to the city, as cosy cottages and wooden houses lie next to harborside cafes and outdoor restaurants and bars.
There are also two historic areas in Arendal, as well as an interesting museum on the city's history. From its wharf, you can easily take a ferry ride to visit three nearby islands – Hisoy, Merdo, and Tromoy – that all have a lovely natural scenery.
Nordkapp
Nordkapp is a popular tourist destination in Norway that is high above the Arctic Ocean. It is closer to the North Pole than it is to Oslo, and has been marketed as the northernmost point of mainland Europe.
For centuries, people have been drawn to the lofty plateau's wild and remote setting that offers breathtaking views of the ocean. Everyone from the King of Norway and Sweden to Kaiser Wilhelm II of Germany visited, while the Sami once used it as a sacrificial site. Nowadays, it is busloads of tourists who come to gawk at North Cape and bask in its amazing views. While it can get a bit crowded, particularly in the summer months,the cliff's natural beauty still makes it well worth visiting.
Nordkapp is also the name of the local municipality in which Honningsvag is located. In Honningsvag, you can book tours to the cliff or arrange hiking and birdwatching trips to the island's scenic landscapes.
Roros
Roros is located in the east of Norway, on a high plateau surrounded by endless forests. The town is charming and home to beautiful old wooden buildings as well as relics and reminders of its mining past.
Olva's Mine is a fascinating attraction for visitors, who can explore the history of mining in Roros. The colorful and well-preserved buildings dotted about make exploring the town a delight. Cosy cafes and traditional restaurants abound, as do small shops selling local arts and handicrafts.
Roros is a lovely town to visit during the winter when it hosts a magical Christmas market. The scenic snow-coated landscapes surrounding the town are also lovely to explore, with dog sledding, skiing, and sleigh rides all popular.
Bodo
Bodo is situated on a prominent peninsula, which juts out into the Norwegian Sea. It is one of the northernmost cities in Norway and acts as a gateway to the Arctic.
The city itself is not all that great, and most people go there for the scenery and nature nearby.
At Keiservarden, you can enjoy some great hiking, while Svarthammarhola is home to the largest cave in Scandinavia. Fishing, cycling, and glacier climbing are also popular pastimes at Lofoten Islands which are only a few hour's ferry ride away. Many visitors also push further on to explore the wild and remote snow-covered regions of the Arctic.
Jostedalsbreen National Park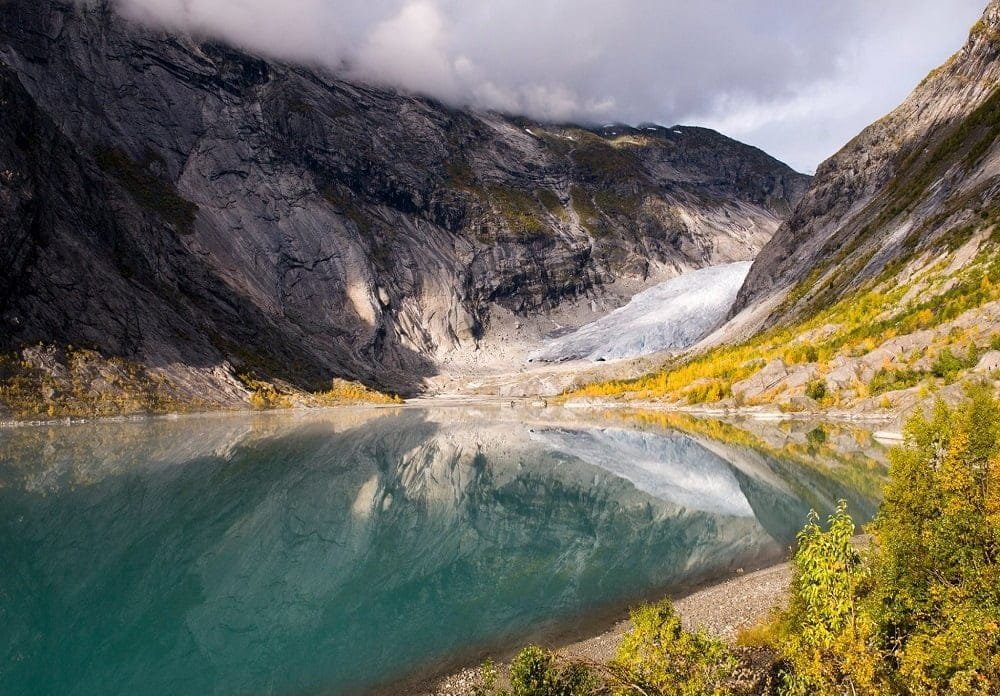 Jostedalsbreen National Park is located in the west of Norway and is named after the enormous glacier that lies within it. The park protects diverse landscapes, with majestic mountains, valleys, and glaciers all on show.
Jostedalsbreen is the largest glacier in the mainland of Europe and covers a vast area. It is over six hundred meters thick in some places and has scarred the land around it. The national park features plenty of rugged terrains, sweeping valleys, and bare mountains.
The landscapes in this park are fantastic to hike around and can be accessed from any one of the park's three entrances. There are also interesting exhibits on the region's fauna and flora at each entrance. You can arrange to go glacier trekking or whitewater rafting and kayaking along with one of the many rivers here too.
Alesund
Located on Norway's west coast, Ålesund is the gateway to the iconic northwestern fjords and surrounding mountainous area. After a fire destroyed most of the town in 1904, Ålesund was rebuilt with stone and brick in an architectural style popular at the time called Jugendstil. Today, Ålesund stands as a perfect example of Jugendstil design in Northern Europe.
Visitors can learn more about the Art Nouveau style at the Jugendstilsenteret, or Art Nouveau Center. A hike up the 400 steps to Fjellstua is worthwhile as well; the mountain peak offers stunning views of Alesund and the surrounding islands.
Tromso
The largest city in Northern Norway, Tromso, is renowned for its large number of 18th-century wooden houses and for the beauty of its natural surroundings. Most of the city is situated on the island of Tromsoya where visitors can explore several fine museums and stroll through stunning birch tree forests. Trips up Storsteinen Mountain in the Fjellheisen Cable Car offer visitors amazing views of the surrounding fjords and mountains.
The arctic aquarium Polaria and the Polar Museum are popular attractions in this city located 350 kilometers north of the Arctic Circle. Tromso is one of the best places in the world to view the Northern Lights.
Trondheim
There is something for everyone in the northern city of Trondheim. Founded in 997, Trondheim was Norway's capital during the Viking Age and the nation's religious center during the Middle Ages, making it an ideal destination for those who want to explore Norway's history. From Sverresborg, a restored 12th-century castle, to Nidaros Cathedral, the Northernmost Medieval cathedral in the world, Trondheim is replete with remnants of its past.
Norway's national museum of music, Ringve Museum, has both traditional instruments and exhibits featuring modern sound technology. The Rockheim museum showcases modern music, including exhibitions and live concerts.
Oslo
Norway's capital, Oslo, is surrounded by green hills and mountains. It is set at the end of Oslofjord fjord with an abundance of lakes and islands nearby. A major economic, cultural, and political center, the city has a long history that dates back more than 1 thousand years.
While most of the city's capital is now home to contemporary and creative architecture, pockets of old wooden buildings are still found here and there. Additionally, the city boasts a thriving performing arts scene and packed festival schedule. It also has excellent museums and art galleries – The Viking Ship Museum is particularly fascinating to explore.
Some attractions in Oslo include the Munch Museum, which features "The Scream" and other works by Edvard Munch, and the Folkemuseet, an outdoor museum that includes more than 150 historic buildings from all over Norway. Due to its many green spaces and forests, Oslo also has several hiking and cycling spots. The islands of the Inner Oslofjord are home to stunning scenery.
Sognefjord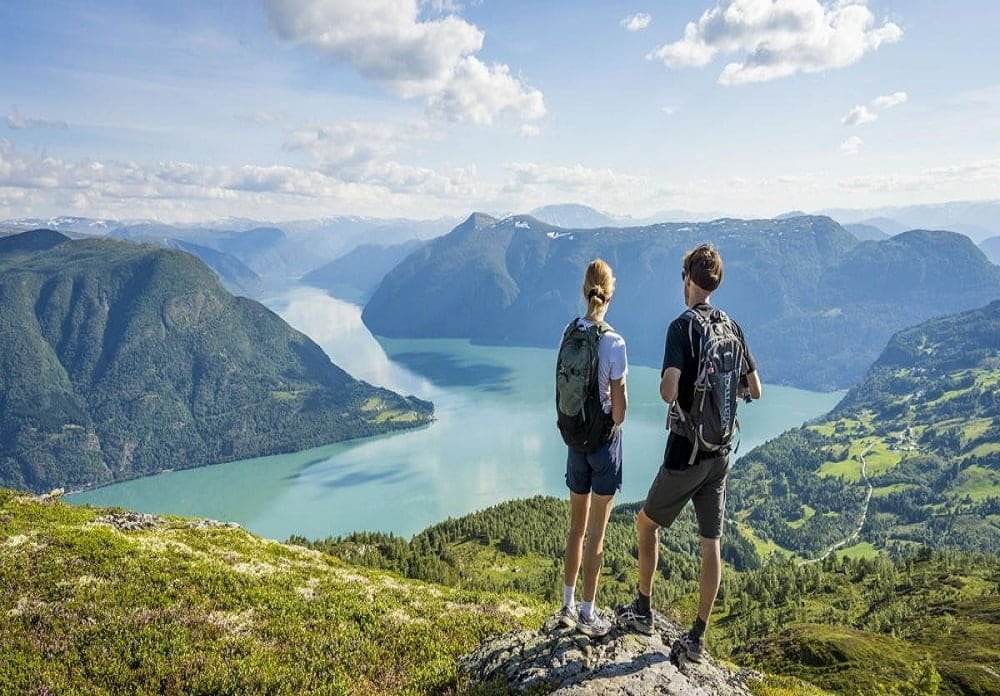 Sognefjord is the largest and deepest fjord in Norway, stretching over 200 kilometers in length. It cuts through the west of the country, all the way from the North Sea to the alpine peaks of Jotunheimen.
The fjord system boasts more coastline than the French and Italian rivieras combined. As a result, it is home to everything from dramatic cliff faces and sweeping valleys to sparkling waterfalls, picturesque pastures, and secluded towns and villages. At its deepest point, the fjord plunges to 1308 meters while some branches are much shallower and narrower. Each section has its own unique look, feel, and attractions.
The scenery in Naeroyfjord is widely regarded as one of the most beautiful parts of the fjord system, while Gudvangen is also popular for its scenic setting. Europe's largest glacier, Jostedalsbreen, attracts a lot of visitors. The centuries-old stave churches of Borgund, Unres, and Hopperstad are also worth checking out.
Stavanger
Stavanger is the fourth-largest city in Norway and lies along its southwest coastline. It is the oil capital of the country, and thanks to all the wealth that has come in from the booming industry, it now ranks as one of the most expensive cities to live in and visit on Earth.
While the city and its suburbs continue to expand, Stavanger has been an important center since Viking times. The Gamle Stavanger district transports visitors back in time to 18th century Scandinavia, while many beautiful wooden buildings can be found along the city's scenic waterfront. Additionally, the centuries-old Stavanger Cathedral and several museums can be found in everything from art and archaeology to the city's maritime past and petroleum present.
Many people visit Stavanger in summer because the city's bars and restaurants are always busy. The surrounding area is also nice to explore, with great hiking and climbing opportunities nearby as well as some great beaches for surfing.
Svalbard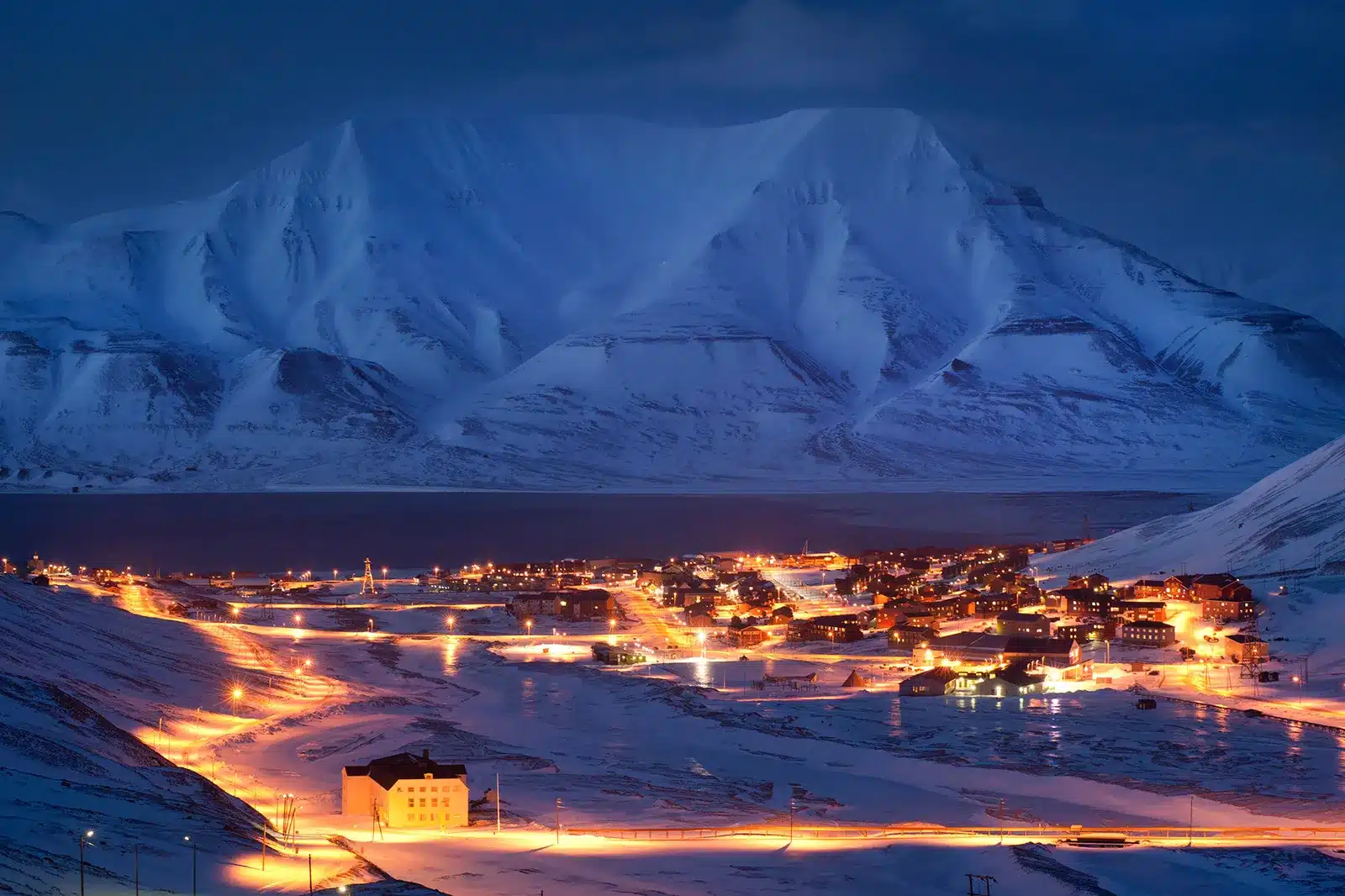 Many people's bucket lists include a trip to the northernmost place you can travel to on a commercial aircraft. These remote Arctic islands are Norwegian territory and are a tourist draw for adventurers, wildlife lovers, and the simply curious.
Anyone traveling outside the settlements on Svalbard must carry a gun in case of a polar bear attack.
Jotunheimen National Park
Jotunheimen National Park is a vast and magnificent landscape in central Norway. It features many impressive mountain ranges, with numerous valleys, glaciers, and lakes between them. The park is also home to the Vettisfossen waterfall, which is the tallest waterfall in Norway.
One of the most famous alpine areas in Scandinavia, Jotunheimen, is very popular among hikers and mountaineers. It has outstanding natural beauty and many peaks that reach 2,000 meters or more. The two tallest peaks in Northern Europe are Galdhoppigen and Glittertind, both of which stand at more than 2,450 meters.
Mountain lodges and well-marked trails in the area offer easy access to glacier hikes, summit tours, mountain climbing, and skiing. Mountains, lakes, and glaciers are all visible from the lodges. Reindeer, elk, and sometimes wolverines can be spotted from time to time.
Bergen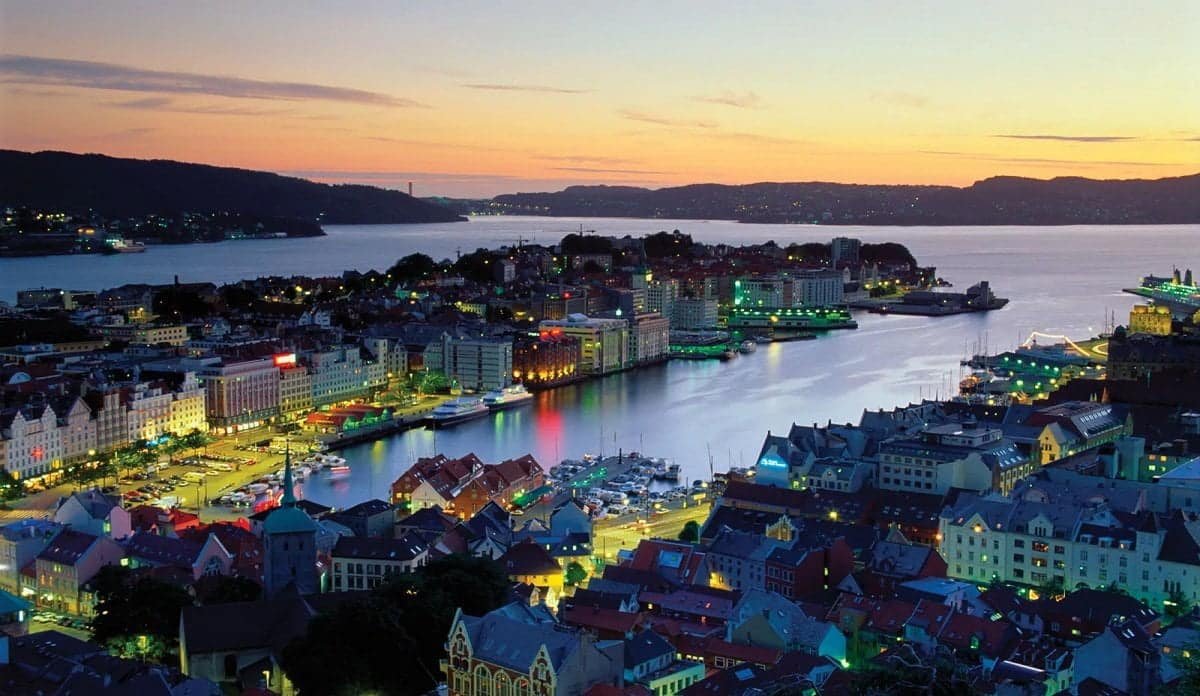 Bergen is located on the west coast of Norway, surrounded by the spectacular Seven Mountains. The city has long been an important trading hub and seaport and is now the second-largest city in the country.
The Bryggen is a great place to explore its seafaring history and heritage. It has brightly painted wooden merchants' homes and warehouses, as well as a couple of great museums, restaurants, and bars. There's also an interesting fortress to check out, in addition to some marvelous medieval churches.
Bergen has a lively and youthful feel thanks to its large student population. The city's bar and nightlife scene is certainly worth delving into, but the gorgeous scenery surrounding Bergen is also lovely to hike around. A quick trip up Bergen's popular funicular is a good way to get oriented in the place known as the Gateway to the Fjords.
Lofoten Islands
Off the northwest coast of Norway, the Lofoten Islands are noted for their dramatic and distinctive scenery. The islands' rugged mountains rise impressively above the sea, and among them are secluded beaches, bays, and sleepy little fishing villages.
The Lofoten Islands are connected to the mainland by a series of bridges and tunnels. The archipelago is home to picturesque pastures and sheltered inlets, with epic fjords dotted here and there. Fishing has long been one of the Lofoten Islands' primary industries, with traditional fishermen's cabins as well as a couple of tourist sights present.
Although the archipelago is located well above the Arctic Circle, at a latitude similar to Greenland it enjoys a relatively mild climate due to the Gulf Stream. Temperatures up to 23°C in the summer are not uncommon although it remains an arctic destination and weather changes quickly.
The islands are a great place to view the Aurora Borealis. In addition, hiking, cycling and rock climbing around its diverse landscapes are all popular pastimes. Additionally, taking scenic boat trips and whale watching tours are also popular activities on the islands.
Geirangerfjord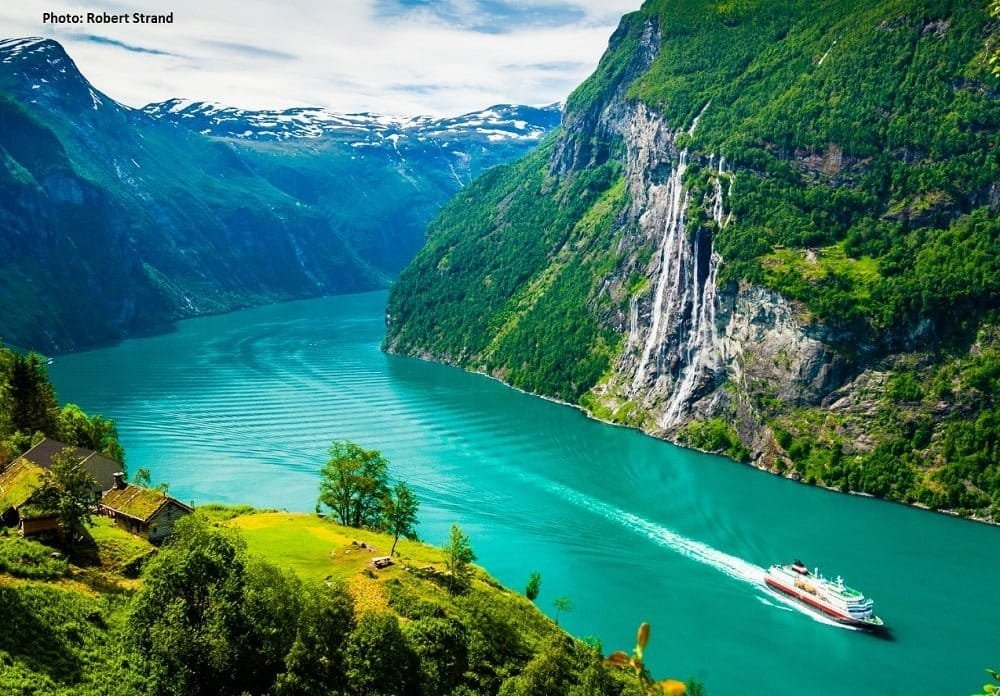 Geirangerfjord is one of the most famous and photographed fjords in Norway. It lies in the west of the country in the Sunnmore region and is a very popular tourist sight boasting breathtaking scenery with gigantic cliffs, sparkling waterfalls, and dazzling blue waters all on show.
The Storfjorden system is a long and wide body of water that stretches over 15 kilometers. Along its edge are steep mountains and jagged peaks, while at either end of the fjord are the scenic and secluded villages of Geiranger and Hellesylt. There are a number of lovely waterfalls located within the system, including Suitor Falls and Seven Sisters Falls.
The beautiful fjord is a popular destination for cruise ships and sightseeing tours during the sunny summer months, but it's well worth hiking up some of the prominent peaks and plateaus for the incredible views.