If you're looking for an amazing
vacation destination
, look no further than the Caribbean. The region is home to some of the most beautiful Caribbean Islands in the world, each with its own unique charm.
Some things are great about a Caribbean Islands getaway: the water is beautiful and blue, the palms sway gently, life moves slower here, and there's always plenty of rum to drink. Right now is a great time to go on vacation and experience island culture. It's more possible than ever before because there are so many choices for where to go.
When choosing the right Caribbean Islands for you, there is a lot to consider: what language is spoken, what types of accommodations are available, and whether or not you have to meet specific entry requirements. Luckily, many destinations are currently welcoming guests and while pretty much every place has its own testing requirements and protocols, one thing is the same-these beaches are winners! And even though medical precautions may be mandatory for some islands (white sand beaches FTW!), it's definitely worth it when you get to spend your days lounging on a white sand beach surrounded by crystal clear water.
What is the best Caribbean Island to visit?
If you're traveling with children, Barbados is a good Caribbean island to choose from for its calm, safe beaches and plenty of amenities close by.
Antigua is a great option for families because it has beautiful beaches and a lot of activities to do, like going on boat trips.
Jamaica is a great place for fun-loving holidaymakers, with Dunn's River Falls being a highlight. There are also rafting opportunities and some stunning hiking routes beyond the pristine waters that offer all kinds of water sports. Get immersed in the colorful culture – this is home to Bob Marley, jerk chicken, Jamaican rum, and even inspired Ian Fleming to create James Bond himself!
The Caribbean islands can be romantic, so if you are looking for a honeymoon or a couple's holiday destination, seek out the more secluded spots. St Lucia is one of the best islands for honeymoons because of its beautiful rainforest setting, but you might prefer your own private hideaway somewhere in the British Virgin Islands or St Kitts & Nevis.
Which is the most beautiful Caribbean Island?
No matter where you go in the Caribbean, you're bound to find beautiful scenery. Every island has its own unique appeal, and no place is ever ugly.
Some islands are considered beautiful, though not all of them. The Pitons in St. Lucia are perhaps what makes this island so distinctive. Beyond these landmarks, you can also explore a volcanic landscape characterized by lush rainforests and hidden waterfalls.
Antigua also has its own charming features, such as the view from Shirley Heights, which gives you a great perspective over the historic English Harbour and watch yachts glide across the blue waters between the many coves and inlets.
If you are looking for a beach paradise with beautiful and unspoiled stretches of sand, the Bahamas is a great choice. Often described as not only among the prettiest islands in the Caribbean, but possibly even in the world, you'll find uninterrupted swathes of pink sand here. Brightly colored buildings add extra character to this stunning island destination.
For clear waters, you could head to the Cayman Islands. The coast here is absolutely pristine and offers some of the best diving opportunities in the Caribbean Sea.
Should you choose a big/small Caribbean island?
The Caribbean is a vast area with a variety of islands and coastal towns. It offers everything from tiny, remote islands to bustling metropolises.
Naturally, the size of the island you are visiting has a huge impact on your experience.
Many visitors choose to stay in one of Jamaica's three main resorts: Montego Bay, Negril, or Ochos Rios. These areas offer plenty of things to do, while further afield you can explore Kingston, the Blue Mountains, or stay at the famous GoldenEye hotel.
If you visit one of the small islands, such as Nevis, you'll find a more intimate experience. The beaches here are less visited and you can spot peaceful birds flitting between the hillsides.
This makes it easier to relax and enjoy nature. There are also fewer resorts, bars, and restaurants here, which means there is usually less noise and congestion. These resorts and bars are offering to play
casino games
.
St. Barth's is a smaller island but can be busier due to its sophisticated French influence. It's known as one of the Caribbean's most glamorous islands, and resorts here are highly sought-after. It is also a popular stopover for yacht crowds.
What's the most luxurious Caribbean island?
The Caribbean island of Canouan in St Vincent & the Grenadines is a great place to find luxury accommodations.
The Mandarin Oriental, Canouan, is a 5-star hotel with 26 secluded suites and villas set steps away from the white sand beach.
The most well-known island in the British Virgin Islands is Necker Island, which is owned by Richard Branson. This is a private island where up to 28 guests can stay. Across the water, there's Necker's newer sister island, Moskito Island – with four estates that are truly one of a kind.
Turks and Caicos are also among the best Caribbean islands for luxury and exclusivity. You'll find a wealth of beautiful beaches if you visit the uninhabited cays.
There are also some exceptional private island resorts, such as COMO Parrot Cay, where you can totally escape from society.
1. Jamaica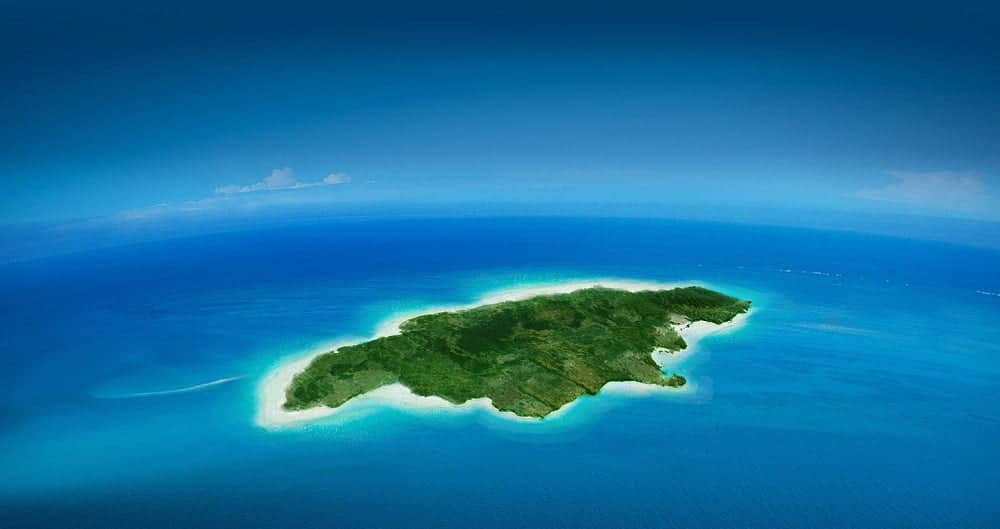 There is no doubt that Jamaica is one of our favorite Caribbean Islands. It's definitely up there at the top as far as beauty goes.
The beaches of Jamaica are some of the best in the world, with seven miles of pristine beach at Negril and Treasure Beach just south of Montego Bay. The island is densely forested, has rocky cliffs and rushing waterfalls, and is blanketed in white sand.
2. Turks and Caicos
Turks and Caicos
is a great place to visit if you're looking for beaches. There are over 300 tiny islets scattered throughout the Lucayan Archipelago, many of which are just sandbanks or rugged pillars of rock that rise above the ocean surface.
The salt-washed jetties of Cockburn Town might be the capital, but it's the laid-back Providenciales that attract all the crowds.
The island comes with a beautiful Grace Bay, resorts with luxurious amenities, pirate carvings from the 19th century, and coral gardens that are just waiting for SCUBA divers.
And, it's also home to the island's deep-fried conch clams! Further away, the TIC offers up uber-romantic honeymoon suites on their own private island, beaches like Malcolm Beach, and the glowing turquoise currents of Chalk Sound.
3. St. Lucia
St. Lucia is an island that is both stunning and diverse, with mountains, jungles, and beaches all included.
The diversity of St. Lucia's natural beauty makes it a good choice for a Caribbean island visit. The country is home to more than 530 bird species, so take advantage of a guided tour to see them firsthand.
If you're looking for a more exclusive and intimate stay, book yourself into the St. Lucia Wetlands Guest House. The six bedrooms in this house will allow you to have enough space for your guests without having to compete with them for the outdoor pool.
Located just 500 meters from the city center, you'll be able to easily explore St. Lucia and get around quickly.
The best Caribbean islands to visit are incredibly beautiful, with long beaches that go on for miles, delicious food with a lot of flavors, and friendly locals who will show you all the best spots. When you fly to these islands, you'll be able to enjoy an amazing experience that is unique for each one of them.
4. Cuba
Cuba has had a tumultuous past and a political penchant for communism, which has kept it from being the most popular destination in the Caribbean until recently.
The news of a loosening of travel and import restrictions from America is expected to bring hordes of new tourists to the so-called Pearl of the Antilles.
There's certainly no shortage of pulls. For one, the capital of Havana oozes a vintage charm.
The paragraph describes the landscape and culture of Cuba. It mentions how Cadillacs bump up and down the streets, and how stuccoed frontispieces give way to off-beats of samba, rumba, and songo. The paragraph also mentions cigar smoke puffs out of speakeasies, and the sun-splashed Malécon is strutted by all sorts. Finally, the paragraph mentions that there are many beautiful beaches in Cuba that offer eco-tourism opportunities.
5. Antigua and Barbuda
Antigua is a welcoming island with many attractions for visitors. The town of St Johns is colorful and has beautiful beaches, while the historical harbor offers interesting sights and sounds.
Highlights: Antigua is a great place to sail and holds its own world-recognized annual regatta. Visitors love this island for its perfect conditions for sailing, its 365 beautiful beaches, and Nelson's Dockyard, which is the island's maritime hub.
6. US Virgin Islands
The trio of islands, Saint Croix, Saint John, and Saint Thomas together with countless smaller specks of rocky land offer up a variety of coves and inlets to explore by boat.
Salt River Bay is a picturesque expanse of mangrove forests that spills into the beautiful blue waters of Buck Island Reef. The rum distilleries here are ten for the price of one, and there are also some interesting remnants from Danish rule still standing above the palm trees and ferns. This place is definitely a top choice!
7. Aruba
The geography, climate, and culture of Aruba are similar to those of its Latin American neighbors.
Aruba shares many geographic features, such as a hot and humid climate, with its Latin American neighbors. The country also has a rich cultural history that is shared by both groups of people.
This gem-shaped island on the far southern reaches of the region is closer to the mainland than it is to many of the other salt-washed islands in the Caribbean.
The weather has remained relatively stable and warm, unaffected by the hurricanes and cyclones that sweep through the Atlantic belt.
The warm weather in the Bahamas ensures a steady stream of tourists from the United States, who can be seen reclining on the sands of Baby Beach in the south, the windblown rocks of Hadikurari, shaded Arashi, or the reef-ringed likes of Boca Catalina throughout the year.
Aruba's interior is dusty and desert-like, while the island's Papiamento language fuses Spanish and Dutch.
8. Punta Cana, Dominican Republic
Punta Cana is an affordable and accessible destination that is popular for its beautiful scenery. Just a 20-minute drive from the airport, it has a variety of tropical experiences to choose from.
Your vibe will depend on where you stay, whether it's upscale and luxurious, laid-back and cool, active and adventurous, or romantic and honeymoon-y. There are lots of activities to enjoy here including yoga classes, snorkeling, ziplining, cooking classes, windsurfing, sea kayaking, golfing, and great restaurants (check out local favorite Bachata Rosa). It's easy to get back home the way you like it – easy as pie!
9. The Dominican Republic
The Dominican Republic has a variety of natural attractions, including swaying palms and rugged cliffs in the east, old mineshafts and dusty trailheads in the west, and surfing hotspots in Cabarete and Puerto Plata in the north, and urban areas with colonial treasures in Santa Domingo to the south.
For most tourists, the highlight of their trip to Punta Cana is the stunning white sand beaches that run along the windward coast. However, there are also a few luxury resorts located here, with infinity pools right up against the Atlantic Ocean.
Others will aim for the beautiful coast of Cibao, and hop between fishing towns and salt-washed cays.
Others still will go intrepid and seek out the ridges and hikes of the Enriquillo Valley, which is rich in green Armando Bermúdez. The choice is yours!
10. Grenada
The Spice Island is a tranquil place, full of life and bursting with flavor. You can visit spice and chocolate plantations, as well as seafood restaurants when you are done exploring one of the Caribbean's best beaches – Grand Anse.
Highlights: Besides great beaches, Grenada has plenty of things to do, including amazing wildlife viewing and numerous festivals throughout the year.
11. The Bahamas
The Bahama Channel connects the Caribbean Sea with the coastal reaches of Florida.
Since the late 18th century, these cays and sandbars have been attached to the Commonwealth.
The British made a colony in the Bahamas after ousting groups of pirates and buccaneers from the shores, leaving the elegant neoclassical looks of the Bahamian Parliament and Fort Charlotte in their wake.
More recently, the rich and famous have come to settle their yachts between the coves of New Providence and the beachfront villas of Paradise Island, or slapping poker chips on the Atlantis casino floor.
Despite its reputation as a tourist destination only for those with money, The Bahamas are welcoming to everyone. Ecotourists flock to the reefs of Grand Bahama, beach hunters find secluded inlets on Long Island, and sports fishers and divers can explore the coral gardens of Bimini.
12. St. Martin
The island of St. Martin remains popular with cruise ship passengers and sun-seekers, as well as the crowds of gamblers and shoppers that hit its shores each year in search of the Vegas-style games rooms and duty-free shopping on the Dutch side.
People walk on the sand, and there are restaurants along the water. In the east, there are coves where smugglers used to go.
While Marigot's markets are popular, the fusion of Dutch and French cultures makes for a truly interesting mix.
13. Puerto Rico
Puerto Rico is a jewel of the Caribbean region, defended by age-stained bulwarks and crenulated cannon-holding palisades. It is washed over by some of the wildest surf spots in the Caribbean, trodden by Christopher Columbus and marauding pirates of the great seas, and shaped by American and Spanish history alike.
San Juan is a UNESCO-recognized capital with many Baroque churches, the mighty El Castillo fort, and the shimmering beaches of Condado.
The town is lively on the weekends, with a party atmosphere and tons of Senor Frogs and spring breaker bars popping up on the streets after dark.
To the east lies the beautiful Luquillo beaches and El Yunque's frog-spotted forests, or to the south one can explore off-the-beaten-track Ponce with its curious multi-colored cathedrals and some of the emptiest sands on the island.
14. Cinnamon Bay
On St. John, two-thirds of the island is protected as national parkland, which means there's no hint of waterfront development near a port or airport. But what makes Cinnamon Bay so special is that it's an especially quiet beach on an island with nothing but tranquil shores.
This means that the beaches here are less crowded, providing you with a quieter experience in which to enjoy the beautiful surroundings.
If you're not captivated by the natural beauty of the area, there's always the calming bay-facing sea to enjoy. There are plenty of activities available, such as swimming and snorkeling (be sure to look for the sunken airplane), kayaking and windsurfing, as well as a nearby historic sugar plantation ruin for a short hike that will give you a break from all of it.
15. Barbados
Barbados has beautiful beaches that sound like rhythmic samba beats and the palm trees sway in the Atlantic trade winds. The wild surf swells spattering the boulders of Bathsheba and Cattlewash with salt and whitecap water.
Barbados is a beautiful island with well-preserved colonial architecture and lush vegetation. The yachts bob in the harbors of UNESCO-attested Bridgetown, and potent rum is sipped between the distilling tanks of Mount Gay.
Flying fish in Barbados are generally fried and served with a Scotch Bonnet top. Resorts on the cliffs overlooking the ocean offer all-inclusive packages with infinity pools just inches from the shore.
Barbados is a very diverse place, with people of all income levels living side-by-side. Some people relax on the beach drinking pina Coladas, while others explore the jungle and dive in the reefs. There are also many rum shops located on the streets where locals can buy their favorite drink. Barbados is simply awesome!
16. Eleuthera, Bahamas
Eleuthera is not for everyone. There are no major hotel chains, only a few good restaurants, and no nightlife to speak of. Instead, it has a quiet atmosphere with swaying palms, secluded snorkeling opportunities, and clear water stretching over pink-tinted sands.
The long, slender island is home to one of Earth's unique vantage points – the so-called Glass Window Bridge.
You can stand on a narrow strip of land that overlooks the dark depths of the Atlantic Ocean and the turquoise glow of the Caribbean Sea. You can ponder the mysteries of both bodies of water while you wonder why more people haven't flocked here, then be thankful that they haven't.
17. Guadeloupe
Guadeloupe is a small, tropical Caribbean island that few people know about. It is situated in the middle of the Lesser Antilles islands group and is known for its lush vegetation and beautiful beaches.
The main islands of Basse Terre and Grande Terre are shaped like a butterfly, with the smaller island, Île d'Oléron, located in the middle.
The park is filled with a variety of treats, each offered up by a different bridge. While on Grande Terre, travelers will find the nightlife and fashionable outlets of Gosier, giving way to the shimmering beaches of Caravel and the haunting graveyards of Morne à lead.
The larger of the two islands, Basse Terre, is a more rugged and wild place.
The jungle is green and cuts through by waterfalls. The mountain, La Grande Soufrière, is the tallest in the Lesser Antilles chain and has ancient Arawak archaeological sites.
18. Bermuda
The island at the center of the Bermuda Triangle is not, strictly speaking, in the Caribbean.
The Panama Canal is a waterway that connects the Atlantic and Pacific oceans, giving it an altogether different character from many of the islands on this list.
The beaches here are pink due to the presence of powdered corals, and they are surrounded by waves that are frothy from the Atlantic Ocean.
The topography is rugged, with rocky walls rising straight from the ocean to host clifftop golf resorts at spots like Tucker's Point. The climate maintains a steady humidity and pleasant temperature throughout the year, from December to December.
Similarities between Bermuda and the Caribbean exist, such as the colonial Englishness that still persists in country pubs on Bermuda, and is evident in the whitewashed mansions of St George.
19. The Cayman Islands
The Caymans are a trio of small islands that form the Caribbean Sea. The locals are friendly and the wildlife is diverse, including endangered sea turtles, blooming ghost orchids, and multi-colored iguanas. The people who live on these islands have some of the richest homes in all of the Caribbean.
The paragraph is about two different places and how they look. There are several beautiful beaches in the Cayman Islands. Some of the most popular beaches are Seven Mile Beach on Grand Cayman and Little Cayman Brac, which is unspoiled and has sandy shores covered in seaweed.
There are many impressive colonial forts, like St. James Castle, and museums devoted to British maritime history and Carib piracy in George Town.
Treasures lurk underwater at Stingray City, while uber-rare turtles wait in the pools of Boatswain's Beach.
At night, hedonism takes over and there are al fresco parties at the legendary Sunset House, and rum-packed cocktails aplenty at Billy Bones.
20. The British Virgin Islands
The British Virgin Islands are a small archipelago of 50 islands with diverse landscapes, serene beaches, and green hillsides.
The main four islands are Tortola, Virgin Gorda, Anegada, and Jost Van Dyke. There is an extensive system of local ferries that allows visitors to journey among the islands.
Water sports are popular in the British Virgin Islands; travelers can find links to local operators on the tourist board's website. Boat charters are also popular, with Dream Yacht Charter providing air-conditioned cabins and staff including a captain, chef, and first mate.
The BVI is home to unique marine sites, such as the Baths National Park on Virgin Gorda's north shore. These sites provide sheltered beachfront pools and crevices perfect for exploring, wading, and creating Instagram posts.
Food Fete is a culinary celebration that takes place on various islands throughout November and December. A highlight will be the Anegada Lobster Festival, which includes an island-wide scavenger hunt and tastings focused on Anegada's spiny lobster.
21. Negril
The sunsets at Seven Mile Beach are the best in Negril, and it's only four miles long.
Lots of things happen in Plenty because it's the place to go for easygoing days of uninterrupted beach bumming, scuba diving, snorkeling, horseback riding, and evening sailing trips where the sun transitions from orange to red as it dips peacefully below the western horizon before nighttime festivities begin.
Nightlife in the small town of Seaside is varied and offers something for everyone. There are laid-back beach bars where you can relax after a day at the beach, energetic reggae and jazz clubs where you can dance all night, or small-town restaurants that serve fresh escovitch fish and veggies.
22. Haiti
Unlike other Caribbean islands, Haiti is more about adventure than luxury resorts and bespoke cocktails. Designer brands and well-to-do hotel suites are not as prevalent here, instead focusing on adventure sports and unique tourist destinations.
This half of Hispaniola has had its share of troubles, from devastating earthquakes to coup d'états. However, that can't change the rugged cliffs and palm-fringed beaches of Jacmel, nor the turquoise-blue waters of Labadee, where cruise ships now dock by the thousands.
For all intents and purposes, Haiti is an off-the-beaten-track option with plenty of hidden surprises. The Citadelle Laferrière is a large fortress in the Americas that oozes stories of slave revolts and colonization.
There are many beautiful places to visit in the Caribbean. Some are well-known tourist destinations, such as the sandy beaches of Cape-Haïtien or the pirate retreats of Tortuga, while others remain relatively obscure and offer a more unique experience. The dense forest known as the Forêt de Pins is a great place to hike, and there's also plenty to see onshore in towns like Saint-Domingue or Port-au-Prince.
Haiti is looking like it will become one of the Caribbean's top tourist destinations in the 21st century.
23. St. Vincent and the Grenadines
Vincent is the most beautiful and peaceful of all."The archipelago of 32 islands that make up St. Vincent took the No. 1 spot on this year's list of the world's most beautiful places, according to one reader. The low-key atmosphere and many options for activities make St. Vincent a great place to visit, according to this reader, who insists that Petit Saint Vincent is the most beautiful and peaceful island in all of St. Vincent and Grenadines.
It is a beautiful island with many wonderful sanctuaries. The smaller islands are perfect for relaxation and luxury, while the larger island has plenty of outdoor activities to enjoy.
24. Montserrat
Many people view Montserrat as the Pompeii of the modern era. The Soufrière Hills mountain on which it sits erupted in 1995, causing much destruction and loss of life.
Many descendants of Irish immigrants in the 1600s mainly moved to the northern section of the island, which is now the only safe place to visit outside of a so-called 'Seclusion Zone'.
No matter how many times you visit Montserrat, it always remains an adventure.
This off-the-radar mountain top speck in the Lesser Antilles is a place for hitting empty trails and driving empty coastal roads.
The Central Hills are home to a variety of landscapes, including isolated Rendezvous Bay and jungle-spotted volcanic massifs. You can see multi-colored thrushes amongst the trees, and dive in young coral gardens.
Drink Guinness in a Gaelic pub! It's the perfect way to enjoy a cold day.
25. St. Barts
Barth's is a popular tourist destination for those seeking luxury and privacy. St. Barth's is an island located in the Caribbean Sea that is home to some of the world's most luxurious hotels and exclusive boutiques. It is also a popular tourist destination, especially for those seeking luxury and privacy.
Barts have a certain air of importance that often deters casual visitors. The writer is discussing the many benefits of visiting Shell Beach, Flamands, Colombier, and Grand Cul-de-Sac. There is no doubt that all four locations offer great attractions and places to spend a day or weekend.
The paragraph describes the different types of people who visit Gustavia, each with their own specific interests.
There is also a charming Francophone edge to this overseas territory of Paris, with elegant Haute and fine-dining just two examples of the European influence.
26. Trinidad and Tobago
Unlike most of its Caribbean neighbors, Trinidad and Tobago has a valuable resource: oil. This gives the country an economic edge over its neighbors.
In fact, there are some interesting attractions and activities to be found here. But it's not what you would call a tourist hotspot.
Despite the growing refinery and fossil fuel industry, tourism has remained firmly in the backseat here. That's not to say it's a bad place to visit though; there are some interesting attractions and activities available here. However, it is not what one would call a tourist hotspot.
If you want something less Disney-like and more wilderness-like, it's perfect. Trinidad is the largest island in the Caribbean, and its hills cascade in blooms of coconut palms down to beautiful beaches like Maracas, Chagville, and Las Cuevas.
Tiny little Tobago is even more undeveloped than before. Pigeon Point is a picturesque beach surrounded by cliffs, while Englishman's Bay offers stunning views of the coastlines. Both beaches are excellent places to spend a day at the beach.
Travelers can also see the whitewashed remains of Fort George, go turtle seeking on Matura Beach, or join the raucous celebrations of the archipelago's Pre-Lenten Festival – a medley of Brazilian color and carnivalesque dances that is one of the biggest cultural dates on the Caribbean calendar!
27. St. Kitts and Nevis
The island of St. Kitts and Nevis is composed of sculpted volcanic hills covered in dense blankets of tropical green.
The island of St. Kitts and Nevis is a historic sugar plantation surrounded by moss-covered ruins of colonial fortresses and canons that rust in the salt sea breezes.
Mount Liamuiga is a volcano on the island of St. Kitts and Nevis that towers over the surrounding landscape. The mountain is known for its dark, brooding cone, which makes for an impressive sight from any vantage point.
St. Kitts and Nevis is a beautiful place to dive, with the Monkey Shoals and Frigate Bay Reef being some of the best sites. The country has many interesting English-style churches and fountains, as well as stark cliffs that drop straight into the ocean.
St. Kitts and Nevis is a fine balance of adventure and relaxation, with gorgeous tropical vistas and interesting – if occasionally brutal – colonial history.
St. Kitts and Nevis is a great place to visit if you're looking for a well-rounded holiday in the middle of the sun-splashed Lesser Antilles.
28. Luxury: Nevis
Nevis is a small, 36-square-mile island with few tall buildings and no crowds. Its easygoing charm belies an outstanding collection of luxury resorts and high-end dining venues.
Nevis is a verdant island even by Caribbean standards, with green hills surrounding 3,232-foot Nevis Peak at its center. Ruins of colonial-era sugar plantations dot the hillsides, and visitors can explore the landscapes and take in panoramic island views via hiking and ATV excursions.
The property now includes a new spa, an additional 18 villas, 2 restaurants, and 10 bars/lounges.
Luxury resorts are commonplace on this island, with Four Seasons Resort Nevis being one of the largest. The 350-acre beachfront property reopened in November following a multi-year enhancement project that included a new spa and additional 18 villas as well as 2 restaurants and 10 bars/lounges.
The resort features redesigned suites, more than 50 private vacation rental homes, three infinity-edge pools, a Robert Trent Jones II golf course, and a nine-court tennis facility.
Mango gourmet restaurant has unobstructed Caribbean sunset views and an extensive collection of Caribbean's signature spirit at the Crowned Monkey rum bar.
Montpelier Plantation & Beach is a luxurious resort built on the site of a 300-year-old sugar plantation. It features gardens and a private beach equipped with hammocks, cabanas, and a beach bar. The resort's Mill Privee restaurant serves imaginative, intricate takes on contemporary Caribbean cuisine.
Golden Rock is a boutique luxury resort with 11 spacious guest rooms that sit on 100 acres along the slopes of Nevis Peak, amid tropical gardens with views of nearby Antigua and Montserrat.
Locals and visitors alike can enjoy fine seaside at the Gin Trap restaurant, but Nevis is also home to casual beach bars, headlined by Sunshine's Beach Bar and Grill. A stroll across Pinney's Beach from the Four Seasons offers a more casual experience.
29. Martinique
The beauty of the tropics is on display in Martinique, a French overseas territory that combines the refinement of a country located in Europe with all the beauty you would expect from a tropical location.
Visitors can explore exhibitions dedicated to the artistic output of Paul Gauguin, who came to this country in the late 19th century, at a location shadowed by the steaming top of Mont Pelée.
Then, the empty sand stretches from Grand Anse to Anse Turin, which is met by the rugged and moss-clad walls of the Gorges de la Falaise (the Caribbean's answer to Greece's Samaria Gorge). Spicy Tamil curries mix with French pastries on the streets of Fort-de-France.
30. Curaçao
The "C" of the alphabet is found between the cacti-spotted reaches of Aruba and the shimmering reefs of Bonaire.
Near the Venezuelan coast, there are many Dutch mansions that can be seen from a stone's throw away. The cliffs and boulders in the area make for scenic views, and there are also several swimming sea turtles nearby at the Shete Boka National Park. There are boat-bobbing harbors close to Fort Amsterdam, as well as floating markets and hills for walking nearby.
Given the diversity of travelers that Curaçao attracts, it is hardly surprising. Some people come to the Hyatt resort to relax in luxury, while others will dive into the Playa Kalki beach, explore the hanging stalactites at Hato Caves, or visit places like the Maritime Museum and Postal Museum in the capital city.
FAQs about Best Caribbean Islands to Visit
What are the top 10 best Caribbean Islands to visit?
It can be hard to narrow down the best Caribbean islands to visit, as they all offer so much natural beauty, culture, history, and miles of beach. However, these islands are especially worth visiting if you're looking for a relaxing holiday or an adventure-packed one. So whether you're planning on spending your days lounging on the beaches or exploring the many interesting places that these islands have to offer, there's definitely a perfect Caribbean Island for you!
Which are the best Caribbean Islands to visit that have the most beautiful beaches?
Deciding on the most beautiful beach can be difficult, as there are many beautiful beaches to be found on the best Caribbean islands! Some of these include Eagle Beach in Aruba, Playa Sirena in Cuba, and Sugar Beach in St Lucia.
Which are the best Caribbean Islands to visit first?
The best Caribbean islands to visit are vibrant places, full of friendly people and stunning landscapes. However, it can be tough to decide where to go first because what type of holiday you want can vary greatly. For example, if you are looking for a fun family adventure then some of the Islands like St. Lucia or Barbados would be great choices while if you are hoping for a romantic getaway then the Virgin Islands or Antigua might suit your needs better. Once you have decided what type of holiday you want, it will be easier to choose which islands fit that criterion the best. One thing is for sure – once you've tasted the Caribbean way of life, there's no stopping you from coming back!
Where to go on holiday in the Caribbean?
The holidays in the Caribbean are as varied as the islands themselves. From vibrant, bustling islands such as Jamaica or Cuba, to more secluded, intimate islands like St. Lucia and St. Kitts and Nevis, there is something for everyone to enjoy during the holidays. Whether traveling alone or with friends, families, or coworkers, you're sure to find a perfect Caribbean island for your holiday celebrations!
This list only includes the best destinations in the Caribbean, but there are so many wonderful places to visit that it would be impossible to include them all. So what are you waiting for? Start planning your next vacation!
What is the number 1 island in the Caribbean?
No one is surprised that the small island of St John in the US Virgin Islands has been named the number one destination in the Caribbean for travel. The 2013 Top 10 Caribbean List highlighted all of the beautiful beaches, food, and eco-tourism that have made this tiny island world-famous.
What is the smallest Caribbean island?
Saint John is the smallest of the U.S. Virgin Islands and lies in the eastern Caribbean Sea just east of St. Thomas and 80 miles (130 km) east of San Juan, Puerto Rico.
How many Caribbean islands are there?
Many Caribbean islands are now sovereign nations, while others are dependent territories of other countries. The region has close political ties with Europe and the United States.
What is The Caribbean island?
Cuba is the largest island country in the Caribbean Sea, with a total area of almost 111 thousand square kilometers. It is followed by the Dominican Republic, with nearly 49 thousand square kilometers.
Saba is just as beautiful as the other islands in the Caribbean and was voted the friendliest island in the region.
Which Caribbean island is most beautiful?
St. Lucia is arguably the most beautiful of all Caribbean islands, with its two UNESCO World Heritage designated Pitons standing proud. The Gros and Petit Pitons are two mountainous volcanic plugs that definitely contribute to the island's beauty.
What is the safest Caribbean island?
Montserrat is an island in the Leeward Islands of the Caribbean. It is considered to be one of the safest islands in the Caribbean, with its last recorded murder occurring in 2008.
What is the richest island in the Caribbean?
The Bahamas is the richest country in the Caribbean, with a GDP per capita income of $33,516. It also has the 14th highest nominal GDP in North America.
Which is the poorest island in the Caribbean?
Haiti is the poorest country in North America with a GDP per capita of $671.
What are the Caribbean islands called?
The Caribbean islands are made up of several island groups including the Greater Antilles, Lesser Antilles, Leeward Antilles, and the Windward Islands. The islands in the Caribbean are also sometimes referred to as the West Indies.
What is Caribbean money called?
The Eastern Caribbean dollar is the official currency of eight Caribbean island countries: Anguilla, Antigua and Barbuda, Dominica, Grenada, Montserrat, Saint Kitts and Nevis, Saint Lucia, and Saint Vincent and the Grenadines.
Is Cuba part of the Caribbean?
Cuba is a country located in the West Indies, the largest single island of the archipelago, and one of the more influential states in the Caribbean region.
Which Caribbean island is the cheapest to live on?
The country has seen rapid development in recent years, with increasing tourism and an influx of ex-pats. Property prices are low, making residency easy, and the country is very attractive to live in.
Which is the cheapest Caribbean island to fly to?
According to the data, Port-au-Prince, Haiti is the cheapest Caribbean airport on this list. It has an average flight price of just $347.
Which Caribbean island is most like Hawaii?
For those travelers looking for a tropical island getaway that offers a similar experience as Hawaii, Saint Lucia might be the best option.
Are all Caribbean islands poor?
Despite general improvements in living standards, poverty rates average 30% of the Caribbean population. Social and human development indicators show that Barbados, Antigua-Barbuda, and the Bahamas are doing better than Belize, Dominica, Grenada, Jamaica, and Suriname.
What is the cleanest Caribbean island?
The beaches in Aruba are said to be some of the cleanest and widest in the Caribbean.
What are the languages spoken in the Caribbean?
There are six official languages spoken in the Caribbean and many more unofficial languages. Out of these, two, Haitian Creole and Papiamentu, are Creole languages.
What is the safest place to live in the Caribbean?
The southern region is more mountainous and has a higher crime rate, but it also offers scenic rainforest hikes and Sandy Point Beach.
Montserrat is the safest Caribbean island to live and retire on due to its resemblance to coastal Ireland, safe northern region, and scenic southern region.
Where is the safest and cheapest place to live in the Caribbean?
The Dominican Republic has great weather, world-class beaches, and a low cost of living. It's also just three-and-a-half hours from New York City, which means you can leave the city in the morning and be on the beach for lunch.
What is the longest beach in the Caribbean?
Sandy Point is located on the West End of St. Croix and is one of the most beautiful beaches to escape. Its clear blue waters back up to a two-mile-long stretch of white sand beach, making it the longest beach in the Caribbean. Sandy Point is also known for its tranquility and privacy, which make it an ideal spot for relaxation.
Which Caribbean islands belong to the USA?
There are currently two inhabited U.S. territories in the Caribbean Sea: Puerto Rico and the U.S. Virgin Islands. Residents of these territories have a special relationship with the United States government, as they are not part of the United States proper
Are the Bahamas in the Caribbean?
However, The Bahamas is very different from many of the Caribbean islands. For one, it's not actually part of the Caribbean in terms of geography – it's located in the Atlantic Ocean. Additionally, politically The Bahamas is considered to be a part of the Caribbean Community, which is known as CARICOM.
Which is the smallest Caribbean island?
Saint John is the smallest island of the U.S. Virgin Islands and lies just east of St. Thomas and 80 miles (130 km) east of San Juan, Puerto Rico.
Which is the smallest Caribbean country?
Kitts and Nevis is the smallest and least populous country in North America, with a land area of just 260 sq. km, and a population of around 53 thousand people.
What is not a Caribbean island?
The Bahamas and Turks and Caicos Islands are not considered part of the Caribbean, but they are technically part of the West Indies.
What are the Caribbean islands?
The Caribbean islands are a group of over twenty-six islands that stretch from North America to South America. The Caribbean islands are known for their clear water, white sand beaches, and lush rain forests. The best Caribbean islands to visit in 2022 include the Virgin Islands, Grenada, St. Lucia, Dominica, and Antigua.
What Caribbean islands are open?
There are many Caribbean islands that are open for tourists in 2022. Some of the best islands to visit include the Virgin Islands, Anguilla, St. Kitts, Nevis, Antigua and Barbuda, Dominica, Grenada, Montserrat, and Saint Lucia. These islands offer beautiful environments with plenty of activities to keep visitors entertained. For example, the Virgin Islands offers stunning beaches and crystal-clear waters while Anguilla has world-renowned diving spots.
Which Caribbean island is called the nature island?
The Caribbean island called the nature island is known for its lush vegetation, crystal clear waters, white-sand beaches, and turquoise waters. This paradise is located in the British Virgin Islands and it is a perfect place for tourists who love nature and relaxation.
Which Caribbean island to visit?
When it comes to choosing the best Caribbean islands to visit in 2022, there are a few things to consider. For starters, you'll want to make sure that the island you choose is close enough to travel to easily. Additionally, you'll want to consider its climate and terrain. Some of the best Caribbean islands for a summer vacation include the Virgin Islands, St. Kitts, Nevis, and Anguilla. For a winter getaway, consider destinations like Antigua and Barbuda or Dominica.
How many islands are in the Caribbean?
There are over 20 islands in the Caribbean. Some of the most popular include the Virgin Islands, Puerto Rico, St. Kitts, Nevis, St. Lucia, Antigua and Barbuda, Dominica, Grenada, Barbados, and Trinidad & Tobago.