The Montauk Point Lighthouse is a well-known landmark of the charming hamlet of Montauk, which is at the easternmost tip of Long Island's South Fork. However, there is much more to see and do here all year round. You can enjoy miles of hiking trails, camping, great seafood, and beautiful Atlantic beaches.
The Montauk Point Lighthouse is a well-known landmark of the charming hamlet of Montauk, which is at the easternmost tip of Long Island's South Fork. However, there is much more to see and do here all year round. You can enjoy miles of hiking trails, camping, great seafood, and beautiful Atlantic beaches.
Montauk is in East Hampton, which is one of the two towns that make up New York's famous Hamptons (the other is Southampton). It can be reached by public transportation, by car, or, if you can afford it, in just under half an hour by helicopter from New York City.
Most people who go to the Hamptons stay in popular beach towns like Sag Harbor, Bridgehampton, and Amagansett. But if you go farther east, you can find a nice, quiet getaway with lots of outdoor activities and historical sites.
The best things to do in Montauk, NY State Park, where the lighthouse is, has bluffs and beaches where you can see seabirds, harbor seals, dolphins, and even humpback whales. This beautiful piece of land is popular with tourists because it has state parks, beaches, and other places to visit. In this article, you can know about the best things to do in Montauk, NY.
60 Best Things To Do in Montauk, Ny
1. Go to the Beach!
This is the best thing to do in Montauk. Both the Atlantic Ocean and the Long Island Sound have miles of beautiful coasts. When you go to Montauk, you have to go to the beach. Here are some of my favorite Montauk beaches.
Ditch Plains
Navy Road
Umbrella Beach (Kirk Park Beach)
2. Montauk Point Lighthouse
The Montauk Point Lighthouse, which was built in 1797, is a city National Historic Landmark. It stands about 110 feet tall and has beautiful views of the ocean.
This magnificent lighthouse is one of the most beautiful things to see in Montauk this weekend. It is an iconic landmark and sits on the easternmost point of the village. It offers guided tours of its facility and a museum with many old photos, artifacts, and historical documents. Montauk Point Lighthouse also has a gift shop where you can buy mugs, clothing, books for your kids, decorative items, and other things as souvenirs.
Schedule a guided tour of the Montauk Point Lighthouse with your friends to see its many beautiful parts. You can see the keeper's bedroom, a parlor, the communications room, the oil room, and the assistants' bedrooms. You can also take lots of pictures together and climb the 128 steps to the top of the tower for awe-inspiring views of the surrounding area.
3. Montauk Point State Park
Montauk Point State Park is more than just the lighthouse. Seals like to hang out on rocks nearby, so photographers and animal lovers should keep an eye out for them. Hikers and cross-country skiers can get amazing views of the ocean and the rocky shoreline from nature trails, and surf fishermen can catch the coveted striped bass from anywhere on the beaches. Surfers call the waves at the edge of Long Island "the North Bar." They can be surfed from the middle of December to the end of March.
The Paumanok Path is a 125-mile trail that goes from the state park to Rocky Point on the North Shore of Long Island. It goes through four towns. It is one of the more popular trails. The path winds along the beautiful beachfront, from the bluffs of Montauk to the woods in the interior. There are also places to picnic, a playground, and public bathrooms in the park. In the day-use areas, you can only bring two leashed pets with you.
4. Camp Hero State Park
If you keep going east until you reach the very end of Long Island, you will find the unspoiled, wild, and varied Camp Hero State Park. The park is a former military base that is surrounded by dense maritime forests and freshwater wetlands. It is full of wildlife and will give you hours of peace and quiet.
Well-kept trails will take you along the ocean coast, where you can see beautiful views and be close to empty beaches where swimming is too dangerous but surf fishing (with a permit) is some of the best in the world. You can walk, ride a bike, ride a horse, or walk your dog. This park is very different from the sophisticated and civilized town of Montauk.
5. Buses to Montauk
The Hampton Jitney is a bus that leaves from several places in New York City and goes to several cute small towns on Long Island. From Midtown Manhattan to Montauk, it can take about three hours to get there, and one-way fares start at $37. (if pre-booked online during the off-peak season).
Hampton Ambassador: If you want a more comfortable ride, you can upgrade to the Hampton Ambassador, which has snacks, free WiFi, and even gift bags from local brands. The pre-paid internet rate starts at $58.
6. Hither Hills State Park
The large Hither Hills State Park is known for its campgrounds. It has more than 190 campsites. Camping in Montauk means camping in Hither Hills State Park. It's the kind of place where you can spend a week and not get bored. The park has everything you could want from a campsite: unobstructed views of the Atlantic Ocean, white sandy beaches, and lots of greenery.
7. Take a Surf Lesson
The main thing to do in Montauk is surf. Surfer.com said it was the 8th best surf town in the U.S. Rent or bring your own gear, and take a lesson at one of the surf schools.
Wave by Corey
Look up Luca
The surf camp in Montauk
8. Sunset At Montauk
One of the best things to do in Montauk is to grab a drink and watch the beautiful sunset over the water. Where would be best to do that? The Montauk bar, restaurant, and hotel has been around since the 1920s and is a classic Montauk attraction. It has amazing views of the sunset over Gardiner Island, so grab a drink and a seat outside to watch the beautiful natural show.
The name Montauk comes from the Montauk tribe, which lived in the area before it was colonized. A random fact is that the federal government has not yet recognized the Montauk tribe. There are a lot of people who are from Montauk who live in the Shinnecock Reservation on Long Island. In July 2020, the state of New York passed a law to give the Montauk Tribe its status back.
9. Navy Beach
Even though the name makes you think of sunbathing and surfing, Navy Beach is actually the name of one of Montauk's best beachfront restaurants, where you can sit and enjoy delicious food along 200 meters (656.1 ft) of private beach. You can choose from one of their fixed-price menus or from a variety of dishes, such as swordfish steak or buttermilk fried chicken, if you're not a big fan of seafood.
10. Deep Hollow Ranch
Deep Hollow Ranch is a great place to go horseback riding because it has a lot of beautiful scenery and clean beaches. You can go back in time and live like a cowboy or cowgirl between Lake Montauk and the open ocean at its large site.
Deep Hollow is said to be the oldest ranch in all of the United States. It was started in 1658, which is pretty amazing. The Keogh family now owns and runs the ranch, and its barns, pastures, and corals give a fascinating look into the history of ranching in the United States.
The best thing to do, though, is to ride a horse through the beautiful sand dunes, fields, and hills. As you walk or ride your horse along its winding paths, you'll see the same beautiful scenery and views that cattle ranchers did years ago.
11. Catch Some Rays
Montauk is known for its long beaches made of sand. Kirk Beach is the main beach in town. It's great for families because you can park for free, there are lifeguards, and there are public bathrooms. South Edison Beach is similar, but it doesn't have as many parking spots. Most hotels are within walking distance, though. Hither Hills State Park is four miles west of town. It has a playground, picnic tables, bathrooms, and lifeguards. If you're not camping, it costs $10 to park there. On the sound side, where Gin Beach is, the waves are calmer, but you need a permit to park there. Ditch Plains is the most well-known beach in Montauk. Surfers love it, and it can get very busy in the summer. It has bathrooms, lifeguards, and snack trailers, and you need a permit to park there.
12. Shadmoor State Park
Want to spend more time in nature? If so, Shadmoor State Park is a good place to go. In the end, this group of 99 acres of mostly undeveloped land is a hiker's dream! See, Shadmoor Park got its name from the thick patches of shadbush that grow there. Black cherry trees and their delicious fruit also grow in the park.
Shadmoor State Park also has 2,400 feet of ocean beach for visitors to explore, as well as boardwalk trails that run through the park's freshwater wetlands and along the area's many bluffs. There are also some elevated platforms for birdwatching along these trails. So, if you want to see some beautiful birds, don't forget to bring your binoculars.
In keeping with the military history of the Montauk area, you might also see some old stone structures as you walk through the park.
13. Ditch Plains Beach
Montauk is one of the best places to surf in the Hamptons and one of the best places on the whole east coast. Surfers can be found all over the area, but Ditch Plains Beach is one of the most popular spots because the waves are always there.
If you don't like to surf, the beach is also a great place to relax on the sand. So get a beach chair, kadima, and sunscreen and head to the beach.
If you want a good spot on a summer weekend, you should get there no later than 10 a.m. If you want to watch the surfers, you should get there even earlier. One of the most popular things to do in Montauk, you can expect a lot of people here.
14. Lake Montauk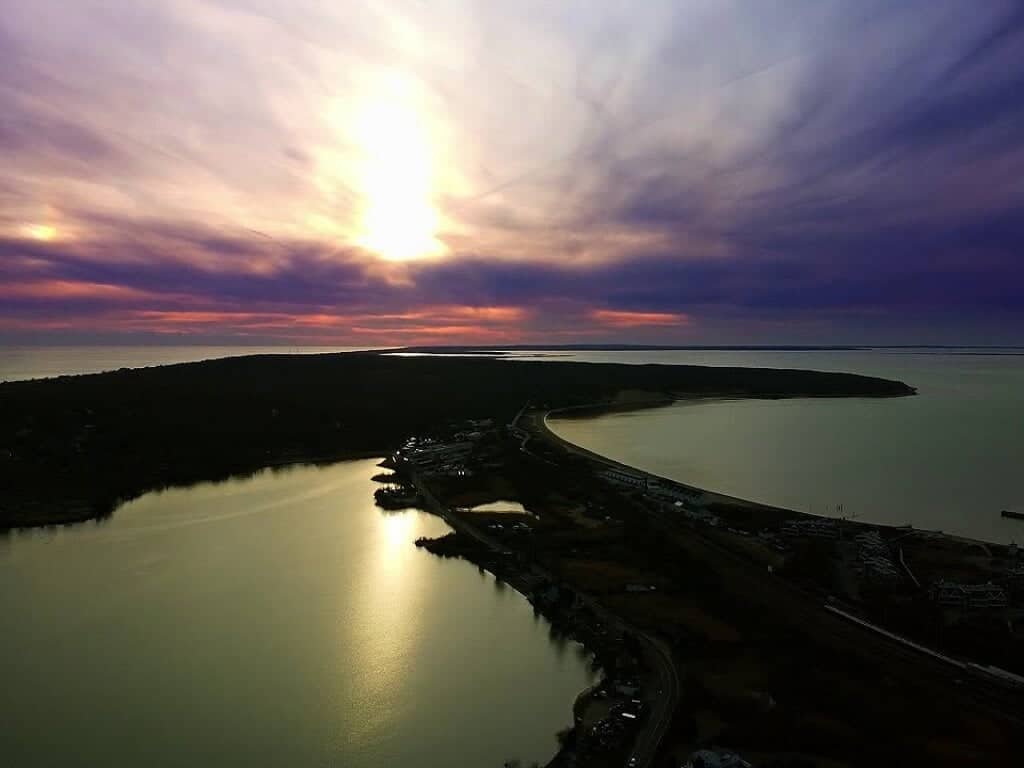 Lake Montauk is the best place to go for water sports. It has sandy beaches and more than 15 marinas that are always busy.
At this beautiful lake, you and your friends can go on an exciting trip along the water. This lake, which is surrounded by lush greenery, offers a lot of ways to have fun. It has a lot of world-class marinas, beaches where you can relax, and a lot of restaurants, bars, and boutique shops along the water.
At Lake Montauk, you can make memories with your friends that will last a lifetime. You can have a great day fishing, boating, jet-skiing, kayaking, canoeing, wakeboarding, kneeboarding, and doing many other fun things.
15. Star Island
The Gurney's Montauk Resort & Seawater Spa, which used to be called the Montauk Yacht Club, is the best resort and marina in town. It is on Star Island in the middle of Montauk Lake and has a replica of the town's lighthouse to welcome visitors. The resort has 107 luxury rooms, suites, and villas on the water, as well as a private beach, a top-rated spa, restaurants, and meeting rooms.
The place can also be used for a wedding because it has both indoor and outdoor spaces, like the Waterfront Ballroom, which has a huge window that looks out over the lake. At Gurney's marina, vacationers can dock their boats right in front of the hotel.
16. Montauk Yacht Club
The Yacht Club is a well-known beach resort in Montauk that has been there for 80 years. It is on Star Island in the middle of Montauk Lake. It will welcome you with a great copy of the historic Montauk Lighthouse, which has a classic look and all the comforts of today. You will have everything you need, like a place to dock your boat right in front of the hotel in a nice marina.
The food is just as good as the service, and it is served in a bright, airy room with a view of the beach. The specialty is fresh fish and seafood, but you can also get a pizza or burger if that's what you want. Don't forget to stop by the Turtle Lounge inside the Lighthouse tower for a drink.
17. LIRR Train to Montauk
The Long Island Rail Road (LIRR) has trains that go to Montauk on a regular schedule. Even during the busy season, the train seems less crowded than the Jitnet. Most likely, you will need to change trains at the Jamaica Station. Prices for tickets bought online start at $22.25 (during the off-peak hours).
18. Gurney's Montauk Resort & Seawater Spa
Want to stay at a resort in the middle of a lake? Gurney's Montauk Resort & Seawater Spa, formerly the Montauk Yacht Club, is the most luxurious place to be in the middle of nowhere. The resort and spa, located on the Star Island of Montauk Lake, offers guests a unique and relaxing experience.
It's set up so that the first thing you see when you walk onto the property is a copy of the famous Montauk Lighthouse. There are villas, suites, and a private beach where you can relax and unwind.
19. Shop Around Montauk Town
Something I don't do enough of myself! Walk down Main Street and stop in all the local shops if you have the time. One great thing about Montauk is that most stores are owned by mom-and-pop shops and aren't too commercialized. Get an iced coffee at Bluestone Lane and start looking around!
Here are some of my favorite places to shop in Montauk town:
Destination Haus
Quincy
The Eighth Drift
Montauk Tshirts
Under the Blue
Makos Vintage
Sweet Anchor
Air & Speed
20. Go Horse Back Riding
Try to feel like a real American cowboy for a while. I didn't know until recently that Montauk had the oldest working ranches in the United States. No matter how much you know about riding, go on a beautiful beach or trail ride. Most people won't expect to be able to hang out with horses at Deep Hollow Ranch in Montauk.
21. Montauk Brewing Company
Are you a beer lover like us? If so, this is what to do when you want a drink in Montauk. Head to the headquarters of Montauk Brewing Company, which is a small red house in the middle of the village.
It's hard to believe that this is where they make all their beer, since this is a popular beer that you can find on tap all over New York, including in New York City.
There is a nice outdoor seating area, and you can go to their taproom to try their beers on tap. If you haven't tried their beer before, we recommend trying a few, or you can buy a pack to take back to your hotel.
22. Montauk Yacht Club
The Hamptons on Long Island have a reputation for being a bit exclusive, but visitors to Montauk Yacht Club will notice that the same snobbish attitude is noticeably absent. This beautiful resort has long walks along the beach, charming villas where you can get some serious rest and relaxation, and, of course, you can rent a yacht if you feel like it. The hotel has a restaurant in the style of a manor, where you can enjoy fine dining in a beautiful setting. If you're still not sure where to stay, you might want to think about this nice place.
23. Gin Beach
One of the most popular beaches in the area, the beautiful Gin Beach, is right at the entrance to the large lake. It is usually very calm and quiet, and you can sunbathe, swim, or walk along it. There are also a few seafood restaurants and cafes nearby.
As it is on the side of the peninsula that faces Long Island Sound, its waters are usually safe enough to swim and splash around in, even if they are a bit cold. Here, the views of the estuary and the ocean are amazing, and so are the sunsets, which turn the sparkling surface of the water into a mesmerizing mix of warm colors.
In addition to relaxing on the beach and exploring the small rock formations, visitors can take a leisurely stroll or stop at one of the local restaurants or bars for a bite to eat or a drink.
24. Hang Ten
Surfers love Montauk, and Ditch Plains beach in particular. CoreysWave has private and group lessons, as well as wetsuits and boards, so you can watch, join in, or take a lesson. Gurney's Montauk Resort & Seawater Spa, Gurney's Star Island Resort & Marina, and the new hotel Marram on the beach all offer private surf lessons to their guests.
25.Montauk Downs State Park Golf Course
There are 18 reasons why many people think the Montauk Downs State Park Golf Course is one of the best things to do in Montauk. None of them have to do with beaches, unless you count the bunkers.
This 18-hole championship golf course is tucked between Lake Montauk and Fort Pond. It was designed by Robert Trent Jones Sr., who is a legend when it comes to making golf courses.
The original course had been there for 40 years before he and his son started to change it in the late 1960s. As you might expect, this park has a lot of open grassland, the occasional sandy pocket, and at least 18 flags.
But you might not know that there are also tennis courts and a big swimming pool for anyone who wants to take a break from trying to lower their handicap.
26. Lighthouse Museum
Stop by the Lighthouse Museum to learn more about the history of Montauk and New York's first lighthouse. If you pay to get into the museum, you can also go to the top of the lighthouse. Museum admission is $13 per adult.
27. Kirk Park Beach
Kirk Park Beach is a stunning stretch of coast with diamond-white sand and endless views of the North Atlantic Ocean.
Spend the day at Kirk Park Beach with your friends instead of looking for crowded places to go downtown. It is the perfect place for your next beach getaway because of its wide open spaces, family-friendly atmosphere, and beautiful scenery. For your convenience, it has attentive lifeguards, well-kept restrooms, and wheelchairs for rent if you don't want to bring bulky items.
Take it easy with your partner, family, or friends at this beautiful coastline. Get a tan, read a book, bury your kids in the soft sand, or have a fun photoshoot together.
28. Gosman's Dock
Gosman's Dock opens for the season in May. It's a great place to eat delicious local seafood and enjoy the beautiful scenery of Montauk. The small restaurant and chowder stand was opened by the Gosman family in 1943. Since then, it has grown to include a casual dining room, rooftop deck, café, and clam bar. The restaurant and fish market have the freshest seafood right from the dock, and exotic specialties are flown in every day.
You can buy clothes, gourmet foods, and things that are unique to Montauk. On Sunday evenings in July and August, there is a series of summer concerts on the outdoor stage. Gosman's Culloden House Motels are close enough to the dock that you can walk there.
29. Driving to Montauk + Car Rentals
Driving yourself to Montauk can be a great way to get there because you can see more of the area. Before 6 am and after 8 pm are the best times to drive to avoid traffic. On the Long Island Expressway, if there are more than two people in your car, you can use the HOV lane.
It can be very expensive to rent a car to get to Montauk, and sometimes they are all taken. So search before you go. Ronkonkoma is the best place to rent a car because it is both close and cheap. You drive to Montauk from there.
30. Montauk Village
Montauk Village is a very interesting place to walk around. The cobblestone streets are well-kept and have a lot of gift shops and cafes. Sit at one of these cute cafes, hang out for a while, and buy souvenirs for your friends or family. You can also see a lot of shops and boutiques where you can look at locally made goods. Don't forget to try the local ice cream while you're in Montauk!
31. Montauk Brewing Co.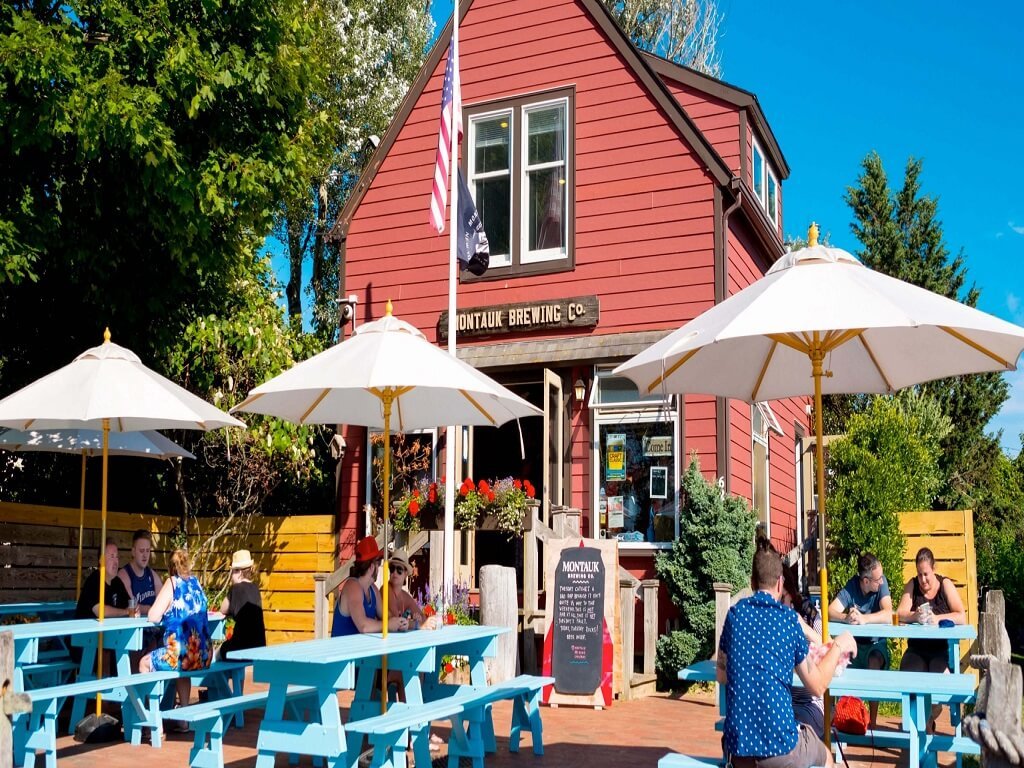 When you've had enough of the beach and sun, this is the perfect thing to do. Come hang out on the patio of Montauk Brewing Company and try some of their great craft beer. Even small-batch craft beers that aren't sold anywhere else can be found here.
32. Experience offshore fishing
With Double D Charter, you can have a great day of fishing. Everyone is welcome. It's a great way for the whole family to spend a day, and you can even book a trip at sunset! Learn from Daniel Giunta, the owner of Double D Charter and an expert in the area.
33. Memory Motel
The Memory Motel, which is right in the middle of town on Montauk Highway, is another cool thing to see and do in Montauk. Even though this motel looks like any other from the outside, it was the inspiration for the Rolling Stones' song "Memory Motel," which was released on their Black and Blue album in 1976.
Mick Jagger and Keith Richards wrote the song. It was said that they were staying at Andy Warhol's Montauk oceanfront estate and compound called Eothen.
Warhol was known for having celebrities like Mick Jagger, Jackie O, Liz Taylor, John Lennon, and others at Eothen. This is a private estate, so you can't go there unless you know the right people. Or, if you have some extra cash, you could pay between $65 and $85 million, which is what the most recent listing price was for this ocean-side estate.
It is said that Mick Jagger also caused a lot of trouble in Montauk, which brought fans to the motels there. There's also a rumor that the owners of Memory Motel didn't like the Rolling Stones. Jagger didn't like them either, but he did like the name of the place.
34. Naturally Good Foods and Café
If you're staying in self-catering accommodation, it's best to do your grocery shopping in a place with high-quality organic produce. That's what you'll find at Naturally Good, where all of the ingredients are sourced sustainably and grown organically. On the same site as a whole foods store is an ethical cafe where you can get a yellowfin tuna salad and a variety of sandwiches and wraps made to your specifications and taking into account any food allergies you may have.
35. Visit a Brewery
The Montauk Brewing Co. has made a name for itself as a craft brewer whose beers taste and sound like their location. They make IPAs that taste like fruit, as well as a crisp pilsner and a light summer ale. Their red brew barn is right next to the beach and is open all year for people who want a cold one.
36. Biking
One of the best things to do in Montauk is to ride a bike through the trails and landscapes of eastern Long Island. Not only is it a great way to get exercise, but you can also enjoy the beautiful scenery as you ride.
There are also a lot of state parks in this area, and each one has its own set of trails that can be explored on foot or by bike.
And one of the best ways to get the most out of your bike in Montauk Point is to go on an electric bike tour. The tour starts outside the Montauk train station, next to Fort Pond, and takes you up to Fort Hill Overlook.
From there, you'll pass surfers and stables on your way to Camp Hero State Park and then the Montauk Point Lighthouse. On the way back, you'll stop in downtown Montauk for refreshments, and then you'll go back to where you started feeling healthier, happier, and like you had a great time.
37. Catch A Sunset From The Montauk
Montauk is a family-run restaurant and bar with a great spot for watching the sun go down. From their outdoor patio, you can watch the sun go down over the bay while you have a drink and some simple seafood food. Most nights, there is also live music.
38. Inlet Seafood Restaurant
The Inlet Seafood Restaurant opened in 2006, and it is very proud of the delicious seafood dishes that are made from fish caught by local fishermen.
If you want to try some of the local food today, the best place to go is the Inlet Seafood Restaurant. Here, you can choose from a wide range of seafood and meat dishes, as well as wines, hand-crafted alcoholic drinks, a sushi bar, plates of pasta, and delicious desserts.
You and your friends can take a break from exploring the area and have a great meal at this restaurant. Enjoy a dish made with freshly caught seafood or a juicy steak with a glass of champagne or wine.
39. Scarpetta Beach Restaurant
From the Scarpetta Beach Restaurant, you'll be blown away by the view. Whether you sit in their sleek, modern, airy dining room with a wall of French doors or on the outdoor deck high above the beach, you can spend hours drinking cocktails and watching the waves crash on the beach or kids play volleyball.
This new restaurant is in the posh Gurney's Montauk Resort & Seawater Spa. It is one of the few in Montauk that is right on the beach. Its menu goes well with the spectacular view. It's traditional Italian food with a focus on great seafood, but the chefs have given each dish their own creative touch. When mushrooms and truffles are added to simple polenta, it becomes a gourmet dish. Stuffed bread with spinach and pepperoni can be a meal in and of itself. Scarpetta is a special place to go because it has a nice atmosphere, great food, and a beautiful setting.
40. Helicopters to Montauk
The fastest way to get to the beaches of Montauk is by helicopter. Blade's $395 helicopter ride out East only takes 40 minutes. The planes leave from New Jersey's Teterboro Airport, which is 12 miles from Midtown Manhattan.
Another option is to take a helicopter from West 30th Street to the nearby village of East Hampton and then drive to Montauk (about half an hour).
41. Double D Charters
Double D Charters is one of the best places to go sport fishing in Montauk. The company has been around for over 20 years. If you ask for recommendations for sport fishing, Double D Charters is usually the first name you'll hear. Catch sea bass, marlin, and tuna in the Atlantic Ocean.
Double D has a lot of packages for you that give you the best experiences. Join one of their sunset cruises for an unforgettable time.
42. Make a Bon Fire on the Beach
I think making a bonfire on the beach is one of the best things to do in Montauk and had to include it on my list of the best things to do in Montauk, NY. There's something so special about sitting around a fire with friends and family right on the beach next to the water with the stars above your head. Bring blankets and sweatshirts and make a place to sit down so you can watch the sky change colors. Bring a cooler or grill! (Sometimes, we also like to drive to the beach with take-out food).
43. Montauk Harbour
Lake Montauk ends at Montauk Harbour, which is north of Montauk. At the end of the lake is the Montauk Yacht club, as well as restaurants, homes, and the Montauk Inlet, which lets boats get into the Atlantic. The Montauk Harbour is where Viking Cruises leave from.
44. Dine Mexican-style at La Brisa
La Brisa is the Montauk branch of the "Tacombi" chain of Mexican restaurants in New York. It serves traditional food with a kick, like fresh fish tacos and crispy fried shrimp. Since this is a Mexican restaurant, there are also a lot of refreshing drinks, like ice-cold beer and cocktails, as well as non-alcoholic drinks called Aguas Frescas that taste great and quench your thirst.
45. Hear Live Music
During the summer, there is a lot of live music in Montauk. In May, there is the Montauk Music Festival, which has more than 400 artists from many different types of music. On the Village Green, there are free concerts every Monday in the summer. If you want a more hipster scene, go to the Surf Lodge, where bands like St. Lucia, Gary Clark Jr., and Janelle Monae have played. Every weekend night and some weeknights in the summer, there is live music, and if you want to keep the party going, there is an attached hotel. During the summer, live music is also played at Gurney's Montauk, Sloppy Tuna, 668 the Gig Shack, and Oakland's.
46. Wine Tasting
Even though there are no vineyards in Montauk, one of the best things to do in Montauk is to take a day trip to one of the best vineyards on Long Island. I also highly recommend this private Long Island winery tour that goes to two of the area's best wineries: Osprey's Dominion Vineyards and Duck Walk Vineyards.
So, some guides might try to fit in three stops if you don't stay long at each winery. However, if you really want to go to a certain winery, it's best to check ahead of time. Just know that tastings and tips are NOT included in the price. Usually, a tasting costs an extra $10–$20.
47. Set Sail In Montauk
In Montauk, you can spend a day on the water. You can take sailing lessons, sail and swim, or go for a quick sail at sunset. This is a great way to spend a day in the sun with friends. This is one of the best things to do in Montauk no matter how you get into the water.
48. Private Jet to Montauk
Getting to Montauk in style is also possible with a private jet. From Teterboro Airport in New Jersey, Evo Jets offers charter flights for as little as $5,000 per flight (for 4-9 people). A private jet takes about 28 minutes to get to East Hampton, and a car ride to Montauk takes almost the same amount of time.
49. Montauk Playhouse Community Center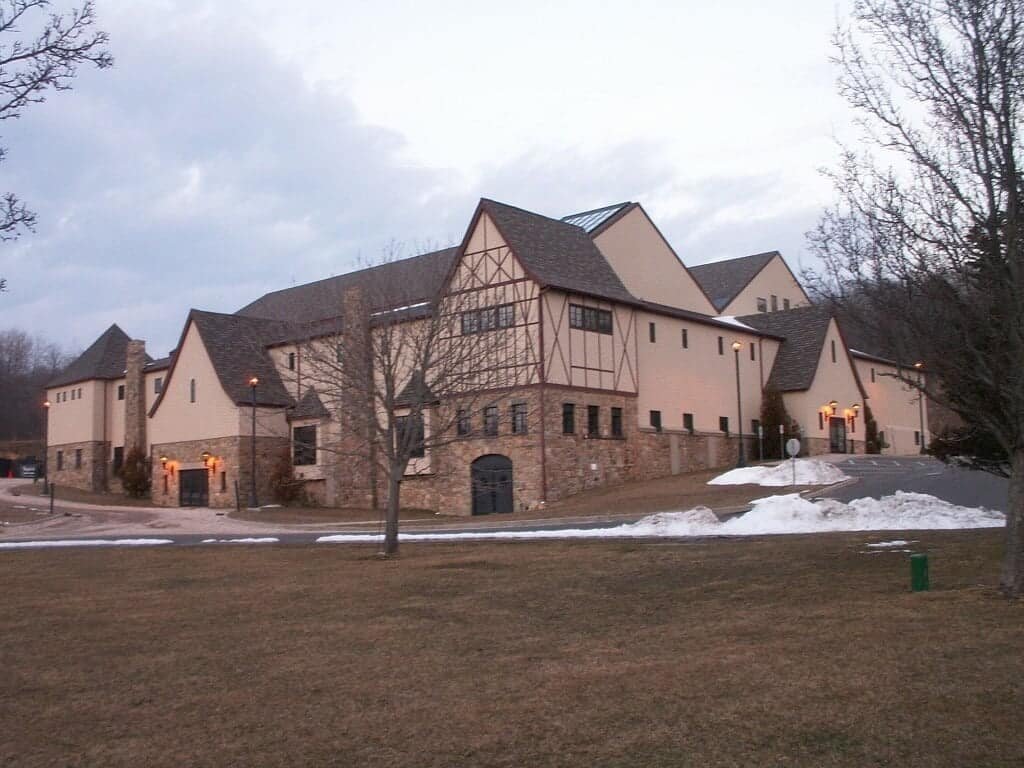 Visitors to Montauk will almost always find something interesting to do at the Playhouse Community Center, which has many uses. The historic Montauk Tennis Auditorium, also known as the Montauk Playhouse, is located in the village of Montauk in New York's Suffolk County, right below Montauk Manor. It was built in 1928 and 1929 as the centerpiece of Fisher's planned resort in the 1920s.
The Montauk Playhouse Community Center hosts a variety of events, such as concerts, plays, and concerts and plays outside. The aquatic center, which is part of the complex, lets people swim and do other things.
50. Surf Lodge
I promise you'll feel like you're on vacation if you go to The Surf Lodge. The Surf Lodge is on Fort Pond and has a huge outdoor area where great musicians like Bob Moses, St. Lucia, Citizen Cope, Willie Nelson, and Lauryn Hill play every summer.
It can be hard to get in on the weekends, but there is still live music during the week. Every Wednesday night, local favorite Nancy Atlas plays.
51. Go whale watching and more with Viking Fleet
Viking Fleet will have something for you, whether you want a fast ferry off the coast of Montauk, a fishing trip to catch the bass and tuna that live in these waters, or an unforgettable whale-watching trip. The service takes advantage of its location in the North Atlantic to give you chances that don't come up very often. The whole thing will be impressive and move you emotionally. On a whale-watching tour, you may also see dolphins and sea turtles, which are all very interesting animals.
52. Go for a Hike
There are miles of trails in the state parks in Montauk. Camp Hero State Park used to be a military base. Now, there are trails that go through marshes and along the coast. Or, you can walk to the bluffs of Shadmoor State Park, which has 99 acres of trails and stunning views of the waves crashing below. The Montauk Lighthouse is in Montauk Point State Park, which also has many trails. Keep an eye out for seals.
53. Montauk Library
The library, yes. One of the best things to do in Montauk, the library is a place of peace, quiet, and knowledge. If you think that makes Montauk sound boring, my friend, you haven't seen the true wonder of a library. This unassuming building holds whole other worlds! Even though it didn't open until the early 1980s, it has a large number of books.
In fact, the inside of the library is worth a look because the wood is warm and inviting, and the librarians are very friendly and helpful. After you choose a book, you can sit outside on one of the benches and read in the sun. Yes, I think it must be sunny in this beautiful scene.
54. Grab A Bite At Lobster Roll
On your way to Montauk, you must stop at The Lobster Roll (LUNCH) for a bite to eat. Since the 1960s, this casual restaurant has been a Hamptons landmark. It's right off Montauk Highway. You can't miss it—just look for the big sign that says "LUNCH."
Don't worry if you don't like lobster rolls. They have a full menu with tasty seafood options, burgers, and even a menu for vegetarians and vegans.
55. Take a Surfing Lesson
Get your wetsuit and surfboard ready, because Montauk is the best place to get back to nature and ride the waves. Surf Montauk is a local business that gives private surfing lessons at Ditch Plains Beach. After a quick warm-up, the instructor goes over the basics of surfing, and then it's time to put what you've learned into practice. Based on the many good things people have said about this surfing company, training with Paul is an adventure that anyone who likes water sports must try.
56. Shark Diving Around Montauk
Try the thrill of diving with sharks in Montauk. Sea Turtle Dive Charters take people 15-20 miles south of Montauk to clear waters where they can learn about the underwater world. You can go shark cage diving, shipwreck diving, and free dive spearfishing with a licensed captain and scuba diving instructor. There are more than 30 places to dive in Montauk, with water depths ranging from 15 to 150 feet.
57. Liar's Saloon
There are a lot of nice things to do in Montauk, but if you're the type of traveler who likes to get to know a place well, Liar's is one of the best places to stay. You can order whatever you want to drink, and you might even be talked into going on stage for one of their famous karaoke nights. Local fishermen and women go to Liar's after a hard day's work to brag about what they caught (hence the name). This is the place to go if you want to see the real Montauk.
58. Montauk Indian Museum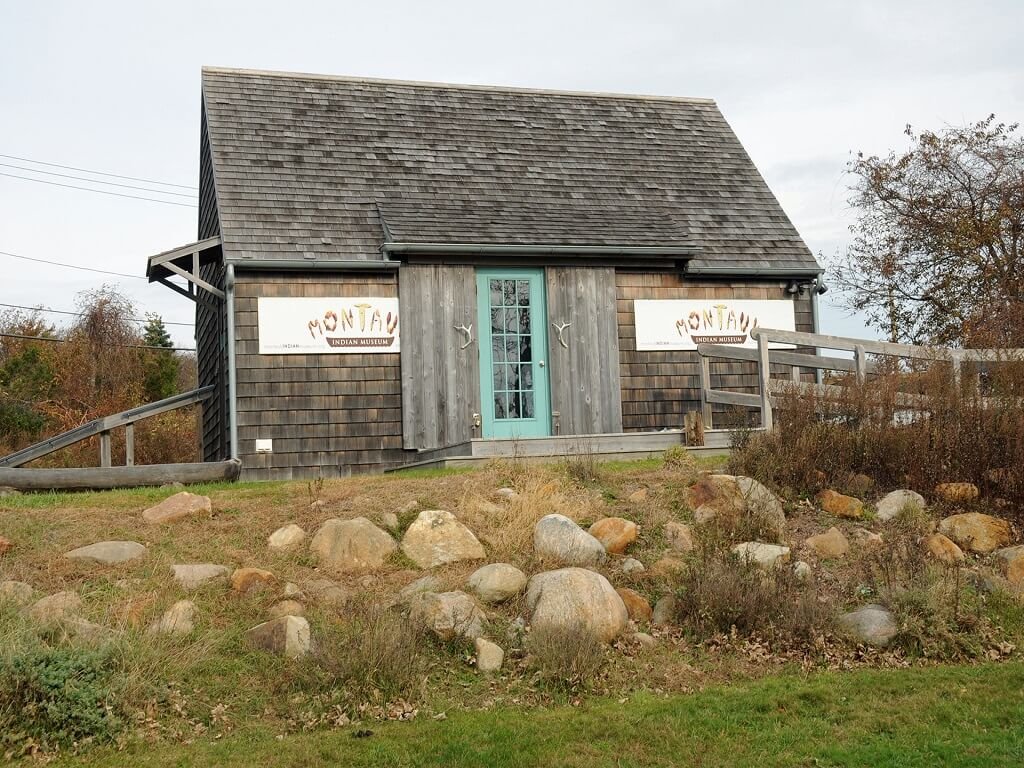 One of the best things to do in Montauk, especially for history buffs, is to go to the Montauk Indian Museum and learn about the area's rich history. Like everywhere else in the United States, this land was once home to Native American tribes. And they have lived in the area for a very long time.
Also, the Montauk Indian Museum is run by the Montauk Historical Society, which is in charge of the Montauk Point Lighthouse and a few other important historical sites. At this museum, you can see tools used by ancient people and learn about how they lived.
As a proud history nerd, I loved going to the Montauk Indian Museum and learning about the Montauk Native Americans. It was both eye-opening and interesting, and it is definitely one of the most important things to do in Montauk.
59. Wölffer Vineyard
At Wolffer, you can relax and drink wine among the grapevines. Plan to spend an afternoon there enjoying their live music, charcuterie boards, and summer rosé, which is a very popular drink. This popular vineyard screams summer and is a must-do in the Hamptons. The vineyard has a wide range of wines, ciders (try the dry rose cider! ), spirits, and even a few non-alcoholic wines. Tastes and tours have to be booked ahead of time.
60. Clam Bar at Napeague
Over the last 40 years, the Clam Bar at Napeague has been a landmark for food lovers in the Hamptons. This local favorite is known mostly for its clams, burgers, and hot dogs. It's a casual place for travelers who need a quick gourmet meal to hold them over until dinner. Most people like clam strips that have been fried. We also thought the tuna bites were great. I didn't like the raw clams. The plate had a bit of dirty water and smelled like an aquarium.
Conclusion
Montauk is like a beach version of New York City, but with a more laid-back feel. If you choose Montauk as your vacation spot, you're in for an adventure you'll never forget.
Frequently Asked Question (FAQs) about Best Things to Do in Montauk, NY
How do I spend a day in Montauk?
If you're sick of the beach, here are some things to do in Montauk:
Visit the Montauk Brewing Company.
Visit the lighthouse at Long Island's most eastern point (Montauk Point State Park)
Deep Hollow Ranch has horseback riding.
Charter a boat to go fishing or sailing.
Ride your bike around the whole island.
What is Montauk NY known for?
Montauk is between the Atlantic Ocean and Block Island Sound. It is known for its beautiful beaches, like Ditch Plains, oceanfront places to stay, things to do for kids, fishing, surfing, paddling, seafood restaurants, nature trails, events, music and art festivals, and weddings.
Is it worth visiting Montauk?
But in the last few years, Montauk has become a popular place on the East End for people who want to get away to the beach. Many people think of the Hamptons as a place to go only in the summer, but if you go during the off-season, you can enjoy all there is to see, do, and eat without the crowds.
Why is Montauk special?
Why does Percy's mom like Montauk so much? It was there that she met the man who was Percy's father.
Is Montauk worth a day trip?
But don't let those few hours stop you from taking a day trip to Montauk. Montauk has many beaches, some of the most beautiful state parks in New York State, lots of outdoor activities, and a huge number of restaurants. Even though you might want to stay here for a few nights, keep in mind that this is the Hamptons.
Is Montauk considered the Hamptons?
North Hampton, Southampton, and Montauk are all on the Atlantic Ocean, but Montauk also has a harbor, a pond, and a few bays on its coast.
Why is Montauk so popular?
There are six state parks in Montauk, which is a popular tourist spot. It is known for its fishing, and it says it holds more world records for saltwater fishing than any other port in the world.
Why is Montauk called the end?
Many people who live on Long Island call Montauk "The End" because it is the most eastern part of the island and the state. Montauk is full of history. It is named after the Montaukett tribe of Native Americans, who lived there and fished, hunted, and raised cattle.
Can you go up in the Montauk Lighthouse?
The state park and its grounds are well taken care of. There are places to eat and hike in the park. You have to pay to park, but it's not too much. The lighthouse has a separate fee to get in. You can't climb the tower right now because it's being fixed up.
How should I dress in Montauk?
In Montauk, the goal is to look casually cute and like you didn't put much thought into your outfit. Put on a pair of cut-off shorts and a cropped blouse, and you'll be ready for anything, from dinner at Scarpetta Beach to watching the sunset at The Crow's Nest.
Do you need a car to get around Montauk?
Let me say that again: to get around Montauk, you need a car. You can also get around on a bike, but the distances between the most important places in Montauk are far enough that I would have preferred a car.
What's out there Montauk?
A new art photography book called "What's Out There Montauk" celebrates creativity and the bodies of women. Kristen Walles made the project, and photos by Audrey Amelie Rudolf and Grant Monahan are part of it.
Is Montauk nice?
I went to school here in Montauk, and I made friends that I will treasure forever. The people here are so nice, and so are the restaurants and stores. In the summer, it's really busy here, and it's nice to see so many people because our town is usually pretty quiet.
What does the word Montauk mean?
A person from a Native American group that used to live on the eastern end of New York's Long Island. noun. 1. A person from one of the Algonquian tribes of eastern and central Long Island who had ties to the Montauk. noun.
Does Uber work in Montauk?
Ride-hailing apps like Uber and Lyft don't have local offices like taxi services do, so this law doesn't apply to them. By 2015, the town was following the law more strictly, so Uber had to stop working in East Hampton. In the town limits, you can find Montauk, Amagansett, Springs, and Wainscott.
Is Montauk expensive?
According to a new survey by CheapHotels.org, the most expensive place to travel in the US is Montauk. The survey looked at the average cost of a place to stay in each state during the month of August. All of the places being thought about have three stars or more and are in great places.
Is Montauk a village?
The historic Montauk Tennis Auditorium, also called the Montauk Playhouse, is right below Montauk Manor in the village of Montauk in Suffolk County, New York.
Who developed Montauk?
It was built in 1796 and is the 4th oldest lighthouse in continuous operation in the US. In 2012, it was named a National Historic Landmark. The Montauk Manor in a picture. It was built in 1927 and was the main part of Carl Fisher's plan to make Montauk a rich resort area.
How walkable is Montauk?
You can walk around the village of Montauk, but you may want to go to other parts of the Hamptons. Some of the fun bars and restaurants are spread out around 19 mile town and the rest of the Hamptons.
How do you get to Montauk Lighthouse without a car?
If you don't have a car, the best way to get from Montauk Station to Montauk Lighthouse is to take the bus, which costs $3 and takes 43 minutes. How long does it take to get from Montauk Station to the Montauk Lighthouse? The bus from Montauk Village to Montauk Lighthouse stops four times a day and takes 43 minutes, including transfers.
Is there a ferry from Montauk to New London?
There is a ferry run by Viking Fleet that goes from Montauk to New London four times a week. The price of a ticket is $35 to $50, and the trip takes 1h 15m.
How do you get to Montauk from NYC?
The train is the best way to get from Manhattan to Montauk. It takes 2 hours and 32 minutes and costs between $18 and $30. You can also take a bus, which costs $30–$75 and takes 3h 35m and costs $30–$75.
What language did the Montauk tribe speak?
Before the 17th century, people in Montauk spoke Mohegan-Pequot, which is also called the Algonquian "N"- dialect. Around 1600, they started to use the "Y" language.