Bali, popularly known as the "Island of the Gods," is a stunning location to visit experience the most enjoyable honeymoon trip. The mouth-watering cuisine, the fascinating culture, top-notch resorts, and exciting shopping opportunities are the things that make Bali a tourist hotspot for many travelers around the world. Because of the calm and tranquil atmosphere, couples often visit this place for a romantic getaway. Are you planning to surprise your partner on a romantic trip? Then you should certainly visit Bali to enjoy the most memorable experience. In this article, you can learn about the 10 most instagrammable places to visit on Bali Honeymoon.
There are several locations in Bali that are incredible for spending your ideal romantic time. You can simply unwind in Bali's true beauty while spending a lovely trip with your partner. Here are the 10 most instagrammable places to visit in Bali on your Bali honeymoon package.
Mount Batur
Bali Swing
Jimbaran Beach
Sidemen Valley
Sekumpul Waterfall
Tegallalang Rice Terraces
Tanah Lot Temple
Sunset Dinner Cruise
Thousand Islands viewpoint
Sanur Beach
Mount Batur
Mount Batur, Bali's famous travel destination for hiking is a picturesque location too. This location is beautiful and is famous among tourists for its picturesque natural surroundings and wonderful photo opportunities. You will be astounded by the area's breathtaking beauty when you reach the summit of Mount Batur.
Visit this place with your partner in the morning and witness the gorgeous sunrise view. Given the soothing climate and stunning caldera view, hiking is an ideal activity for travelers who are visiting this place. Visit this place with your partner and enjoy a great time taking beautiful honeymoon photos.
Bali Swing
One of the most prominent locations that are renowned for its wonderful photo opportunities in Bali is the Bali Swing. Every couple who is visiting Bali on their honeymoon trip will not miss this experience. Given its alluring natural surroundings serving as a backdrop, this is the best spot to capture romantic moments with your partner. Not only is this place great for photos, but it's a perfect place to enjoy an adventurous swing ride on your Bali trip.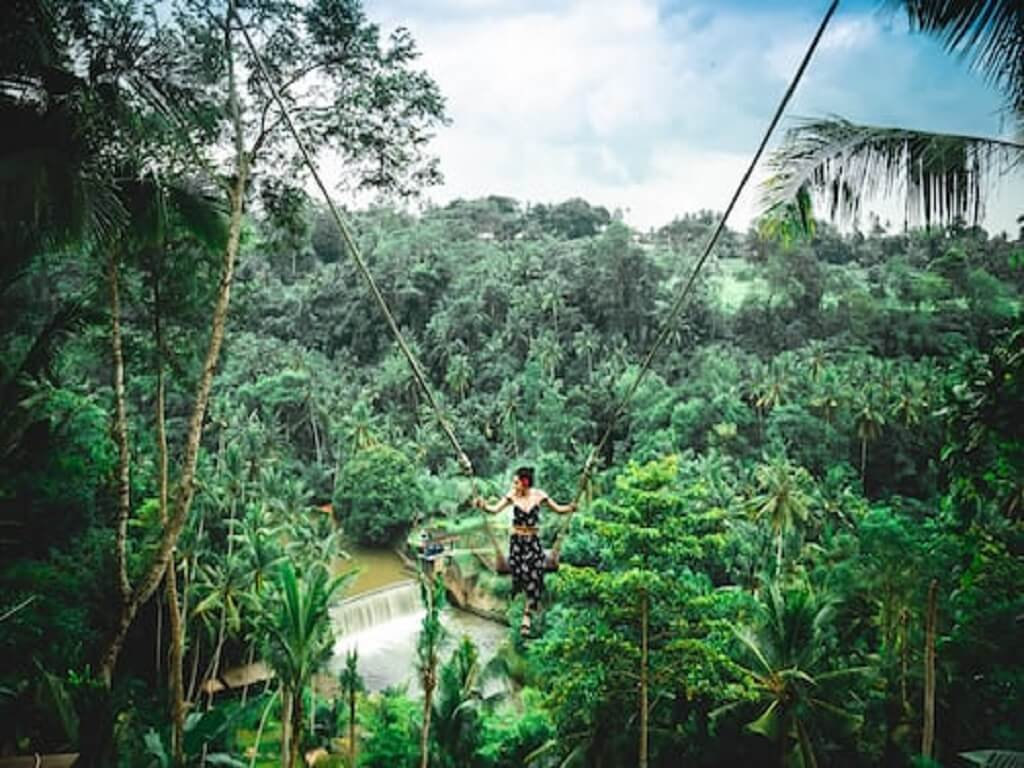 Jimbaran Beach
Jimbaran Beach is a quiet and peaceful location in Bali and is best suited for tourists who want to enjoy a peaceful holiday vacation. The white sand beaches, the turquoise sea water, and the tranquil natural surroundings are certain things that make this beach a unique spot for couples. Due to its reputation as Bali's best surfing location, this beach is popular among surfers. Also, the place is packed with numerous eateries and shops, making it ideal for an exciting shopping experience. Visit this beach with your partner and enjoy a happy honeymoon vacation.
Sidemen Valley
Sideman Valley is one of Bali's most alluring places and is renowned for its stunning landscapes. This scenic location is unquestionably one of the top spots to sightsee in Bali. Surrounded by gorgeous paddy fields and lush vegetation, Sideman Valley is one of the most appealing places to capture beautiful photographs with your partner. The Sidemen Valley is a fantastic location that preserves Bali's stunning natural environment and visiting beautiful places ensures the best holiday experience in Bali.
Tegallalang Rice Terraces
Tegallalang Rice Terraces is a place that is best suited for sightseeing activities. Every spot in this location looks absolutely stunning, with lush greenery and spectacular views. You will be surrounded by stunning views of rice terraces and luxuriant vegetation everywhere you look. Travelers often visit this place to enjoy a peaceful time with their friends and family. Visit this place as part of your honeymoon trip and enjoy the picturesque natural surroundings.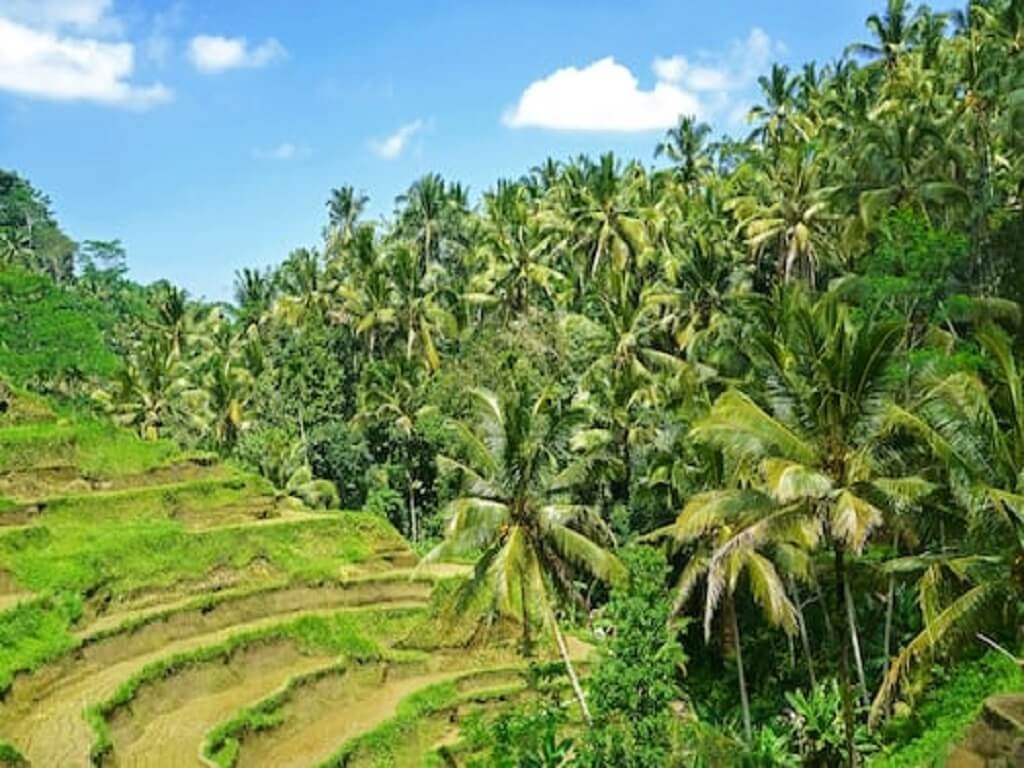 Sekumpul Waterfall
Located in Buleleng, Sekumpul Waterfall is a group of seven magnificent waterfalls. To enjoy the most relaxing experience, visit Sekumpul waterfalls. This site is undoubtedly one of the best among the many Bali attractions because of its beautiful green surroundings. The Sexual viewpoint, which is the main highlight of this place, offers stunning scenic views and is definitely a wonderful place for taking photos with your loved ones. Whether you are looking for a location to enjoy a romantic trip or simply wish to unwind, Sekumpul waterfalls are the place to visit.
Tanah Lot temple
Constructed in the 16th century, Tanah Lot Temple is one of the key historical landmarks in Bali and is well known for its most remarkable picturesque views. The temple is frequently visited by photographers who come to capture the captivating beauty of the region due to its breathtaking sea vistas. Visit the Tanah Lot temple and be awed by the breathtaking beauty of the natural surroundings. This ancient historical temple serves not only as a tourist hub but also as a significant historical monument in Bali. Visit this beautiful temple with your partner to explore Bali's natural beauty.
Sunset Dinner Cruise
One of the most romantic activities that should not be missed among Bali attractions is the Sunset Dinner Cruise. Start your cruise adventure in Nusa Dua and explore the island while taking in the gorgeous scenery.
Enjoy the most lovely and romantic cruise dinner with your partner while enjoying the breathtaking sunset view. While you enjoy your time here, you can also enjoy taking amazing honeymoon photos with your partner. Take your partner on this fantastic cruise and let yourself be mesmerized by Bali's breathtaking beauty and the enticing sunset scenery.
Thousand Islands viewpoint
The Thousand Islands Viewpoint is possibly one of the top tourist destinations in Bali and is one of Nusa Penida's more well-known attractions for photographers. Often referred to as Pulau Seribu, the Thousand Islands is a hilltop region featuring panoramic sea views. This place is ideal for trekkers who come to enjoy the scenic beauty and also for exciting photo opportunities. To experience the most tranquil surroundings on your Valu trip, visit this place and make your Bali trip more memorable.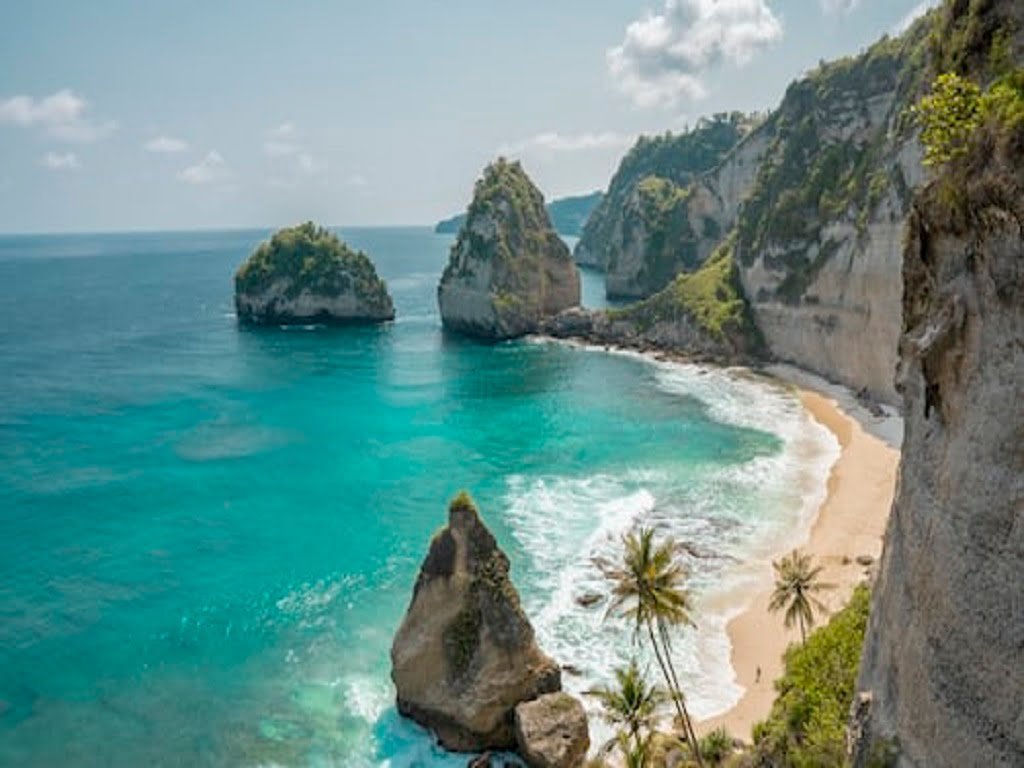 Sanur Beach
Sanur is known for being among the most serene tourist destinations in Bali and is a thriving spot for numerous entertaining activities. You will appreciate the tranquil atmosphere and natural scenery of Sanur Beach. This spot is secluded, offering you the perfect opportunity to enjoy a romantic time with your partner. You may find a variety of eateries and cafes to try the local seafood of Bali. The location is also conveniently close to hotels and shops, which offers an amazing shopping experience.
Are you ready for the most romantic holiday trip with your partner? At Pickyourtrail, we offer amazing Bali honeymoon packages for you to enjoy your ideal vacation with your loved ones. Check out our packages and enjoy a great holiday in Bali.