Joshua trees are succulents, which are a type of plant that stores water. In their dry environments, though, they are known as desert trees. Mormon settlers in the 19th century named Joshua trees after the biblical figure Joshua because they felt that the outstretched branches of the trees helped them find their way west. In this article, you can learn about the things to do in Joshua tree.
Joshua trees are succulents, which are a type of plant that stores water. In their dry environments, though, they are known as desert trees. Mormon settlers in the 19th century named Joshua trees after the biblical figure Joshua because they felt that the outstretched branches of the trees helped them find their way west. In this article, you can learn about the things to do in Joshua tree.
Joshua trees usually only have one trunk and grow to be 3 to 9 feet (0.9 to 2.7 meters) tall before they start to branch out. At the end of each branch are a cluster of prickly leaves and round, white flowers. Most Joshua trees have trunks that are between 0.3 and 0.9 meters (one to three feet) in diameter. Joshua trees can get as tall as 20 to 70 feet (6 to 21 meters), but they rarely get taller than 40 feet (12 meters).
Where to Stay in Joshua Tree?
Many of the best places to see in Joshua Tree National Park are near the North Entrance (in Twentynine Palms) and the West Entrance (in Joshua Tree town). We have a full guide on where to stay in Joshua Tree, but here are our top three picks for couples, small groups, and families:
1. M&L Desert Cottage: This beautiful two-bedroom cottage is only 6 minutes by car from the north entrance to Joshua Tree. The cottage has been redone from top to bottom, and it is now the epitome of desert chic.
Location: North Entrance/Twentynine Palms is the place. We love this entrance to Joshua Tree National Park because it is close to many of the park's best spots and is a much quieter way to get into the park. Joshua Tree Town is 20 minutes away by car from M&L Desert Cottage.
2. Castle House Estate: This is a great example of the unique Joshua Tree vibe. You can stay in guard towers, yurt tents, a tiny container house (the perfect chance to try living in a tiny home!), or a vintage RV.
Location: West Entrance/Joshua Tree is the place. Castle House Estate is 20 minutes north of the park entrance and 10 minutes south of Joshua Tree Town.
3. Fairfield Inn & Suites by Marriott Twentynine Palms: The Fairfield Inn is one of the hotels we stay at when we're in the park and want to rest somewhere clean and quiet. The hotel has a small pool in the back, free breakfast, a laundry room, and a grocery store right across the street. Check prices now!
Location: North Entrance/Twentynine Palms is the place. When we have to get up early and stay out late in the park, we choose the Fairfield Inn because it is convenient.
45 Best Things to Do in Joshua Tree 
1. Hidden Valley Nature Trail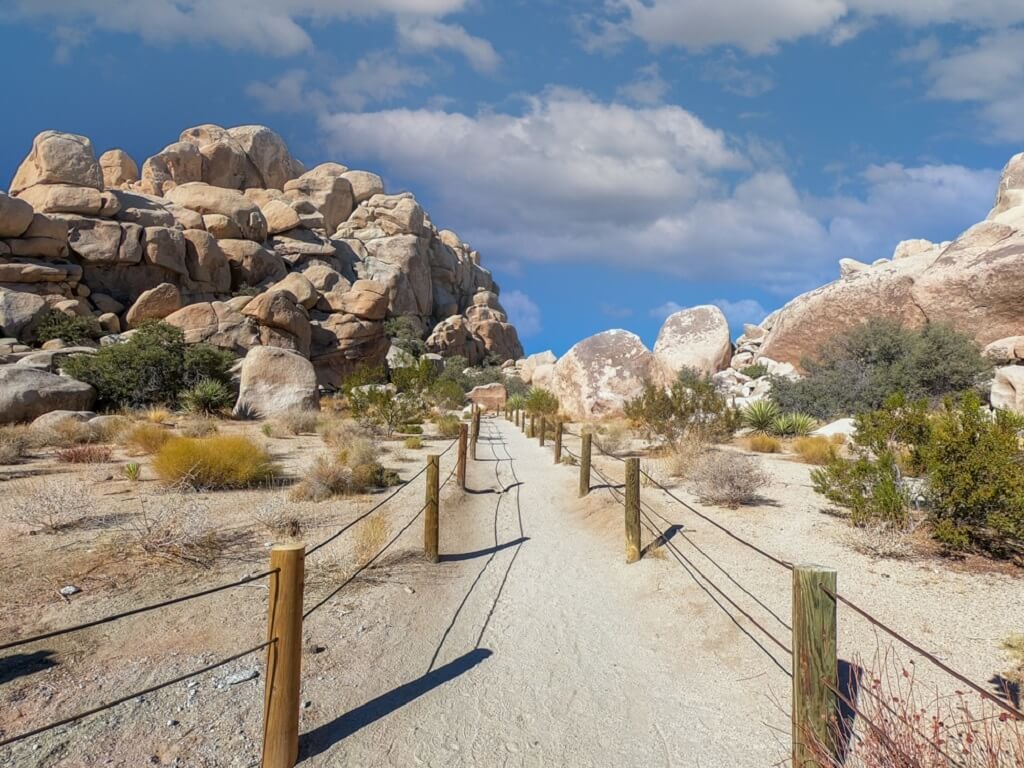 Joshua's Hidden Valley is one of the most beautiful places and easy-to-get-to spots in the park. It's perfect for a short hike or just wandering around among the trees and rock formations.
The Hidden Valley Nature Trail is a fun one-mile loop that leads into a large bowl surrounded by rock walls through an opening. Hidden Valley is thought to have been used by cattle rustlers in the past because of the way it looks. They would bring the cattle here to hide them.
This is one of the most popular hikes in Joshua Tree National Park because it is easy and has beautiful views. There aren't many Joshua trees there. On this trail, there is a big rock called the Great Burrito, which is a popular place to climb in the park.
2. Check out the Joshua Trees
Joshua Tree National Park has a lot of things to do, but the main reason to go is to see the Joshua trees. Joshua trees are pretty crazy. They look more like something Dr. Seuss would make up than a real tree. And even though they look like trees, they aren't really trees because they have fibers instead of growth rings.
They are a type of plant called a yucca. The name "Joshua tree" comes from the fact that the first Mormon settlers thought the trees looked like the Bible character Joshua with his arms raised to the sky in prayer. They are different sizes and shapes. And I think that, like snowflakes, no two are the same. During my trip, I spent hours taking pictures of Joshua trees, and you'll probably want to do the same.
The best place to see Joshua trees is to pull over anywhere along Park Drive. In the northern part of the park, Joshua trees are pretty much everywhere.
3. Barker Dam
The Barker Dam Nature Trail is an easy 1.3-mile loop with great views of the rocks and Joshua trees. You might even see a desert tortoise! We went in the summer when the water was gone, but the boys still liked seeing the dam. The petroglyphs were a fun part of the trail for us. We had never seen them with color before. The reds and blues looked so pretty against the white sandstone.
4. Jumbo Rocks
At Jumbo Rocks, you can explore a sea of huge rocks. This part of Joshua Tree National Park has trails that go through it, or you can go exploring on your own. These groups of boulders are great for both rock climbing and taking pictures.
Some of the groups of boulders here are so famous that they have their own names. When you go to Arch Rock and Skull Rock, you can see some amazing views. Arch Rock trail is an easy nature trail that will take you on a one-mile walk through the center of these rock formations.
5. Simi Dabah
Simi Dabah is a self-taught artist and welder. For more than forty years, he has been making welded steel sculptures out of scrap metal from factories. He makes a lot of art and thinks that using trash to make art is good for the environment and gives inspiration to the people who see it. His sculptures come in many different shapes and sizes, from small enough to fit on a table to more than 20 feet tall. Most of the outdoor pieces are left alone to rust and develop a warm patina.
6. Noah Purifoy Desert Art Museum
Purifoy was born in Alabama, and he got his MFA in 1956. After that, he started making art out of things he found. He got a lot of attention for a traveling show of sculptures made from burned pieces of trash from the Watts rebellion in 1965. In the late 1980s, he moved his art business from LA to Joshua Tree. He was a well-known artist, and his work is kept at the Whitney Museum of American Art, the LA County Museum of Art, and the National Gallery in Washington, DC.
Purifying the ten-acre museum is a collection of what he called "assemblage sculptures" that make for a lot of fun. Pat and Charlie take care of the site. Pat takes care of things and acts as an unofficial historian, and Charlie is the guy who fixes things. They work hard to keep Purifoy's vision alive by making sure the sculptures are safe and in good shape.
The sculptures are made of all kinds of things, like bikes, bowling balls, old appliances, furniture, kegs, and scrap metal. There are also a lot of pieces made from old toilets, which, thanks to Purifoy's vision, turned out to be much more elegant than you might think.
7. World Famous Crochet Museum
The self-named World Famous Crochet Museum is just as cute on the inside as it is on the outside. It is housed in a neon green photo booth.
The tiny booth is jam-packed with colorful and cute crochet works. The museum has a large collection of crocheted superheroes, unicorns, bears, and teapots. The World Famous Crochet Museum is part of Art Queen, a quirky art complex where recycled art is the main theme. The Crochet Museum is full of really cool installations and works of art that you can buy.
8. Keys View
The drive up to Keys View, a lookout point at more than 5,000 feet, is well worth it. From there, you can see a wide view of the Coachella Valley. In the distance, you can see the San Andreas fault line, Palm Springs, the Salton Sea, and, on a clear day, Mexico. If the air is clear, the view is amazing, and it's a great way to figure out where you are in the area.
As you drive up here, the elevation changes, the temperature drops, and the landscape look completely different.
9. Try to Spot Some Wildlife
Even though it may look like the desert is empty, it is actually full of animals. Just slow down, be quiet, and look in the right places. During my trip, I saw a gray fox, coyotes, lizards, cottontail rabbits, Jackrabbits, ground squirrels, chipmunks, a golden eagle, hawks, quails, hummingbirds, and bats. Big horn sheep and an endangered tortoise live in Joshua Tree National Park, but we didn't get to see them. The park is also home to rattlesnakes, scorpions, tarantulas, and mountain lions, but I didn't want to meet any of them.
If you camp in the park, you're likely to see some of the more common animals that hang out on the campgrounds. Some of these are rabbits, chipmunks, and ground squirrels. At night, you might also hear bats chirp or coyotes howl. The best place to see big horn sheep and other animals that stay hidden, like foxes, is on the Boy Scout Trail or the Willow Hole Trail in the Wonderland of Rocks.
10. Skull Rock
The boys were very excited about this one, but you should know that there are a lot of people there. When we went hiking, we didn't see many people on the trails, but I think that's because everyone was there. It's also easy to get to and right off the road, so more people tend to stop here. Still, it was fun to go outside and take a picture.
11. Stargazing
The night sky in Joshua Tree is a great place to look at the stars. Far from the haze of Los Angeles, the night sky in the desert is so clear that it's easy to see constellations. Visitors who camp in Joshua Tree National Park or stay nearby can see beautiful sights at night.
When people go stargazing in Joshua Tree, they can see the Milky Way, which is a once-in-a-lifetime chance. Don't go when the moon is full, because the light can make it hard to see the stars.
12. Giant Rock
Giant Rock is a big, freestanding boulder in the Mojave Desert near Landers, California. Native Americans from Joshua Tree think of it as sacred, and it is seven stories high and covers 5,800 square feet of land. Giant Rock is said to be the largest boulder in the world that stands on its own.
13. Krblin Jihn Kabin
This cabin art project is by far the strangest thing to do in Joshua Tree town, and it has made me change my list of things to do.
Before I turn 60, there are 60 things I want to do and see. It has epic landscapes like Australia's Great Ocean Road and urban adventures like this street art festival in Honolulu. On that list, there is a whole section for unusual places like Slab City, California (which is two hours south of Joshua Tree and worth a visit).
I had no idea, though, that there was a whole other universe waiting for me. With the Kcymaerxthaere, an art project by Eames Demetrios, that universe is coming to life (pronounced Kymaaar-ecks-fear). Demetrios has made up a world that is similar to ours but not the same. It has heroes, struggles, religious wars, and all kinds of other problems.
With 140 plaques and installations in 29 countries, such as Joshua Tree, he has brought this world to life.
The Kabin is about a religious war that broke out in the area. The prisoners of war from the losing side, who were called heretics, were kept in these cabins. Kevin John lived in this cabin, where he wrote religious messages on the walls. The installation is set up to look like a run-down homesteading cabin with "historic" signs that explain what is going on.
This isn't done with a funny face. Demetrios shows Kcymaerxthaere as a serious project for culture. Because the world-building is so complete and the world itself is so complicated, it has definitely made me want to find more of the installations.
14. Beauty Bubble Salon and Museum
Beauty Bubble Salon and Museum is a great hair salon and coke museum. Around the hair wash stations and styling, the chair is an amazing collection of old beauty tools, bright wigs, and old-fashioned dryers.
15. Camping
Joshua Tree is a great place for campers. Camping here is not like camping anywhere else. You will be surrounded by strange rock formations and the Joshua trees.
Several of Joshua Tree's beautiful campgrounds are in places that make it easy to get around the park. Each of these has a different look and feel, but any of them is a good place to spend a night or two under the stars.
The best times to camp here are in March, April, October, and November, which are all in the spring and fall. The nights are cool, but the days are usually sunny and warm. This is not jumbo RV camping; the campgrounds are small and mostly for tent camping, RVs that are less than 25 feet long, or pop-up-style camp trailers.
Hidden Valley Campground is one of the best, but it is first-come, first-served. Jumbo Rocks are the best choice if you want to know you have a spot before you get there. Both are close to all the best places to see and things to do.
16. The Rock Climbers
One of the most popular things to do in Joshua Tree National Park is rock climbing, and climbers come from all over the world to do it. Many climbers spend a few weeks here every winter, living in their vans and enjoying the mild weather. The park has more than 8,000 established rock climbing routes. As climbers scale what look like impossible cliffs, it can be very entertaining to watch them.
Best Places to Watch Rock Climbers in Joshua Tree National Park: The park has a lot of climbing areas, so you are likely to see people climbing or bouldering almost anywhere. Bouldering is climbing on small rocks that aren't very high off the ground without a rope. The Quail Springs picnic area, Intersection Rock, the cliffs around the Hidden Valley campground, and the Hall of Horrors climbing area pull-out are all popular places to see climbers. All of these places are easy to find and have signs from the main park road.
17. Ryan Mountain
This hike can be hard because of the height, but I'm so glad we did it! It's 3 miles round-trip, and in 1.5 miles, you climb 1,000 feet. Since it was summer, we were told to leave early, so we were on the trail by 8:30 am. I wish we had gone sooner because it gets so hot, but if you go early, the mountain will give you some shade before the sun is directly overhead.
From the top, there are beautiful views in every direction. You can see all of the areas around the Coachella Valley. Bring a snack for mid-morning and have fun once you reach the top. And don't forget that it takes about half as long to go down as it did to get to the top.
18. Fortynine Palms Oasis Trail
This trail is a must-do if you want to find a lush oasis in the middle of a desert. Since the start of the Forty-Nine Palms Oasis Trail is outside the park's gates, this hike doesn't cost anything. This trail is just over three miles long, but some parts can be tough.
On the trail, you can see the whole valley and geometric shapes in the rocks. As you get closer to the oasis, you'll see some strange-looking tall palm trees. Keep an eye out for toads and other animals looking for water at the oasis.
19. Salvation Mountain
Leonard's passion led him to create this amazing work of "outsider art," which is full of religious and biblical quotes like "The Lord's Prayer," "John 3:16," and "The Sinner's Prayer," as well as flowers, trees, waterfalls, suns, bluebirds, and many other interesting and colorful things.
People who have made the trip will tell you that you have to see Salvation Mountain to fully understand it. It stands 50 feet tall and is 150 feet wide. It is made entirely of local adobe clay and paints that were donated, and it is the only one of its kind in the United States and probably the whole world. Salvation Mountain is all about "Love." From the Sea of Galilee at the bottom to the big red heart in the middle to the cross at the very top, "Love" is the main theme.
20. Pioneertown
I heard Gene Autry's ghost singing down the main street of Pioneertown, which was very dusty. Since he has been dead for more than 20 years, that is creepy. But I heard him loud and clear. One of his most famous songs was coming out of the film museum, and I knew it was him.
Roy Rogers' group of businessmen built Pioneertown in 1946, and it was made to be a permanent movie set. The Cisco Kid series, Annie Oakley, Judge Roy Bean, and the Gene Autry show were all filmed there, among many others.
21. Joshua Tree Saloon
One of the most popular places in Joshua Tree Town is an old-fashioned watering hole. The decor and food are both great, and the place is dark and rustic. After a long day in the park, there's nothing better than a nice, cold beer at the Joshua Tree Salon.
22. Cholla Cactus Garden
The Cholla Cactus Garden is one of the most interesting places in the park for people who like nature. It has more than a thousand cholla cactuses growing close together on the desert floor. In the desert, chollas are often mixed in with other plants, but in this natural garden, they are the only cacti.
When the sun comes up early in the morning or sets late in the afternoon, the backlit needles almost look like they are glowing, and the mountains in the distance make the perfect background. The Cholla Cactus Garden is on the road to Cottonwood Spring, past the Belle and White Tank campgrounds. It is a beautiful place to walk through.
The Ocotillo Patch is farther down this road, on the way to Cottonwood, but there are only a few of these plants at this pullout. If you want to leave the park on this road, you don't need to stop here because there are more Ocotillos past Cottonwood on the way to Interstate 10.
23. Drink a Date Shake
Since the 1920s, people in the Palm Springs area have liked date shakes. Date growers in the Coachella Valley, south of Joshua Tree National Park, needed to find a way to sell dates to Americans, so they put them in milkshakes. You have to try a date shake if you've never had one.
Where to Get Date Shakes Near Joshua Tree National Park: South of the park, in the Coachella Valley and Palm Springs, there are a lot of places to get date shakes. It all began at the Shields Date Garden in Indio. Shields is a 40-minute drive from the Cottonwood Visitor Center on the park's southern edge. Don't worry if that's too far to go.
North of the park, there is only one place that serves date shakes: Country Kitchen on 29 Palms Highway near where it meets Park Boulevard. They taste great!
24. Joshua Tree Music Festival
Check out the Joshua Tree Music Festival if you like going to music festivals in the desert. This festival takes place in May and October and has more than just live music. Check out a yoga class, a sound bath, a workshop on mindfulness, or a class on writing songs while you're there.
The Joshua Tree Music Festival is a fun and relaxing place for artists and music fans to get together and be inspired. There are a lot of different performers and kinds of music, so there's something for everyone. You might even find your new favorite band!
25. Smith's Ranch Drive-In
Smith's Ranch Drive-In Theater is the place to go in Joshua Tree if you've always wanted to watch a movie under the stars. The movie theater is open from Thursday to Sunday, and it costs $5 per person to see either of the two movies that week. Just drive in, park, and turn your radio to the Smiths Ranch audio channel.
26. Cottonwood Spring Oasis
The Cottonwood Spring Oasis is a rare place in the desert because it has a permanent spring. The flow changes, but it's about 500 gallons per day right now.
The spring started flowing because of an earthquake many years ago. Since then, the Cahuilla Indians, miners, and prospectors have used it. You can still see old pieces of equipment used to process gold and some concrete ruins.
Cottonwood Spring is a great place to watch birds in the park. Birds and other animals come to the area because it has a reliable source of water, shade, and trees. Keep an eye out for Gambel's Quail, hummingbirds, bushtits, and the titmouse with the pointy crown.
27. The Ocotillo Patch
In Joshua Tree National Park, there are more interesting plants than just Joshua Trees and cacti. It looks like a very tall, thin cactus, but it's actually a shrub that loses its leaves in the fall. The ocotillo grows and loses its leaves more than once a year, each time when it rains. Most plants that lose their leaves do so in the fall. It also grows bright red flowers sometimes. These plants are really cool to look at and make for great photos, especially against the blue sky of the desert.
How to Find the Ocotillo Patch: The Ocotillo Patch is in the southern part of Joshua Tree National Park, on Pinto Basin Road. From the Cholla Cactus Garden in the north or the Cottonwood Visitor Center in the south, it takes 25 minutes to drive. Just before a place to park, there is a small sign. On both sides of the road, there is ocotillo.
28. Offroading
You can walk around Joshua Tree, but some people like to see the sights on wheels. In the national park, there are a lot of dirt roads that 4-wheel drive cars and mountain bikes can use.
Take on the rough 20-mile road in Pinkham Canyon, or drive through Covington Flat to see some of the park's biggest Joshua Trees. If you have wheels, you'll be able to see more of the park and more desert landscapes than if you walk.
29. Explore the Park
Give yourself a lot of time to look around the park itself. Joshua Tree National Park is one of the most magical and enchanting places on Earth. It has unique rock formations and Joshua Trees that stand out in the desert.
Joshua Tree National Park has a huge number of things to do, from looking at the strange rock formations to taking in the view from Keys View to exploring old mines and ranches in the wilderness to stargazing under the clear night sky. Check out our list of the 20 best things to do in Joshua Tree for a full guide to Joshua Tree National Park.
30. Wildflowers in Spring
Deserts are beautiful in the spring, and Joshua Tree National Park is no different. In the park, not only do the Joshua trees bloom, but so do a lot of other plants, bushes, and cacti.
The best place to see wildflowers may depend on the week you go, but as a general rule, the area of the park near Cottonwood Spring and the road that leads to Interstate 10 has a great variety of spring wildflowers that bloom in large numbers.
Not too far from the Cottonwood Visitor Center, there are thousands of small Joshua trees, some of which can be seen for miles. The spring bloom here is even more beautiful than the larger Joshua trees because the flowers are closer to the ground and easier to see. From Cottonwood Spring to Interstate 10, there can be a kaleidoscope of colors, from yellow, orange, and red to pink, purple, and blue.
The height of the plant and the weather conditions during the winter affect when it blooms. In general, plants at lower elevations start to bloom in February, while plants at higher elevations can bloom as late as June. You can always count on seeing wildflowers in March and April.
31. Horseback Riding
Knob Hill Ranch, which is west of Joshua Tree National Park, lets people ride horses through the Mojave desert. Even if you've never been on a horse before, you can go on a guided tour at the Ranch.
Knob Hill Ranch encourages guests to warm up on their horses in the pen and also offers lessons to make sure everyone is comfortable. Once you feel confident, you can ride to Joshua Tree and look at the views of the desert and mountains.
32. Desert Christ Park
The 40 white stone sculptures of Desert Christ Park are a beautiful sight. They are set up on a hillside in Yucca Valley. The statues show scenes from the life of Christ, and the park is a peaceful place to be.
33. Bird-Watching
The fact that Joshua Tree National Park is where the Mojave and Colorado Deserts meet, and that there are a few permanent waterholes, brings birds from all over the world.
White-crowned sparrows, cedar waxwings, juncos, and many other birds spend the winter in the park. The greater roadrunner, colorful hummingbirds, red-tailed hawks, kestrels, and cactus wrens are some of the birds that live there. Keep your eyes and ears open for Gambel's quail and roadrunners, which are always fun to watch and listen to.
Barker Dam, Lost Palm Oasis, Cottonwood Spring, and the Oasis of Mara are the best places to see birds.
34. Slab City
Slab City, also called the Slabs, is a desert town that doesn't use the power grid. It is near the Salton Sea. Just outside of Slab City is Salvation Mountain, which is a big, colorful piece of art that people often take pictures of.
At the outdoor art garden in the East Jesus neighborhood, you can see a lot of strange art installations. There are stacks of old TVs, cars with funny decorations, a towering mammoth made from blown-out car tires, and more.
35. The Station
At first glance, the Station looks like a gas station, but it is actually a souvenir shop for Joshua Tree. It sells custom-made souvenirs, cacti in pots, and great coffee. Outside, a giant desert cowboy towers over the station forecourt, making it impossible not to stop and take a closer look.
36. Gaze up at the Stars
Joshua Tree National Park is a great place to see the stars at night because it is in the desert, has clear nights, and isn't too crowded. Joshua Tree is an International Dark Sky Park, which is a good thing.
Even if you live in a city where the lights make it hard to see the stars, the Milky Way Galaxy and easy-to-find constellations like the Big Dipper and Orion's Belt will blow your mind. Winter is the best time to look at the stars because the days are short and the nights are long, but bring warm clothes because the temperature drops quickly after the sun goes down.
Give your eyes at least 20 minutes to get used to the dark so you can see the stars in all their glory.
37. Mecca Hills Wilderness
In the Mecca Hills Wilderness, the colorful canyons look like the surface of another planet. This wild area is south of Joshua Tree and has trails with ladders that lead through slot canyons.
On these trails, you walk through red canyons with different layers of rock. The trails here are sandy and can be difficult, so bring hiking boots and a lot of water.
38. Route 66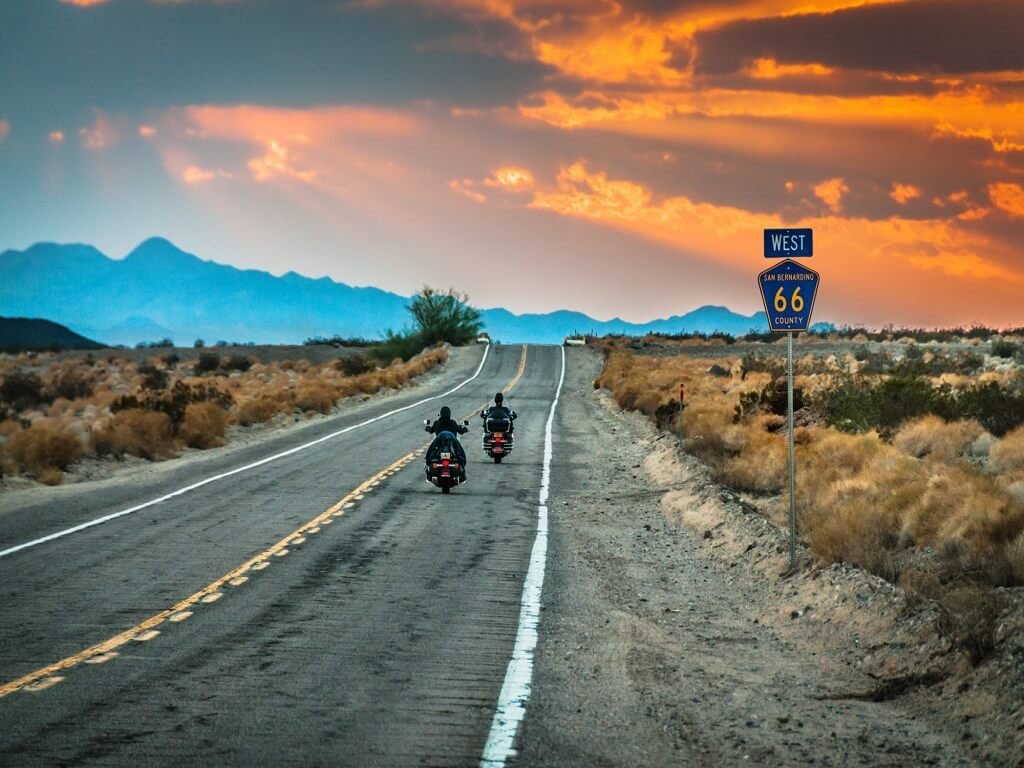 Route 66 is a great way to have fun. Even though Amboy is 45 minutes from Joshua Tree, it had to be on the list because I've always wanted to drive on Route 66.
The small town is on the way from Joshua Tree to Las Vegas, and the famous Roy's Motel and Café is there. Everyone who goes by buys a Route 66 root beer and takes a picture under Roy's famous neon sign.
39. Heart Rock
This rock in the shape of a heart sure won our hearts over! Heart Rock is in the middle of a field of rocks, and the Arch Rock trail leads to it. Heart Rock is still a hidden gem in Joshua Tree. When we went there at sunrise and sunset, we were the only ones there.
40. Start your day off right at The Natural Sisters Café
The Natural Sisters Café is right outside the West Entrance to the park. It's a great place to get breakfast in the morning. The inside is cozy and warm, and they serve healthy, all-organic food like fresh smoothies and wraps. Even though vegetarian options bring in a lot of people, everyone can eat their black bean burger, killer bee smoothie, and vegan carrot cake.
41. Murtle the Turtle, Joshua Tree, California
Murtle the Turtle, also known as "Myrtle the Turtle," is a big turtle sculpture on the side of 29 Palms Highway. It is also known as "Murtle the Turtle." The huge turtle sculpture is on the south side of the highway between Sunset Road and Hillside Road in Joshua Tree. It is called the "world's largest tortoise." Murtle the Turtle started out as a simple float made of wire, wood, plaster, and cement. It was then painted with thick enamel-type paints. Back in 1957, the float was made for the town's Turtle Days Parade. Later, it was made into a sculpture.
Nearest romantic getaways today at night, places near me, best small beach town, local restaurants, outdoors, things to do with kids near me, staycation, beaches, resorts near me, how do I plan: Cincinnati, MD, OR Beaches, HI, Indoor Amusement Parks, Things to Do in Gatlinburg, WI, Orlando, Texas Beaches.
42. Find the Elmer and Barber Pole Trees
The Barber Pole and the Elmer Tree are two of the most well-known Joshua trees (above right).
The Elmer Tree is known for the many branches that grow from its trunk. On the other hand, the Barber Pole is known for having very few branches. Also, the tree has very few branches, and the ones it does have are all at the top.
The trees aren't marked, but there is a small pullout on the side of the road where you can park and take pictures.
43. Check Out The Lost Horse Mine
Did you know that where Joshua Tree National Park is now, there were hundreds of mines? One of the best was the Lost Horse Mine, which had a lot of gold and silver in it.
The 4-mile-long, moderately difficult Lost Horse Mine Trail starts on Keys Road and goes out and back. You can also hike the longer, almost 7-mile loop trail.
On the trail, you can see Joshua trees, yucca, and in the spring, wildflowers. The mill has been kept in good shape, and you can look at it from a safe distance. Walk uphill past the mine to the lookout to see the valley below.
44. The Integration
The Integration is a unique white dome structure that is 20 miles north of Joshua Tree National Park. In a 60-minute sonic healing session, The Integration offers signature quartz signature Sound Baths. Integration is a very unusual thing to do in the middle of the desert, and the Sound Bath was one of our favorite parts of Joshua Tree.
45. Panorama Loop Trail
The Panorama Loop Trail is about six miles long and is a loop trail that goes through Joshua Tree near Yucca Valley. It has a moderate level of difficulty and is lined with beautiful wildflowers. The trail also has many different things to do, and the best time to hike it is between March and October. The start of the Panorama Loop Trail is about 4,000 feet above sea level in the Black Rock Canyon area of Joshua Tree National Park. The trail has some of the best views and most interesting plants in the park.
Frequently Asked Questions (FAQ) about Things to Do in Joshua Tree
What is so special about Joshua Tree?
It is a very important part of the ecosystem of the Mojave Desert because it is home to many birds, mammals, insects, and lizards. Joshua tree forests tell a story of survival, strength, and beauty that comes from sticking with things. They are the silhouette that tells us who live here that we are at home.
Why is Joshua Tree so popular?
In the last few decades, the Joshua trees in the park have been used in a lot of fashion shows and movies, like Selena's "Amor Prohibido" music video from 1994 and Bruce Springsteen's "Western Stars" from 2019. It's a place where people go to find a spiritual connection and get ideas for their art.
Can you just drive through Joshua Tree?
If you plan ahead, you can see most or even all of these places in Joshua Tree in just one day. From the West Entrance to the South Entrance, the whole park can be driven through in less than 2 hours, and I'm sure you can do it with just 5 stops.
What is the best time of year to visit the Joshua Tree?
March through May and October through November are the best times to go to Joshua Tree National Park. Even though the park is open all year, the best times to visit are in the spring and fall, when temperatures average about 85 degrees.
Do I need hiking boots for Joshua Tree?
Hiking boots | In Joshua Tree, you must wear shoes with closed toes. Instead of just sneakers, you could wear hiking boots. Not only do they protect you better from spines on the ground, but they also make you less likely to slip on loose dirt and gravel.
Can you swim in Joshua Tree?
In fact, there are no swimming holes in Joshua Tree. Since water is scarce and often only available during certain times of the year, it must be saved for wildlife. Instead, take the hike quietly so you can see animals like desert bighorn sheep that use it.
What are the dangers of Joshua Tree?
Rattlesnakes, scorpions, and black widow spiders are some of the poisonous animals that live in the park. When hiking or climbing in the park, always look where you put your hands or feet before you put them there. Don't step into or reach for things you can't see. When their hives are in danger, bees may attack.
Are there hot springs in Joshua Tree?
People go to Joshua Tree National Park to hike, explore, boulder, and climb rocks. All are just 45 minutes from Azure Palm Hot Springs. At Azure Palm Hot Springs, you can hike and look around during the day, soak in hot mineral springs in the evening, and chill out in comfort at night.
Is Joshua Tree worth the trip?
Yes! Joshua Tree is a great place to visit. Joshua Tree national park has a lot of different things, like Joshua trees and boulders, as well as the unique teddy bear cholla cactus. Everyone can find something to like in this park.
How many days should I spend in Joshua Tree?
You could easily spend three full days in Joshua Tree just seeing the sights, not to mention going hiking or exploring the area with some of the other things I recommend here. You can also get in with America the Beautiful pass, which can save you money in the long run if you like to visit National Parks often.
Where is the heart rock in Joshua Tree?
Heart Rock is northeast of Arch Rock, at the top of the hill, on a flat piece of rock. The detour from the Arch Rock trail takes about 15 minutes round trip, but you'll also spend time at Heart Rock taking pictures and enjoying the view. One of our favorite things to do in Joshua Tree is a hike to Heart Rock.
Can you do Joshua Tree in a day?
If you only have one day in Joshua Tree, I think camping is the best way to make the most of it. What's going on? Joshua Tree has eight places to camp. During the busy months of October through May, you need to make a reservation for Black Rock, Cottonwood, Indian Cove, and Jumbo Rocks.