If you are looking for someplace fun to visit for a few days, Dubai is the perfect place. There are so many exciting activities for you to do that it might be hard to fit them all in a short time. Dubai is a city that's all about spending money. From the Burj Khalifa to the Palm Jumeirah, the city has some of the most expensive real estate in the world. But it's not all about the money. There's also plenty for the budget traveler to do too. This article breaks down some of the best things to do in Dubai.
Top 6 Things to do in Dubai
Dubai is an exciting place, but it can be challenging for visitors to decide the best thing to do. With so many things to do, there's a high chance of missing out on some of the most exciting experiences. Here's what you need to do:
Visit the Burj Khalifa
Everyone's Dubai trip will become incomplete without paying a visit to Burj Khalifa because it is among the world's best wonders. It is the tallest and most attractive building in the world, with a height of 828m. The grand structure is in the city's heart and is a hive of activity day and night.
The world's tallest building allows you to capture the unmatchable view of the city of Dubai from your eyes. Indeed, viewing the spectacle from the street is exciting enough, but you can also climb to the top of the 160-story behemoth. You should get ready for the excitement of the high-speed elevators before you experience complete awe when you step onto the observation deck.
There are several things to do in Burj Khalifa. You can enjoy the high tea on the 148th floor along with the stunning look of the city. Moreover, you can explore the exhibition that allows you to pay tribute to the traditional arts and crafts on the 125th floor.
Explore the Dubai Aquarium and Underwater Zoo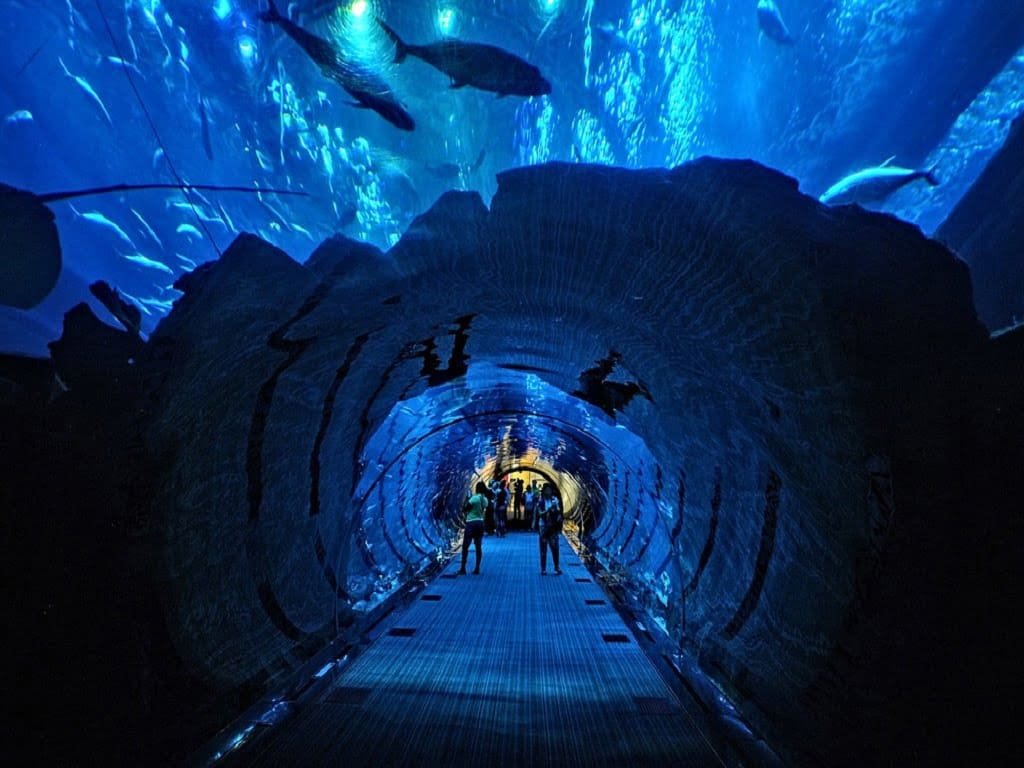 Located inside the Dubai Mall, the Dubai Aquarium and Underwater Zoo is a favorite amongst both adults and kids. This place has an ambient tunnel aquarium, which is amongst the world's largest aquariums. Here you will find over 30,000 aquatic animals, including the largest population of sand tiger sharks. Visitors to the Underwater Zoo can see various animals, including penguins, crabs, piranhas, water rats, jellyfish, sea horses, and many more. Last but not least, this aquarium and underwater zoo will allow you to explore the large collection of sand tiger sharks, which will be a treat to watch.
Have Fun at Cheeky Monkey
Cheeky Monkey Dubai is among the best place you should visit with your kids because this place is specially built for kids activities in Dubai. This place offers a variety of play areas, games, sports, educational programs, and more.
If you are among those who are looking for a kid salon where your kid gets his/her hair cut without any issues, this place is the right place for that task. This kid-friendly salon offers various services, including kids'haircut, styling, and more.
This place also has a 5-level play structure with slides, trampolines, and climbers. Your kids will love spending hours in the life-size monkey clubhouse making new friends and learning about everyday tasks.
Go on a Desert Safari
Desert Safari in Dubai is a place that will allow you to explore unmatchable experiences. You should start your desert safari with dune bashing. You will take a tour of the Dubai desert on a safari adventure that will allow you to marvel at the beautiful view of the dunes.
This desert safari will allow you to create unforgettable moments and capture eye-catching photos at the time of sunset. Moreover, it will allow you to enjoy BBQ or barbeque dinner on a starry night. You will have the chance to choose food between non-vegetarian and vegetarian dishes. As you unwind at the campsite following your Dubai desert safari, you can take in a live performance of belly dancing, a Tanoura dance performance, and a fire show as well.
Enjoy a Thrilling Time at IMG Worlds of Adventure
If you are a thrill-seeker and looking for a place where you can have a thrilling and enjoyable experience in Dubai, the IMG Worlds of Adventure is the best place for you. The IMG Worlds of Adventure is the first mega-adventure theme park in Dubai. It promises visitors four special adventurous zones. This theme park can also get unlimited fun, speed, and 5D entertainment. Thanks to its cutting-edge and thrilling rides, your favorite characters like Ben 10, Avengers, and more, will come to life at IMG Worlds of Adventure. You will also find a kids zone here, meant specially for the little ones. IMG Worlds of Adventure also has Novo Cinemas, where you can watch the latest blockbusters in the most luxurious way. The Haunted Hotel is one of the major attractions of this place.
Ain Dubai
Last but not least, the newest landmark to join Dubai's long list of record-breaking tourist destinations is Ain Dubai. The enormous observation wheel, situated on Bluewaters Island, is the highest and biggest of its kind in the world and has a dizzying height of 250 meters. Ain Dubai is the world's largest observation wheel. Ain Dubai provides a 360-degree view of the urban skyline in a 38-minute mesmerizing journey. Here, 1,750 passengers can experience the breathtaking experience in one revolution in its 48 air-conditioned passenger cabins.
Conclusion
Home to the world's tallest building, Dubai is a city where anything is possible. It's a modern wonder with a diverse culture and a unique future. From architectural marvels to the world's biggest mall, this article has covered the top 6 things to do in Dubai. Do visit them when you are in Dubai to make the most of the city.