Greece all-inclusive resorts provide an idyllic and all-encompassing vacation experience in one of Europe's most captivating destinations. Nestled amidst the turquoise waters of the Aegean and Ionian Seas, these resorts offer a seamless blend of luxury, convenience, and Greek hospitality. 
From the popular islands of Crete, Rhodes, and Mykonos to the historic mainland towns of Athens and Thessaloniki, Greece's all-inclusive resorts are diverse in their settings and offerings. Immerse yourself in opulent accommodations, savor delicious Greek cuisine at a variety of on-site restaurants, and unwind with a refreshing drink at the resort's bars. 
With pristine beaches, sparkling pools, and lush gardens, these resorts create a serene and picturesque atmosphere for relaxation. From vibrant nightlife to ancient archaeological sites, Greece's all-inclusive resorts provide access to a wealth of cultural, historical, and natural attractions. 
Whether you seek a romantic retreat, a family-friendly getaway, or an adventure-filled vacation, Greece's all-inclusive resorts ensure an unforgettable stay in this timeless Mediterranean paradise.
20 Best Greece All inclusive Resorts
If you're dreaming of a luxurious and hassle-free vacation in Greece, look no further than the 20 best all-inclusive resorts the country has to offer. From the stunning islands of Crete, Rhodes, and Santorini to the coastal gems of Corfu and Kos, these resorts provide a perfect blend of relaxation, entertainment, and Greek hospitality. 
Immerse yourself in the lap of luxury with spacious and elegantly appointed accommodations, indulge in delectable culinary experiences with a variety of dining options, and sip on refreshing cocktails by the poolside bars. 
These resorts cater to every traveler's desires, offering a range of activities such as water sports, spa treatments, fitness centers, and entertainment programs for both adults and children. 
Whether you seek a romantic getaway, a family-friendly retreat, or a tranquil escape, these 20 all-inclusive resorts in Greece promise an unforgettable and pampering experience, surrounded by the country's breathtaking landscapes and rich cultural heritage.
1. Aeolos Beach Hotel, Corfu
The Aeolos Beach Hotel is a modern and stylish place to stay if you want to have fun without leaving your hotel. The resort on the Greek island has two pools, a full-service spa, and many things to do, such as tennis, fitness classes, beach volleyball, and more.
Local singers and dancers provide entertainment every night at the hotel. The all-inclusive option includes all meals at the main restaurant, unlimited bottled wine, beer, and soft drinks, sun beds and umbrellas at all pools and the beach, a kids club, access to the sauna and exercise room, and more.
Read More: 16 Best Riviera Maya All-inclusive Resorts
2. Zante and Rhodes
Another Greek island with many All Inclusive choices is Zante. Not only does it have great hotels like the Family Life Alykanas Village hotel, but it also has a great list of things to do, like visiting the Blue Grotto cave, which is straight out of a fairy tale.
Rhodes is another popular All-Inclusive destination. It is the most famous place to go on vacation in Greece because of its huge sandy beaches. All the main costs are taken care of on our All Inclusive vacations to Greece, so you can spend less time thinking about money and more time exploring one of Europe's most popular vacation spots.
3. Ikos Oceania, Halkidiki
Ikos Oceania is a beautiful all-inclusive resort in Greece. It is in the middle of Halkidiki and has a beautiful view of the Mediterranean. It has beautiful grounds that lead down to a private beach.
Ikos Oceania has 298 rooms and suites that are all beautifully built. All of them are elegant and luxurious, and most of them have their own porches. The Deluxe Collection building stands out at the same time.
What's more, four à la carte places turn every dinner into an unforgettable culinary experience. 'Dine Out' takes guests on a tour of some of the best places in the area. Ikos Spa claims to take away all the stress of everyday life because of how calm it is. It also gives people a sense of peace.
4. Ikos Dassia, Corfu
Ikos Dassia is a classy 5-star resort on the island of Corfu that is a real luxury all-inclusive resort. The resort is made up of two main buildings called Sea and Sky. Most of the rooms and villas are in these buildings. Between the two buildings is a long stretch of sand beach with the sea on one side and a row of beautiful swimming pools in different shapes on the other.
The rooms are modern and have a Mediterranean style, with calm colors and a lot of light. Many have sliding glass doors that lead out to porches that face the ocean. There are eight places on-site, so you won't get tired of eating here.
These are spread out between the two main buildings. No matter which building a guest is in, they can go to any of the places. There is also a gym in each building. There are also water sports, a kids' club, an exercise center, and an open-air theatre where you can watch live shows.
5. Mitsis Laguna Resort & Spa, Hersonissos
Mitsis Laguna Resort & Spa is on the beautiful Greek island of Crete and has stately rooms and luxurious pool areas. Laze around on the private beach and take in the beautiful scenery before eating at one of the resort's seven restaurants.
Parents who want some time to themselves can leave their kids at the Mini Club, which has a playground, a pool, and even a kids' party.
6. Cape Sounio Grecotel Exclusive Resort
On the Athens Riviera, just 10 miles south of Athens, is where Cape Sounio Grecotel Exclusive Resort. This lodge is built among pine trees and has a view of the beautiful Temple of Poseidon in Sounio.
Families who want to visit Athens but don't want to stay in the city should stay at the Cape Sounio Grecotel Exclusive Resort, which is a posh seaside resort. If your kids like Greek mythology, take them to the Temple of Poseidon, either during the day or at night. We love looking at the stars at Cape Sounion.
Read More: 30 Best All inclusive Resorts United States
7. Apollonia Beach Resort & Spa
The Apollonia Beach Resort & Spa is a unique place because it is on a river in Malevizi. The Palace of Knossos is a well-known place that people like to see. History fans would also enjoy going to the Natural History Museum of Crete and the Heraklion Archaeological Museum, both of which are nearby.
Guests can also eat at one of the 4 restaurants on the property. All 334 large rooms have plasma TVs, free WiFi, and furnished patios. Some of the other things that guests can use are refrigerators, room service, and hair dryers.
8. MarBella Corfu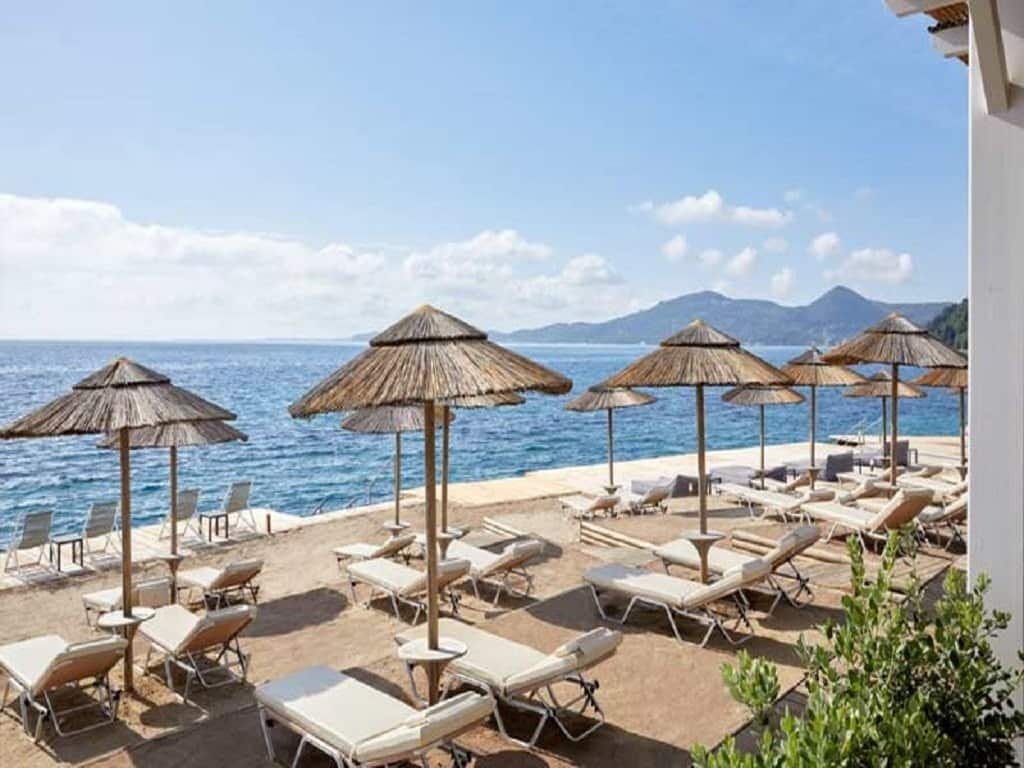 The five-star MarBella Corfu is on a hill with a great view of the straits and the mainland. It also has a beach where you can enjoy kayaking, snorkeling, and other water sports in clean, clear blue waters with lots of marine life. There is also an independent dive school here.
This famous family-friendly Greek resort is a great place to soak up the sun, do yoga on the sand, and relax with massages and body wraps at the spa.
There are several restaurants on-site, including one that serves French food and has a view of the sea. There are many different kinds of rooms, including suites with private pools or hot tubs. All of the rooms have minifridges, flat-screen TVs, and patios.
9. Kiani Beach Resort, Crete
Kiani Beach is another place that is good for families. But this one has a little bit of a twist to it. It has so many things for kids to do (including baby care) that parents might not even see their kids the whole time they are there.
And that's fine, because adults can have a lot of fun, too, with sun beds by the pool, spa packages, water sports, and more. At night, the whole family can get back together to watch the live music or magic shows, which are sure to be fun for everyone.
10. Grecotel Casa Marron, Peloponnese
In Lakopetra, Peloponnese, the Grecotel hotel chain has built a great all-inclusive complex with a beach where you can spend some important time relaxing and resting. The resort also has organised fitness classes in the mornings for people who like to work out. There are football, beach volleyball, and tennis courts in the hotel.
The all-inclusive plan at Casa Marron includes an American-style breakfast buffet, a delicious lunch buffet, snacks at certain times, coffee and pastries, a free wine or beer dinner, drinks, and a lot of activities from morning to night.
11. Sani Beach
Sani Beach is part of the larger Sani Resort on the Kassandra peninsula in the Halkidiki area of Greece. This luxury resort has a plan that includes everything. It faces the Aegean Sea and has a beautiful private beach for guests to use.
This hotel has rooms and suites that are beautifully decorated and have balconies or patios with furniture that face either the sea or well-kept gardens. Rooms also have windows that go from the floor to the roof and let in a lot of light. If you book a room, you'll get a personal concierge and free car service.
There are several places to eat on-site, having both Greek and other types of food. A number of events are also part of the package. Every morning and evening, the resort gives guests a free ride on its boat. Take the evening ride to see the sunset. Yoga, Pilates, and water exercise classes are also offered for free.
At Sani Beach, kids under 12 stay for free if you are travelling with them. And if you have a baby, you can take a baby monitor or a machine that makes white noise. There are also indoor and outdoor play areas, as well as a kids' club. Another great feature is the spa, which offers a wide variety of services. And if you want to bring your dog with you on vacation, you can.
12. Astir Odysseus Kos Resort & Spa, Tigaki
Tigaki is a town on the Greek island of Kos. It is famous for its sandy beaches and clear turquoise waves. The all-inclusive Astir Odysseus Kos Resort & Spa is one of the best places to stay in the area. This lodge is both elegant and cosy, making guests feel right at home.
At this resort, every room has a great view of either the sea, the beautiful pool area, or the lush grounds. Astir Odysseus Kos Resort & Spa is great for travellers who want to stay active while on holiday because it has tennis, water aerobics, scuba diving, basketball, and rock climbing.
13. Grand Resort Lagonissi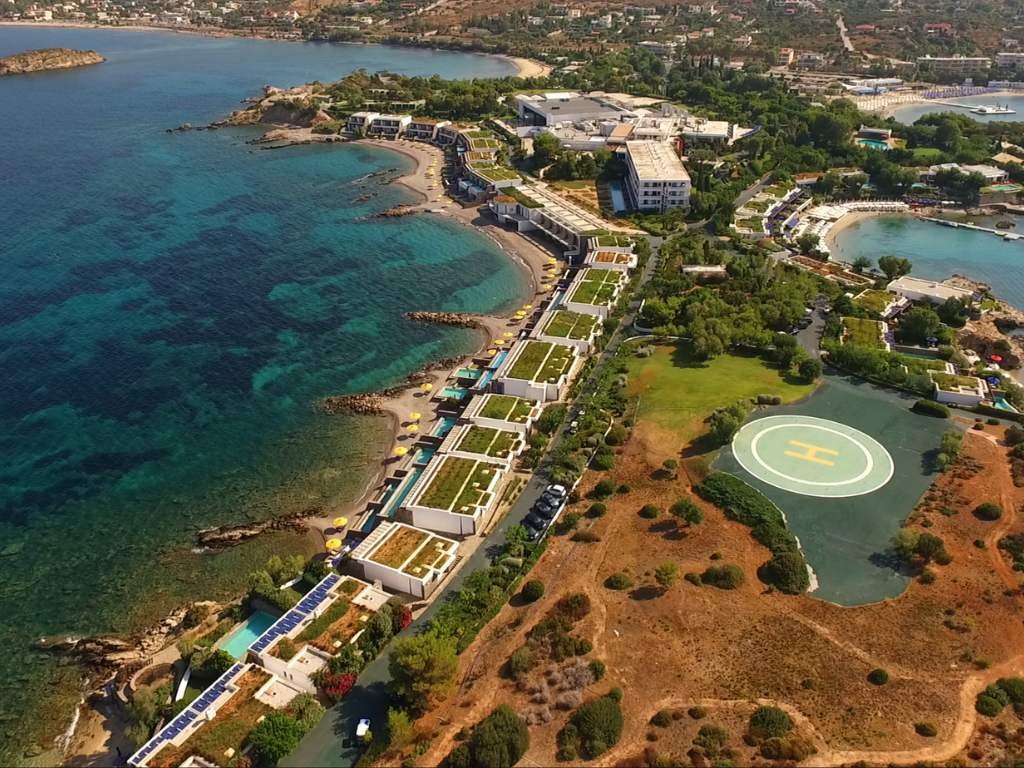 Grand Resort Lagonissi is a great place to stay with your family if you want to spend your holiday in luxury and comfort. There are 16 beautiful beaches near the Resort on the Athenian Riviera. You'll think you're on an island.
The Resort has a "Kids Club," babysitting services, and water sports to keep your kids busy. If your kids like sailing, the Athens Riviera Sailing for Families trip is a great choice.
Read More: 25 Best Adult Only All inclusive Resorts Cancun
14. Poseidonia Hotel Apartments
Poseidonia Hotel Apartments is in Rhodes and is close to the beach. Some of the most important places to see are the Acropolis of Rhodes and the Temple of Apollo. Rhodes Aquarium and Kallithea Springs are two popular places to visit in the area.
There are two outdoor pools, a restaurant, and a bar or club at the Poseidonia Hotel Apartments. WiFi is free in public places. Each room has free WiFi, a kitchenette with a refrigerator, and a patio with furniture. There is also a phone, a coffee or tea maker, and a hair dryer.
15. The Atrium Prestige
The Atrium Prestige is a 5-star spa resort with a beautiful setting on a hillside along the east coast of Rhodes. It is one of the best hotels in Greece and is right on a beautiful beach with great views of the sea. The calm sands have beachside service and are great for sitting. The water is also calm, making it safe to swim.
Guests can also use the PADI dive centre and two big pools with service right by the pools. The luxurious spa has an indoor pool, sauna, and health club, as well as a long list of massages, facials, and body services.
You can choose from a variety of places to eat, including 24-hour room service. The rooms are large and come with minibars and flat-screen TVs. Some suites have their own private pools and Jacuzzis.
16. Creta Maris, Crete
This is for people who like to eat. We've already said that Greece is a great place for food lovers. That's why you should book a room at Creta Maris, a hotel with six restaurants and seven bars, some of which are relaxed and right on the beach, and some of which are fancy and where you'll want to look your best in the evening.
The resort will even set up a spectacular private dinner experience for you with a view of the rocky seaside so that you can eat by the sea with just candlelight and the moon to guide you.
17. Casa Paradiso, Kos
Casa Paradiso is a luxury resort in Greece that is all-inclusive. It is on the island of Kos, just 5 metres from the private beach in Marmaris and surrounded by tropical plants. Casa Paradiso has a spa, a sports court, and a swimming pool with water slides. It also has beautiful rooms with balconies. From there, you can see the park and the Aegean Sea.
At Casa Paradiso, all of the rooms have wooden furniture in warm or cool colours. They also have a sitting area with a sofa, satellite TV, a fridge, and air conditioning. Lastly, they have their own bathroom with a shower and toiletries.
The main restaurant offers Greek and international food for breakfast, lunch, and dinner. There is also a pool bar and a restaurant on the beach where you can get snacks during the day.
Some of the sports and leisure amenities are horseback riding, windsurfing, and bowling. There are shops and bars about 2 km away. Kos International Airport is 10 km from the town. Free private parking is provided.
Read More: 40 Best All-inclusive Resorts for Families in 2023
18. Atrium Palace Thalasso Spa Resort & Villas
Atrium Palace Thalasso Spa Resort & Villas is on the southeastern coast of Rhodes Island and faces Kalathos Bay. It has a plan that includes everything. The architecture of the luxury property is nice, and it does a good job of mixing Greek style with modern elegance.
All of the rooms and suites are big and cosy, and each has a private terrace with a view of either the garden or the ocean. Some of the rooms with upgrades have their own pools or Jacuzzis. The resort is good for families, and if you need more room, there are bungalows and villas you can rent.
In addition to direct access to the beach, the hotel has an infinity pool that looks out over the water, a fancy spa with a saltwater pool, sauna, and steam room, a kids' club, and an exercise centre with classes. There are three places to eat food.
19. Hotel Sentido Port Royal Villas & Spa, Kolympia
Hotel Sentido Port Royal Villas & Spa is a good place to stay in Greece's beautiful Dodecanese area. This five-star resort is known for its easy access to the beach, large rooms, great spa, and stunning views of the Rhodes coast.
There are also vegan, vegetarian, and gluten-free meals at the hotel's four restaurants. This lodge is great for couples or people travelling alone because it is only for adults.
20. Mykonos Grand Hotel and Resort
The beachfront Mykonos Grand Hotel and Resort has large rooms and suites that are perfect for families. It has a spa, an exercise centre, tennis and squash courts, beach water sports, a seawater pool, and an amphitheatre where yoga and pilates classes can be held!
You can stay at the Mykonos Grand Hotel and Resort and do family-friendly tours and activities on Mykonos with Kids Love Greece.
Conclusion
It's safe to say that any of the above family resorts in Greece will give you an amazing vacation. Even if you don't like all-inclusive hotels very much, you have to accept that they are popular for a reason: they can be fun for both parents and children.
All of the places on this list have kids' clubs where you can leave your child with a trained professional while you relax by the pool or on the beach. It's a win-win situation for both of you, since the kids will also have a great time playing with other kids and doing fun things.
Read More: Top 20 Aruba All-inclusive Resorts for 2023
Frequently Asked Questions (FAQs)
What amenities can I expect at an all-inclusive resort in Greece?
Amenities vary, but most all-inclusive resorts in Greece offer comfortable accommodations, multiple dining options, bars serving both alcoholic and non-alcoholic beverages, recreational activities such as pools and fitness centers, and entertainment options.
Are alcoholic beverages included in the all-inclusive package?
Yes, most all-inclusive resorts in Greece include a selection of alcoholic beverages as part of their packages. However, specific offerings may vary, and premium or imported drinks may have additional charges.
Are all-inclusive resorts in Greece suitable for families?
Yes, many all-inclusive resorts in Greece are family-friendly, offering amenities and activities designed for children, such as kids' clubs, playgrounds, and family-friendly entertainment.
Where can I find all-inclusive resorts in Greece?
All-inclusive resorts can be found in popular Greek destinations such as Crete, Rhodes, Corfu, and Kos, as well as other islands and mainland coastal areas.
How can I book an all-inclusive resort in Greece?
You can book directly through the resort's website or contact their reservations department. Online travel agencies or travel agents specializing in Greek vacations can also assist you. It's advisable to book in advance, especially during peak seasons, to secure your preferred dates and take advantage of any available discounts or promotions.