Ladakh – A piece of Tibet in India
Ladakh is today's India is a landscape that is made for hiking and trekking. It is an insider tip for trekking enthusiasts and lovers of the original culture. Barren mountain landscapes, snow-covered mountain peaks, small mountain villages, green oases, ancient fortresses and monasteries, and the Tibetan Buddhist culture characterize this small piece of earth.
In contrast to Tibet, whose Buddhist culture was widely destroyed by the Chinese occupiers, many customs and traditions of Tibetan Buddhism have been preserved in Ladakh. Therefore, Ladakh, which is also called "Little Tibet," is an ideal place to experience this culture.
The former kingdom of Ladakh, a landlocked region in the Tibetan plateau in the western Himalayas, was annexed to India in the 1940s. Ladakh stretches between the Himalayan and Karakoram ranges in the upper valley of the Indus River. It is largely high mountainous, arid, and sparsely populated with 290,000 inhabitants.
The land lies south of the Silk Route. Its location made it ideal for traders wishing to travel from southern China and Tibet to western areas such as Zanskar and Kashmir. The city of Leh was almost in the middle of this connection and became a thriving city like an oasis in the cold desert. Ladakh is surrounded by high Himalayan peaks of 7,000m and 6,000m, such as Nun, Stok Kangri, and Kanglachen.
Travel Route from Leh over Khardung La into Nubra Valley
After you land in Leh, you should first adjust to the altitude. So it is a good idea to explore the surrounding area first. The city has many attractions such as palaces, stupas, a war museum, and colorful markets.
Start your trip by heading towards the Nubra Valley, especially since it is at a lower altitude than Leh and will help you acclimatize. On your route, you will cross the Khardung La Pass, which is the world's highest passable road with an altitude of 5,359 meters above sea level.
The Nubra Valley is one of the most surreal landscapes: golden sand dunes surrounded by huge mountain ranges. You can visit the desert riding a two-humped Bactrian camel, a rare species of camel and endemic to this region.
Continue with a drive to Turtuk, an idyllic village located on the India-Pakistan border. It is one of the last villages in India that continues the tradition of the Balti tribe.
Starting from the Nubra Valley, you can drive directly to Pangong Tso – a lake with sparkling blue waters. Stroll along the shore and admire the stunning beauty of the lake.
Then visit Pangong Tso's brother, Lake Tso Moriri. Its remoteness ensures that few travelers make it this far. Among other things, Tso Moriri is a great place for bird lovers. Last but not least, don't forget about Tso Kar, a lake whose shores are partially covered with salt crusts.
After an unforgettable trip, you can descend to Manali via the Manali-Leh highway.
Here you will be on one of the most difficult roads ever, but the rugged terrain and shallow streams make the adventure worth every effort. As tough as it is, it is rewarding at the same time. The views along the way will make you forget all your efforts.
The Route from Chandigarh over Manali to Leh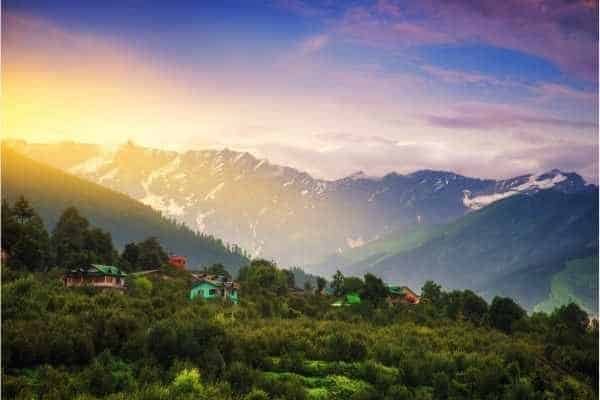 The journey begins in Chandigarh and includes an eight-hour drive to Manali. Once you pass Kullu, lush green mountains and clear blue skies become your faithful companions. With its turquoise waters, the Beas River meanders steadily alongside the road.
With its panoramic mountain views, the town of Manali has become a popular destination in the mountains. When you're not admiring the beautiful view, be sure to soak in the Vashisht hot springs, paraglide in the Solang Valley, and dine in the cafes along the river. After a relaxing trip here, you'll be ready to hit the road to Ladakh.
The route from Manali to Leh is considered one of the most scenic road trips anywhere in the world.
In short, the two-day journey unfolds much like a thriller: you never know what awaits you around the next corner. The landscape alternates between lush greenery and snow-capped peaks, between glacial lakes, charming villages, and lonely wastelands as you cross the high mountain passes. Once you reach Leh, relax for a day and scout out the local sights. For example, stand at the top of Leh Palace and marvel at the Shanti Stupa. Of course, you can also browse the lively markets for antiques and inexpensive winter clothing.
Tips and information
Arrival: Air India offers many nonstop flights to New Delhi, and domestic flights to Leh are available from there.
Planning: Check if you need a visa for India. Recommended travel vaccinations include hepatitis A, rabies, and typhoid.
Trekking: It is necessary to look for a special provider before the trip. For shorter tours, you can spontaneously organize guides and porters in Leh.
Accommodation: In Leh, you can find simple, clean double rooms with families within walking distance of the center from 12 dollars. Nicely constructed yurts a few kilometers away with mountain views cost about $80 per night.