Heading to airports in Dominican Republic? You'll quickly realize that there are multiple international airports to choose from. Wondering which one suits your travel needs the best? We've got you covered with insights on how to navigate through these options.
Planning a trip to the Dominican Republic? Get ready for a fantastic experience! The first thing you'll encounter is the airport, and with several options available, it can be a bit overwhelming. But fret not! We've got all the information you need to make an informed decision about which airport to fly to. Dive in for a detailed guide on what each Dominican Republic airport has to offer.
Overview of the Dominican Republic as a Travel Destination
The Dominican Republic, often celebrated as the 'Crown Jewel of the Caribbean', offers a fascinating blend of culture, history, and natural beauty. From the pristine beaches of Punta Cana to the bustling streets of Santo Domingo, this tropical paradise lures millions of tourists every year. With its rich heritage influenced by Spanish, Taino, African, and other cultures, the Dominican Republic is not just a haven for beach lovers but also for those who appreciate art, architecture, and history.
Importance of Airports in Supporting Tourism and Commerce
Airports play a pivotal role in unlocking the Dominican Republic's potential as a top-tier travel destination. They serve as gateways, ensuring that the country remains accessible to international tourists, business travelers, and trade partners. Beyond tourism, airports in the Dominican Republic have fostered commerce, facilitating the export of goods like coffee, cocoa, and tobacco, and the import of essential items and technologies. Their strategic importance cannot be overstated, as they provide significant employment opportunities and contribute greatly to the national GDP.
Read More: Frontier Airlines Review
What are the Airports in Dominican Republic?
Despite its smaller size, the Dominican Republic boasts an impressive number of international airports. With seven international airports scattered across various regions, the Dominican Republic ensures easy accessibility for travelers. Alongside these, there are also several domestic airports facilitating travel within the nation. Depending on your destination within the country, one international airport might be more strategically located for your needs than another.
History of Aviation in the Dominican Republic
Early Days of Flight in the Country
The history of aviation in the Dominican Republic dates back to the early 20th century. Inspired by global aviation milestones, a few passionate Dominicans embarked on the journey of conquering the skies. The country's early pilots, often self-taught and relying on rudimentary aircraft, showcased immense courage and determination. These initial flights, although limited in scope, planted the seeds for what would become a thriving aviation industry.
Development and Expansion of Airport Infrastructure Over Time
As the appeal of the Dominican Republic as a travel destination grew, so did the need for more advanced and expansive airport infrastructure. From makeshift airstrips to world-class international terminals, the transformation has been astounding. The government, recognizing the economic potential of aviation, invested heavily in the sector.
The 1970s and 1980s saw significant advancements with the establishment and expansion of major airports like Aeropuerto Internacional Las Américas in Santo Domingo and Aeropuerto Internacional Punta Cana in Punta Cana. These developments were not just confined to major cities. Regional airports were also upgraded to cater to domestic travel and to provide easier access to remote tourist attractions.
Today, the Dominican Republic boasts several international airports, each equipped with modern facilities, ensuring travelers have a seamless experience as they explore this Caribbean gem.
Major International Airports
While the Dominican Republic has seven international airports, not all of them handle the same volume of flights. The top four airports in the Dominican Republic in terms of traffic are Punta Cana International, Las Américas International, Puerto Plata International, and Aeropuerto Internacional Cibao
Your choice of airport will be influenced by the region of the island you're keen to visit. Curious about the distinct features of these airports? Let's dive in!
Read Also: Iberia Airlines Reviews
Aeropuerto Internacional Las Américas (Santo Domingo)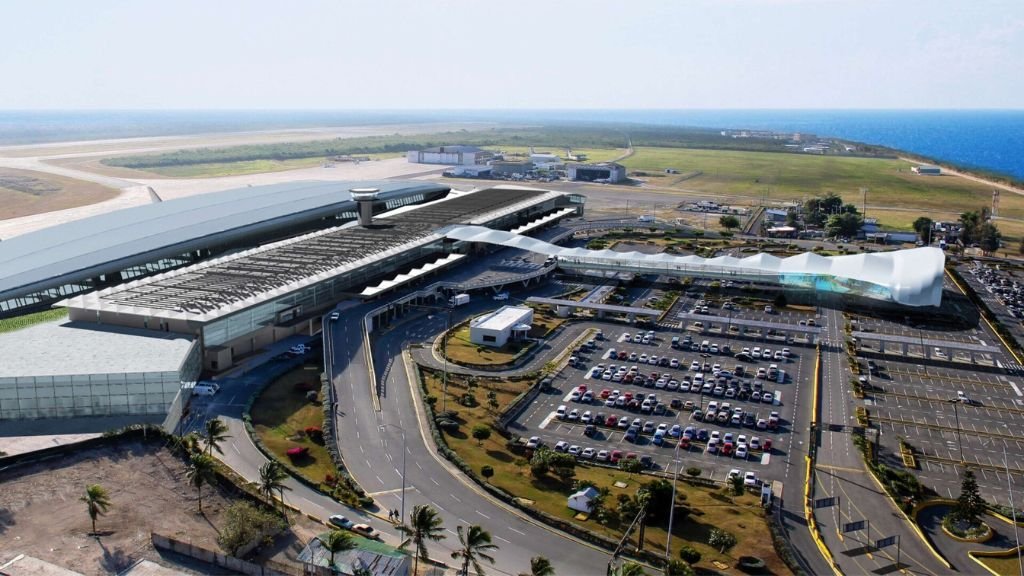 Location & Significance: Located just east of the capital city Santo Domingo, the Las Américas International Airport is one of the oldest and most significant airports in the Dominican Republic. It serves as a primary gateway to the country, connecting the Dominican Republic with major cities around the world.
Facilities & Services: The airport boasts modern facilities, including numerous duty-free shops, restaurants, lounges, and car rental services. For travelers' convenience, it also offers currency exchange kiosks, ATMs, Wi-Fi access, and VIP services.
Major Airlines & Destinations: A hub for many international airlines, Las Américas sees regular flights from carriers such as American Airlines, Delta, JetBlue, and Air France. Popular destinations include New York, Miami, Paris, Madrid, and San Juan, among others.
Aeropuerto Internacional Punta Cana (Punta Cana)
Location & Significance: Situated at the eastern tip of the Dominican Republic in the resort town of Punta Cana, this airport is crucial for the tourism sector, handling a significant portion of the country's tourist arrivals.
Facilities & Services: Characterized by its open-air design with palm-frond covered roofs, the airport offers a unique tropical experience. Facilities include numerous shops, eateries, lounges, and a conference center. Additional services like medical assistance lost and found, and tour operators are also available.
Major Airlines & Destinations: Airlines such as Southwest, Air Canada, British Airways, and Condor frequent this airport. Key destinations include Toronto, London, Frankfurt, Atlanta, and many other major cities worldwide.
Aeropuerto Internacional Gregorio Luperón (Puerto Plata)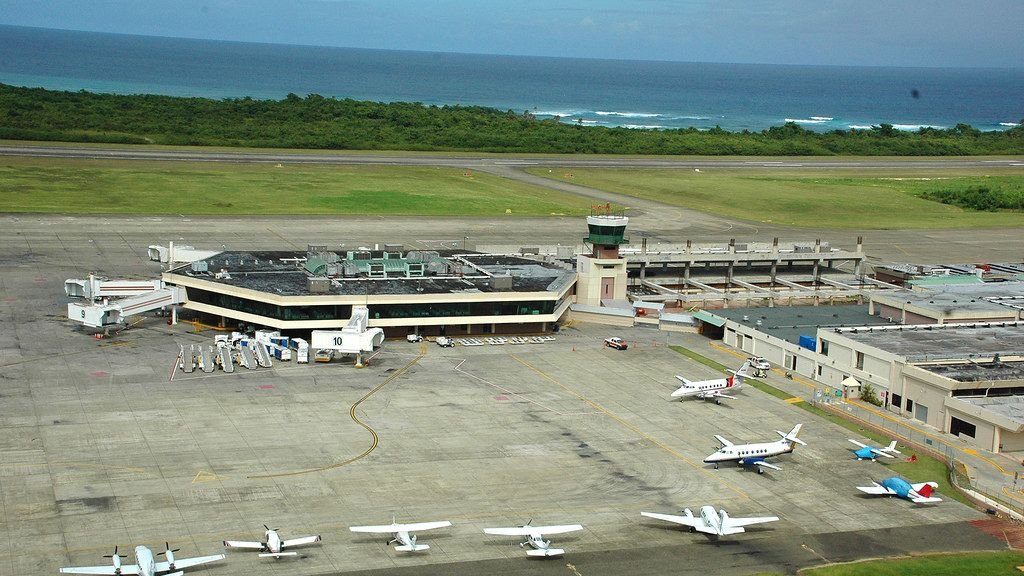 Location & Significance: Located in Puerto Plata, a city known for its beaches and resorts, this airport plays a vital role in serving the northern regions of the Dominican Republic.
Facilities & Services: Gregorio Luperón Airport offers a variety of services, including duty-free shopping, restaurants, VIP lounges, and currency exchange. The airport prides itself on a streamlined check-in and security process, making it traveler-friendly.
Major Airlines & Destinations: Airlines such as WestJet, Sunwing, United, and TUI fly regularly to and from this airport. Popular destinations include Montreal, New York, Brussels, and Miami.
Also Read: Norse Airlines Reviews
Aeropuerto Internacional Cibao (Santiago)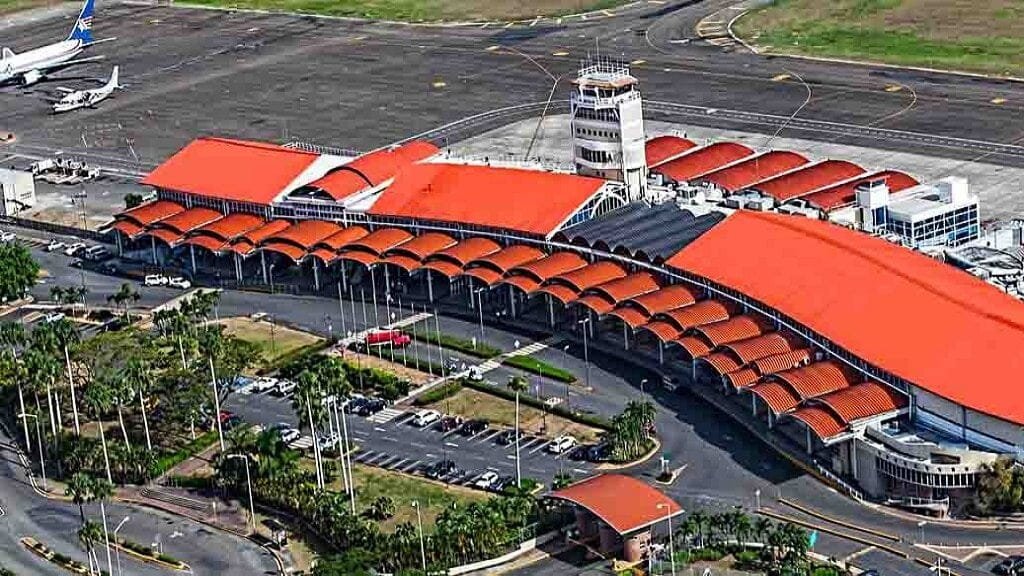 Location & Significance: Positioned in Santiago, the country's second-largest city, Cibao International Airport is an essential hub for both commerce and tourism in the northern and central regions of the Dominican Republic.
Facilities & Services: The airport boasts state-of-the-art facilities with a wide range of shops, restaurants, and lounges. Banking services, a pharmacy, and a VIP lounge enhance the overall traveler experience.
Major Airlines & Destinations: Several international airlines, including Copa Airlines, Spirit, Delta, and JetBlue, operate out of Cibao. The airport connects the Dominican Republic with cities like Panama City, Fort Lauderdale, Newark, and others.
Each of these airports, with its unique attributes and offerings, together weave the intricate network that connects the Dominican Republic to the world, underscoring its prominence in the Caribbean region.
Other Airports in the Dominican Republic
While there are three primary airports in the Dominican Republic, there are an additional four international options to consider:
La Romana International (LRM) –

Ideal for those visiting Casa de Campo, a renowned luxury resort.

Cibao International (STI) –

Situated near Santiago, this airport accommodates numerous direct flights from key US cities and is conveniently located for travelers to Puerto Plata.

Samaná El Catey International (AZS) –

The go-to airport for those eager to discover the Samaná peninsula. However, if you're looking to explore other parts of the island, this might not be the best choice due to its limited connectivity.

La Isabela International (JBQ) –

Primarily linked to neighboring Caribbean islands, it's a great choice for those looking to hop between islands or arrive in the Dominican Republic from another island destination.
Regional and Domestic Airports
While international airports cater predominantly to travelers from abroad, domestic airports in the Dominican Republic play a critical role in interconnecting the vast and diverse regions of this Caribbean nation. Whether it's business, local tourism, or visiting family, domestic air travel ensures that distances are bridged quickly and efficiently, further strengthening the country's socio-economic fabric.
Read Also: American Airlines WiFi
Highlighting a Few Key Regional Airports:
Aeropuerto Internacional María Montez (Barahona)
Located in the southwestern part of the Dominican Republic, this airport primarily serves the province of Barahona. Though smaller in scale compared to major international hubs, María Montez is pivotal for local tourism, especially given Barahona's emerging status as an eco-tourism hotspot.
Aeropuerto Internacional La Isabela (Santo Domingo)
Situated north of the capital city of Santo Domingo, La Isabela mainly caters to domestic flights but also handles some international traffic. Its strategic location allows residents and tourists in the capital easy access to the northern and western parts of the country.
Aeropuerto Internacional Arroyo Barril (Samana)
Located on the Samana peninsula, this airport serves a region known for its stunning beaches, waterfalls, and whale-watching excursions. Arroyo Barril is instrumental in promoting tourism in this unique and breathtakingly beautiful part of the Dominican Republic.
Other Notable Regional Airports:
Apart from the aforementioned, the Dominican Republic houses several other regional airports, such as Aeropuerto Internacional de Romana and Aeropuerto Internacional El Catey. Each of these plays a part in weaving the intricate web of domestic connectivity, ensuring all regions of the nation remain accessible.
Air Travel Tips in the Dominican Republic
Visa and Travel Documentation:
Ensure you check the visa requirements based on your nationality before traveling. Most tourists from Western countries receive a 30-day tourist card upon arrival, but it's always good to confirm beforehand. Always keep your passport and any other essential documents handy.
Local Customs and Etiquette at Airports:
Dominicans are warm and hospitable. A polite greeting, especially when asking for assistance, goes a long way. It's recommended to dress modestly and respect local traditions and sensibilities.
Navigating Airport Security and Check-in Procedures:
Arrive at least 2 hours before domestic flights and 3 hours for international flights. Ensure you adhere to the luggage weight and size guidelines of your respective airline. Familiarize yourself with prohibited items in carry-on luggage.
Currency Exchange and Payment Methods:
While US dollars are widely accepted, it's advisable to have some Dominican Pesos for local transactions. ATMs are available in most airports, and currency exchange kiosks offer competitive rates. Credit cards are accepted at major outlets, but always have some cash handy, especially when traveling to remote areas.
Ground Transportation Options from Major Airports:
Upon arrival, travelers can opt for taxis, car rentals, or shuttle services. It's recommended to agree on taxi fares before starting your journey or use authorized taxi services available at the airport.
Traveling within the Dominican Republic, whether by air or road, promises a journey filled with rich experiences, scenic beauty, and the warm hospitality of its people. Proper planning and awareness ensure that this journey remains hassle-free and memorable.
Know More: Norse Atlantic Airways Reviews
Future Developments and Expansions
Upcoming Projects and Renovations:
As the Dominican Republic anticipates a surge in both tourism and trade in the coming years, several airports across the country are gearing up for expansions and renovations. Major hubs like Aeropuerto Internacional Punta Cana and Aeropuerto Internacional Las Américas are planning new terminals, equipped with state-of-the-art facilities to handle increased passenger traffic. Modern architectural designs, intertwined with local aesthetics, are expected to grace these projects, offering travelers both convenience and a taste of Dominican culture.
Government Plans for Aviation Growth and Improvements:
Recognizing the importance of a robust aviation sector, the Dominican government has earmarked substantial funds for airport infrastructure development. Key focuses include modernizing air traffic control systems, expanding runways to accommodate larger aircraft, and upgrading safety and security measures to meet international standards. Furthermore, there are plans to enhance regional airports, ensuring even the most remote areas of the country are easily accessible, promoting holistic growth.
Environmental Concerns and Sustainable Initiatives:
With global awareness of environmental concerns at an all-time high, the Dominican Republic is keen on adopting sustainable practices in its airport developments. Initiatives include the implementation of solar panels to power airport facilities, water conservation systems, and waste management practices that prioritize recycling. Moreover, there's a push towards building green terminals, with natural ventilation and landscaping that uses local, drought-resistant flora, minimizing environmental impact.
Conclusion
The Dominican Republic's airports are more than just transit points; they are the country's gateways, playing a pivotal role in shaping first impressions and last memories for travelers. Their development and expansion aren't just indicators of growth but are testaments to the nation's commitment to providing world-class facilities while preserving its rich heritage.
As the country solidifies its reputation as a top tourist destination, the airports stand as symbols of progress, efficiency, and Dominican hospitality. For those with wanderlust, the Dominican Republic beckons – with its diverse airports serving as portals to explore the vibrant culture, mesmerizing landscapes, and rich history of this Caribbean gem. So, pack your bags, choose your gateway, and embark on a journey of a lifetime!
Frequently Asked Questions (FAQs)
Here are some commonly asked questions and their answers about"Airports in Dominican Republic":
How many major airports are in the Dominican Republic?
The Dominican Republic is home to eight international airports, namely Punta Cana, Santo Domingo, Puerto Plata, La Romana, Samaná, Barahona, Constanza, and Cabo Rojo. However, this guide primarily focuses on the four most frequented and renowned ones.
What is the best way to visit multiple destinations in the Dominican Republic?
Consider reserving high-end villa accommodations via a trusted company such as Simply Dominican. Their specialists can facilitate top-notch villa bookings, smooth transfers, and arrange flights to 2-4 destinations based on your preference. For those seeking greater flexibility, car rental is also a viable choice.
Which airport is the busiest in the Dominican Republic?
Punta Cana International Airport is the busiest airport, handling the largest number of international passengers due to the popularity of Punta Cana as a tourist destination.
Is public transportation available from the airports?
Most major airports in the Dominican Republic offer taxi services, and some have connections to local bus routes. However, many travelers opt for pre-arranged transportation, especially when heading to resorts or specific destinations.