It can be hard to choose a hotel, but when you're planning a trip to New York City, it's almost impossible. Manhattan has hotels for people with different needs and budgets. Manhattan is the best place in the world. People say that the island is the cultural and financial capital of the world. Yellow taxis drive up and down the streets all day and night, and city lights shine until the early hours.
Even just the thought of staying in the borough makes people excited. The properties have jaw-dropping views of the city, art collections worthy of a museum, perfect service, and creative food made by chefs who have won awards. Here areThe Best Hotels in Manhattan New York, from high-end hotels on the Upper East Side to small, cozy hotels in SoHo.
36 Top Hotels in Manhattan New York
1. The Carlyle, A Rosewood Hotel
This elegant Rosewood building is the best example of art deco from the 1930s. The white-gloved service staff and overall old-world elegance of the hotel were praised by past guests. The Carlyle is on the Upper East Side and looks out over Central Park. It shares an address with a variety of high-end galleries and boutiques, as well as a few top-tier restaurants. After you've walked around Manhattan, you can take a break at
The Carlyle Restaurant is a high-end place to eat that is known for its famous customers and delicious food. Classic cabarets are often put on at Café Carlyle, which has a more lively atmosphere. When you're ready to go to bed, you can relax in your well-equipped room, which has Kiehl's toiletries (a favorite among guests), an iPod docking station, and a fully stocked minibar.
2. The Bowery Hotel, for old-world glamor
From inside this old-school NYC bubble, you can watch the city go by. From the old-world-style lobby, you can go upstairs to rooms with art deco furniture and marble bathrooms with brass accents.
You can get spa services in your room or choose a room with a private terrace and a view of the city for extra luxury. In the cozy trattoria-style restaurant, you can try Italian dishes, including breakfast, and wash them down with seasonal cocktails. Even the gym looks interesting with a Persian rug on the floor.
3. Crosby Street Hotel
Tim and Kit Kemp's 86-room hotel is perfectly located on a cobblestone street in SoHo. The hotel is full of style, great design, and sophistication, and it is filled with both unusual finds and classic details. Inside, there is no limit to the luxury, but the five-star service is surprisingly friendly and the look is all about understated elegance.
If you stay in, the hotel has a gym and a 99-seat movie theater with rooms that feel more like private apartments. If you want to go out, Bloomingdale's is right around the corner, and Balthazar, a famous restaurant is down the street. In less than 15 minutes, you can walk to Tribeca, the Lower East Side, Nolita, and Chinatown, or you can take the subway from Prince Street Station.
4. One Hotel Central Park
This eco-friendly hotel in Midtown overlooks Central Park and was made with your comfort and the environment in mind. Think about art made by local artists, a lot of native plants, reclaimed materials, and the most luxurious comforts.
It's hard to believe that you can feel at one with nature in the middle of New York City, but One Hotel Central Park has done just that by putting greenery everywhere. Living moss grows in the planter boxes along the hallways, vines hang from the lobby, and a grand three-story green facade greets you every time you enter or leave this unique property.
You can get away from the noise of the city and relax in your room, which is made of materials that bring the natural beauty and calming energy of Central Park inside. For example, the ceilings are made of amazing reclaimed barn wood.
There are also farm-to-fork meals, fun cocktail nights, unique events, and a farmstand in the lobby where you can buy seasonal ingredients. One of the most interesting new hotels to open in New York in a long time.
5. The Lowell
Several readers said that the hotel's French-Mediterranean restaurant, Majorelle, and the Jacques Bar, which serves small bites and drinks, had the best food. But what really sets Lowell apart from other Upper East Side hotels is that it's the best place to stay if you want to be alone and have great service.
One reader says, "It's beautifully decorated with thoughtful touches and cozy at the same time." "It's quiet and out of the way." Another guest said that the staff went out of their way to bring a birthday cake and champagne to their (upgraded) room. This kind of subtle personal touch is what makes Lowell a favorite among T+L readers year after year.
6. The Peninsula New York
The Golden Peninsula in Midtown Manhattan calls itself a "cocoon of peace and quiet" in contrast to the busy Fifth Avenue. Recent travelers agree, but they say it's an expensive place to stay. There's free Spectrum Wifi internet access, a rooftop terrace called Salon de Ning with great views of the city, and a highly-rated spa and fitness center. But that's not the only good thing about this very expensive hotel.
People who have been there before said that the excellent service, breathtaking views, and enviable location (just steps from Central Park and Rockefeller Center) were all good reasons to come back.
Others said the property was elegant and peaceful, praising the hotel's soothing color scheme and special touches like stocked minibars, marble bathrooms, cozy robes and slippers, and sleek flat-screen TVs in each room. Recent guests also praised the hotel's restaurants, the Clement Restaurant and the Gotham Lounge, for their delicious food and sophisticated atmosphere.
7. Hotel Beacon, for a local experience
Since 1928, the Hotel Beacon has stood proudly on the Upper West Side. The American Museum of Natural History and the Lincoln Center is just 10 minutes away on foot. The rooms and suites are bright and cheery, and some have views of the Hudson River, Central Park, or Midtown. All of the kitchenettes are fully stocked. If you want to live like a local in Manhattan, this is one of the best places to stay. For longer stays, there is even a self-service laundry room.
8. The NoMad Hotel
A Beaux-Arts building from the early 1900s in the middle of Broadway has been given a bohemian-chic makeover by French designer Jacques Garcia. It's in a busy part of the Flatiron District, but if you don't mind the noise, this part of Manhattan is great because you can walk to the Empire State Building, Madison Square Park, Eataly, Macy's, and Herald Square, as well as Chelsea, the Village, and Eleven Madison Park.
The service is always friendly and well-done, and the fitness center and room service are both open 24 hours a day. The look is dark and mysterious: faded Persian rugs and a 200-year-old fireplace set the mood, while retro-style mahogany desks and clawfoot tubs add personality to the rooms.
9. Ace Hotel New York
The Ace New York is in the middle of Midtown Manhattan, making it easy to get anywhere in the city. This historic building from the turn of the 20th century has been turned into a space that works well for business travelers, artists, and everyone else.
The rooms are cozy and simple, and they feature artwork and designs from the area. Some rooms also have guitars, record players, refrigerators, and minibars with carefully chosen items. There is a Stumptown Coffee shop and a cozy bar in the lobby. The Breslin has delicious seasonal menus that have won James Beard awards. There is also the John Dory Oyster Bar, which serves fresh seafood in a bright and beautiful space.
10. Baccarat Hotel New York
The style competition between New York and Paris is turned on its head in Baccarat Hotel. Instead of picking a winner, the hotel combines the best parts of both cities, giving it a grandeur that guests love. When you walk into any of the 114 rooms, you'll find a simple white color scheme, sleek wooden four-poster beds, nightstands with marble tops, and cashmere throws.
Grab a drink at the bar with the crystal chandeliers and you'll feel like you're in Paris in the 1920s. You can also work up a sweat at the fitness center. Whether you like old or new, this hotel knows how to make you feel like a VIP. Along with an indoor pool and gourmet French food, the hotel has a house car that guests can use to take a joy ride anywhere within 15 blocks of the hotel. The hotel also has a spa called the Spa de La Mer.
As the name suggests, all of the treatments at the Spa de La Mer use the high-end French brand La Mer. But what people love most about the hotel is its location. It is four blocks north of Rockefeller Center, five blocks south of Central Park, and right across the street from the Museum of Modern Art. Even though it costs a lot to stay here, members of the I Prefer rewards program can cash in points to help pay for it.
11. Mandarin Oriental, New York
This hotel is in the Deutsche Bank Center on Columbus Circle. The rooms and suites have views of the city or Central Park and are full of luxury. At the high-up MO Lounge, you can look out at the cityscape while enjoying sophisticated comfort food and tasty drinks.
Work off any extra energy at the fitness center or in the 75-foot-long (23-meter-long) pool before heading to the spa. The Thai Yoga Suite with its deep soaking tub, the Oriental Tea Lounge, and signature detox treatments like the Digital Wellness Escape are some of the spa's best features.
12. The Beekman Hotel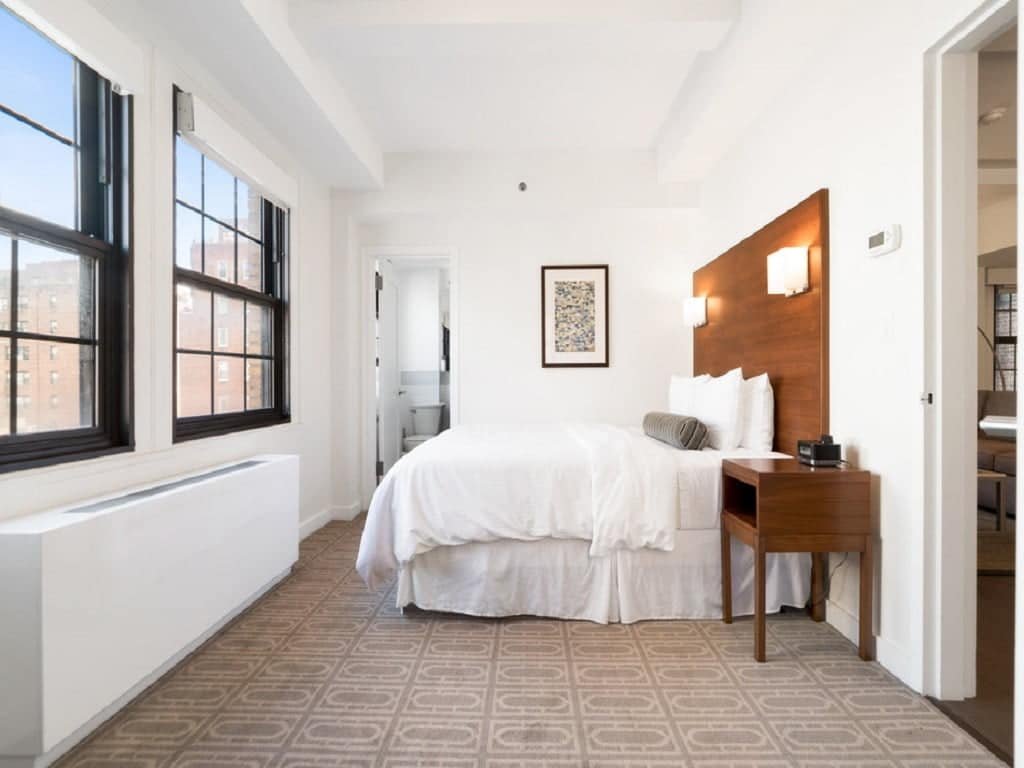 The Beekman, which just opened, pays homage to its history as one of the most famous places in New York with dark colors, eclectic styles, and unique art and lighting fixtures all over.
There are a lot of things to like about this hotel, from its quiet location and old-world charm to its celebrity chef restaurant and delicious cocktails. However, the two best things about this hotel are it's huge, lovingly restored atrium and its twin turret penthouses, which feel like castles in the sky. An oasis in the city that was made with care and has many small details to admire. The Beekman deserves its reputation as one of the fanciest hotels in Downtown New York.
13. The Standard High Line Hotel
The Standard High Line is the place to go in New York City right now. It is the coolest place in the city. The Standard High Line is a very modern take on the idea of a luxury hotel. It has amazing views and a great location, as well as a modern design and a place to eat.
All 320 rooms at the Standard High Line have floor-to-ceiling windows and a famous view of New York. The rooftop bar is one of the best places to see the city. With an outdoor beer garden, an ice skating rink in the winter, social awareness campaigns, and a crazy number of events, just to name a few, this place is full of new ideas.
14. The EDITION in New York
The New York Edition stands out right away because it is in the 41-story MetLife clocktower from 1909, which was once the tallest building in the world. It looks out over peaceful Madison Square Park, a haven in busy NoMad, but its interiors, designed by Ian Schrager, really steal the show: think Venetian ceilings, an oatmeal-and-silver color scheme, a sexy spiral staircase, and furniture inspired by Christian Liaigre, Erik Kolling, Alvar Alto, and Jean-Michel Frank.
A Michelin-starred chef runs the restaurant and bar on the second floor. There is a 24-hour fitness center and a spa on the 39th floor. The lobby bar is full of style-conscious travelers who work on their laptops and drink from pretty glasses. There is also a billiards room with a purple theme where you can drink and play games after a meal.
15. The Plaza New York
The Plaza is one of the most famous hotels in New York City. It has been featured in movies like "Breakfast at Tiffany's" and "Home Alone 2." Betsey Johnson made a pink-striped suite for Eloise from the storybook series. But this New York landmark, which is an attraction in and of itself, is a luxury hotel with butlers who wear white gloves.
Many recent guests said that staying here is an iconic experience, and the service, suites, and even the fact that it's good for families deserve a lot of credit. People who have stayed here before say that the Rose Club's comfortable chairs and classy atmosphere are a must-see.
Recent visitors also liked the elegant Palm Court, Champagne Bar, and Plaza Food Hall, which all have romantic settings and tasty food. And when it comes to sleeping, guests have nothing but good things to say about this Fairmont location's luxurious rooms, which have Beaux Arts decor, elaborate floral patterns, and large marble bathrooms with signature toiletries.
16. Lotte New York Palace
This classic hotel, which is right in one of the city's most popular tourist spots, moved into a new level of excellence after a renovation in 2015. From the luxurious lobby to the amazing views of St. Patrick's Cathedral from the rooms, there are a lot of ways to treat yourself. Taking in a Broadway show? Ask the concierge to set you up with a private driver so you can arrive in style on the Great White Way.
17. The Kitano New York
The Kitano is a clean and charming four-star place that feels like a little bit of Japan in the middle of Midtown. Each room has bamboo furniture and comes with slippers, dressing gowns, and green tea made in a Japanese style. And that's not all. The Kitano has two high-end Japanese restaurants, and Grand Central Station and the Empire State Building are both very easy to get to.
18. The SoHo Grand Hotel
The SoHo Grand is the best place to stay in New York City if you want the best of both worlds. It has an interesting mix of high-end luxury and pop culture excess.
The SoHo Grand is in SoHo, which is one of the most desirable neighborhoods on the island. It has great views, friendly public areas, a cool Peacock bar, and two very inviting penthouses with outdoor terraces and a shower. Because it is close to the Red Bull Arena and fashion week events, it is a favorite spot for musicians and designers who like to be creative. If you run into a famous person, be sure to keep your cool.
19. Equinox Hotel
Equinox gyms came up with a new idea for a hotel based on the idea that their 25-year cultural movement has been driven by life, not fitness. This design-forward, super-chic flagship hotel is what these ideas look like in a hotel. The goal of the Equinox hotel is to change the way people travel, to combine luxury with making the most of life, and to make something truly unique. The result is a beautiful, modern high-rise hotel with amazing floor-to-ceiling windows and smooth, quiet rooms that look out over the Hudson River.
All of them have a view of the city or a river and are designed to help you relax and recharge. They are made to meet your every need and leave you ready to work like never before.
There is a trendy restaurant on the 24th floor with a big terrace, a luxurious spa, an outdoor pool during the summer, and, as you might expect, a huge 60,000 sq ft fitness center. Charge up at the Equinox Club, get energizing rhythms at a SoulCycle class, and calm down at a yoga class. One of the coolest new hotels in New York City, with no sign of a trade-off.
20. The Langham, Fifth Avenue, New York
The Langham, New York, Fifth Avenue is hard for people who like a luxury to find fault with. Visitors find themselves in a world of modern luxury because the inside and outside have a modern look. People who stay there say the rooms are well-furnished and very large (at least for New York City). The smallest room is 420 square feet and has floor-to-ceiling windows, a TV built into the bathroom mirror, a deep soaking tub, and free Wi-Fi. Want to treat yourself a little more? At Ai Fiori, which serves gourmet Mediterranean food, you can make your taste buds happy with a meal.
The Langham is in a great spot, on Fifth Avenue near the New York Public Library. It is also popular with both business and leisure travelers, as well as hip New Yorkers who want to get away from the busy city. Reviewers were impressed by how well the customer service was handled, but they did warn about the high prices.
21. Plaza Hotel, for timeless elegance
The Plaza is one of the most famous hotels in New York. It has a great view of Central Park and is known for its elegance and sophistication. The underground food court was recently remodeled and offers a variety of meals at different prices. Just around the corner on Fifth Avenue, you can spend a lot of money on high-end shopping. To finish the classic New York City tour, hire a horse-drawn carriage across the street to take you through the park.
22. The Greenwich Hotel
The Greenwich Hotel was built from the ground up with leisure travelers in mind. As soon as you walk in, you feel like you're the only one there.
This place is owned by Robert De Niro and is right next door to his offices in New York City. It is a popular place for movie stars to go when they are in town and want to be discreet. Large, well-equipped rooms offer views of the Hudson River and have details like Italian marble bathrooms and custom-made furniture.
The Japanese spa and pool complex, which has a traditional Japanese farmhouse built right into it, would be the best part of any stay. Really, it could be from Nikko or Nasu in Japan, and all of this could happen without leaving downtown NYC…
23. Park Hyatt New York
On West 57th, across from Carnegie Hall, the Park Hyatt is on floors 3 through 30 of One57, a luxury condo building made of glass that rises more than 1,000 feet above Manhattan. You can expect spaces designed by the Toronto and New York City-based Yabu Pushelberg team to be simple but welcoming, with a lot of natural stone and avant-garde flower designs.
The rooms are some of the biggest in town, and the decor is just as nice. On the 25th floor, The Spa Nalai, which has a heated pool with speakers that play Carnegie Hall music underwater, feels like it is in another world and has nothing to do with Manhattan. If you get a massage, you'll feel refreshed and ready to face anything the city throws at you.
24. Ritz-Carlton Central Park
Even though it's near the city's most popular park and has great views of it, you won't want to leave the Ritz-Central Carlton's Park hotel once you get there. Its rooms are so fancy that royalty probably stays there, and the La Prairie spa is one of the best in the city.
25. Moxy Hotel Chelsea
The newest hotel in the growing Moxy brand, which has locations in North America, Europe, and Asia. It's for the cool, young millennials, and it has the convenience of a chain and the style of a boutique hotel. It also stands out from the other high-end hotels in Manhattan because it is relatively cheap. This makes it possible for young people to travel more without going broke. When you walk into a Moxy location, you'll notice that it's not like most chains.
The designs are perfect, and they mix funky art with sleek, modern furniture and lighting to create a luxurious but not stuffy atmosphere. The bar is always open, and there is a lot of socializing going on. When you check-in, you even get a free drink to get you in the mood. The Moxy Chelsea is especially ambitious, with rooms on higher floors that have great views, an industrial-chic style, a hip cafe, and a high-end Italian restaurant. Even if you don't stay here, you have to go to their trendy cocktail lounge on the 35th floor to see the amazing views.
26. The Ritz-Carlton Central Park, New York
This stylish Ritz rises above the south side of Central Park, calling out to luxury travelers who want a great location in midtown Manhattan and great customer service. Previous guests have raved about how elegant the 259 remodeled rooms are, pointing out that 400-thread-count linens, deep-soaking tubs, and Asprey bath products are some of the best extras. People who have stayed at the hotel before also say that the staff is very helpful.
There's no way you won't have a five-star stay here, from the delicious food at the swanky Auden Bistro & Bar to the luxurious spa services at the hotel's La Prairie. Even though the hotel is very expensive, recent guests agreed that the location and atmosphere are worth the price. Because the Ritz is owned by Marriott, guests who are members of the Marriott Bonvoy loyalty program may also get free perks like free nights if they choose to stay here.
27. Four Seasons Hotel, New York
The Four Seasons Hotel New York, which is on the prestigious Billionaires' Row, gives you a sense of space that is hard to find in the crowded streets of Manhattan. Each of the luxuriously large rooms has a walk-in closet and a make-up area with custom mirrors. The rooms feel like they were made for movie-style makeovers.
When you wake up after a night at Ty Bar, which is known for its barrel-aged bourbon, you can look out the huge windows and see a lot of the city. You can then use the free Rolls-Royce to drive around Midtown. Come back for lunch at the Garden, an indoor restaurant that makes you feel like you're eating in a magical forest.
28. The Knickerbocker
When you hear that the Rockefellers used to live here, you know the Knickerbocker Hotel is going to be something special. It has a stately feel, with soothing creams and earthy tones, and the views of the city are hard to beat. From its front door, you can walk to Times Square, Bryant Park, and the busy streets of Broadway. It's safe to say that the Knickerbocker is the best hotel in terms of location and style.
29. The Archer Hotel New York
The Archer Hotel is one of my favorite places to stay in Manhattan, and it's also one of the most affordable high-end hotels there.
Archer Hotel is a modern building made of brick, glass, and steel. It has mastered the art of hospitality and takes pride in giving all of its guest's memorable experiences. From its designer cafe and restaurant that opens onto a midtown street to its well-designed rooms, many of which have unobstructed views of the Empire State Building, Archer Hotel is changing the way New Yorkers think about boutique hotels. Its huge success has already led to the opening of three more locations across the country.
The Archer Hotel's rooftop bar is the undisputed star of the show. You'll forget about the cozy rooms as soon as you step up to the stylish bar and take in some of the best views in New York City (with no admission ticket needed). You will fall in love with the Archer Hotel New York, make memories there, and want to go back again and again!
30. The Chatwal, a Luxury Collection Hotel, New York City
This historic Luxury Collection hotel is proud of how it mixes art deco touches with modern amenities like a fitness lounge and Red Door Spa. The 76-room hotel was built in 1905, and in 2010, architect Thierry Despont fixed it. Recent guests thought that the 400-thread-count linens, 42-inch flat-screen TVs, free Wi-Fi, and rainfall showerheads in the guest rooms and suites were all great perks.
Some suites have their own terraces with views of New York City. Also, travelers love that this five-star hotel is in a great part of midtown Manhattan, close to Rockefeller Center, Bryant Park, Broadway, and Fifth Avenue. Recent guests have also said good things about the lively Lambs Club Restaurant & Bar. This small restaurant at the hotel has been visited by a long list of famous people, including Fred Astaire and Charlie Chaplin. Because this hotel is a Marriott, Marriott Bonvoy members can earn and use points here.
31. Hotel 50 Bowery NYC
The 50 Bowery Hotel NYC is a brand-new hotel on the edge of Chinatown. It has unique design elements that pay tribute to the history of the area while also being a fun alternative to more mainstream, or "safe," hotels. It made us think of the modernist luxury boutique Dean Hotel in Providence, and not in a bad way.
With two rooftop bars and terraces, the trendy Rice & Gold Asian fusion restaurant, multiple open-plan workspaces, and a specially curated art gallery, you might never even make it to your room. But the floor-to-ceiling windows with views up Manhattan Island, plush amenities, and luxurious bedding will make you want to stay in. The 50 Bowery Hotel NYC does everything so well that it sets a new standard for small hotels in Manhattan.
32. The Mark
Recent guests say that, as the name suggests, this trendy boutique hotel is right on the mark. This European-style retreat is on the Upper East Side, one block from Central Park and Fifth Avenue. Its location is great, with easy access to famous city landmarks and shopping streets. With a beige color scheme and marble accents, the decor is reminiscent of Paris in the 1930s. But keep in mind that there are also modern features like HD TVs, free Wi-Fi, and a panel that lets you control the lighting, temperature, and room shades.
The Mark Restaurant by Jean-Georges is also very stylish and serves delicious French food. Recent guests like the excellent food and the friendly staff. Most travelers agree that this first-rate hotel is well worth the extra money if you want a charming oasis in Manhattan.
33. The St. Regis New York
The St. Regis, a famous hotel in midtown Manhattan, is proud of its high level of customer service and upscale atmosphere. Recent guests said that the hotel is the perfect mix of old-world elegance and modern comforts. This is shown in the opulent silk wall coverings, custom-made furniture, and rich blue accents in each of the hotel's well-equipped guest rooms and suites.
Among other things, the rooms have Bose sound systems, Remède toiletries, and floor-to-ceiling windows that let in a lot of light. People also recommend getting a refreshing drink at the King Cole Bar. The price of a stay here is pretty high, but if you're a Marriott Bonvoy member, you can use points to get free nights here.
34. Gramercy Park Hotel
Since it opened in 1925, the Gramercy Park Hotel has had many famous guests, such as the Beatles, the Rolling Stones, and the late President John F. Kennedy. There are a lot of deep reds and royal blues in the rooms, and you can get a drink at the Rose Bar, which is where celebrities like to hang out.
35. The Library Hotel
A quiet hotel in midtown Manhattan based on a new idea for a library. Each of the 60 rooms at the Library Hotel has its own theme based on the Dewey decimal system.
Imagine rooms with rare books and art on topics like oceanography, literature from the 20th century, or art from the Middle East. There is also a great bar with a library theme and drinks like Tequila Mockingbird. There are both indoor and outdoor reading rooms with amazing views of 41st Street and the New York Public Library.
36. The Pierre, A Taj Hotel, New York
Since 1930, The Pierre has been sitting pretty on Central Park's side of the fancy Fifth Avenue. This elegant hotel tries to offer the kind of high-end luxury that fits its location on the Upper East Side, which is shown by its grand rotunda. Recent guests liked how nicely the rooms were decorated and how comfortable the beds were. They also liked how friendly the hotel staff was.
Wellness professionals are ready to give you a relaxing massage in your room, and the food at Perrine, the hotel's restaurant, is good enough to get people out of their rooms. Book a room that faces the park if you can. People who have been there before said that the views of the greenery are spectacular. Remember that all of the rooms have beautiful views of the city or a park, as well as Turkish marble bathrooms, high-end toiletries, and Bose sound systems.
Frequently Asked Questions (FAQs) about The Best Hotels in Manhattan New York
What makes Manhattan famous?
Manhattan is known as one of the most important places for business, finance, and culture in the world. It is known for the many things to see and do there.
What makes Manhattan well-known?
Manhattan is one of the most important places for business, finance, and culture in the world. It is known for the many things to see and do there.
What's the difference between New York City and Manhattan?
Manhattan is the most well-known and most visited part of New York. Most people think that Manhattan is the same as New York City. Manhattan is a long island that is bounded on the west by the Hudson River, on the east by the East River, and on the north by Harlem (to the north).
Which small hotels are the best?
The Chatwal, a Luxury Collection Hotel, New York City, and The Lowell Hotel New York are the best boutique hotels in New York City. Check out the best small hotels.
Where should you stay in Manhattan?
Midtown Manhattan is the best place for first-time visitors to stay in New York City. There are hotels for every budget in this area. Go to a rooftop bar or restaurant to get the best view of the skyline of Manhattan.
Who sold Manhattan to the English?
In a letter written in 1626 by Peter Schaghen, we learn for the first time that the company bought Manhattan Island from the Lenape Indians for 60 guilders.
Which hotels have the best pools?
Some of the best hotels with pools in New York City are the McCarren Hotel & Pool and The Dominick Hotel. See which hotels have the best pools.
Which hotels are best for families?
The Trump International Hotel & Tower New York and the Millennium Hilton New York One UN Plaza are two of the best family hotels in New York City. Look at the best hotels for families.
Which places to stay are the best?
U.S. News says that the best places to stay in New York City are The Rockaway Hotel and Margaritaville Resort Times Square. See the best places to stay.
Which hotels have the best spas?
The Peninsula New York and The Greenwich Hotel are the best hotels in New York City that have spas. Check out the top spa hotels.
What is the most expensive part of Manhattan?
In 2021, the median price of a home in the neighborhood of Hudson Yards in New York City, New York, United States, was $4.75 million. Nine of the ten most expensive places to buy a home were in Manhattan.
What are the best hotels with shuttle service to and from the airport?
The Peninsula New York and The Kimberly Hotel are two of the best hotels in New York City that offer shuttle services to and from the airport. Check out the best hotels with shuttles.
Which hotels have the best gyms?
The Carlyle, A Rosewood Hotel, and The Peninsula New York are two of the best hotels in New York City with great gyms and other amenities. Check out the best hotels for getting fit.
Who owned New York?
In May of 1626, Peter Minuit, a representative of the Dutch West India Company, met with the Lenape people who lived nearby to buy the rights to the island of Manhattan for 60 guilders.
Why does it have that name?
Etymology. The word manaháhtaan in the Munsee Lenape language is where the name Manhattan comes from (where manah- means "gather", -aht- means "bow", and -aan is an abstract element used to form verb stems). The word comes from the Lenape language. It means "the place where we get bows" or "the place where we gather wood to make bows."
What does the name "Big Apple" mean?
In the 1920s, John J. Fitz Gerald, a sports writer for the New York Morning Telegraph, wrote a column about the many horse races and racetracks in and around New York. He called the big prizes that could be won "the big apple," which means the best and biggest thing that can be done.
Where do New York's rich people live?
Lower Manhattan's Noho is the most expensive neighborhood in NYC, with a median sales price of $3.25 million. It was followed by Hudson Yards and Tribeca, which have always been among the wealthiest parts of New York City.
Is it safe in Manhattan?
Almost everywhere in Manhattan is safe to walk in during the day, even Harlem and Alphabet City, but you might want to avoid these areas after dark. Times Square is a fun place to go at night, and it stays busy until after midnight when people who went to the theater go home.
Should I stay in Brooklyn or New York City?
If it's your first time in New York City or you're only there for a short time, I'd suggest staying in Manhattan instead of Brooklyn. Most landmarks are in Manhattan, which is why that is the case. Also, Manhattan has great shopping, nightlife, and fun things to do.
Is New York City expensive?
According to a report by Rent Cafe from January 2020, the average rent for an apartment in Manhattan was a shocking $4,210. This was by far the most expensive rent in the country, and it was almost three times the average rent in the rest of the country, which was $1,463. Brooklyn came in at $2,936 and Queens came in at $2,412.
Is it a good idea to go to Manhattan?
Here, some of the most famous skyscrapers in the world, like the Empire State Building, the Statue of Liberty, and Central Park, are the main sights. You have some of New York's best places to eat. And because Broadway is in Manhattan, all of the biggest and best shows are here.
Is Manhattan sinking?
In short, it's possible, and there are two main signs that point in that direction. First, as cities get bigger, so does the amount of water they use. This water is taken from aquifers, which are underground layers of water.
Is Manhattan really on an island?
Manhattan and Staten Island are both land masses, but Brooklyn, Queens, and the Bronx are all connected to the US mainland. Bridges, tunnels, and ferries connect the islands.
Is Manhattan all that New York City is?
It's like a smaller city inside of our big city. The Bronx, Brooklyn, Manhattan, Queens, and Staten Island are the five boroughs of New York City. Each has dozens of neighborhoods that give it its own flavor. Here's a quick look around so you can decide where to go next.
Is Brooklyn less expensive than New York City?
Brooklyn's cost of living is still 9.77% less than that of Manhattan. At the moment, the cost of living for a single person in Brooklyn, excluding rent, is about $1,111 per month, while in Manhattan, it's $1,242.
Are there homes for one family in Manhattan?
By the 1930s, more middle-class and wealthy New Yorkers lived in apartment buildings than in single-family homes. There are now fewer than 2,000 single-family homes in Manhattan. There are a lot more in other boroughs, though.
Read Also:
How To Decorate Your Home in French Country Style?
Locations and Activities in Bratislava