Clothing-optional beaches are few and far between in the United States, although they do exist, including Haulover Beach in Miami, Gunnison Beach in New Jersey, North Baker Beach in San Francisco, and Black's Beach near San Diego.
Skinny-dipping experts around the world recommend exotic locales like Es Trenc on Mallorca, Wreck Beach in Vancouver, Praia do Pinho in Brazil, Red Beach on Crete, Plage de Tahiti in Saint-Tropez, France, and other beaches in Europe, Australia, and the Caribbean.
Then there are the numerous private "naturist" clubs, lodges, hotels, all-inclusive resorts, campsites, and condos oriented at those who wish to holiday in complete seclusion. The American Association for Nudist Recreation maintains a global registry of such. 
There's even an internet site similar to Airbnb for finding and booking clothing-optional accommodations. It's called Naturist BnB, and it offers listings for nudist-friendly home rentals, tiny inns, resorts, and other lodgings all over the world. 
Once you've chosen a sunny location to undress, there are some basic etiquette standards to follow to avoid a faux pas—because, while you shouldn't be ashamed of your body, your actions can surely create embarrassment. 
Types of Nude Beaches
There are several categories of nude beaches:
Depending on climatic conditions, beaches where nudity is required. This kind of nudist shoreline is typical of naturist resorts.

There are beaches where nudity is encouraged but not required. This form of nudist beach is common on private resorts or other private property beaches. On such beaches, the majority of individuals are nudists, but there are exceptions.

Beaches where nudity is permitted but not required (beaches where clothing is optional). Some sites in Denmark and Norway do not require bathing attire. A large and renowned clothing-optional beach in the United States is Haulover Park in Bal Harbour, Florida,[1] which has an officially designated clothing-optional section by Miami-Dade County. On such beaches, there may be both naked and clothed individuals. For some clothed individuals, the clothing-optional status reduces their reluctance to momentarily expose themselves when changing clothes.

There are beaches where nudity is prohibited but authorities tolerate it. This category consists primarily of public beaches where authorities disregard nudity by not enforcing local laws.

There are beaches where nudity is forbidden and not tolerated. On such beaches, nudists may be ordered to cover themselves, fined, or even arrested.

Fabricated coastlines. Specifically, textile beaches are neither nudist nor clothing-optional. The term refers to a beach where nudity is not permitted, but a beach where bathing suits are optional is nearby.
Read More: The Best Beaches In Vasto, Italy
Best 7 Rules for First-Timers in Nude Beaches
Familiarize yourself with the local rules
Make sure you know which portions of the beach allow nudity before you head out, and don't forget to cover up in the parking lot and other public spaces where doing so is frowned upon. Also, make sure you know if tops are optional (as in the French Riviera) or mandatory. Another piece of information that could prove valuable is whether or not public displays of nakedness are actually sanctioned by law.
Apply sunscreen liberally on all exposed skin
This is a typical sunbathing protocol, but it's worth emphasizing when we're talking about sensitive body regions that don't get much sun. 
Keep your distance from others
When selecting a spot to recline or lie down, leave ample space between you and the towel next to you—if possible, more space than you would leave if you were wearing clothing. Thus, you demonstrate that you do not intend to invade your neighbor's privacy. It is another source of solace.
Don't try any hanky-panky
Lewd behavior is unacceptable, whether with your partner, with someone you met on the beach, or with yourself. Most naked recreationists work hard to break the link between becoming naked and getting busy. In reality, the British Naturism organization's "Naturist Beach Code" declares unequivocally, "Any sexual activity is just as unwelcome and criminal as in any other public place." 
Don't stare
The cardinal rule of nudism on the seashore. You may gaze (how could you not? ) but refrain from ogling or gawking. People are vulnerable when they are undressed, so you must avoid any suggestion that you are spiteful or creepy towards them. Do you not desire the same in return? If you have difficulty keeping your gaze to yourself, open a book.
Leave your camera at home
Another subcategory of the bigger don't-be-creepy category. Even shooting images of the surroundings can make people uncomfortable if they don't know where you're aiming your smartphone, so it's better not to bring any kind of photo-capturing gadget with you in the first place. If you must take a selfie, make sure you don't photograph anyone else without their consent.
Carry a towel everywhere you go
You'll want a towel if you plan on lounging on the sand. At nudist resorts, however, you'll need to bring your own towel if you plan on sitting on any of the furniture in the resort's restaurants, bars, or other public areas, a practice that we fully support.
28 World's Best Nude Beaches
1. Playa Naturista Chihuahua, Uruguay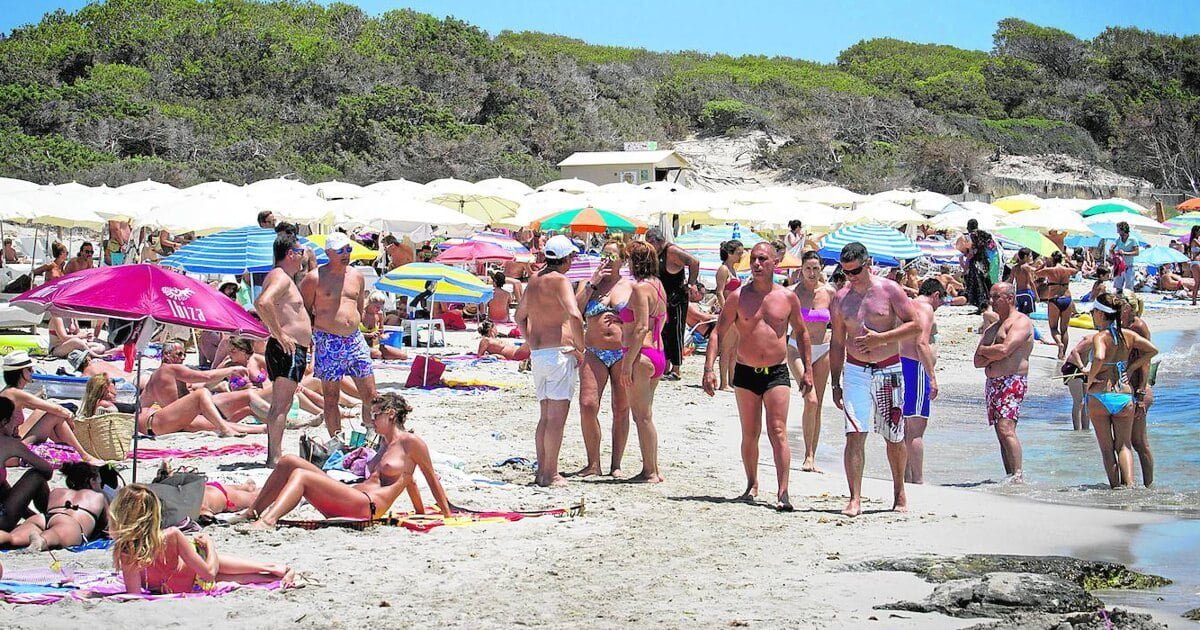 Uruguay's best-known nudist beach is roughly a 30-minute drive from Punta del Este and overlooks Portezuelo Bay on the Atlantic coast.
The strand's attraction is enhanced by photogenic dunes and water temperatures that reach 25 degrees Celsius (77 degrees Fahrenheit) and higher even in the southern hemisphere winter. Chihuahua finally earned legal status in 2000, after decades as an unofficial nude hideaway.
The Hotel El Refugio Nudista Naturista clothing-optional resort has since been added to the list of amenities.
Related: The 10 Best Malibu Beaches
2. Nida Nude Beach, Lithuania
The frigid Baltic Sea may not appear to be the most natural location for a skinny dip. But this stunning coastline on the long, sandy Curonian Spit offers one of Europe's most attractive places to unwind.
The beach, with its wildflower-covered dunes (among the tallest in Europe) and coastal forest, was the center of a 19th-century artists' colony that drew many of the time's best painters, poets, and writers.
If you walk far enough south along the coast, you'll come across a fence that marks the Lithuania-Russia boundary.
3. Baker Beach, USA
Baker Beach is a renowned San Francisco urban beach that allows naked sunbathing and a beautiful view of the Golden Gate Bridge. The 1-mile long beach is surrounded by cliffs that house hiking paths, two antique coastal artillery batteries, and a small car park with restrooms.
On the beach, there is a very clear 'Hazardous Surf' sign, which not only emphasizes how dangerous it can be to swim in the frigid water here but also marks the boundary of the clothing-optional zone. Make sure you don't take off your clothes until you're north of the sign.
4. UFO Beach
Some years ago, a futuristic "escape pod" crashed on UFO Beach on South Padre Island, hence the name. You may see for yourself that the smooth white sand and what appear to be a flying saucer are actually an ocean buoy.
Despite the fact that the namesake 'UFO' has the words "NUDE Beach" painted on it, UFO Beach is one of those nude beaches in the United States that is not legally clothing-optional. It's distant enough that unclothed sunbathers don't annoy anyone and rarely get harassed by others, being 7 to 8 miles from the nearest town and even several miles from the nearest paved road (though any ordinary SUV can handle the dirt track). Because topless sunbathing is permitted everywhere, you may only need to cover the lower half of your body. Any more than that and your sunbathing may be stopped by beach patrols.
5. Playalinda Beach, Florida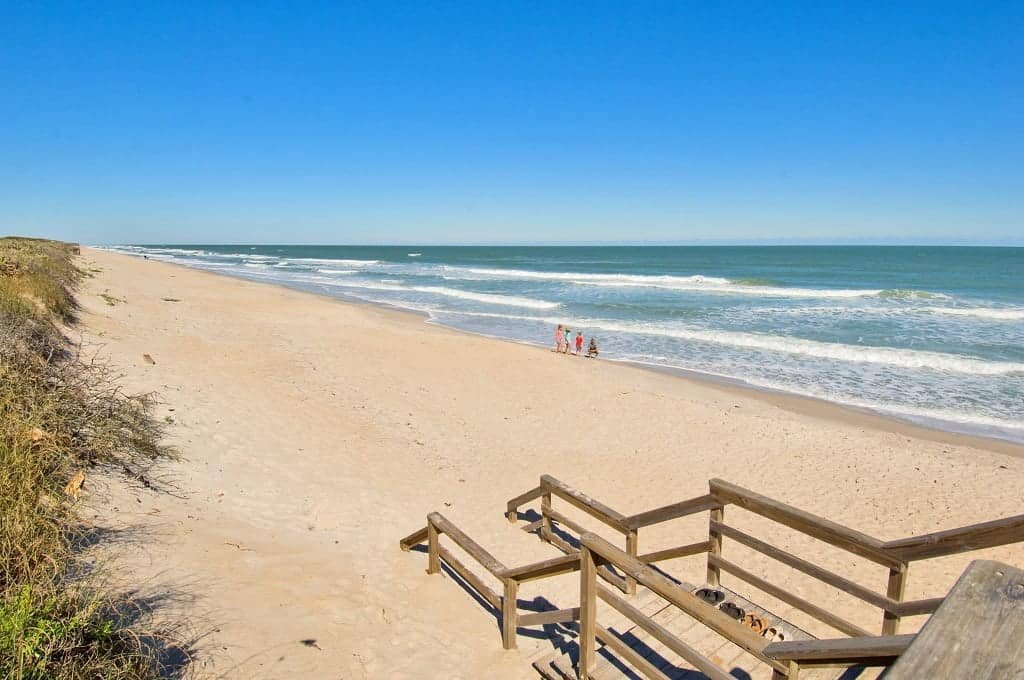 Playalinda nude beach in Brevard County is another of Florida's best beaches without apparel. This shore is favored by naturalists due to its tranquil waters, serene atmosphere, and lack of annual pass requirement. In addition, the absence of businesses and residences creates a tranquil hideaway. Four miles of Playa Linda's shoreline are favored by local surfers. If you're looking for the full naturist experience, the nudist area commences at the very last parking lot.
Next to Kennedy Space Center is this naturist retreat. Playalinda offers intrepid nudists the opportunity to watch a rocket launch while basking in their underwear.
6. Little Palm Beach, Waiheke, New Zealand
Although it is technically lawful to be naked on any beach in New Zealand, clothing-optional beaches such as Little Palm Beach on Waiheke Island are where naturists tend to congregate.
Reaching the secluded beach requires a 40–60-minute ferry journey from Auckland, a taxi or rideshare to the island's northern coast, and then a short descent.
You can begin or end your shore excursion at one of Waiheke's wineries, restaurants, or art galleries.
Also Read: 33 Best Beaches in Malibu, California
7. Nugal Beach, Croatia
This secluded beach on the mainland opposite Bra Island is approached through a small route that appears to be designed for goats rather than tourists looking for an unclothed escape on the Adriatic.
Be sure to bring a substantial towel or even a beach chair, as the surface of this beach, like many others in Croatia, consists of pebbles rather than sand.
Nugal is a half-hour walk from the nearest town, although it is also accessible by boat or sea kayak from Makarska or Tuepi.
8. Moshup Beach, Martha's Vineyard, Massachusetts
Moshup is a long curving shoreline that wraps around a headline crowned by the historic Gay Head Lighthouse (constructed in 1799) near the island's westernmost point.
The clothes optional section is located just beneath the ancient light, beneath rust-colored sandstone cliffs that were designated as a National Natural Monument in 1966.
In contrast to Lucy Vincent, the island's private nude beach, Moshup is available to anyone who wants to take their clothes off for free.
9. Black's Beach, La Jolla, California
Blacks, located beneath the 100-meter-high cliffs of Torrey Pines, has been California's favored spot for a full-body tan for over 50 years and was once the only legal nudist beach in the entire United States.
The beach is long, wide, and endowed with fantastic surf, and it is accessible via the zig-zag Ho Chi Minh Trail from the cliff-top Torrey Pines Gliderport near the University of California, San Diego.
10. Lady Bay Beach, Sydney, Australia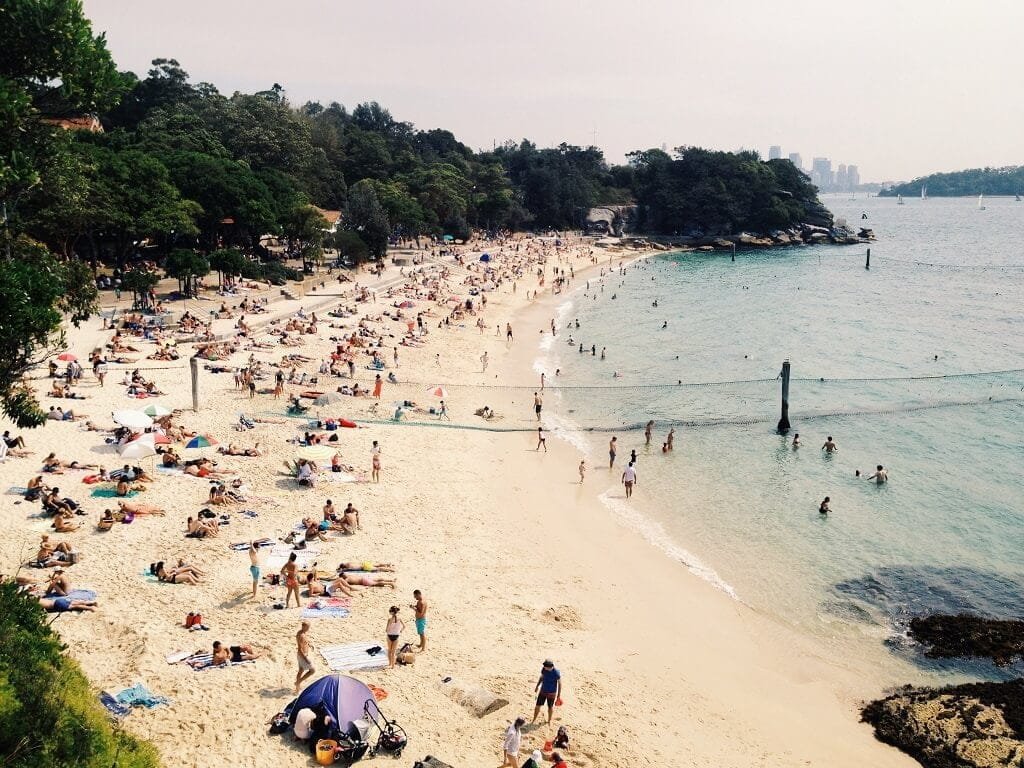 Although it may appear that almost any beach in Australia is clothes optional, there are a number of official nudist beaches here, including Lady Bay. (This beach is also known as Lady Jane Beach.)
It's small and narrow, yet wonderfully private for such a huge city area, perched just inside Sydney Harbour's South Head.
The granite ledges near South Head are also popular for naked sunbathing.
11. Buhne 16, Sylt, Germany
"Grin and bare it" could be the nudists' motto on this North Sea island, where the average water temperature in summer is a cold 17 C (63 F).
Although all of the beaches on Sylt are technically clothes optional, Buhne 16 was the first and remains the most popular spot for naked sunbathing along the German coast.
It's a spot where beachgoers can relax in the iconic blue and white striped wicker beach chairs or let loose at summer beach parties.
Read More: Top Attractions In Long Beach, MS
12. Wreck Beach, Vancouver, Canada
Wreck Beach, which is 7.8 kilometers (4.9 miles) long, is actually a collection of sandy strands, pebble flats, and rocky outcrops wrapped around the tip of Point Grey.
Since the early 1970s, a steady stream of students and faculty have stripped naked on this shore, which is directly across the street from the University of British Columbia.
The Canadian mood is enhanced by evergreen trees along the shore and snowcapped peaks across the sea.
13. Red Beach, Crete, Greece
This secluded beach on the southern coast of Crete is a popular location for nudism in Greece.
Named for its ochre-colored sand and cliffs, Red Beach (or Kokkini Ammos) can be accessed via a 20-minute hike from Matala or a short boat ride from the waterfront of the village.
Initiated in the 1960s by European hippies, this beach provides chair and umbrella rentals and is home to Yiannis, a bar renowned for its mojitos.
The mysterious rock carvings at the end of the shoreline are not ancient Minoan artifacts; they are modern creations.
14. Blind Creek Beach, USA
You can find Blind Creek Beach in Fort Pierce, Florida, between West Palm Beach and Daytona if you're searching for a tranquil beach to unwind without any pressure. This Florida nudist beach is one of the few clothing-optional beaches in the region and is a wonderful place to relax in the nudist state without feeling any pressure. Here, you can unwind with breathtaking views of the ocean and natural dunes. Blind Creek Beach is a year-round paradise due to its grandeur and laid-back atmosphere.
And, unlike other well-known Florida beaches, it is never congested. In addition to beachgoers, this beach also has beach ambassadors who labor to ensure everyone has a safe and enjoyable time. In addition, this nude beach is one of the best locations to observe sea turtle nesting. Therefore, if you visit during the appropriate season, you may see young turtles, but tread carefully!
15. Apollo Beach, USA
Apollo Beach is another well-known nude beach in Florida. The Apollo Beach North Canaveral National Seashore has 5 kilometers of pristine beaches. For outdoor enthusiasts wishing to stay active, there are numerous trails to explore. Nature enthusiasts will enjoy Apollo Beach, where they may observe pelicans, dolphins, and colorful fish. Furthermore, Apollo Beach has a few amenities such as restrooms, picnic tables, and vending machines.
Nudists in Florida are permitted to strip naked on the northern end of Apollo Beach. The nudist zone is accessible from Lot 5. A marker sign indicates that you have entered the nude beach area. Apollo, like many other Florida beaches, charges a fee to enter. Keep in mind that this is a dead beach, and once the parking lot is full, no more tourists are permitted to enter, so arrive early!
16. Anse de Grande Saline, St. Barts
While the Caribbean is full of great, laid-back beaches, this untamed, white sand beachfront on the back side of St. Barts is one of the few spots on the islands where public nudity is tolerated (albeit naked sunbathing is officially illegal in St. Barts.)
Another self-catering beach is Anse de Grande Saline (or Saline Beach). Visitors should pack everything they need for a day at the beach, especially sunscreen, because there is no shade.
L'Esprit, an excellent French restaurant within walking distance of Grand Saline, is highly recommended. Just remember to put your clothes back on before you go.
Keep Reading: The 60 Best Things to Do Near Me in the USA
17. Platja des Cavallet, Ibiza, Spain
The official nude beach Es Cavallet, located near the southernmost point of Ibiza, is divided into several sections, including a beach club party section, a gay scene, and a more secluded, middle section where the clothing-free crowd congregates.
However, sunbathers are not the only inhabitants of this area. The bright pink objects in the background are not sunburned travelers, but rather flamingos that congregate in shallow salt marshes.
18. Little Beach, Maui, Hawaii
Little Beach in Maui is a beautiful place for tourists who like to take off their clothes. The shore is covered by trees on the hillside, and the water is good for swimming. Little Beach, which is bordered by a volcanic cinder cone and old lava flows, is a beautiful place to visit whether you want to tell everyone or not.
Visit the state park marine sanctuary, which is renowned for its whales, tropical fish, dolphins, and sea turtles, when you need a respite from the sun. Visit Little Beach in time for Sunday's sunset, when fire dancers and a percussion circle will be performing.
19. Cap d'Agde beach, France
Cap d'Agde Naturist Village, sometimes known as the "Naked City," is the world's largest clothing-optional beach resort, attracting up to 40,000 visitors on any given day during high season.
Visitors can be naked anywhere they want, including restaurants, stores, post offices, banks, on their boats, or on the big public beach, where everyone must be naked, even if they aren't staying at the resort.
Non-residents are welcome to spend the night at the naturist hotel, campground, or rental units.
20. Mpenjati Beach, KwaZulu-Natal, South Africa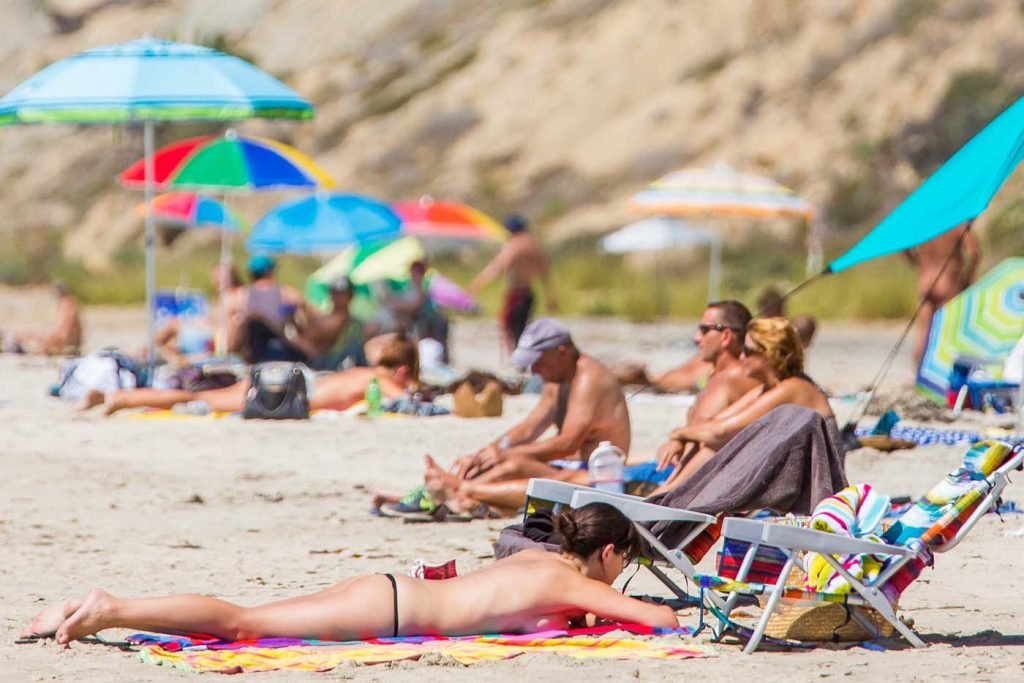 The Mpenjati Nature Reserve south of Durban is home to South Africa's sole official nudist beach, and possibly the only legal clothing-optional strand on the whole African continent.
It obtained legal status in 2014 but with a slew of restrictions such as no gazing, no photography, no provocative behavior, and so on.
Local clergy and others have continued to conduct legal and non-legal demonstrations against the naked designation.
21. Playa Zipolite, Oaxaca, Mexico
Live out your "Y Tu Mamá También" dreams on the beach, where several sequences from the sensual 2001 Mexican film starring Gael Garcia Bernal were shot on location.
The strand, which was pioneered by Mexican and American hippies in the 1960s, extends about two kilometers with rocky cliffs at either end and is famous as a clothing-optional beach (though it isn't allowed here.)
While the main beach is surrounded by cheap hotels and eateries, a tiny sliver of sand at the eastern end known as Playa del Amor provides significantly more privacy.
22. Metsoke Dragot, Israel
At this rocky beach on the western edge of the Dead Sea, float naked in the warm, ultra-buoyant salty water and smear your entire bare body with calming, mineral-infused black mud.
Metsoke Dragot, maybe the only area in the Middle East where public nudity is tolerated, is about an hour's drive from Jerusalem and takes a short but unpleasant drive over an unpaved road to reach the shoreline.
Along the beach, primitive camping is permitted. The only hotel and bar in the area is the cliff-top Metzoke Dragot Travelers Village.
23. Praia Massarandupió, Bahia, Brazil
String bikinis in Copacabana reveal a lot of Brazilian flesh, but not nearly as much as this naturist beach on the Bahia coast.
The nude beach is roughly a one-kilometer walk from the parking lot along the beachfront lined by coconut palms, rolling dunes, and very surfable waves, about a two-hour drive north of Salvador.
Also Read: Top 10 Best Luxury Hotels & Resorts in Miami
24. Spiaggia di Guvano, Vernazza, Italy
This primo Italian nude beach, located in the stunning Cinque Terre, seems like something out of a movie (think "Swept Away" – the 1974 version directed by Lina Wertmüller.)
The beach's allure is enhanced by the fact that it can only be reached via an ancient, abandoned railway tunnel (bring a flashlight) on a road leading from Corniglia hamlet.
Guvano is completely primitive, with no facilities of any type, so keep this in mind as you plan your trip.
The beach is similarly made out of pebbles rather than sand, yet the water is clear, pure, and beautiful.
25. Haulover Beach Park, Miami, Florida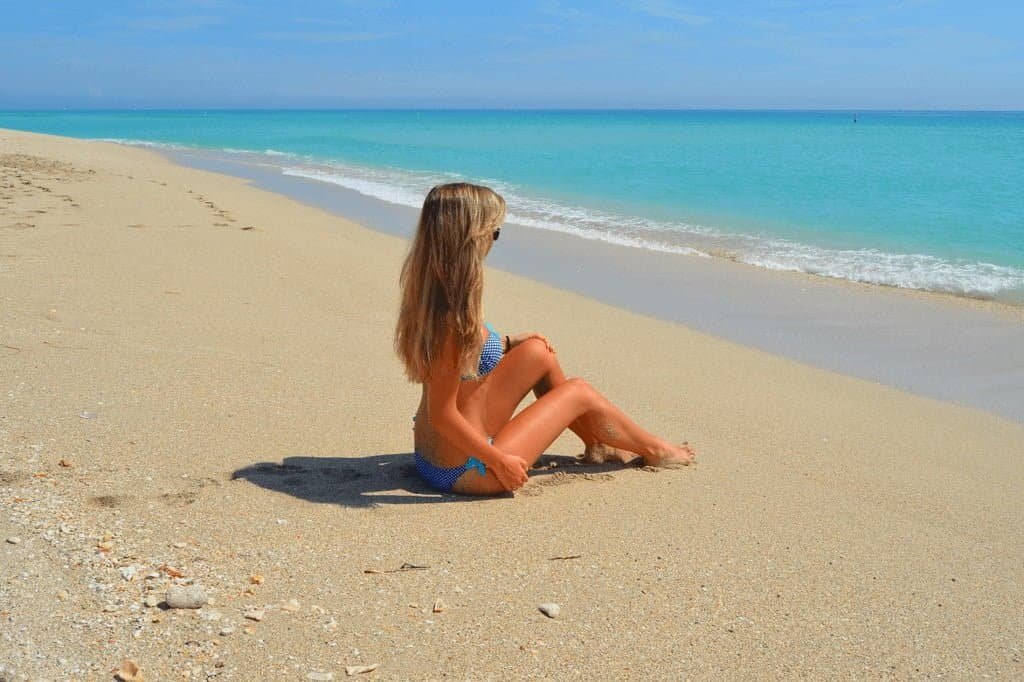 Over 1.3 million people visit Haulover Beach every year, making it one of the most famous natural beaches in the U.S. At both ends of this long stretch of white sand, there are areas where people don't have to wear clothes. They can rent sun loungers and blankets and swim with the help of lifeguards.
If you don't mind being naked in front of other people, go to Haulover Beach in July for National Nude Recreation Week. You can have drinks, dance to great DJs, enjoy freedom, and maybe even set a Guinness World Record for skinny-dipping.
26. Bunche Beach Preserve
Bunche Beach Preserve, located in San Carlos Bay in Fort Myers, is another Florida nudist haven. If you're a nature lover, this is the beach for you. Soft white sand beaches are interwoven with lovely vegetation and mangroves throughout Bunche Beach Preserve. Bunche Beach Preserve is popular among naked beachgoers for its tranquil sunbathing, natural areas, kayaking, and opportunity to see a variety of species in the vicinity.
Because of its proximity to Fort Myers, it is highly accessible and appealing for individuals who wish to enjoy city shopping or restaurants after a day at the beach.
27. South Beach Miami
South Beach is the place to be. South Beach is one of the world's most recognized beaches, known for its unique urban atmosphere, active nightlife, and celebrity-chef cafes. Because these are not officially designated nude beaches, you are unlikely to see entirely naked beachgoers. South Beach, on the other hand, is well-known for its topless nightlife. So, while technically prohibited, you're unlikely to encounter any issues.
28. Johnson Beach
Johnson Beach is a good choice for a more peaceful nude beach. Johnson Beach is great for individuals who prefer sunbathing naked while also having the option of exploring nature trails while dressed. Johnson Beach is in the heart of Perdido Key, which straddles the Florida-Alabama border. The beach is great for families because it has a lifeguard service, plenty of facilities, and a parking lot. Along with several water-based activities, there are numerous hiking routes, including the well-known Discovery Nature Trail, which features a half-mile wooden boardwalk that winds between dunes and pine trees.
Johnson Beach is rarely populated. If you want more beach to yourself for naked sunbathing, go to the east side of the beach. You'll find an isolated paradise of white sand, rolling dunes, and pure emerald water where the beach road stops. Johnson Beach's more secluded areas have been known as one of Florida's top nude beaches. It's still not technically legal, as it is on other beaches, but as long as you keep to yourself, you won't be disturbed.